OSHO
ZEN
NO MIND: THE FLOWERS OF ETERNITY
Chapter 9: Be ready to be chopped
Question 1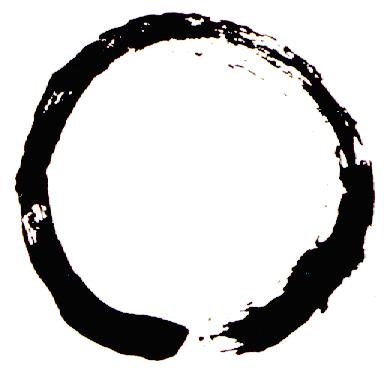 Energy Enhancement Enlightened Texts Zen No Mind: The FLowers of Eternity
Question 1
Maneesha has asked the question:
BELOVED BUDDHA,
WHAT IS IT TO BE "GROWN UP?"
Maneesha, everybody grows old; very few people grow up. Growing old is a horizontal process -- just moving in a line. You may reach from the cradle to the grave but you have moved horizontally. You have become old, aged, but your inner being is as deep in darkness as it has always been. Unless you start growing vertically, upwards to the heights of consciousness, you are not growing up.
Our whole education is absolutely unaware of the fact that growing up is a different process than growing old. Even idiots grow old; only buddhas grow up.
The process of growing up is going deeper into your roots. Have you ever considered the fact: the higher the tree the deeper are the roots. A high tree, perhaps two hundred feet, three hundred feet, cannot be supported by small roots; it will fall down. A three-hundred-foot-high tree needs exactly the same balance: three-hundred-foot-deep roots. As is the height, so should be the depth.
If you want to grow up you should think of going deeper into your roots, and growing up will be a by-product of your growing more alert, more silent, more peaceful. The deeper you are at the center of your being, a tremendous transformation takes place. You start growing up to the ultimate heights of consciousness. In those heights you are the buddhas. No initiation is needed -- you know it.
When you have a migraine, do you need a confirmation from others? Nobody says, "This person is having a self-styled migraine," although the poor person who is suffering from migraine cannot prove it by any argument, cannot prove it with any evidence. But that does not matter. One who is suffering from migraine... even if the whole world says, "Without evidence you cannot suffer from migraine," that is not going to change the situation. The whole world may deny it, but the migraine is there. Only you know it.
There are a few things which only you know. When one becomes enlightened, there is no need of any witnesses; it is not a question of anybody else confirming it. Your enlightenment is absolutely your experience, you don't need any argument.
Once Ramakrishna was asked, "What is the logical, rational support for your illumination?"
He used the word `illumination' instead of enlightenment. It is an absolute freedom, one can choose what word he wants to choose.
Ramakrishna said, "I am the argument. If you can understand me, if you can feel me you will know my illumination. It is radiating but your eyes are closed. Now I am not responsible for your eyes. If you want to know me, open your eyes -- and not only the outward eyes but the inward too, because my illumination is of the inner."
Maneesha, you are all growing up. And you will know, you will feel every day how you are growing up in your sensitivity, in your awareness, in your love, in your silences of the heart. All these flowers are inner. Even if nobody confirms it, it does not matter. It is nobody's copyright!
Once and for all I want the idiots of this earth to know that I don't need anybody's confirmation. I am a man in my own right, and whatever I know of my inner, except me, nobody has any right even to raise a finger about it! If I say I am Zorba The Buddha, you may accept it or you may not accept it, but you cannot question it.
It is time for Sardar Gurudayal Singh.
The TV announcer appears on the screen.
"Good evening, ladies and gentlemen. We interrupt this program to bring you a news flash from the White House. Nancy Reagan's battle with a stubborn cockroach has landed her husband Ronald in the hospital with severe burns and multiple fractures.
"The details are as follows: Mrs. Reagan stamped on the cockroach, threw it in the toilet and sprayed an entire can of insecticide on it when it refused to die.
"Later, Mr. Reagan, while using the toilet, threw in a lit cigarette, which set fire to the insecticide fumes. The explosion caused serious burns to the sensitive parts of his body. Shortly after that, two staff members who were carrying Mr. Reagan to the ambulance were told how he had been injured. They began laughing hysterically and dropped him down a flight of stairs, which resulted in a broken pelvis and fractured ribs.
"The good news for the evening is that the cockroach walked away unharmed."
Izzy Iceberg, the salesman from "Titanic Insurance," pays a visit to the Kowalski's home. Kowalski is out at the pub, so Izzy is forced to talk to Olga.
"Do you know how much your husband's life insurance policy is worth?" asks Izzy.
But Olga does not understand what he is talking about and just looks at him, blankly.
"Let me put it to you another way," says Izzy, patiently. "Do you know what you would get after your husband dies?"
"Ah! I have often thought about that," says Olga. "Probably I will get a parrot!"
Jesus Christ is walking on his way to Jerusalem one day. Suddenly he sees a man sitting at the side of the road crying.
"What is the problem, my son?" asks Jesus.
"I am blind and I cannot see the beauty of the flowers and the birds in the sky," replies the man.
"No problem," says Jesus, just waving his hand in front of the man's eyes. Suddenly, the man jumps up.
"I can see!" he cries, dancing off down the road.
Two hours later, Jesus comes upon another man sitting beside the road, crying.
"What is the problem, my son?" asks Jesus.
"I am crippled and I cannot walk," replies the man.
"No problem," says Jesus, just waving his hands over the man's legs. Immediately, the man jumps up and runs off into the hills singing.
An hour later, Jesus comes upon another man sitting beside the road, crying and weeping. The man looks perfectly healthy and robust.
"What is the problem, my son?" asks Jesus.
"Ah! Jesus!" says the man, "I am German!"
Jesus sits down and cries too.
Nivedano...
(Drumbeat)
(Gibberish)
Nivedano...
(Drumbeat)
Be silent. Close your eyes, and feel your body to be completely frozen.
This is the right moment to look inwards with your total energy, your total consciousness, and with an urgency as if this is going to be your last moment.
Deeper and deeper.
Go on piercing till you reach to the center of your being. There, you are the buddha.
The only quality that the buddha has is witnessing.
Witness that your body is not you.
Witness that your mind is not you.
Witness that only witnessing is your self nature. This is your buddha. It needs no initiation, it needs only a self-exploration into your own kingdom, the kingdom of your inner being.
Thousands of flowers will start showering on you, and a peace will descend that passeth understanding. A silence will surround you which is almost like a subtle music. A joy will start arising at the very center of your being, like a spring of pure water.
Just witness everything, and remain aloof; don't get identified with anything. You are the unidentified observer of existence.
To make it clear, Nivedano...
(Drumbeat)
Relax, but go on continuing to be a witness.
That is the secret word I pass on to you.
The evening was beautiful on its own, but ten thousand buddhas have made it a miracle.
As you relax and just witness, all separation from existence disappears. The Buddha Auditorium becomes a lake of consciousness, awareness, witnessing.
These are the greatest and the highest peaks of human potential. This is what I mean by growing up. Be a buddha, and you are grown up.
Collect as many flowers as you can before Nivedano calls you back. Persuade the buddha, inch by inch. He has been hiding for millions of years at the center of your being. He has to be brought to the circumference also, so that he can become part of your daily, day-to-day activities and affairs.
Nivedano...
(Drumbeat)
Come back. But come back as a new man, a buddha, with the same grace... the beauty, the splendor, the awareness.
Sitting for a few minutes just to recollect, to remember the golden path that you have traveled towards your roots. Remember the joy and the beauty that you have encountered, and remember your original face -- I call it the buddha.
Okay, Maneesha?
Yes, Buddha.
Next: Chapter 10: When I call you my friends, I mean it
Energy Enhancement Enlightened Texts Zen No Mind: The FLowers of Eternity
Chapters:
Osho - Talks on Zen: No Mind: The Flowers of Eternity, Chapter 1: To create a few more rainbows, ON A CERTAIN DAY, ONCE A MONK WAS ASKED BY KYOZAN, 'WHERE HAVE YOU COME FROM?' TO WHICH THE MONK REPLIED, 'FROM YUSHU.' KYOZAN THEN ASKED HIM, 'I'D LIKE TO KNOW SOMETHING INTERESTING ABOUT YUSHU; WHAT'S THE PRICE OF RICE THERE?' at energyenhancement.org
Osho - Talks on Zen: No Mind: The Flowers of Eternity, Chapter 1: To create a few more rainbows, Question 1, WE HAVE HEARD YOU HAVE BEEN VERY SICK. WOULD YOU LIKE TO TALK ABOUT IT? at energyenhancement.org
Osho - Talks on Zen: No Mind: The Flowers of Eternity, Chapter 2: An assembly of two buddhas, ON ONE OCCASION WHEN A MONK ASKED KYOZAN THE MEANING OF BODHIDHARMA COMING FROM THE WEST, KYOZAN DREW A CIRCLE IN THE AIR AND PUT THE CHARACTER FOR BUDDHA INSIDE IT. THIS LEFT THE MONK WITHOUT WORDS at energyenhancement.org
Osho - Talks on Zen: No Mind: The Flowers of Eternity, Chapter 2: An assembly of two buddhas, Question 1, GAUTAMA THE BUDDHA DIED BY POISONING. YOU HAVE SURVIVED IN SPITE OF BEING POISONED. IS THERE ANY CONNECTION BETWEEN THE TWO? IS THERE A PARTICULAR SIGNIFICANCE IN THE TIMING OF YOUR DECLARATION THAT GAUTAMA BUDDHA IS LIVING ON IN YOU? at energyenhancement.org
Osho - Talks on Zen: No Mind: The Flowers of Eternity, Chapter 3: A meeting of two rivers, ONCE KAKUSAN WENT TO SEE KYOZAN. RAISING HIS FOOT, KAKUSAN SAID, 'THE TWENTY-EIGHT INDIAN PATRIARCHS WERE LIKE THIS, AND THE SIX PATRIARCHS OF THE COUNTRY OF T'ANG WERE LIKE THIS, AND YOU ARE LIKE THIS, AND I AM LIKE THIS!' at energyenhancement.org
Osho - Talks on Zen: No Mind: The Flowers of Eternity, Chapter 3: A meeting of two rivers, Question 1, DID GAUTAMA'S CONSCIOUSNESS ENTER YOU AT YOUR CONCEPTION OR IS IT THAT OVER THE YEARS HIS CONSCIOUSNESS HAS GRADUALLY BECOME SUFFUSED WITH YOU? IS IT TRUE THAT KRISHNAMURTI WAS A CANDIDATE FOR THE MAITREYA, BUT MISSED? at energyenhancement.org
Osho - Talks on Zen: No Mind: The Flowers of Eternity, Chapter 4: In your eyes is the hope of the world, ONE DAY WHEN ISAN AND THE MONKS WERE ENGAGED IN PICKING TEA LEAVES, ISAN CALLED TO KYOZAN, 'ALL DAY I HAVE HEARD YOUR VOICE AND NOT SEEN YOU.' KYOZAN, INSTEAD OF SAYING ANYTHING, SHOOK A TEA PLANT at energyenhancement.org
Osho - Talks on Zen: No Mind: The Flowers of Eternity, Chapter 4: In your eyes is the hope of the world, Question 1, IS IT NOT A PARADOX THAT YOU -- WHO MUST BE THE MOST TRULY INDIVIDUALISTIC OF BEINGS -- HAVE PROVED ALSO TO BE THE PUREST MEDIUM FOR ANOTHER? at energyenhancement.org
Osho - Talks on Zen: No Mind: The Flowers of Eternity, Chapter 5: I am just myself, CHOSA WAS A DISCIPLE OF NANSEN AND A CONTEMPORARY OF TOKUSAN, RINZAI AND ISAN. ONE DAY CHOSA WENT FOR A WALK AND WHEN HE RETURNED TO THE GATE, THE HEAD MONK ASKED HIM, 'OSHO, WHERE HAVE YOU BEEN STROLLING?' at energyenhancement.org
Osho - Talks on Zen: No Mind: The Flowers of Eternity, Chapter 5: I am just myself, Question 1, SINCE YOU BECAME A HOST FOR GAUTAMA THE BUDDHA, YOU SEEM QUITE DIFFERENT TO ME, AND MEDITATING IN YOUR PHYSICAL PRESENCE IS ALSO DIFFERENT. IT IS NOT JUST THE IMPACT OF SEEING YOU AGAIN AFTER AN ABSENCE, BECAUSE THE FEELING HAS NOT DIMINISHED WITH TIME; NOR IS IT JUST MY FANTASY, BECAUSE OTHERS FEEL THE SAME WAY at energyenhancement.org
Osho - Talks on Zen: No Mind: The Flowers of Eternity, Chapter 6: My change has taken me higher, ONCE A DISCIPLE OF MA TZU, CALLED IKAN, WAS ASKED BY A MONK, 'HAS THE DOG THE BUDDHA-NATURE OR NOT?' at energyenhancement.org
Osho - Talks on Zen: No Mind: The Flowers of Eternity, Chapter 6: My change has taken me higher, Question 1, APPARENTLY THE 'AKASHIC DAILY CHRONICLE' NEWSPAPER RAN AN INTERVIEW WITH GAUTAMA. AS A RESULT, KRISHNA AND CHRIST ARE PACKING THEIR BAGS FOR THEIR SECOND COMING -- DESTINATION, POONA at energyenhancement.org
Osho - Talks on Zen: No Mind: The Flowers of Eternity, Chapter 7: The world of the gurus has ended, ONCE, AFTER DAIJI HAD BECOME AN ENLIGHTENED MASTER, HE SAID TO HIS MONKS, 'I'M NOT GOING TO EXPLAIN ANY MORE DEBATES; YOU KNOW, IT'S JUST A DISEASE' at energyenhancement.org
Osho - Talks on Zen: No Mind: The Flowers of Eternity, Chapter 7: The world of the gurus has ended, Question 1, WITH OR WITHOUT ANYONE ELSE IN RESIDENCE IN YOU, WHATEVER NAME WE KNOW YOU BY, YOU ARE INFINITELY PRECIOUS TO US. AS KATUE ISHIDA SAID OF YOU, 'WE MUST PROTECT THIS MAN.' HOW CAN WE BEST DO THAT? at energyenhancement.org
Osho - Talks on Zen: No Mind: The Flowers of Eternity, Chapter 8: Truth has no history, A MONK CAME TO SEE MASTER DAIZUI, AND SAID TO HIM, 'MOUNT GOTAI AND MOUNT DAIZUI -- WHAT ARE THEY LIKE? HOW IS MOUNT DAIZUI?' at energyenhancement.org
Osho - Talks on Zen: No Mind: The Flowers of Eternity, Chapter 8: Truth has no history, Question 1, DURING THE PERIOD OF YOUR BEING UNWELL, MANY OF US DECIDED TO MEDITATE AT THE EVENING VIDEO at energyenhancement.org
Osho - Talks on Zen: No Mind: The Flowers of Eternity, Chapter 9: Be ready to be chopped, MAYOKU CAME TO SHOKEI CARRYING HIS BELL STAFF WITH HIM. HE CIRCUMNAVIGATED SHOKEI'S SEAT THREE TIMES, SHOOK HIS STAFF, RINGING THE BELLS, STUCK THE STAFF IN THE GROUND, AND THEN STOOD UP STRAIGHT at energyenhancement.org
Osho - Talks on Zen: No Mind: The Flowers of Eternity, Chapter 9: Be ready to be chopped, Question 1, WHAT IS IT TO BE 'GROWN UP?' at energyenhancement.org
Osho - Talks on Zen: No Mind: The Flowers of Eternity, Chapter 10: When I call you my friends, I mean it, A NON-BUDDHIST SCHOLAR, MEETING MASTER DAIZUI, GAVE HIM A BOWL. A MONK OBSERVING THIS ASKED DAIZUI, 'WHAT DID YOU USE BEFORE HE PRESENTED YOU WITH THE BOWL?' at energyenhancement.org
Osho - Talks on Zen: No Mind: The Flowers of Eternity, Chapter 10: When I call you my friends, I mean it, Question 1, YOU ADDRESS US AS 'MY BELOVED FRIENDS.' CAN WE REALLY BE YOUR FRIENDS OR DO YOU CALL US SUCH OUT OF YOUR GENEROSITY OF HEART? at energyenhancement.org
Osho - Talks on Zen: No Mind: The Flowers of Eternity, Chapter 11: Only creation shows your power, WHEN KOKO, A DISCIPLE OF JOSHU, WENT TO SEE MASTER HOGEN, HE WAS ASKED WHERE HE HAD BEEN RECENTLY at energyenhancement.org
Osho - Talks on Zen: No Mind: The Flowers of Eternity, Chapter 11: Only creation shows your power, Question 1, YOU REFERRED TO THE MAHABODHI SABHA BUDDHISTS AS BIGOTED AND PREJUDICED. THEY HAVE ALSO, IN ESSENCE, DICTATED TO GAUTAMA AND TO YOU HOW YOU BOTH SHOULD BEHAVE. ARE BIGOTRY, PREJUDICE AND DICTATORIAL ATTITUDES ALL PART OF THE SAME SYNDROME? at energyenhancement.org
Osho - Talks on Zen: No Mind: The Flowers of Eternity, Chapter 12: Nothing to choose, nothing to discard, WHEN HE FIRST MET SEKITO, HO KOJI ASKED, 'WHO IS HE THAT IS INDEPENDENT OF ALL THINGS?' BEFORE HE COULD FINISH HIS QUESTION, SEKITO COVERED KOJI'S MOUTH WITH HIS HAND at energyenhancement.org
Osho - Talks on Zen: No Mind: The Flowers of Eternity, Chapter 12: Nothing to choose, nothing to discard, Question 1, YOU SPOKE THE OTHER NIGHT OF AMERICA -- OF ITS BEING BLOODTHIRSTY AND DESTRUCTIVE. WHAT IS THE APPEAL OF DESTRUCTION OVER CREATION? at energyenhancement.org