the energy enhancement interfaith symbol, with the 7 chakras in the hexagram
THE WHITE CROWN CHAKRA AT THE TOP OF THE HEXAGRAM SHOWING CONNECTION WITH THE SEVEN SACRED SUNS ABOVE THE HEAD
THE HEART CHAKRA IS AT THE CENTER OF THE 12 PETALED HEART LOTUS
ENERGY ENHANCEMENT A Popular Holistic Health and Life Management System
PURPOSE OF Energy Enhancement
To present a popular and comprehensive holistic effective life management system that has been synthesized from modern psychology, Yoga, Buddhism, and Taoism.
To present various "transcendent" life-views that encourage the individual to realize their interconnectivity with the vast and mysterious nature of the Totality of Existence that we are a small part of.
Throughout this work, there are frequent references to God and the individual as a soul. These terms can be replaced by:
God: the mysterious and vast Totality of Existence.
Soul: the individual, a drop in the vast of ocean of the Totality.
---
THE SEVEN CENTER SYSTEM
"I was born into the darkness of ignorance. It is now time to remove this ignorance and move into the light of soul and love."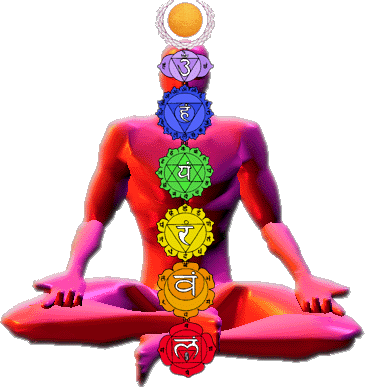 The Seven Center (chakra) System - CLICK ON ANY OF THE CHAKRAS ABOVE!
Using the Seven Center System, we can understand and master all areas of human experience:
Physical
Mental
Emotional
Social
Creative
Psychological
Transcendent
The Seven Center System is derived from a logical integration of the seven chakra system with modern biological and psychological research.
---
SERVING CIVILIZATION: Bringing Out The Good In All
We are civilization.
Humanity's greatest asset is our ability to overcome our:
The purpose of this work is to help everyone find and develop the skill of LoveWisdomGoodness that is necessary for us to responsibly enjoy and enhance life on earth.
Energy Enhancement helps humanity in the process of:
Social civilization
Education
Cooperation
Love
Compassion
Rational reasoning
Wisdom
Goodness
Finding deep identity
Transcendent realization
LoveWisdomGoodness requires:
Respect
Understanding
Patience
Skill
Wisdom
Willingness to learn the ways of goodness
Without LoveWisdomGoodness then our experience of life on earth will probably amount to nothing more than a bitter, confused, corrupted, vicious, perverted, and miserable occurrence.
Energy Enhancement is not a belief system, a dogma, a religion, or an organization.
Energy Enhancement is an interesting holistic health and self development system and is not concerned with egotistical self-righteousness, proving anything, or the notion of a "universal truth."
Energy Enhancement is a PRACTICAL holistic health system of:
Holistic Life Management
Self-examination
Self-comprehension
Self-development
Self-improvement
I believe that we can learn to be truly civilized by educating ourselves concerning:
Virtue, principle, morality, and ethics
Holistic health and balance
Goodness
Consideration, respect, compassion, and love
Mastery and wisdom
Responsible enjoyment
Peace and harmony
Knowledge and skillful world service
The process of learning is always the same:
Study
Practice
Understand
Conscious mastery
Create and maintain standards
Acknowledge and overcome problems
Review
Develop and improve
Share our discoveries
Become Wise
Improve skillful world service
Those that learn from everything do not become victims of life.
Let us remember that everybody experiences the same basic desires and aversions and everybody wants to be happy.
I respect the great truth that "in the distribution of knowledge there is a great responsibility to maintain the highest standards and quality."
Energy Enhancement - The two aims:
HOLISTIC HEALTH, REFINEMENT, RESPONSIBLE ENJOYMENT, AND LIFE MANAGEMENT
Helping us understand and master the human form so that we can raise the quality of life for All.
How to work with the energy/love/intelligence/wisdom of life.
How to successfully civilize ourselves by steadily decreasing our vice and increasing our virtue.
How to live an enjoyable, cooperative, holistically refined, responsible, fruitful, and conscious life.
How to release our life energies into healthy, appropriate, responsible, and life affirming activities that raise the quality of life for All.
How to become holistically wise.
TRANSCENDENT CONSIDERATIONS
Helping us to transcend (go beyond) our identification and attachment to the body, mind, and the variety of experiences of "the world and universe" by introducing the concept of "The Greater Life Phenomenon" - that which is not limited to the lifespan of the individual.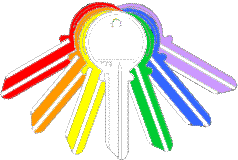 IMPROVING THE WORLD SITUATION
"Ignorance is a great teacher...but good education is far superior."
Life is Good: The world we live in is basically a good place, to be used wisely, to be treasured, and to be honored by: education, respect, wisdom, responsible enjoyment.
Work with the Wisdom of Life on Earth: We develop as human beings, not by forsaking the world, but by cooperating with nature to preserve and perfect it: respect the environment and be ecologically responsible.
The World: One Living System: We are interdependent and part of the same system of life, you and I are different expressions of the same life, so whatever happens to either of us happens to both of us as our well-being is linked: Do unto others as you would like done unto yourself.
All Badness is Human Ignorance in Action: Disharmony, disease, and evil are the result of ignorance and selfishness: live in harmony and LoveWisdomGoodness so as to teach others by your life as well as by your words.

I have learned many lessons and I believe that there is no substitute for:
Education and learning.
Humility and respect.
Sincerity and honesty.
Understanding and comprehension.
Goodness.
---
HAPPINESS
Who is the happiest person?
The one who is a master of the human experience and can use their skills to bring happiness and understanding to others.
Every person's life is a valid and valuable experience that can help humanity and the maintenance of authentic civilization.
A simple checklist to align our behavior with:
Harmless.
Holistically Healthy.
Considerate.
Respectful.
Responsible.
Skillful.
Benevolent.
LIFE IS A PROCESS OF BECOMING
As we grow and mature, we improve and can share our knowledge and experience with others.
Each person is duty bound (by the laws of life) to consciously form a benevolent and supportive life. To daily chip away at the block of ignorance, egoism, and malevolence (sin and vice) and to make of our life something good, harmonious, and beneficial to the lives of all. The alternative is the fall into chaos, selfishness, malevolence, ignorance, decay, and evil.
We each have a duty to try to make our life work and share our understanding for the benefit of all living beings.
We are born. We investigate the world. We try to help prevent the arising of negative conditions/experiences and to help the appearance of positive conditions/experiences. We try to understand and share our discoveries for the benefit of all beings.
To understand how to overcome the negative and enhance the good.
To understand how to work with life for the welfare and benefit of all living beings.
Love, work, rest, play, and improve every day!
---
WHAT IS THIS SITE ABOUT?
Making a positive contribution to the holistic health of humanity.
The synthesis of the good and the best from all areas of life: all people, all cultures, and all nations - past and present.
One day I realized that "there is enough darkness in the world without me adding further to it." That is why I want to share the light I have found. I hope that you find this website useful in understanding yourself, the human experience, and overcoming your problems.
I support any genuine organization or individual that works for the benefit of humanity and Life on Earth.
The site is divided into eight sections. The first section introduces us to the seven center system and to the Yogic model of the human form. The next seven sections deal with the qualities and attributes of each center of the seven center system.
The Energy Enhancement website is color coded so that you will know which section you are in.
---
THE SEVEN CENTER SYSTEM OF HUMAN LIFE
"You can't change the fundamental pattern and process of human life - but you can understand it and thereby accept and manage it in a responsible, wise, and mature manner."
The pattern and process of human life is represented by the seven center system.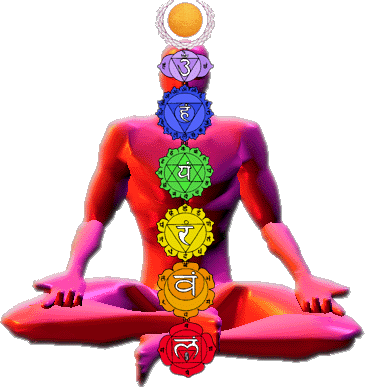 The Seven Center System
THE PATTERN OF HUMAN LIFE: THE SEVEN CHAKRAS

OF THE HUMAN FORM
The seven center system serves is a comprehensive system of Holistic Life Management.
The chakra system serves us as a symbolic representation of the seven main arenas of human life. The seven main areas of each person's union with Life.
Holistic human activity is an attempt to fulfill and satisfy the expressions of the seven centers so that we experience successful and balanced interaction with every area of human life - holistic health.
Each "chakra" (center of life activity) performs various life functions which, when combined successfully, produce the workings of a healthy and holistic human being.
UNDERSTANDING THE HUMAN FORM
By understanding and using the holistic seven chakra system we gain more control of our mind and our life.
TOTAL human experience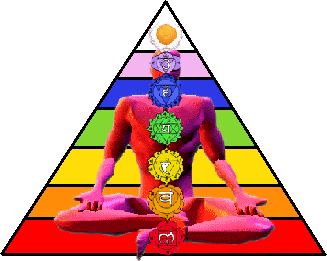 The Body: It's birth, growth, maintenance, and dissolution.
Food, Shelter, Utilities, and Possessions.
Sexual and Romantic Relationships.
the Family (part 1).
Pleasure and sensuality.
Activity and work.
Power and will.
Endurance, determination, and drive.
Love, Empathy, Collectivity and Compassion.
The Family (part 2).
Social and collective considerations.

Communication.
Self Expression and Creativity.
The Mind.
The Intellect.
Thought - Logic and Imagination.
the sciences and The arts.
Transcendent Considerations.
Unity and Variety.
Totality and Mystery.
THE SEVEN NATURAL DRIVES OF EACH CHAKRA
Holistic health concerns the healthy and appropriate pacifying and satisfying of each of the major seven drives (areas of activity) of the human form.
Throughout the growth and development stages of the individual's lifetime, each center (chakra) becomes naturally active (awakened).
If we do not understand the functioning of the seven centers, then we will not understand our life.
If we do not understand the seven centers then we may become confused, irrationally fearful, and feel deep underlying and seemingly inexplicable discontent as these different areas of our life awaken and new drives need to be pacified.
When we don't understand things then we have the tendency to repress that area of life, and this leads to discontent, depression, and dis-ease - we feel uncomfortable and unskilled about exploring and pacifying that area of our life.
For example, the awakening of the crown chakra is accompanied by the drive to explore and pacify the question "Who am I?" and eventually leads to realization of the mystery of Existence. If we don't understand the appearance of this drive (center seven) in our life, then we may feel very uncomfortable about the sudden persistent need to pacify this drive.
By using Energy Enhancement, you will understand the human experience and be able to offer many skillful services to others - including Holistic Life Management.
ATTITUDES TO AVOID IN THE SEVEN CHAKRAS
the seven CENTERS ARE THE Central teachings OF all HOLISTIC Life Management Systems
For example:
Yoga.

Taoism.

Tai Chi.

Buddhism.

Western Alchemical Tradition.

modern psychology.

Gurdjieff.

Rudolph Steiner.

Sufism.

Osho.

The Christian Sacraments.

The Kabbalah.

The Seven Rays.

The Celtic Cross

The Gnostic Tradition.

The True Teachings of Christ.
---
GROWTH AND DEVELOPMENT V'S STAGNATION AND RETARDATION
The contemporary western medical and psychological model focuses mainly on the development of the body and the intellect, but the functions of a human being are more than just these two aspects.

Human beings have seven major areas of functioning which are represented by the seven chakra system. Growth and development, or stagnation and retardation, can occur in one or more of the chakras. This is something that the contemporary western medical model often overlooks.

---
CHAKRA HEALTH AND HEALING
We may also need to heal our life. The process of looking at our experiences of and attitudes to each of the seven centers and replacing negative attitudes with more positive one. We will need to understand and heal past traumatic and negative experiences; for example - the family, romantic partners, teachers, and other important relationships.
Healing the seven centers is a process of challenging and sorting out our inherited and conditioned attitudes to the aspects of life that each center represents.
---
TRANSCENDENT CONSIDERATIONS: DROPLETS IN THE OCEAN OF EXISTENCE
All that is manifest, in this universe and others, is a mere droplet, a mere ripple on the surface of the great, eternal, infinite Ocean of Existence.
Each individual living being is a cell in the one body of Existence.
---
RELATED STUDY
| | |
| --- | --- |
| A Complete System of life management and enlightenment. | |
---
Yoga is for people who are interested in their own Health, Evolution, Life Management, Spirituality, and ENLIGHTENMENT.
---
---
---
---