The course of self healing is composed of three parts and each part will be useful during the following energy enhancement course...


SELF HEALING COURSE PART One is Balance of the emotions through the Meridian pulses of Acupuncture;

SELF HEALING COURSE PART Two is Self massage with the acupressure points.

SELF HEALING COURSE PART Three Technique of Metamorphosis, this technique work with very gentle touch on points on the feet, hands and head which can reacommodate the patron of gestations on the time of the formation in the tummy of our mother.

It can give a very deep effect of relaxation in our system and through this process can modify wrong patrons of formations to the correct way.

REIKI INITIATIONS - EXTRA
ALL OPTIONS START ON THE 28TH OF JULY the MAJOR OPTION ONE FINISHES 23RD OF AUGUST
MEDITATION ENERGY ENHANCEMENT- THE CORE ENERGY TECHNIQUE.
Some of the course members from The Energy Enhancement September 2005 Course with Satchidanand. Jean, Thomas, Amy and Vanessa.
My name Is Don Minihane and I live in South East Kent England and I want to share with you the experiences I have had on the E E course here in Rosario Argentina with Satchi and Devi on the four week course which I started on the 7-1-07.
I need to make this clear from the outset. I have no vested interest in giving this testament nor have I been badgered into writing this nor have I received any payment for it. I am doing this because I am aware that those of you that take the time to read this will instinctively know the truths written within it. I do not like bullshit nor have I any desire to add to the already gigantic mountain of bullshit that we are expected to swallow on a regular basis from so called experts and masters on these matters like the ones all over the place giving Reiki initiations in one go and masters in a few days.
If you consider carefully that Dr Usui was a devout Buddhist dedicated to meditation, learning and teaching and spent some 20 years in pursuit of the truth before he rediscovered Reiki, then you know that there is a lot of bullshit going on and these people are doing terrible damage to the beauty and the dedication of a master like Dr Usui.
If that strikes a chord please read on.
First a little background on me to give you an idea as to where I am coming from and why I am here in the first place. I am 46 years old married for 25 years with two grown children and have recently become a grandfather to a beautiful boy. I have had an interest in martial arts since I was a very young lad and have indulged in several different styles over the years. I have also had an on and off interest in Chi Kung and have practiced the art of chi breathing now for a number of years without much success in the movement of energy throughout the body system.
I also have an interest in Reiki and have already been attuned in level one and two in the Usui Reiki system in England by a decent honest and spiritual Reiki master seven years ago. I practice on friends and family and on anyone that asks me for a treatment. I have had some wonderful and humbling experiences while doing Reiki however I do not ask for or make money from the treatments I give. I have a small business that makes me my money.
I have also had several experiences in my life that are not common to most people which defied explanation throughout my life and no matter who I asked about these experiences I was never supplied with a satisfactory answer to any of it that made sense to me. These experiences were of a very frightening and disturbing nature and not of this world. At this point all I am willing to say is that the level of fear I experienced was light years beyond the fear of loosing your physical life here on this plane. These attacks began when I was a very small child and continued into my adult life and those closest to me were also targeted. You can believe me when I tell you that I do not frighten easily and am made of sturdy stuff and have survived against incredible odds with my physical and mental abilities intact. I can assure you that there is far more to this existence than even I suspected and this physical life experience here is only the tip of the iceberg and the rest is the best kept secret in the entire universe while at the same time common knowledge to those who are in the know. It was while searching for the answers to my many difficult and seemingly crazy questions that I came upon Satchi and Devi.
I first contacted Satchi just over one year ago and hit him immediately with a big question that I knew would either get a real answer or a load of waffle or bull shit like all my previous attempts over the years or no reply at all as they dived for cover. I had by now got most of the bull shit answers you could possibly get so I became expert in smelling shit at every corner and knew exactly what to ask to eliminate the idiots and charlatans of this world. At this point I was expecting more of the same.
Satchi wrote back to me and the answer he gave me was the first real and tangible result I got in over 35 years of searching. I was so shocked that it took me a long time to assimilate the answer as the implications were so profound it shook me to the very foundations of my existence and I knew for the first time in my life that what I was experiencing was real as he described in detail what I knew, citing his own experiences as example. It would appear that I had found someone who really knew what they were talking about.
Over the following months I tested him again with yet more of my questions and got a proper answer every time, answers that you instinctively know to be true and correct. Bit by bit my life began to make sense and the reasons for my rather unique experiences became clear to me. I began to understand this life of mine and resolved to go and see this man and his amazing wife Devi to undergo the energy enhancement course that you are looking at so I flew half way around the world to spend a month in the home of these very special people who welcomed me with open arms and much warmth even though I arrived at their door at 3am in the morning.
Now for what happened in my first weeks here in Rosario.
On the first day of the course I worked with Devi and we did some grounding of the negative energies within me and as we rotated anticlockwise I noticed the energy in the room was changing and within a few minutes it began to rain energy all over us. I had this experience before while doing a Reiki session but nothing like this; this was like an energy storm in the room, absolutely amazing. Day one was off to a flying start, literally. That evening Satchi began the first initiation in EE and showed me how to sit correctly and explained why, aligning me with the energies of this beautiful planet we inhabit. The experience was profound and I understood for the first time where I was and more importantly why I was here.
At the point of writing this I am now in the second week of the course with two and a half weeks still to go. I feel like I am in a time warp so much has happened. On day four of the course I was sitting meditating trying to circulate the energy up the spine and over the head and down the front when I started to vibrate at a tremendous pace. I honestly thought, any minute now and I am going to take off across the floor or shoot up into the ceiling such was the force of the energy trying to get through the blockages in my spine. I started to experiment with this, lean ever so slightly forward, vibration stops, get back into right angle with the ground, vibration starts again. I was vibrating like a pneumatic drill, lean forward it stops get in the upright position off we go again. I had read about this in books by Mantak Chia in the teaching of Chi Gung but was never able to get anywhere and here I am in day four vibrating like a flying yogi, far out.
I feel like I have been living in ignorance my whole life. The blockage in my spine was very strong and Satchi said don't worry we will soon get rid of that and you know what? I have no reason to doubt him. He said that will be number one of many blockages implanted in my energy body over many lifetimes. There is much work to be done but it will be done he assured me. He was right.
On day five we learned a technique for spotting food and drink with pesticides in it and Satchi and Devi told us about the way pesticides react with the body making us tired and energy less slowly killing us off. This was quickly brought home to me when I later ate some fruit that had been contaminated with pesticides and felt totally drained of energy afterwards. I had to go and lie down and promptly fell asleep for two hours. The effect of the pesticides in the food staggered me and made me realise that we go through our lives trusting these sons of bitches that make vast fortunes feeding us mass produced crap.
In reality what is happening is we get used to the shit in the food and the body does its level best to try to compensate. They are giving all of us the death of a thousand cuts.
No wonder we get cancers and every other god forsaken disease on the planet. O what it is to be waking up.
The lead in to the initiation was very intense, lots of meditation, chanting sutras and energy enhancement techniques to make one ready for this most wonderful of gifts and when it came it was most profound A real and tangible experience. Devi is one powerful woman and is immersed in respect for what she does. Defiantly no bull shit here, just pure unadulterated energy, blesses you Devi, it's your birthday today and you have my complete respect and trust, what a woman. Happy birthday Devi may the cosmos smile on you forever.
At this point I have to deviate slightly so you can share with me something that happened last night that has blown me away and here I am hoping that you will respect whole heartily this most personal and staggering experience which I am about to tell you.
Please feel free to comment on this or recount any of your own similar experiences.
I have been awake most of the night wondering if I should write about this or not and I have come to the decision that it should be told because it must be told. It has huge implications for anyone wondering what is really going on in this existence of ours.
If you have any doubts about the authenticity of this energy enhancement course then this will set your minds straight and that's for sure.
To fully appreciate the implications of this account I am going to have to give you more private information about my life so you can see how things pan out over eons and multiple lifetimes and why and how things happen.
I was born in Highgate in London in 1960 the year of the rat, of Irish and Scottish decent; mother Irish and father Scottish neither of which I have ever seen. I was born out of wedlock so I was considered a bastard and was given up to the catholic nuns in London and was removed from my birth country to a catholic adoption home in Ireland to be adopted in to a nice catholic family. I was just one year old. This was a horrifying experience as I spent the first ten years of my childhood being kept and treated as an animal being severely abused both mentally and physically, battered like a rag doll which left me with many physical scars to this present day, specifically so, to the base chakra the crown chakra and the throat chakra. I looked like a famine victim.
Despite the horror and against all odds I survived and retained most of my grip on my mental and physical health and I managed to escape at the age of twelve with the help of a kind local farmer who gave me shelter protection and a home for a number of years. I then made my way alone in the world and have never seen a single blood relative in my entire life to date.
I arrived here in Rosario and met the other course members and one, a lady of Irish decent, whose family came here in 1850, three years after the great famine in Ireland seemed familiar to me and she also looked me up and down and I could see there was some kind of connection here. She was roughly the same height and when younger would have had the same kind of hair and I noticed that her hands were the same size as mine. She is twelve years older than me and also born in the year of the rat. I dismissed it as nothing as you do.
Then two nights ago we were all meditating with Satchi and Devi looking for energy blockages in ourselves and I had a realisation of how traumatised I was as a baby and began to feel a great sadness so began to weep a bit and this woman came to my assistance and helped me through it giving me this love I have not experienced before stroking my head and treating me like a small child and I let her do it because it seemed like the most natural thing in the world to do. I didn't feel embarrassed about it because it felt so right in its place. She has only a few words of English and I have only a few words of Spanish but it didn't seem to matter. There was no need for communication, and then later on she said that I felt like her son and we laughed and joked that she could adopt me.
Then last night we were all with Satchi and Devi again, meditating, looking for energy blockage in ourselves and specifically so in areas that were hurting or where we had hurt ourselves in the past or where we were hurt by others and this lady had decided to deal with a pain in her abdomen she felt from time to time. We were using the seven step technique given by Satchi to ground and destroy the energy blockages which is a very effective and powerful way of ridding oneself of the blockage. After we do the exercise Satchi gets everyone to recount the experience and this lady who is very psychic and has great visionary ability began to describe what happened. She said that she found herself back some 400 years in Ireland as a very young and beautiful girl with long blond hair who painted played the harp and was riding and hunting.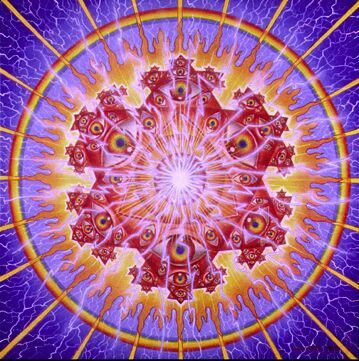 email sol@energyenhancement.org to book now!!
INTENSIVE VIDEO COURSE LEVEL ONE STREAMING VIDEO -
SPECIAL OFFERS..
EMAIL sol@energyenhancement .org for details
BUY NOW!!

EMAIL sol@energyenhancement.org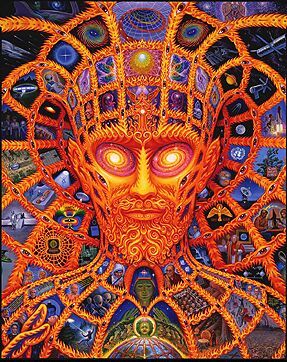 With the Energy Enhancement DVD or Online Meditation Course we can learn how to Transmute Aches and Pains, Traumatic Emotional Memories and Negative Thoughts. With Energy Enhancement Ground Negative Energies and learn The Mastery of Relationships, Increase your Good Luck, Happiness and Purpose.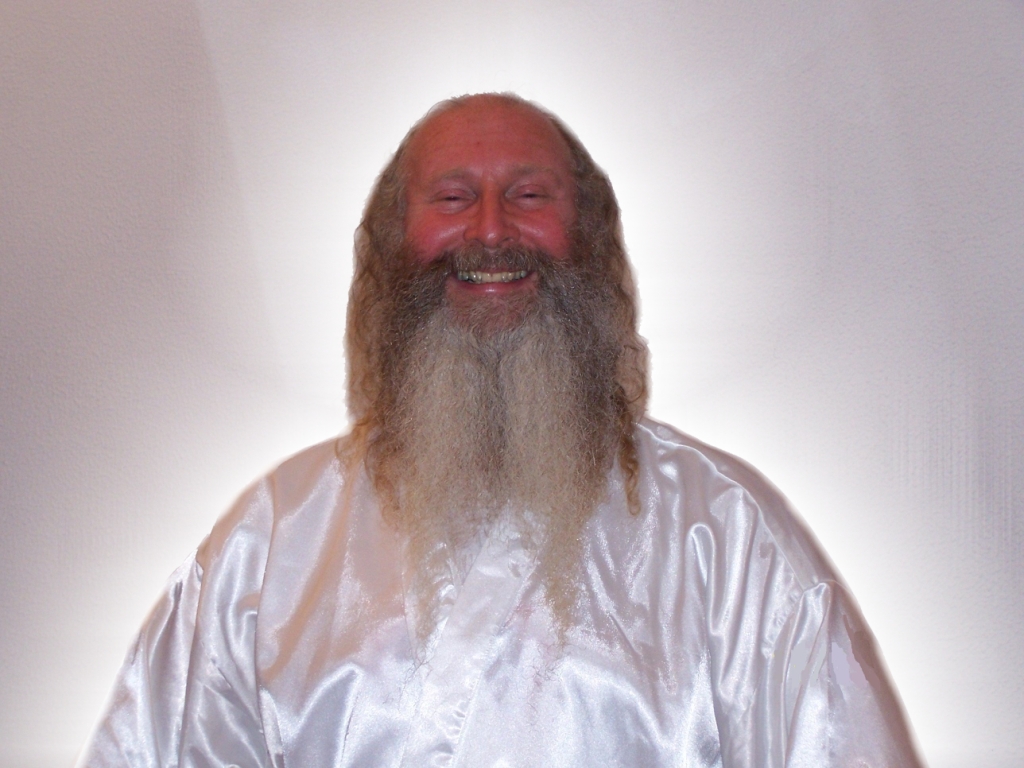 VIDEO OF ELSIE MASUZUMI FROM CANADA AND HER EXPERIENCES ON THE SEPTEMBER 2007 ENERGY ENHANCEMENT COURSE IN SPAIN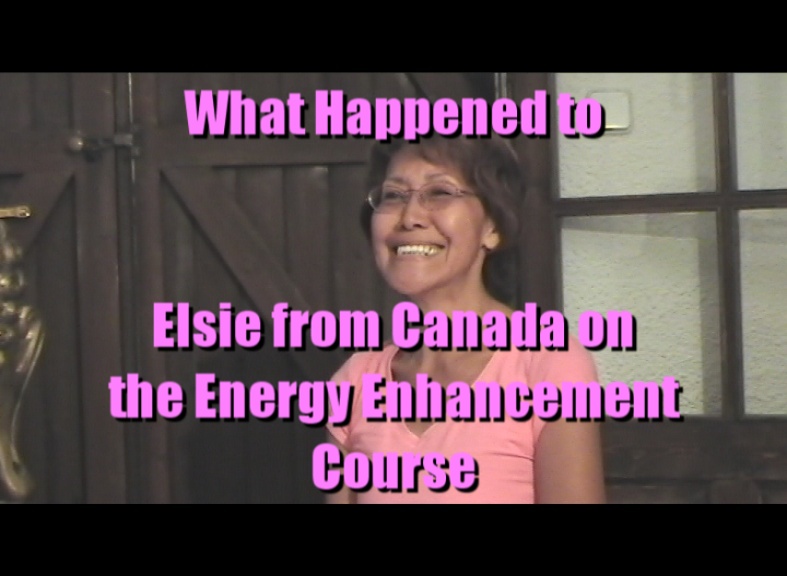 https://www.energyenhancement.org/player/Elsie-Testimonial-Spain-2007/flv6.html
CLICK ABOVE FOR VIDEO
ELSIE: Hello my name is Elsie. I'm from Canada.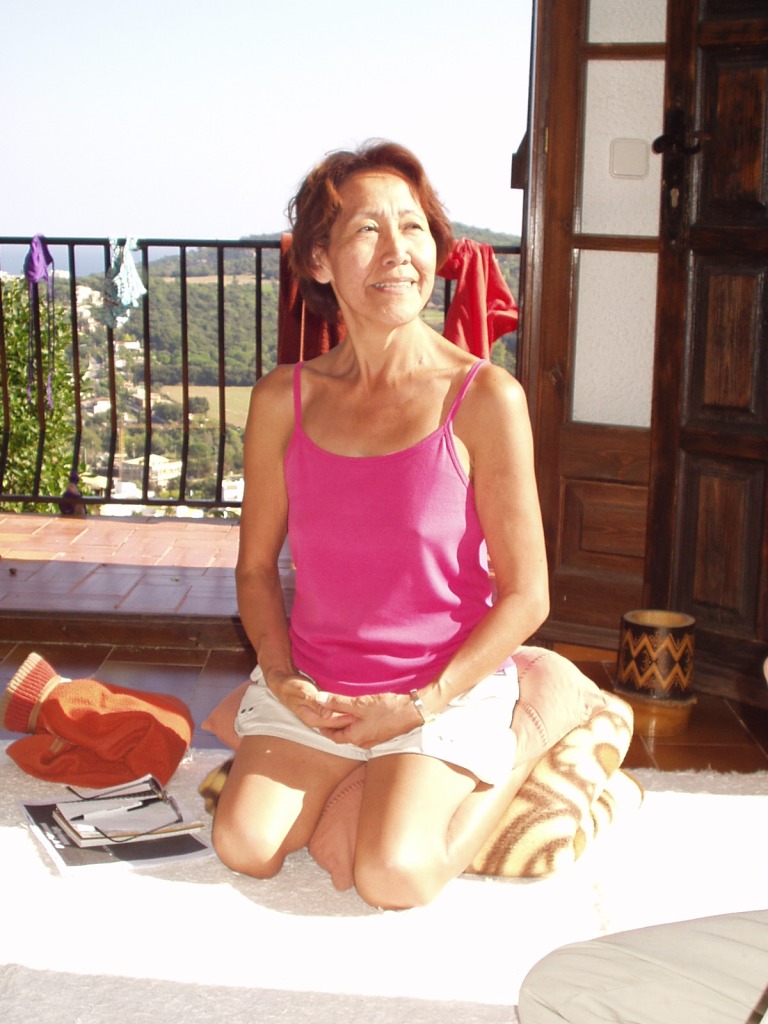 ELSIE IN THE MEDITATION ROOM


When I first decided to take this Energy Enhancement course, I read and re-read the website for Energy Enhancement and it was really really good to see all the testimonials from students and just to read all their experiences and for them to really to express it from the heart and it has touched me in that form. So when I did decide to come for the course, I had come with no expectations, I let myself open so I could experience what is right and appropriate for me.

So, first Level was wonderful because we had a great group of people and for me my experience was just right for me. I just don't have any words to express what I felt. So there were times when I shared and there were times when I didn't want it to share because it was all for me, for me at the moment.
And as I progressed in the first level, the second level was even better because it dealt more into you, you as the physical mind body spirit sort of.
And one of the experiences that I have had it has a profound feeling from the heart was when I had worked with Devi on the metamorphic self-healing course.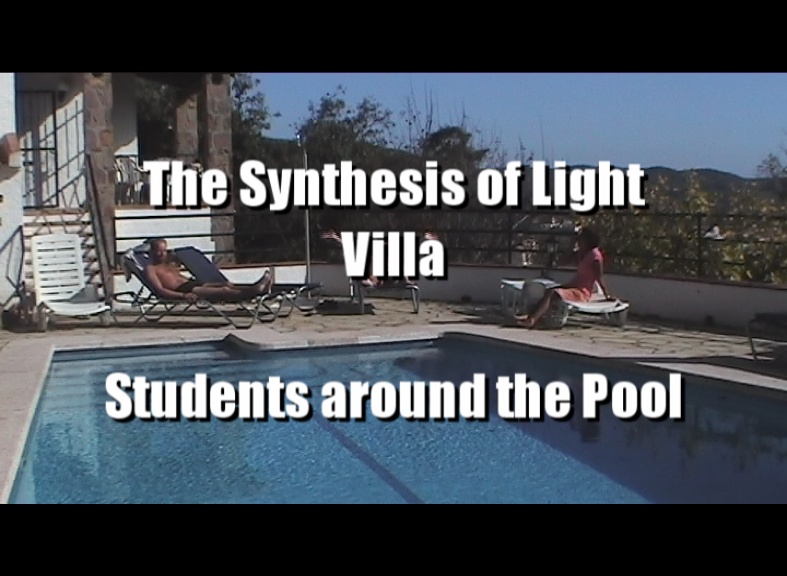 Now as I am trying to express my experience is difficult because my words don't do my experience any justice and for the healing I had received at that time and now as I talk is what comes in form when it's ready for me and for all the energies to perhaps integrate in my body spirit. So for that I'm very thankful for Devi and for all her help and her love.

Another experience that I've had was when we were working on the Blockages for relations and people and everything to do with your interactions with people, significant people, not so significant people. One of the expressions I've had come from was in the form of an Octopus, and when I had worked on that particular Blockage; it just let me know of all the implants, whether they were deeply seeded or whether it was more in the present and how it was all interlinked and so many linkages I guess you may say.

So I was able to see that our Blockages affect a whole range of people around.

SATCHI: ¿And what do you think that this Octopus represented?

ELSIE: Oh, it represented people. It represented different groups of people that have affected me in my life to date.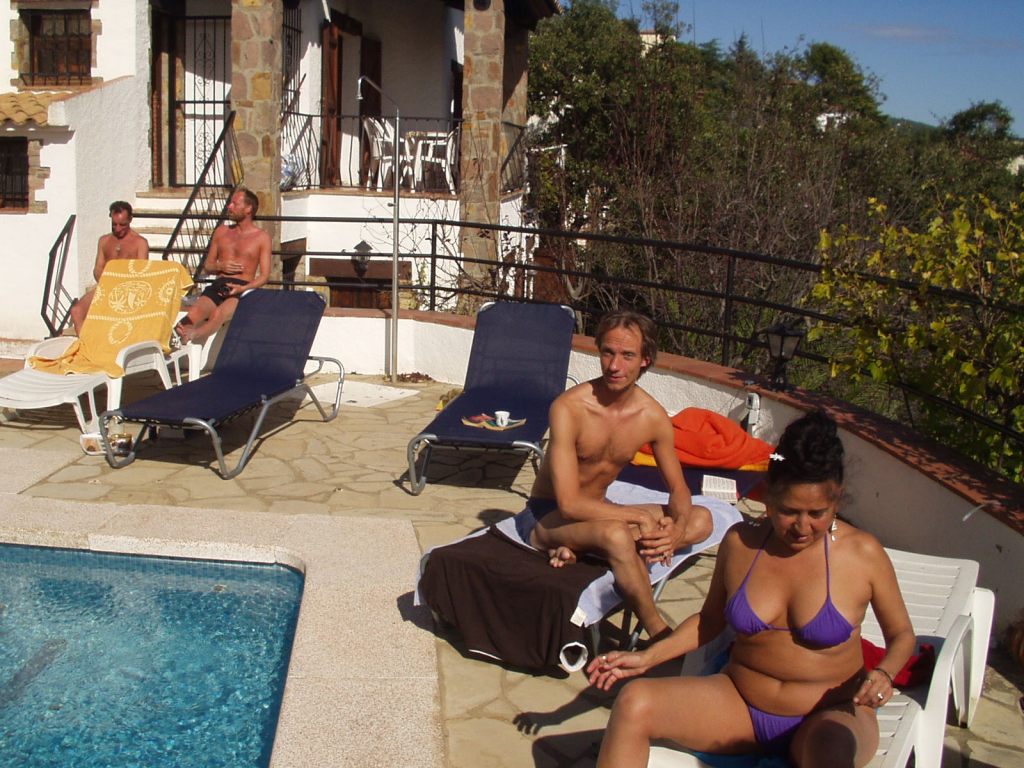 SPAIN-ENERGY-ENHANCEMENT-MEDITATION-2007-DEVI-JIRI-MALCOLM-DON.JPG
THE GUY ON THE TOP LEFT IS DON.. HE CAME FOR THE COURSE AGAIN IN SPAIN AFTER COMING ON THE JANUARY 2007 COURSE IN ARGENTINA

SATCHI: But why was it an Octopus?

ELSIE: Well it just let me know that each tentacle was a different person or perhaps a group of people that had sub-personalities within me or that had implants or perhaps any forms of negative energies working within me.

SATCHI: Dependency?

ELSIE: Dependency, yes. One of them was dependency in my relationships. And the poor me as a child and addictions.

So for me to work on all those tentacles...

SATCHI: And it was really showing you how the other people with their Blockages and with their things that they wanted to do, they were affecting you...

ELSIE: Yes, they were. YES. And so as I worked on the Octopus although it was very very hard work to be transmuting it...

SATCHI: But you had some help...

ELSIE: I had a lot of help from my guides. They assisted me but they did all the work my guides and great spirit, the angels, they did all the work for me. But I was able to see that the Blockage just dissolved into my new particles and they just dissolved.


SATCHI: ¿And how did that feel Elsie?

ELSIE: It felt wonderful. There was a great release. And it really really you know when the Blockage it transmuted. Like my heart, it's just, "this is wonderful, I don't need that In my life now; I don't need that". So for me my heart it just went open.

SATCHI: And of course this Octopus was in the Solar Plexus...

ELSIE: Yes.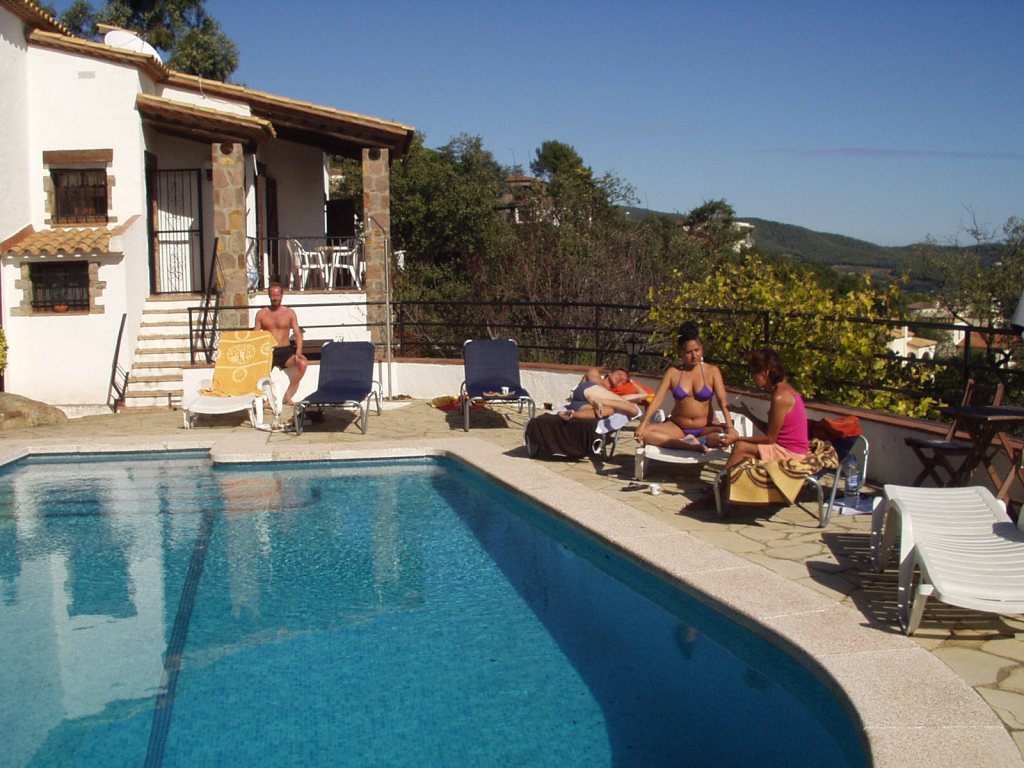 SPAIN-ENERGY-ENHANCEMENT-MEDITATION-2007-ELSIE-DEVI-JIRI-MALCOLM.JPG

SATCHI: And the Solar Plexus powers the heart. And if the Solar Plexus is been parasitised by all those other people taking your energies, then there's no room for any energy to go into the heart.

So when is all removed, what happens?

ELSIE: Well I felt wonderful. I just felt like a great weight was released from me and I felt more light, more light. My body certainly felt better. Very much better.

SATCHI: And of course that's very similar to what happened when you were removing Blockages from the Antahkarana.

ELSIE: Yes.

SATCHI: The energies that stretched from the center of the earth out into the center of the universe and you were working on all of that chakra by chakra. A long hard work to remove all of that.

ELSIE: Yes I was.

SATCHI: ¿And how did you feel when you were working on those Blockages and removing them?

ELSIE: As I worked, I had again a lot of help from my guides, from my angels and from great spirit. I know that it was not just me that was able to dissolve it but my asking for help it was giving to me instantly when I needed to work on all those chakras and dissolve all blockages and each time the Blockages were dissolved, released; I felt more lighter and lighter and the light went brighter and brighter with each level.

SATCHI: You were describing your hair? curling? around but it hit the Crown chakra...

ELSIE: I did. My Crown chakra was just really crackling.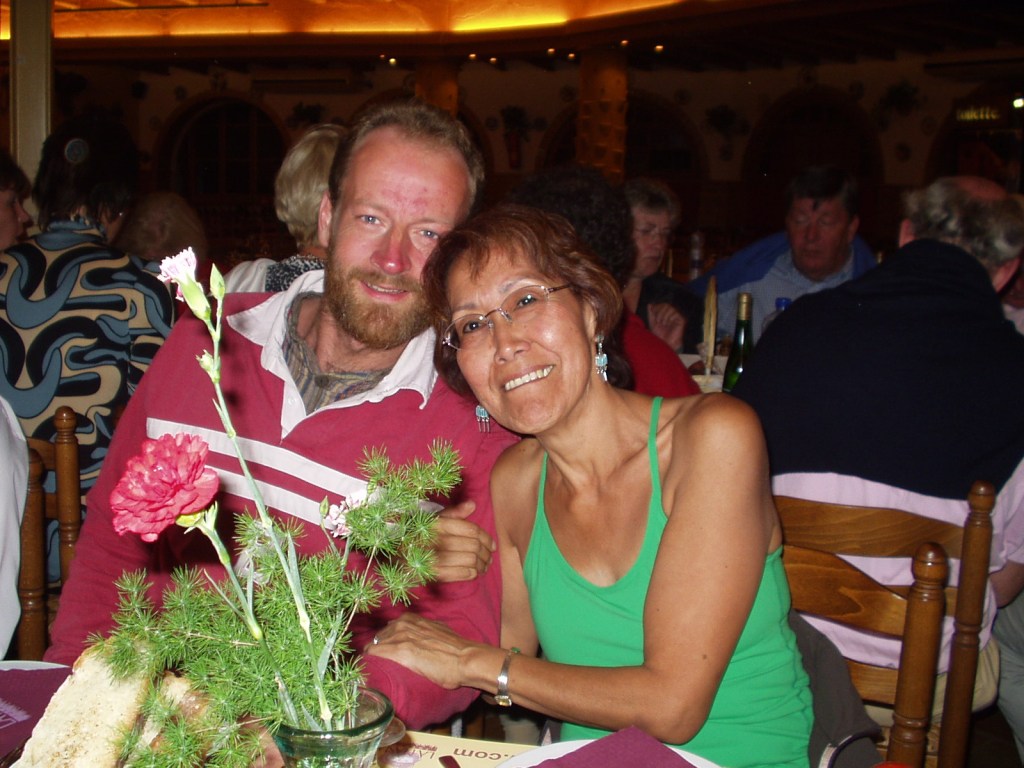 MALCOLM AND ELSIE AT THE FLAMENCO

SATCHI: ¿And where did you find the Blockages mainly Elsie? ¿Were were they in the Antahkarana?

ELSIE: As I worked about the, well the Monad, I had a lot of Blockages in the Level Three and Four.

Satchy: Level Three is the Logos and Level Four is Sirius.

ELSIE: Yes...amm...--

SATCHI: Ohh, but are the Levels to the side you are talking about...

ELSIE: The Bad Mothers...

SATCHI: (Laughs) The BM's!...

ELSIE: The BM's. Yes. I had a lot of Blockages there because as I thought the transmuting went, it didn't. Another Blockage it would appear, so there was more work to be done. I'm glad to be rid of those but there's still more work to be done.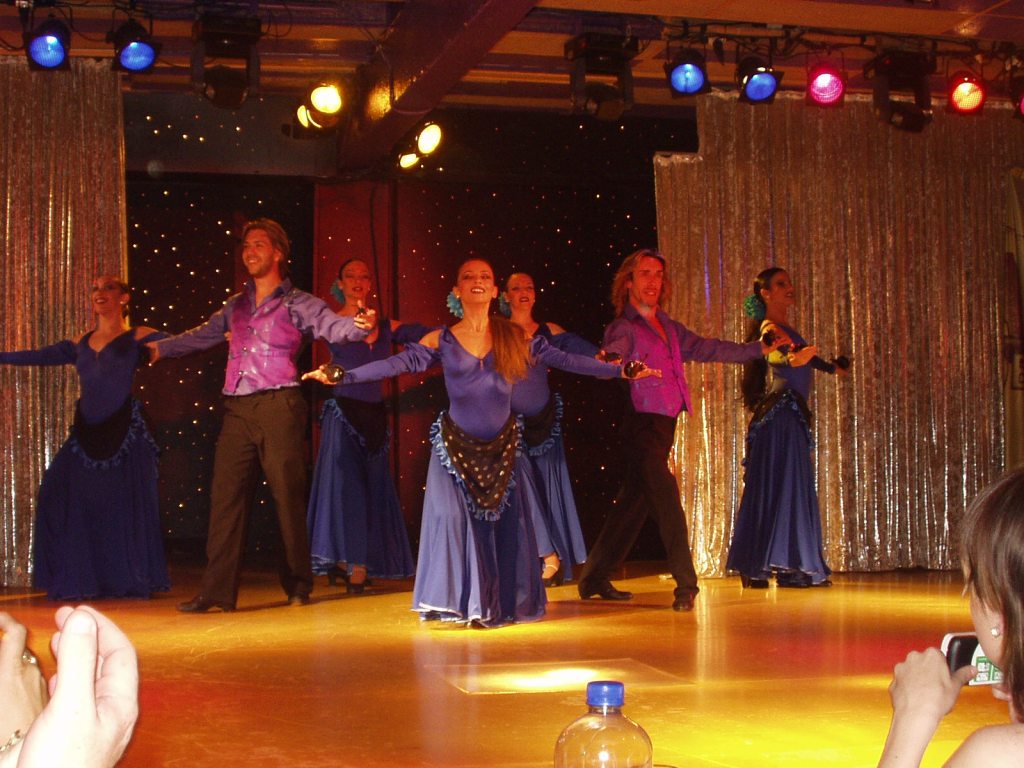 THE FLAMENCO SHOW

SATCHI: ¿And what was the effect of having those Blockages above your head and how did you feel when they've been removed?

ELSIE: Well, I can't really tell you how I felt except to say that I had a great release and I felt so much better. Even though my face or my body may not show the result, I know how I felt as I had worked on the Blockages.

SATCHI: ¿And where were the Blockages in Levels above the head?

ELSIE: Well, the Monad, the Sirius, the three levels above the Avatar of Synthesis...

SATCHI: So that will be six, seven and eight chakras above the Crown chakra. ¿And higher than that?

ELSIE: I didn't worked higher than that but I worked on those three Levels, and as I did worked on those three Levels there was more Blockages there.

SATCHI: Well I remember I said that the first Level is from say five to a hundred ckakras above and the second level is from a hundred to a million chakras above the Crown chakra and the last one was from a million to infinity chakras above the Crown chakra. And you were finding Blockages in all those areas...

ELSIE: All those areas. But the Blockages that I had to really really work with and it took some difficulties were in the BM's and Level Four of each of those...

SATCHI: Well of course all of these Blockages above the Crown chakra are implants. They have been placed there to cut you off from the light of the energy in the center of the universe. The purpose is to keep people in darkness. And when you remove it, there is all this energy.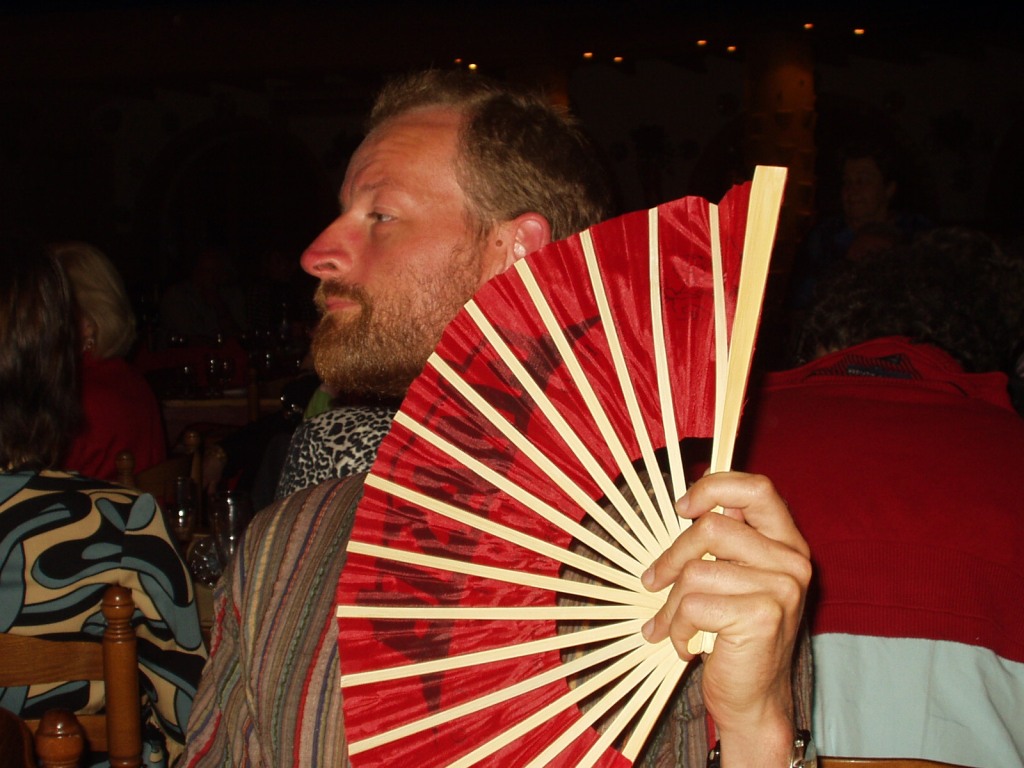 MALCOLM FLAMENCO FAN

And you cover them all so beneath the Base chakra as well, didn't you?

ELSIE: I did. And I did worked on the three lower base chakras you know the same like the zero to ten and then from the ten to the million, and million to the - or billion to the infinity.

SATCHI: But the worst one is the one just below the Base chakra beneath the Base chakra on the way to the center of the Earth and it was a big one there. I remember that one.

ELSIE: I had great difficulty with that one. Great difficulty.

SATCHI: And of course that one is to cut off from your grounding, from the source, from the Earth itself and to keep you a slave. No power to do anything.

¿How do you feel now Elsie?

ELSIE: Relieved. Actually I feel so much better. I have more strength than I had. Prior to taking the Level One, Level Two EE Meditation Course.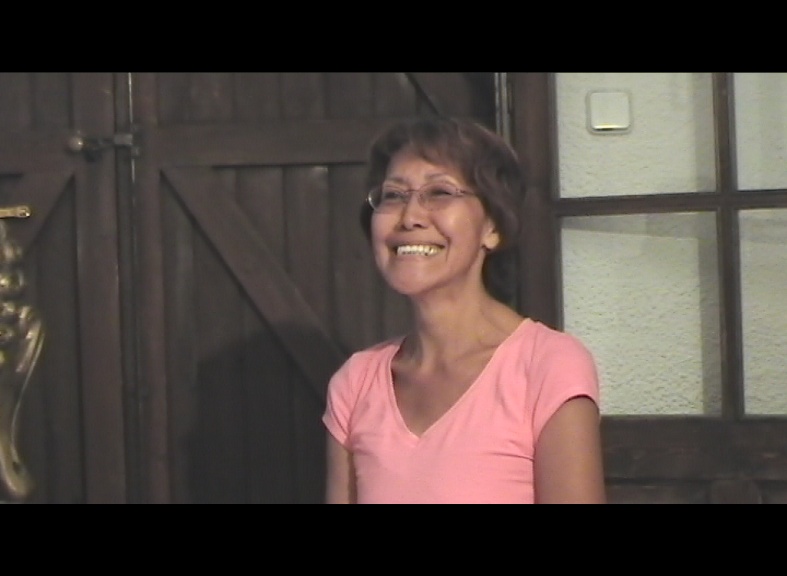 And I'm still working on my energy.
WEB ADDRESS OF ELSIES VIDEO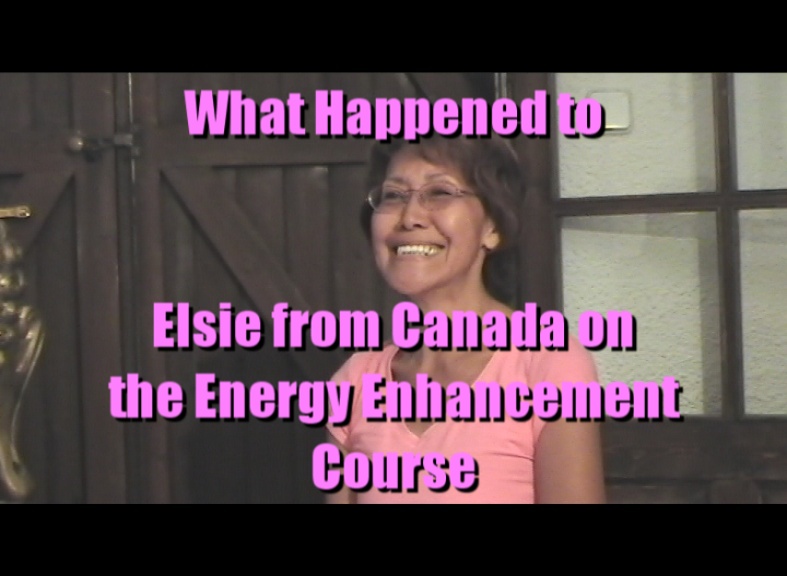 https://www.energyenhancement.org/player/Elsie-Testimonial-Spain-2007/flv6.html
CLICK ABOVE FOR VIDEO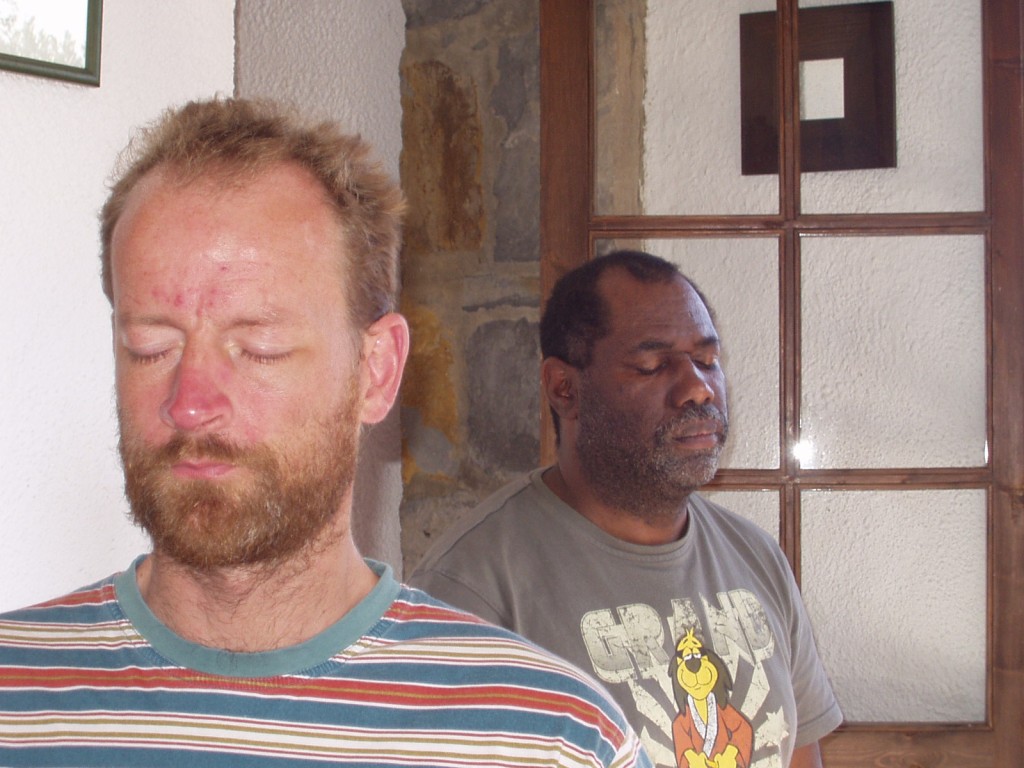 CURTIS AND MALCOLM IN MEDITATION
SATCHI AND DEVI FLAMENCO
MALCOLM CAME BACK ON THE SEPTEMBER 2007 COURSE IN SPAIN AFTER COMPLETING THE 2005 COURSE IN L'ESCALA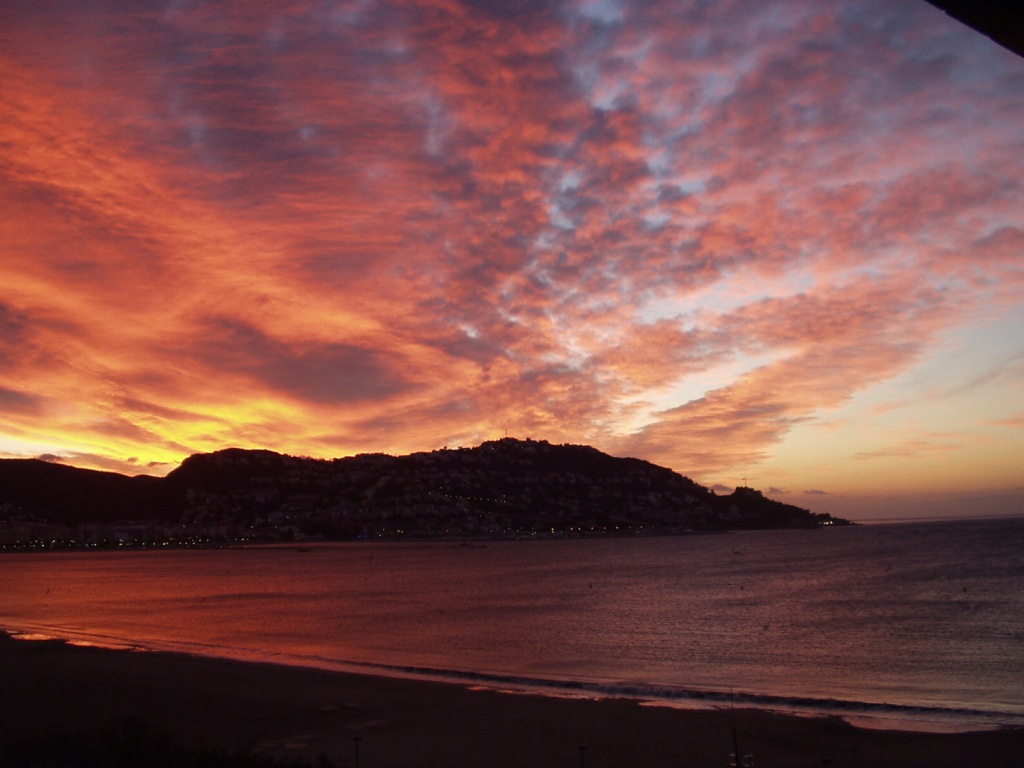 DAWN IN ROSAS SPAIN JUST BEFORE WE LEAVE FOR ARGENTINA

MEDITATION ENERGY ENHANCEMENT-

THE CORE ENERGY TECHNIQUE.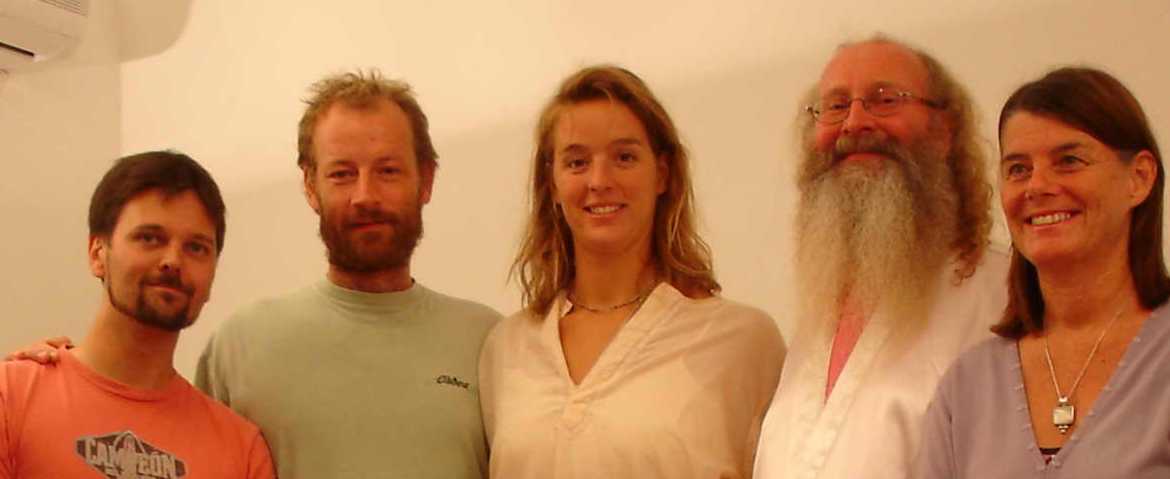 Some of the course members from The Energy Enhancement September 2005 Course with Satchidanand. Jean, Thomas, Amy and Vanessa.

NEW!! STREAMING VIDEO AND DVD COURSE

PLEASE CHECK OUT THE DEMONSTRATIONS AND SEE IF IT WORKS FOR YOU. A BROADBAND CONNECTION IS NECESSARY TO RECEIVE THE STREAMING VIDEO COURSES OVER THE INTERNET.

To receive streaming videos, you must have a broadband connection which stays faster than 250K all the time. A lot of ADSL providers do not guarantee the lower rate, only the 1M or 8Megabyte per second higher rate.

So you must be one of those people whose service provider is giving a good service.

Otherwise, you need the DVDs for all four Energy Enhancement Levels!!

STREAMING VIDEO DEMO Click HERE!!!



email sol@energyenhancement.org for Course details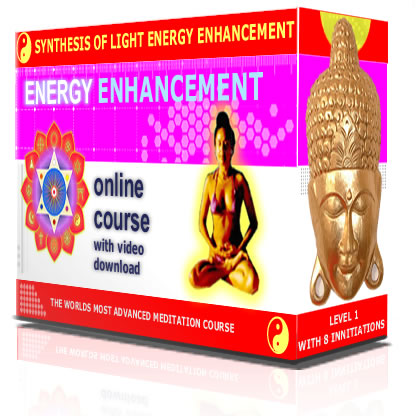 ONLINE COURSE NOW WITH ALL THE INITIATIONS OF ENERGY ENHANCEMENT BY STREAMING VIDEO!!
FULL OF TEACHING, EXPERIENCES AND THE FULL FOUR LEVELS OF THE ENERGY ENHANCEMENT COURSE - LEVEL ONE LEVEL TWO LEVEL 3 AND LEVEL 4 -
ALL THESE STREAMING VIDEOS HERE AND ABOVE AND THE DVD COURSE ARE TAKEN FROM THIS COMPLETE VIDEO RECORD OF THE JANUARY 2005 COURSE.
CONNECT INTO THE CYBER BUDDHAFIELD THE INITIATIONS OF ENERGY ENHANCEMENT BY STREAMING VIDEO!! -
VIEW IN THE COMFORT OF YOUR OWN HOME WITHOUT TRAVELLING AND HOTELS AND ITS CHEAPER THAN THE LIVE COURSES.
USES THE FORMAT - INTRODUCTORY TALKS, THE INITIATION, STUDENTS QUESTIONS AND SATCHIDANAND'S REPLIES,
- SIGN UP ONLINE - CLICK HERE!!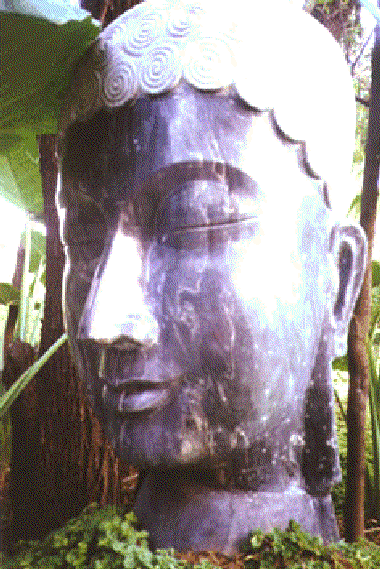 What is Energy Enhancement Reiki?
Energy Enhancement Reiki is Reiki with the addition of the 28 Energy Enhancement Initiations, The most advanced Meditation Course on this Planet.
The Teacher of Reiki, Doctor Usui, became Enlightened after living in a Zen Monastery for 21 Years through the practices of Meditation.
LEARN ADVANCED ENERGY ENHANCEMENT REIKI - CLICK HERE!!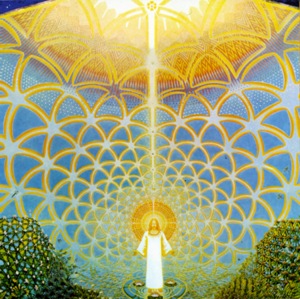 ONLINE COURSE STREAMING VIDEO EXAMPLE IS HERE SO YOU CAN SEE SOME SIMPLE TALKS FOR MANY MINUTES, ADJUST THE PLACE IN THE VIDEO, ADJUST THE VOLUME, PAUSE, STOP, START... - this is a Demonstration of real streaming videos seen in The Online Course, The DVD Course, and the full Streaming Video Courses below, the same as you would see on the streaming video course - Click below...
STREAMING VIDEO DEMONSTRATION Click HERE!!!
- SIGN UP ONLINE - CLICK HERE!!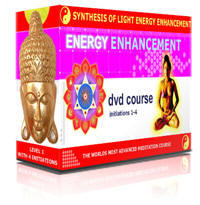 GET THEM QUICK IN THE DVD COURSE - SAME AS THE STREAMING VIDEO, HIGH QUALITY VIDEO, THE FIRST MAJOR FOUR INITIATIONS, 9 DVDS, 15 HOURS, KUNDALINI KRIYAS, SOUL FUSION, GROUNDING OF NEGATIVE ENERGIES, EMERALD TABLET, HERMES TRISMEGISTUS, TAOIST MACRO AND MICROCOSMIC ORBITS, FIVE ELEMENTAL PATHWAYS OF THE QUI, FREE SACRED DANCE VIDEOS, FREE ADVANCED YOGA VIDEO, SENT BY INTERNATIONAL AIRMAIL ANYWHERE IN THE WORLD, EXPRESS POST AVAILABLE IMMEDIATE USE OF STREAMING VIDEO FOR DVD INITIATIONS WHILST WAITING FOR ARRIVAL OF THE DVDS, IMMEDIATE TEXT BACKUP - GET IT NOW BY CREDIT OR DEBIT CARD ONLINE - CLICK HERE!!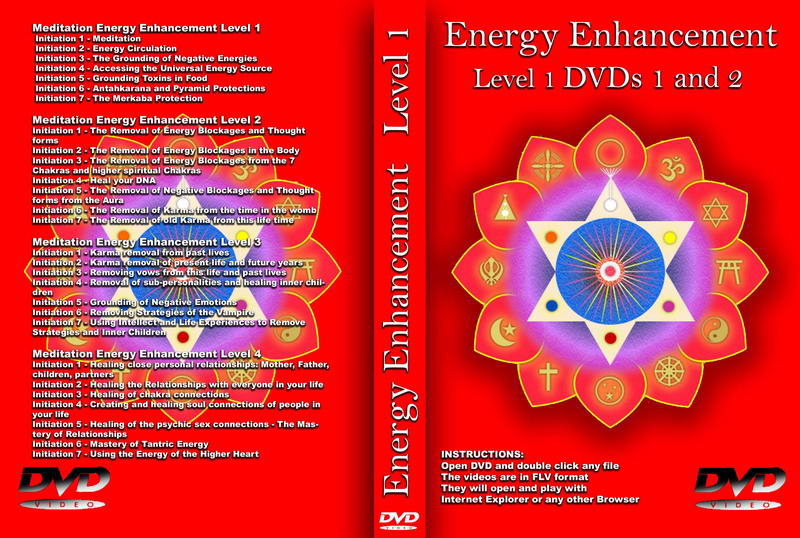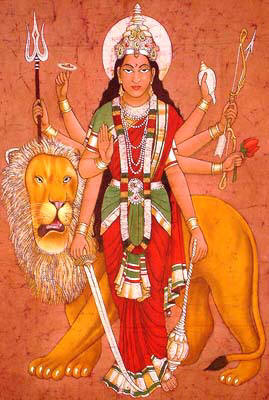 BUY FOUR LEVELS STREAMING VIDEO ON DVD

ENERGY ENHANCEMENT STREAMING VIDEO COURSE - FULL COURSE- IN 13 to 24 DVDS IN FOUR LEVELS!!

Hello Satchi,
Tommy and I have been doing well.
We have started level two and are very excited about it!
The STREAMING videos are great and I feel it is a super way to learn.
Otherwise I have removed two big blockages along my Earth connection and WOW does that feel great!

Love and Light, Madalyn

this is a Demonstration of real streaming videos seen in The Online Course, The DVD Course, and the full Streaming Video Courses below, the same as you would see on the streaming video course - Click below...

STREAMING VIDEO DEMO TWO Click HERE!!!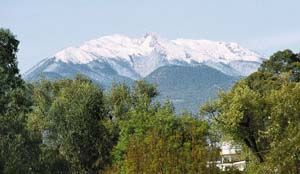 MEXICO - TLALPAN NATIONAL PARK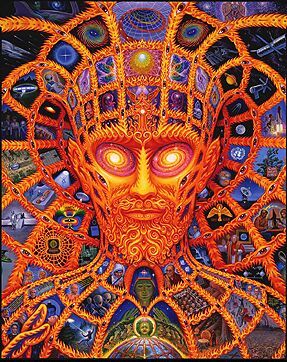 DON'T MISS IT!!

ENERGY ENHANCEMENT COURSE IN MEXICO IN TLALPAN SOUTH MEXICO CITY STARTING JULY THE EIGHTEENTH 2007 FOR FOUR WEEKS Book it

email sol@energyenhancement.org for details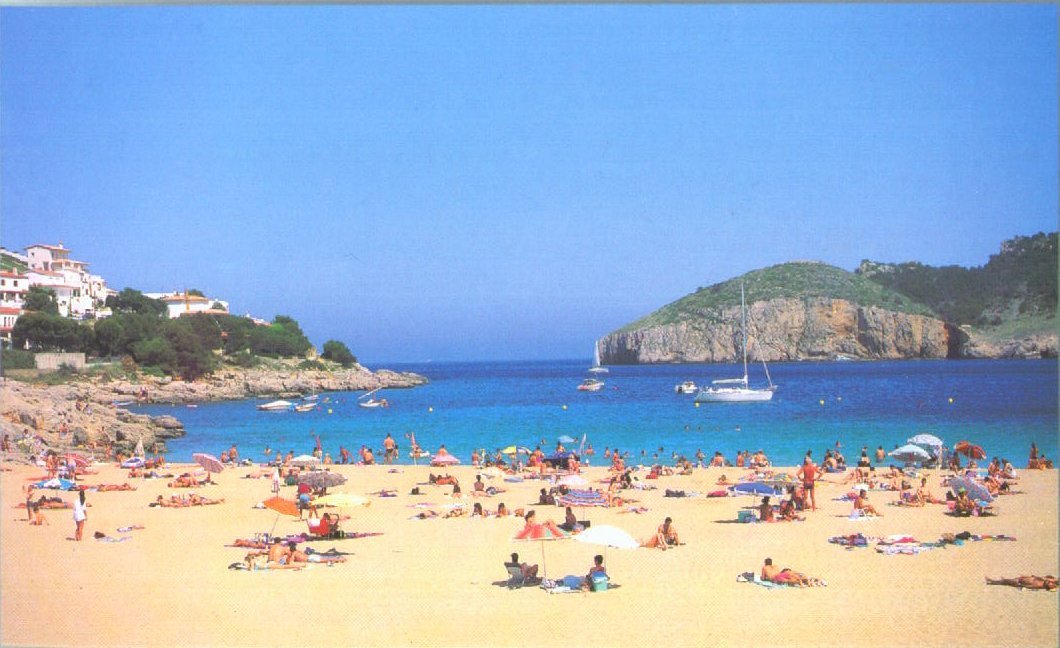 DON'T MISS IT!!
THIS NEXT ENERGY ENHANCEMENT COURSE IN SPAIN ON THE COSTA BRAVA STARTING SEPTEMBER THE THIRTYTH 2007 FOR FOUR WEEKS Book it now!!
email sol@energyenhancement.org for details
DON'T MISS IT!!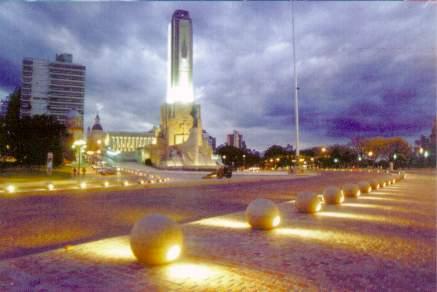 THIS NEXT CLICK HERE!! ENERGY ENHANCEMENT COURSE IN ARGENTINA STARTING FIRST OF MAY 2007, FOR FOUR WEEKS TWO LEVELS OF ENERGY ENHANCEMENT - AND ITS AT AN INCREDIBLE PRICE!! Get it now!!
email sol@energyenhancement.org for details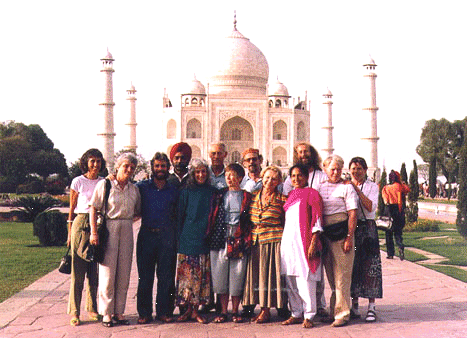 ENERGY ENHANCEMENT ADVANCED MEDITATION COURSE IN 28 INITIATIONS
AT THE WORLDS MAJOR ENERGETIC SITES
IN INDIA
email sol@energyenhancement.org for details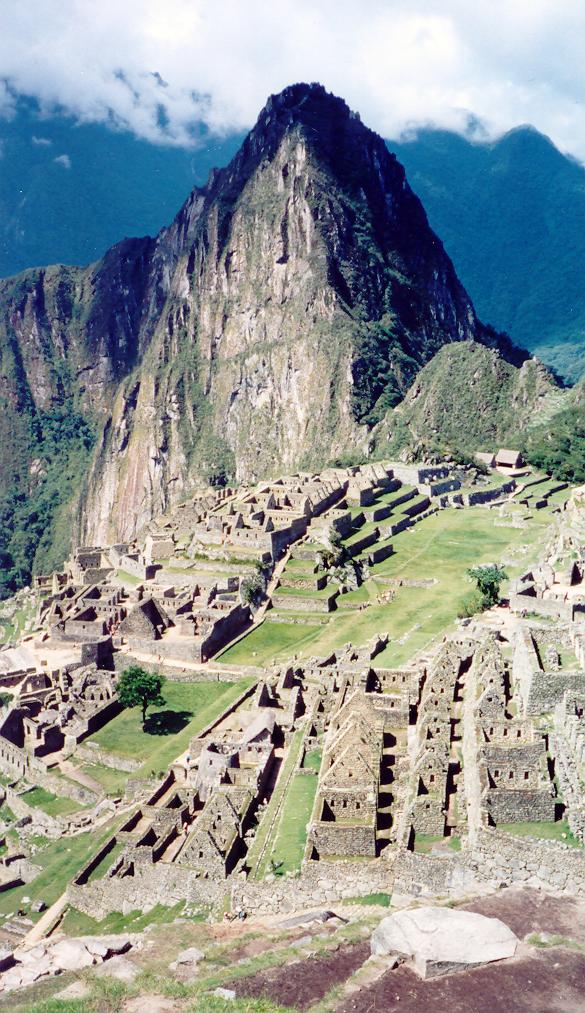 MEDITATION ENERGY ENHANCEMENT - Alternative Holiday Vacation Courses in Peru - Machu Pichu including Energy Enhancement Meditation Techniques and Yoga.
email sol@energyenhancement.org for details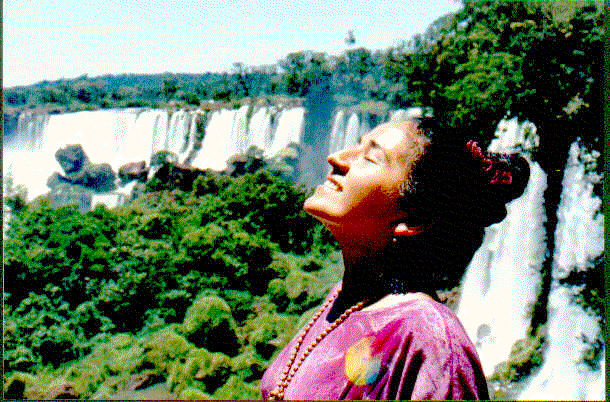 MEDITATION ENERGY ENHANCEMENT - Alternative Holiday Vacation Courses Brazil - Iguazu Falls including Energy Enhancement Meditation Techniques and Yoga.
email sol@energyenhancement.org for details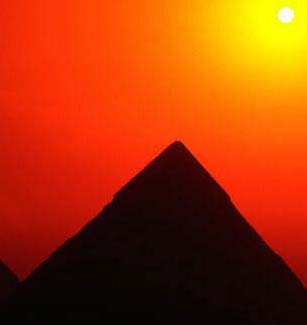 SHERATON LUXURY 5STAR MEDITATION COURSES AT THE WONDERS OF THE WORLD
TAJ MAHAL INDIA, PYRAMIDS EGYPT AND IGUAZU FALLS ARGENTINA
email sol@energyenhancement.org for details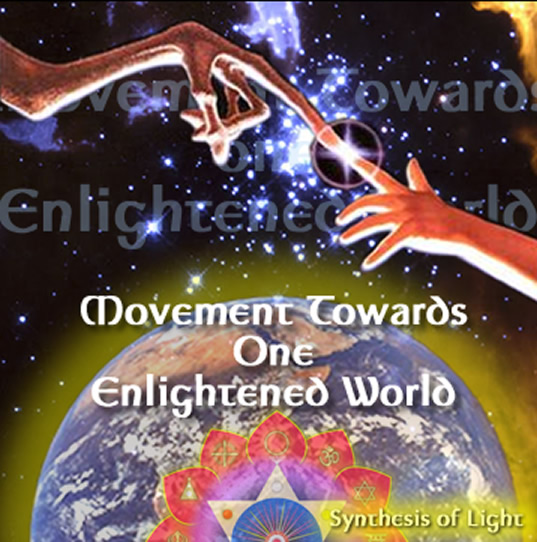 Come now!! CLICK HERE!! Come to the Energy Enhancement Centre for the YEAR LONG COURSE in the evolutional Buddhafield including all the spiritual endeavours...
including Energy Enhancement, Energy Enhancement Teacher Training, EE Reiki, Sacred Dance and Performance, Crystal Lightpuncture, The 5E´s Course, just like the Mystery Schools of Ancient Times.
email sol@energyenhancement.org for details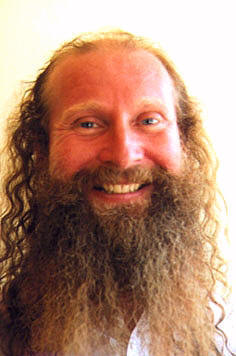 PERSONAL INTERVIEWS WITH SATCHIDANAND
QUESTIONS ABOUT ENERGY ENHANCEMENT COURSES AND YEAR LONG COURSES

THE RESOLUTION OF ANY PROBLEMS WITH THE ONLINE OR STREAMING VIDEO COURSES NOT CLEARABLE BY EMAIL

HELP WITH THE REMOVAL OF ENERGY BLOCKAGES

HELP WITH THE KARMA CLEARING PROCESS

HELP WITH THE GROUNDING OF NEGATIVE ENERGIES

HELP WITH SOUL CONTACT

HELP WITH THE CREATION OF THE ANTAHKARANA

CLEARING THE NEGATIVE ENERGIES OF HOUSES PRIOR TO SALE

CLEARING THE PATH OF NEW PROJECTS

ADVICE IN THE BUDDHAFIELD - THE ENERGY OF CHANGE
INTERVIEWS BY TELEPHONE
email sol@energyenhancement.org for details
VIDEO EXCERPTS FROM THE ENERGY ENHANCEMENT VIDEO COURSE
CLICK BELOW FOR SITE NAVIGATION
ENERGYENHANCEMENT.ORG SITE MAP
MAILING LIST SIGN UP

FREE REPORT CLICK HERE!! SECRETS OTHER COURSES WILL NEVER TELL YOU JOIN OUR REGULAR SPIRITUAL EMAIL SERVICE

ENLIGHTENMENT WITH MEDITATION ENERGY ENHANCEMENT INTRODUCTION
MEDITATION ENERGY ENHANCEMENT

STUDENTS EXPERIENCES

-

FIFTY

FULL TESTIMONIALS

ENERGY ENHANCEMENT LATEST STUDENTS EXPERIENCES

HEAL PROBLEMS - TRAUMA, PAIN, RAPE AND ABUSE, RELATIONSHIPS, DIVORCE, BEREAVEMENT, ANGER, FEAR AND DEPRESSION, FRIGIDITY AND IMPOTENCE, SEX ADDICTION, PIERCINGS, TATTOOS, BDSM, T
EE COURSE OVERVIEW THE KARMA CLEANING PROCESS
SPEED UP THE PROCESS OF ENLIGHTENMENT, WISDOM AND LEADERSHIP WITH THE APPRENTICE LEVELS OF THE ENERGY ENHANCEMENT COURSE.....
GAIN ENERGY APPRENTICE LEVEL1
THE ENERGY BLOCKAGE REMOVAL PROCESS LEVEL2
THE KARMA CLEARING PROCESS APPRENTICE LEVEL3
MASTERY OF RELATIONSHIPS TANTRA APPRENTICE LEVEL4
THE FOUR
YEAR ENERGY ENHANCEMENT COURSE
ENERGY ENHANCEMENT MEDITATION

HOME PAGE ONE

DVD

VIDEO COURSE

NOW UPGRADED TO 9 DVDS AND 15 HOURS OF TEACHING!!!

FREE VIDEOS!!

FREE ENERGY ENHANCEMENT DANCE VIDEO 1
COURSES IN ARGENTINA
COURSES IN SPAIN THIS SUMMER
SERVING YOUR MEDITATION SINCE 1993 - ENQUIRIES AND BOOKINGS -
SIGN UP TO THE ENERGY ENHANCEMENT NEWSLETTER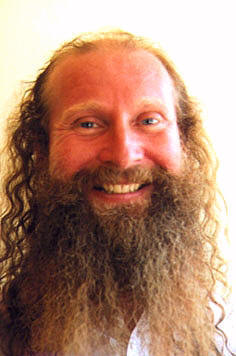 ENERGY ENHANCEMENT IS THE NEW, SAFE, SMOOTH AND FAST WAY OF LOSING ALL INTERNAL NEGATIVE ENERGY AND PAIN BECAUSE IT WORKS ONLY AT THE ENERGY LEVEL, THEREFORE SPEEDING UP THE PATH OF ENLIGHTENMENT.
ENERGY ENHANCEMENT HAS HELPED MANY PEOPLE ON THIS PATH FROM THOSE WITH THE BIGGEST ENERGY BLOCKAGES TO THOSE WHOSE ASPIRATION IS TO HELP THE WORLD AND ALL THE PEOPLE IN IT.
ENERGY ENHANCEMENT CAN HELP YOU!!
Part of Satchidanand's Web Blog - "I was meeting a nice girl of 28 this morning here at our center in Rosario. She is a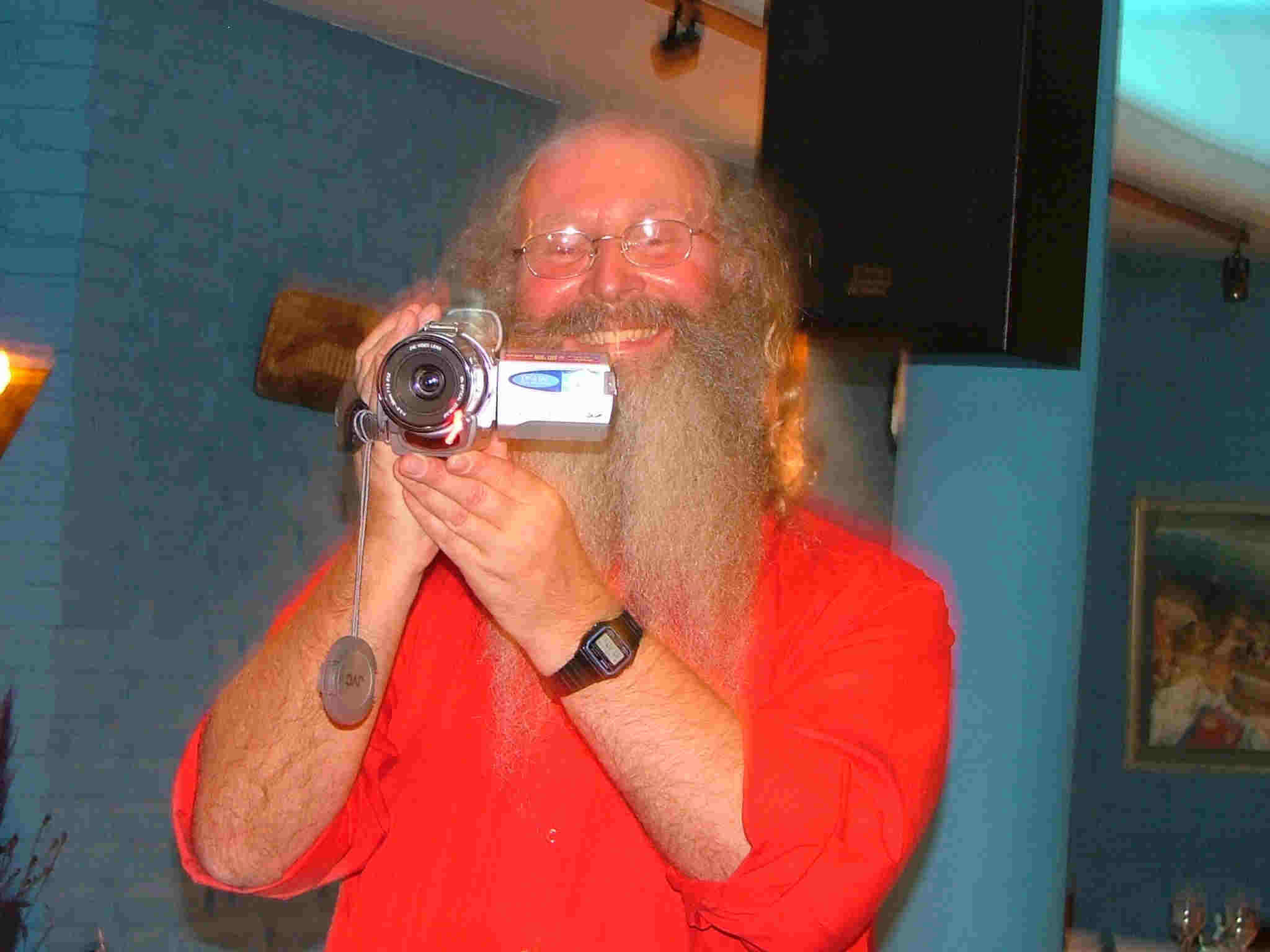 Psychologist but has fallen out of love with Psychology because although it explains things intellectually it gives no TECHNIQUES apart from talking to change anything internally, particularly in herself. You can see how effective Psychology is by looking at Woody Allen.
I connected with her base chakra and her inner child showed me all her chakras and blockages one by one. A very interesting experience. First the Base chakra, one fear and security blockage which I removed very quickly. Then the second, a pain filled relationship blockage which I also removed. Then all the chakras solar plexus, heart etc, feeling the general dirtyness of the psychic body usually cleaned with The Grounding of Negative Energies but no major blockages. Then the head, two blockages, one a person who had just died, very deep and negative. I removed the first blockage but the other one was more difficult and stayed with me, absorbed by my psychic body, for a day before I sent it on.
She felt the movement of energy blockages in the head and in the body as my mind and energy was working on her and told me that she normally got a lot of headaches. She was interested in my exposition of Energy Enhancement as all the while I was working on these blockages I was also talking to her. Such openings show an educated psychic body, one with talent. Not everyone who comes to the Guru has similar experiences. Some also get more. She and I felt that with training she also might be able to help her clients in a similar way. So, she is coming back tomorrow to try out the process, to get her first Initiation in Energy Enhancement."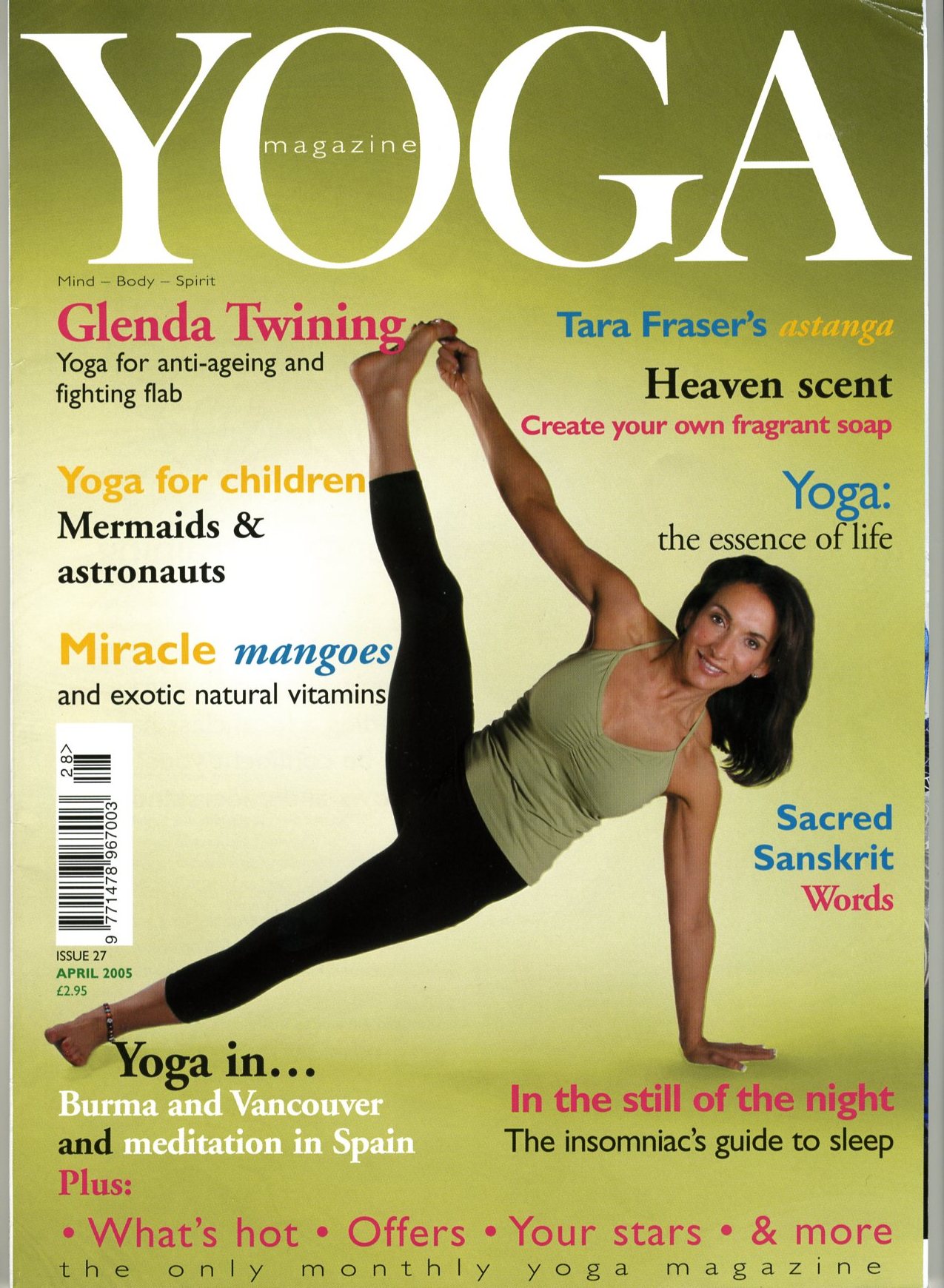 ARTICLE ON ENERGY ENHANCEMENT FROM THE YOGA MAGAZINE OF GREAT BRITAIN - FIND OUT WHAT THEY SAY!!
Energy Enhancement does exactly what it says on the Tin!
James Ellerbeck, Yoga Magazine of Great Britain.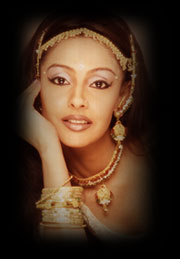 Here I am today, sitting down, putting pen down on paper whilst gathering my thoughts on the amazing Energy Enhancement Course that I am currently on. Where do I begin? Firstly, I felt it would be great to share my experiences of the Energy Enhancement course with other like-minded people. The following information is for those interested in growing spiritually, and wanting this world to become a better place - starting from improving themselves!
Honey Kalaria, Bollywood Star and Owner of Diva Entertainments
What we feel...
I am a brother of yours, who has traveled a little longer upon the Path than has the normal student, and has therefore incurred greater responsibilities. I am one who has wrestled and fought his way into a greater measure of light than has the aspirant who will read this webpage, and I must therefore act as a transmitter of the light, no matter what the cost.

I am not an old man, as age counts among the teachers, yet I am not young or inexperienced. My work is to teach and spread the knowledge of the Ageless Wisdom wherever I can find a response, and I have been doing this for many years.

I seek also to help the ascended Masters whenever opportunity offers, for I have been long connected with Them and with Their work. In all the above, I have told you much; yet at the same time I have told you nothing which would lead you to offer me that blind obedience and the foolish devotion which the emotional aspirant offers to the Guru and Master Whom he is as yet unable to contact. Nor will he make that desired contact until he has transmuted emotional devotion into unselfish service to humanity - not to the Master.

The words that I have written are sent out with no claim for their acceptance. They may, or may not, be correct, true and useful. It is for you to ascertain their truth by right practice and by the exercise of the intuition. I am not interested in having them acclaimed as inspired writings, or in having anyone speak of them (with bated breath) as being the work of one of the Masters.

If they present truth in such a way that it follows sequentially upon that already offered in the world teachings, if the information given raises the aspiration and the will-to-serve from the plane of the emotions to that of the mind then they will have served their purpose.

If the teaching conveyed calls forth a response from the illumined mind of the student worker in the world, and brings a flashing forth of his intuition, then let that teaching be accepted. But not otherwise.

If the statements meet with eventual corroboration, or are deemed true under the test of the Law of Correspondences, then that is well and good. But should this not be so, let not the student accept what is said.
Djwan Khul - Tibetan lama
Our Deepest Fear

Our deepest fear is not that we are inadequate. Our deepest fear is that we are powerful beyond measure. It is our light, not our darkness that most frightens us. We ask ourselves, Who am I to be brilliant, gorgeous, talented, fabulous? Actually, who are you not to be? You are a child of God. Your playing small does not serve the world. There is nothing enlightened about shrinking so that other people won't feel insecure around you. We are all meant to shine, as children do. We were born to make manifest the glory of God that is within us. It is not just in some of us; it is in everyone. And as we let our own light shine, we unconsciously give other people permission to do the same. As we are liberated from our own fear, our presence automatically liberates others.

by Marianne Williamson from A Return To Love: Reflections on the Principles of A Course in Miracles

(Note: This is often found on the Internet incorrectly stated as a quote by Nelson Mandela from the Inauguration Speech, 1994.)
NEW!! REFLECTIONS ON HOW TO DO WHAT YOU LOVE BY PAUL GRAHAM
CLICK HERE FOR SATCHIDANAND ARTICLE ON THE EE INCREDIBLY SUCCESSFUL AND PROFITABLE MOVIE LIST - AMERICAN BEAUTY
CLICK HERE FOR FREE SPIRITUAL DATABASE
CLICK HERE FOR FREE YOGA BOOKS
CLICK HERE FOR FREE SPIRITUAL MP3 TALKS
FREE GIFTS FOR NEWSLETTER SIGNUP

ENERGY ENHANCEMENT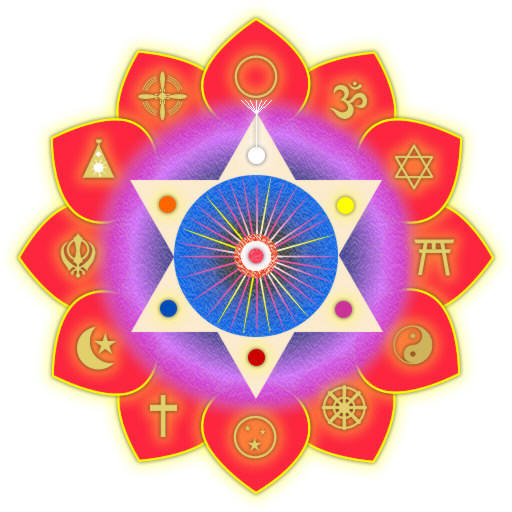 THE MOST ADVANCED COURSE OF MEDITATION ON THIS PLANET
STOP THE PAIN; DISSOLVE THE TRAUMA
SPEED UP THE PROCESS OF ENLIGHTENMENT
SIGN UP NOW
YOU GET EIGHT FREE ENERGY ENHANCEMENT MEDITATION GIFTS
FREE REPORT - WHAT THE OTHER MEDITATION COURSES WILL NEVER TELL YOU

FREE ONLINE ENERGY ENHANCEMENT E-Book

FREE ENERGY ENHANCEMENT VIDEO - YOGA SUTRAS BY SATCHIDANAND Download size 426mb

FREE!! 90 MINUTE TALK - ENLIGHTENMENT BY SATCHIDANAND Download size 11MB

FREE MEDITATION ENERGY ENHANCEMENT DANCE VIDEO ONE Download size 34MB

FREE MEDITATION ENERGY ENHANCEMENT DANCE VIDEO TWO Download size 38MB

FREE MEDITATION ENERGY ENHANCEMENT DATABASE ACCESS ONLINE 200MB

FREE Weekly Email Service of Right On Spiritual Texts and Pointed, Pungent and Humorous Stories.
FILL IN THE FORM BELOW!!
What you GET!!
YOU GET EIGHT FREE ENERGY ENHANCEMENT MEDITATION GIFTS
FREE REPORT - WHAT THE OTHER MEDITATION COURSES WILL NEVER TELL YOU

FREE ONLINE ENERGY ENHANCEMENT E-Book

FREE ENERGY ENHANCEMENT VIDEO - YOGA SUTRAS BY SATCHIDANAND Download size 426mb

FREE!! 90 MINUTE TALK - ENLIGHTENMENT BY SATCHIDANAND Download size 11MB

FREE MEDITATION ENERGY ENHANCEMENT DANCE VIDEO ONE Download size 34MB

FREE MEDITATION ENERGY ENHANCEMENT DANCE VIDEO TWO Download size 38MB

FREE MEDITATION ENERGY ENHANCEMENT DATABASE ACCESS ONLINE 200MB

FREE Weekly Email Service of Right On Spiritual Texts and Pointed, Pungent and Humorous Stories.
Fill in the Form BELOW!!

SERVING YOUR MEDITATION SINCE 1993 - INFORMATION, ENQUIRIES AND BOOKINGS -

SPECIAL OFFERS

EMAIL sol@energyenhancement.org FOR PRICES

1. 4 STAR HOTEL PLAZA DEL SOL,

ROSARIO, SEE PICTURES BELOW. COURSE STARTS January 7TH 2006 for one month - IN THE SOUTHERN HEMISHERE IT IS SUMMER!

ENERGY ENHANCEMENT 4 WEEK 4 LEVEL COURSE INCLUDING LUXURIOUS OWN ROOM FOUR STAR ACCOMMODATION, breakfast included.

FREE PICKUP AND RETURN FROM BUENOS AIRES AIRPORT.

ENERGY ENHANCEMENT 4 WEEK 4 LEVEL COURSE INCLUDING LUXURIOUS FOUR STAR ACCOMMODATION .......

JACUZZI IN EACH ROOM, CENTRAL AIR CONDITIONING, SAUNA AND SWIMMING POOL, INTERNATIONAL CABLE TV AND BREAKFAST INCLUDED.

FREE PICKUP AND RETURN FROM BUENOS AIRES AIRPORT.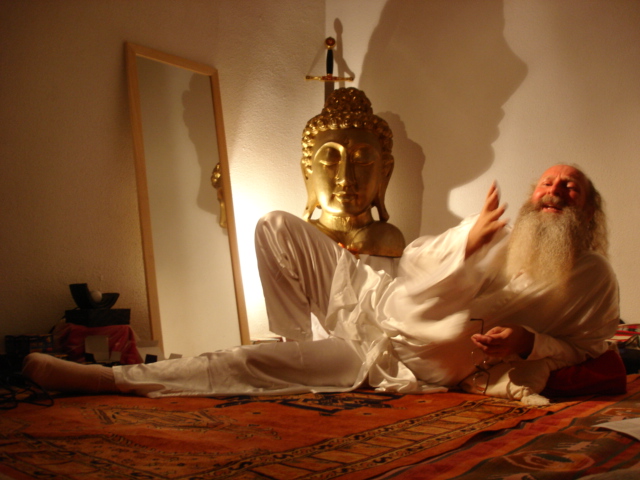 SATCHIDANAND TEACHING AT THE SOL CENTER SEPTEMBER 2005 COURSE

2. STAY AT THE SOL CENTER IN SIMPLE SINGLE ACCOMMODATION WITH AIR CONDITIONING IN ROSARIO WITH SATCHIDANAND AND DEVI DHYANI INCLUDING BREAKFAST <>AND EVENING VEGETARIAN NON-PESTICIDED MEAL , SEE BELOW. COURSE STARTS JAN 7TH 2006 - IN THE SOUTHERN HEMISHERE IT IS SUMMER!

ENERGY ENHANCEMENT 4 WEEK 4 LEVEL COURSE at the SOL Center INCLUDING SIMPLE ACCOMMODATION with Air Conditioning, breakfast AND evening meal included.

FREE PICKUP AND RETURN FROM BUENOS AIRES AIRPORT.

EXPERIENCE MORE!!!

EMAIL sol@energyenhancement.org

FOR PRICES

SCHOLARSHIPS

MONTHLY PAYMENTS IN ADVANCE

INTERNATIONAL BANK TRANSFERS

PAYPAL PAYMENTS

INTENSIVE VIDEO COURSE LEVEL ONE STREAMING VIDEO -
SPECIAL OFFERS..
EMAIL sol@energyenhancement .org for details
BUY NOW!!


SOL CENTER PICTURE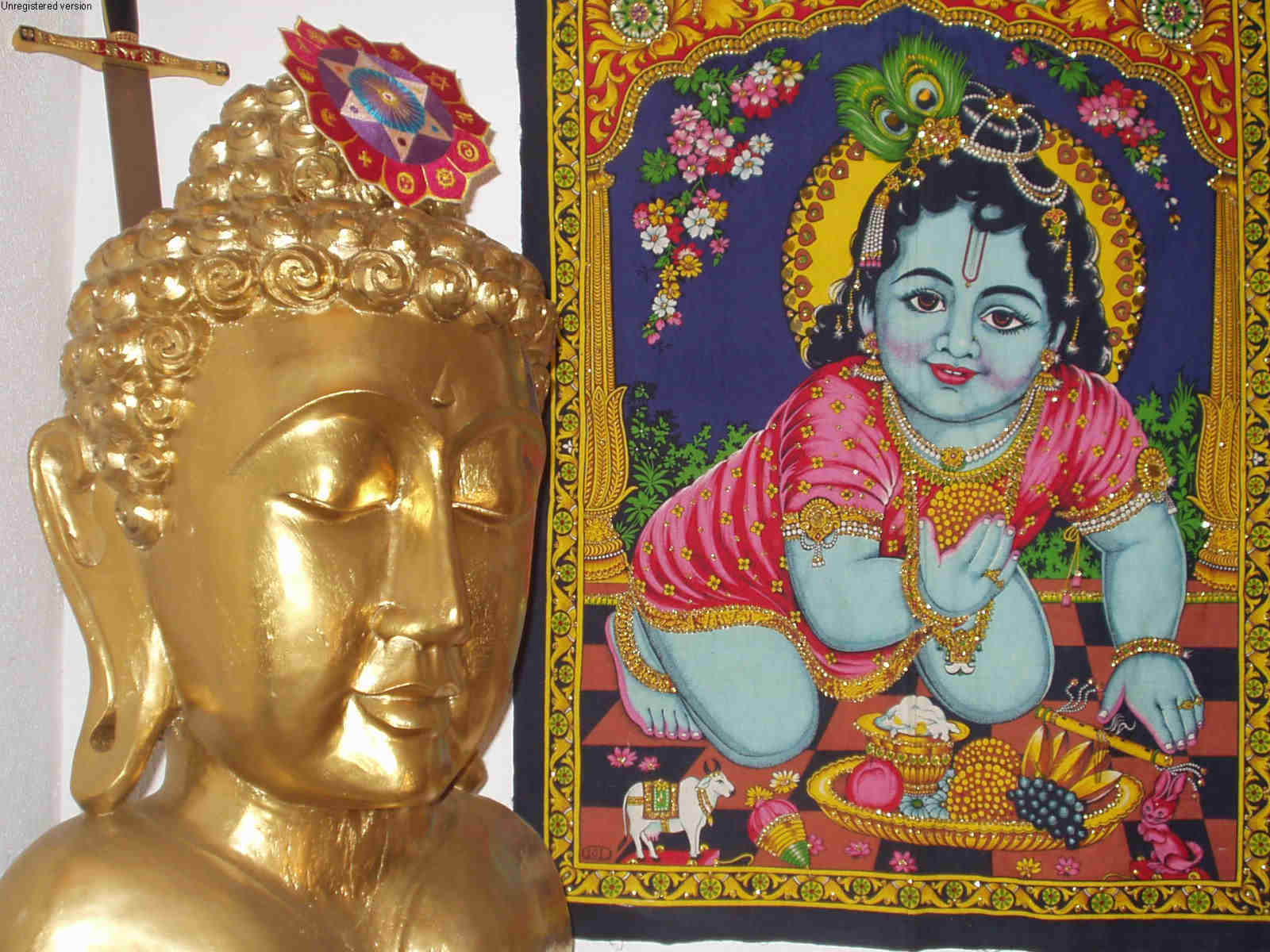 3. OTHER HOTELS AVAILABLE AT GOOD PRICES.
Whilst it is normally possible to complete the course within the 4 weeks, we try to ensure that each Energy Enhancement Initiation is Blockage Free before we move onto the next Initiation. This produces a firm foundation for the next Initiation so as to prevent its sabotage by the incomplete work in the previous initiation. To do this, each Energy Enhancement Client needs to take responsibility for the work necessary to finish each Initiation completely.
COURSE COMPLETION
In the case that the Initiations are not completed within the 4 week period, the course can be completed during a future 4 week course.
REFRESHER COURSES Even when the course has been completed successfully, we recommend future 4 week refresher course.
THIS SPECIAL OFFER IS ONLY POSSIBLE BECAUSE OF US BEING IN ROSARIO AT THIS TIME. THE HOTEL IS WONDERFUL, WE HAVE STAYED THERE MANY TIMES. YOU WILL ENJOY ROSARIO AND ITS ENVIRONS, AND OF COURSE, THE ENERGY ENHANCEMENT COURSE!
CLOTHING and CLIMATE
Bring comfortable loose clothes for yoga and sitting. If you are Zen then bring your Zafu. Normally JANUARY is very hot, but this luxurious hotel with its own private swimming pool and sauna, jacuzzis in every room, is centrally air conditioned and you will be extremely comfortable.
FLIGHTS ARE POSSIBLE FROM EUROPE AT 400 TO 500 UK POUNDS, YOU WILL NEED TO LOOK AROUND.
CURRENCY CONVERTER TO CONVERT UK OR GB POUNDS INTO YOUR CURRENCY AT www.xe.com
EMAIL sol@energyenhancement.org
FOR PRICES
SCHOLARSHIPS
ENERGY ENHANCEMENT - THE CORE ENERGY TECHNIQUES
Speed up the Process of Enlightenment.
The Kundalini Kriyas - Expel Every Energy Blockage.
Ground Negative Energies. Heal Negative Emotions..
Transmute Traumatic Memories. The Mastery of Relationships.
The EE E-Book, Video Course, Home Study Course
Courses in India and Spain and Worldwide.
For Prices and Regular Emails Fill in the Form:-
Website www.energyenhancement.org

Would You Like the Atmosphere of an Ashram....
With the Comforts and Climate of Spain, THIS SUMMER?


Ill, Stuck, Blocked, Lost Your Way or Lacking in Energy?
Want to to Speed Up, Broaden or Deepen your Progress Using the Most Ancient, Advanced, Time Tested and Effective Techniques From over 5000 years of Successful Spiritual Science?

If you want to Change Any of the Above with a Life Enhancing Experience of Energy Enhancement,

DO IT NOW!!! Join Satchidanand and Devi Dhyani in Spain.


Enquiries or Bookings, Email sol@energyenhancement.org
Argentina https://www.energyenhancement.org/Argentina_EnergyEnhancement_HotelPlazaSol_Rosario_Meditation.htm

Spain https://www.energyenhancement.org/Escala.htm
EMAIL sol@energyenhancement.org FOR PRICES
FOUR STAR Plaza del Sol Hotel, Rosario, Argentina

Hotel Name: PLAZA DEL SOL HOTEL
City of Hotel : Rosario, Argentina
District: Downtown
Street address : San Juan 1055, Rosario, Argentina
Location: Located in the heart of Rosario, near San Martin pedestrian street, the banking and commercial area, with important malls and in front of the cultural center Bernardino Rivadavia.
Star rating: 4****
Amenities Hotel: Laundry, Bar, Meeting Rooms, 24 hour room Service, Swimming-pool, Sauna, Solarium, Gymnasium.
Amenities Rooms : Private Bath with Jacuzzi, Modem Connection, Phone, Cable TV, Minifridge bar, Electronic locks, Air conditioning, Safety boxes, Hair dryer.
Number of Rooms : 55 Singles, Doubles and Triples rooms and 5 Suites.
Rates: All rates are in US dollars, including taxes and service surcharge, rates are per night, per room.
Single : $ ON REQUEST
Double : $ ON REQUEST
Triple: $ ON REQUEST
Suite: $ ON REQUEST
Rates Include : Buffet Breakfast.
Type of Credit Cards accepted : Mastercard, Visa, American Express, Diners
EMAIL sol@energyenhancement.org FOR PRICES
---
---
<> THE MOST ADVANCED AND PRODUCTIVE MEDITATION COURSE IN THE WORLD!!!!

LEARN IN THE FIRST SEVEN INITIATIONS
<>
WEEK ONE LEVEL ONE - THE GAINING OF ENERGY! FROM JANUARY 7TH 2006<>
ENERGY ENHANCEMENT MEDITATION, SHAKTIPAT, SQUARING THE CIRCLE, ENERGY CIRCULATION, THE KUNDALINI KRIYAS, THE FIVE ELEMENTAL PATHS OF THE CHI OF CHINESE ALCHEMICAL TAOISM, THE GROUNDING OF NEGATIVE ENERGIES, ALCHEMICAL V.I.T.R.I.O.L - THE FIRST FORMULA, GUIDED MEDITATION, OF ALCHEMY, ACCESS TO KUNDALINI ENERGY, STRONG PSYCHIC PROTECTION, LEARN THE MERKABA, PYRAMID PROTECTION, POWER TOWER PROTECTION, CREATE THE ANTAHKARANA, SOUL FUSION, MONADIC INFUSION, LOGOIC INFUSION!!!

WEEK TWO LEVEL TWO - THE REMOVAL OF ENERGY BLOCKAGES.
<> THE REMOVAL OF THOUGHTFORMS, IMPLANTS, ENTITIES, AURIC EGG BLOCKAGES, DISAPPOINTMENT, BEREAVEMENT, NEGATIVE EMOTIONS - ANGER, FEAR, WANTING SYMPATHY, MANIC, SADNESS, DEPRESSION, CHRONIC DEPRESSION, ENVY, JEALOUSY, THE DESIRE TO DO HARM, EMOTIONAL IQ, CLEAR CANCER FROM THE DNA, CHAKRAS, PARTS OF THE BODY, THE TIMELINE, THE KARMA CLEANING PROCESS, THE WOMB, THE PRIMAL SCREAM, CLEAN THE KARMA FROM ALL THE YEARS OF YOUR LIFE, CREATE GOOD LUCK, AND GOOD HEALTH.


WEEK THREE LEVEL THREE - THE KARMA CLEARING PROCESS.
KARMA CLEANING PROCESS, CLEAN THE KARMA FROM PAST LIVES, FUTURE LIFE, FUTURE LIFETIMES, SOUL FRAGMENTATION AND RETRIEVAL, INNER CHILDREN, SELFISH EGO SUB PERSONALITES, LIFE DESTROYING STRATEGIES, THE ALOOF, THE INTERROGATOR, THE VIOLATOR, THE SELFISH COMPETITIVE STAR, THE VAMP OR DON JUAN, THE PLEASER, THE BLAMER, THE CRITIC, THE KING, THE SELF DESTRUCTOR, ALL THE DESTRUCTIVE VOWS FROM THIS AND PAST LIFETIMES, THE CREATION OF SELF LOVE, LOVE AND SERVICE.


WEEK FOUR LEVEL FOUR - THE MASTERY OF RELATIONSHIPS!
THE PSYCHIC SEXUAL CONNECTION, HEAL BEREAVEMENT, CLEAN THE TIES WHICH BIND, THE HIGHEST HEART, THE MASTERY OF ADDICTIONS - DRUGS, ALCOHOL, TOBACCO, SEX, FOOD, POWER, MONEY, THE SOUL CONNECTION, CREATE INCREDIBLE RELATIONSHIPS - THE KARMA CLEARING PROCESS WITH ALL YOUR RELATIONSHIPS, FRIENDS, FAMILY, MOTHER AND FATHER, REMOVE BLOCKAGES FROM FRIENDS AND FAMILY, HEAL THE WORLD. BECOME A MASTER, A MERLIN, A JEDI KNIGHT, A WHITE MAGICIAN.

EMAIL sol@energyenhancement.org FOR PRICES

TESTIMONIAL

I have been working for over 12 years with many well known techniques including Transcendental meditation and Kriya Yoga, Subud, A Course in Mircles and the Sedona Method.

Although I have made good progress with these techniques I now consider these to have been preliminary techniques to prepare me for Energy Enhancement.

These methods that I have tried before simply don't provide for the systematic identification of Energy Blockages or contain the Advanced Techniques for the removal of the energy blockages to enlightenment that Energy Enhancement does.

If you are serious about self-improvement, growth, change, enlightenment! Then the Energy Enhancement course is for you.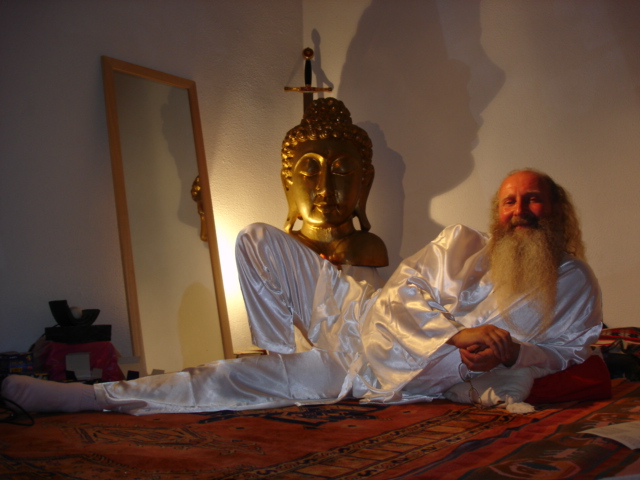 If you are tired of all the many systems of meditation which leave questions unanswered and where the path to enlightenment is ill defined and uncertain then don't delay end the suffering as soon as possible – learn Energy Enhancement.
Jean, FROM THE SEPTEMBER 2005 ENERGY ENHANCEMENT COURSE
EMAIL sol@energyenhancement.org FOR PRICES

Holiday Inn
ROSARIO
DORREGO 450
ROSARIO, 2000
ARGENTINA
Tel: 54-341-4100000
Fax: 54-341-4100009
Check-In Time: 3:00 PM
Check-Out Time: 1:00 PM
Quality Performer:
Local Time: 3:03 PM EST

| | |
| --- | --- |
| | The first international chain Hotel in Rosario city. Our world level high standards of quality, Safety and Services allow us to meet the needs of our select guests business men and tourists that visit us, in an atmosphere of complete comfort and modern architecture. |
Outdoor Pool
Complimentary Breakfast
Sauna
Health/Fitness Center On-Site

112 Guest Rooms
2 Suites
20 Non-Smoking Rooms
71 Double-Bedded Rooms
41 Single-Bedded Rooms
Downtown/City Center
20 Floors
1 Restaurant

A/C Public Areas
Foreign Currency Exchange
Concierge Services
Dry Cleaning Pickup/Laundry
Florist
Baby-Sitting
Porter/Bellman
Safety Deposit Box available at Front Desk
Shoe Shine
Room Service

Business Center
Copying
E-mail & Internet
Executive Suites
PC
Printer

Number of Parking Spaces: 50
Car Parking Available
---
PICTURES OF ROSARIO, ENERGY ENHANCEMENT CENTER
EUROPEAN WINTER IS ARGENTINE SUMMER, BECAUSE IT IS SOUTH OF THE EQUATOR.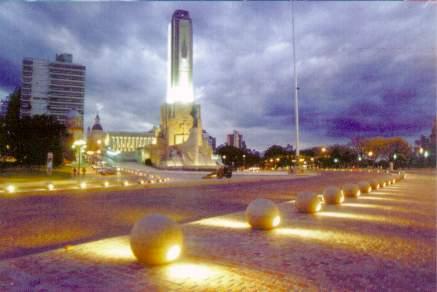 This is the Monument of Rosario. Designed by a Mason, surrounded by the four elements it is said by Spiritual Masters to be a focus for the Spiritual Energies which are now energising Rosario.

There are many clubs in Rosario where people go to dance the Tango and where Tango Masters give expositions.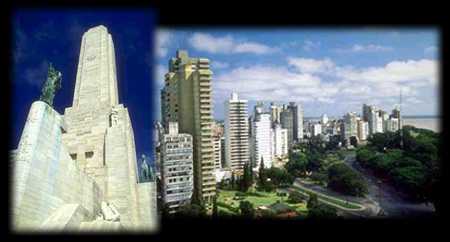 The Monument and flowering Jacaranda Trees down near the river, Rosario. On the other side of the river you see the sand banks where people take the sun and bathe in the river. Beneath is La Florida beach in Rosario and the new bridge on the side of the River Parana, which is 50 kilometers wide at this point. We also take trips to the sandbanks sunbathing on the other side and over to Victoria and the Benedictine Monastery on the other side.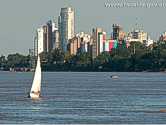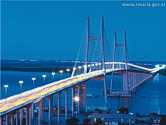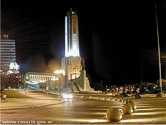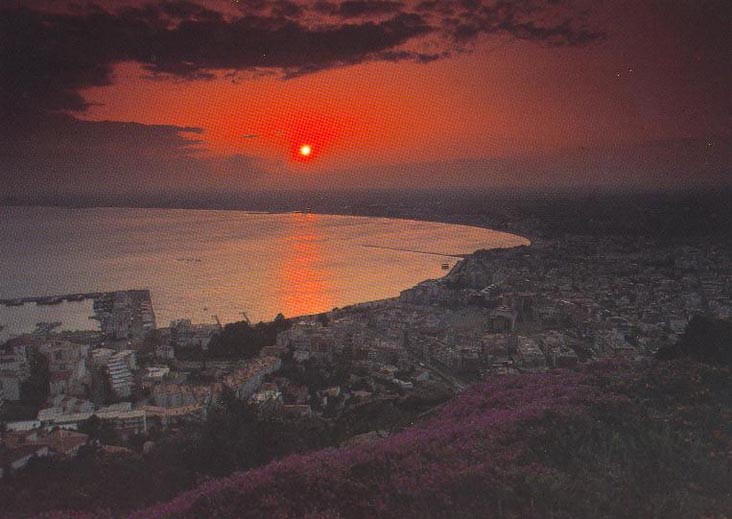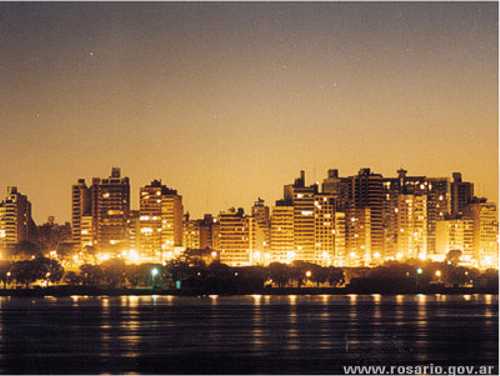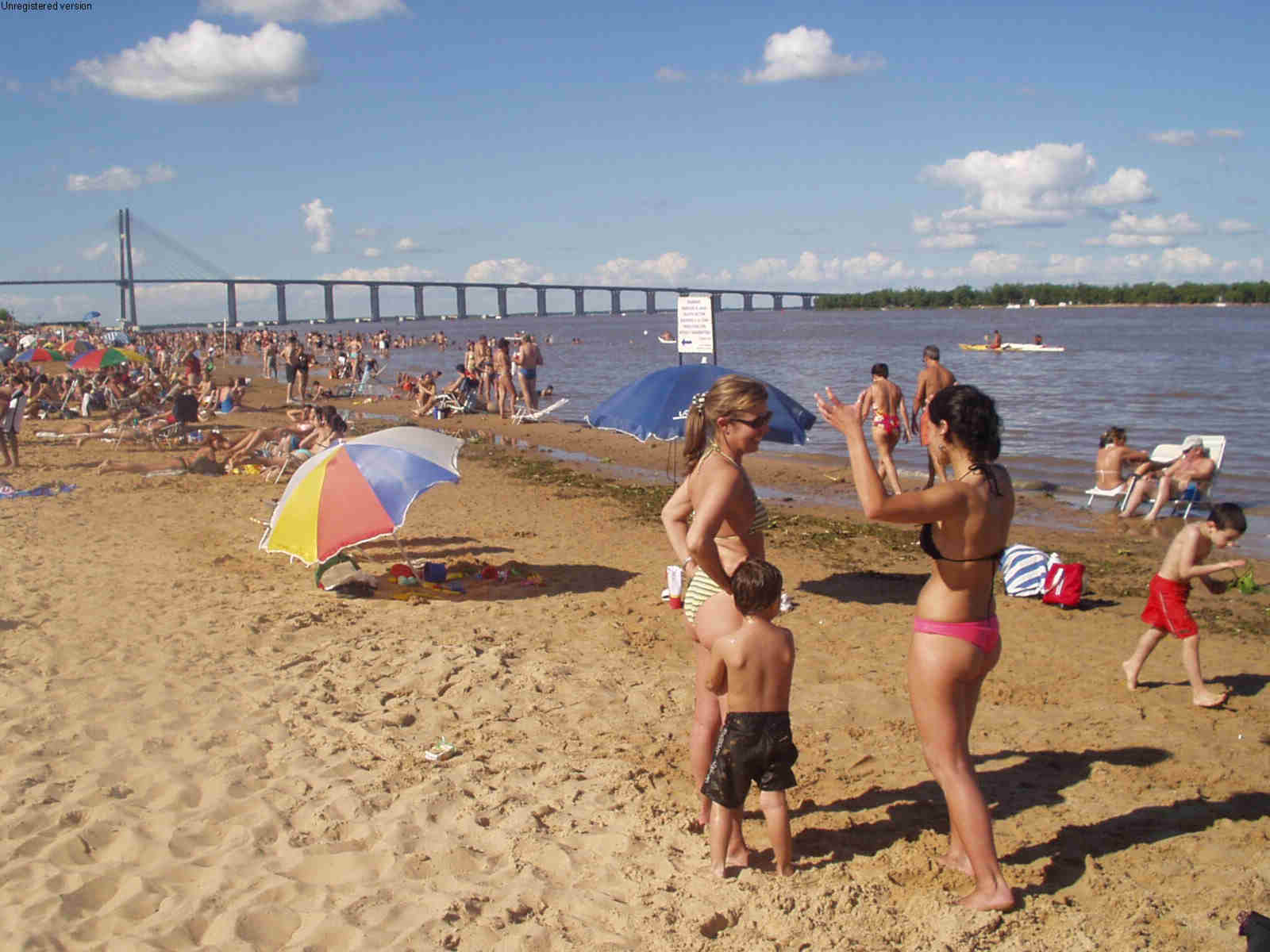 Below, the left pink is Rosario and the Right pink Victoria, the little town on the other side of the river. This picture is from a satellite on high. The blue is the Parana River - Rosa Rio - the Pink River, the second largest river in the world. It is 50 KM wide at Rosario. Take a trip over to Victoria by boat and in 10 minutes you are in the depths of nature, of something like you would imagine the Amazon to be.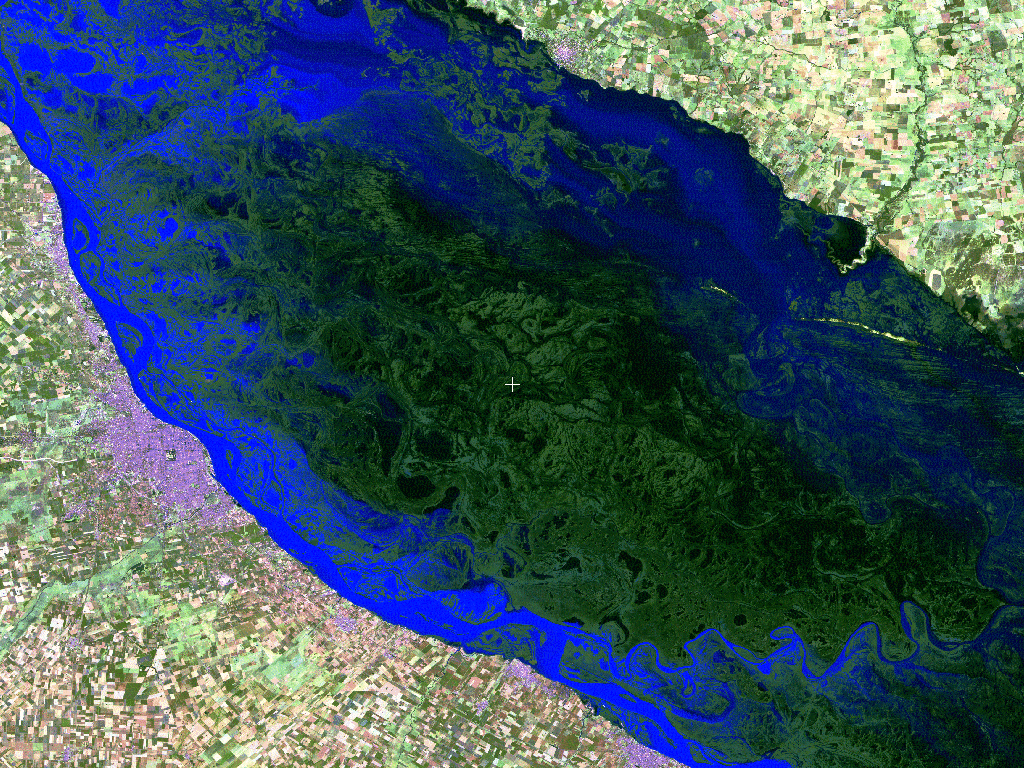 For Energy Enhancement at Iguazu Falls goto
https://www.energyenhancement.org/sol.htm
Testimonials For an Energy Enhancement Executive Retreat at the TAJ MAHAL in India
This testimonial has been provided by Pierre Morency after his Executive Retreat to the Taj Mahal with us. Pierre is a previous member of International Consultants, McKinsey and Company. Management Consultants who recruit mainly Rhodes Scholars, universally used by all major International Companies for consultation and as a selection ground for future Chief Executive Officers, CEO's.
Energy Enhancement proves its use for all levels of business and professionals - in fact for anyone who wants to access their inherent energies. Energy Enhancement speeds up the process of gaining more Energy!
Pierre came on one of our Energy Enhancement Training Adventures in India, visiting the Taj Mahal and the Foothills of the Himalayas and travelling from his home in Canada. Usually we go for one week for one Level of Energy Enhancement, learning the Techniques in 5Star Hotels. Pierre learnt Two Levels of Energy Enhancement. The process he describes in his case was very quick as is his nature.
Pierre himself is a marketing consultant to many International Companies and CEO's.


Here's my promised testimonial:
"Last June, I had the privilege to get my first taste of India, an Executive Retreat in the Company of two wonderful, knowledgeable and fun people, Satchi and Devi. From day one, they were able to stabilize me in this strange and mysterious country.

Being a marketing speaker and a meditation practitioner, I didn't really know what to expect from my 2 week training. What I discovered was a powerful systematic way of practicing meditation and other Energy Enhancement methods.
I'm in the process of fully testing the techniques and approaches I've learned but can already feel - and prove!- tremendous changes in my life.
For instance, since I've been working on "cleaning my base chakra" (The Grounding of Negative Energies -Satchidanand) everything around me seems to be going through a massive cleansing process - Only 2 days after I returned to Canada from India, a chain reaction of events led my to change my 5 employees, change some of my major accounts and delay a move to the United States. 10 weeks after the program, things are stabilizing.
Looking back, I think the cleansing process probably saved my business and my marriage.

Thank you for the Executive Retreat, Satchi and Devi.

Pierre Morency
Marketing Physicist
President Morency Marketing Inc."

Hope this testimonial can serve you well.
Pierre.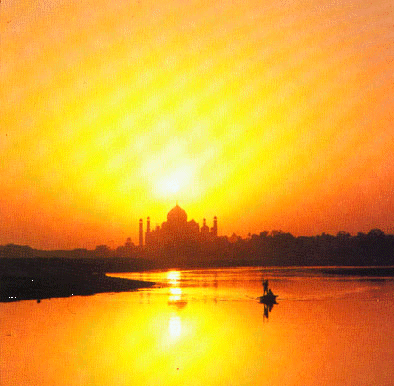 Now a Testimonial From Gary Spaid a Wealth Management Counselor in Vail Valley, Colorado, USA about his Executive Retreat.
Our Energy Enhancement Course, Executive Retreat, in Vail, Colorado is come to an end. Here in the high Rocky Mountains with brilliant sunshine, snow clad peaks and the aspen trees turning a beautiful shade of Spring green.
Gary Spaid and his wife Candy kindly invited us to their wonderful house so that they could learn Levels One and Two of Energy Enhancement.
Gary has been a long time practitioner of Transcendental Meditation he says, "When I purchased the Energy Enhancement Video Course I was blown away by the power of the Energy Enhancement Techniques and by the amazing talks of Satchidanand.
Having practiced meditation for many years and understanding that the technique of meditation is in a large way responsible for my successful practice as a wealth management counselor and fund manager for many lucky people here in Denver and the Vail Valley, I believe that meditation is in a large part responible for all the luck I have created in my life.
When you have something good you want more, and for me, inviting Devi and Satchidanand here to my house here in the Vail Valley for an Executive Retreat was that next step.
Also, I was interested in giving my wife, Candy, the necessary tools to improve her asthma and start a life of meditation with me.
So, what did we get? I can say that practicing the technique of Stage 4 of Level One of Energy Enhancement with Devi and Satchy gave more power to the top down approach of Meditation. I had an experience of the MAGIC!! that I so longed for in my meditation.
Sitting in the flame of Kundalini and seeing my karma burn up was a POWERFUL experience.
The emphasis on releasing energy blockages given in Stage 5 of Level One of Energy Enhancement is a bottom Up approach as this gives more power to my meditational energy and creates a Power center, Base Chakra, launch pad of Enlightenment.
This aspect will give me a steady discipline over the next few years as I use the Energy Enhancement Techniques to enter into my past history, chakras, parts of the body and to create relationship harmony between family, clients and friends as I Ground the Negativity between us!!
Satchy and Devi told us many extra things, Reiki Initiations and practice, elimination of toxins through herbal cleanses and fasting which we did for a day or two, Yoga to find out where our blockages are, Food to reduce toxins - (they even cooked for us!) and breathing practice to increase our Energy.
They even used Color Light Puncture, Acupressure, Pulse Healing and many different techniques to heal my knee and Candy's asthma.
Satchidanand was kind enough to let us work on our business daily while they were here, so, although we couldn't get real intense, phew!, we had a steady discipline and energy towards our goal.
I guess this is the advantage of inviting them to our home for 3 weeks. So I recommend you try this Energy Enhancement for yourself.
They gave some inner WEALTH to me and Yoga and better relationships to Candy.
Candy even wants to accompany my daily meditation sessions now!!
I suggest you try the Video course or the Online Course first before you invite them to YOUR home or go to visit them wherever in the World they are. I guess Spain or India this year. You will not be disappointed."
TESTIMONIAL... Why Energy Enhancement is the best thing since Sliced Bread.
16th September 2004.

The meditations on the Energy Enhancement course are extremely powerful.
Every day I make progress as I learn to use the techniques, becoming
increasingly familiar with them and more able to handle the energy they
release. Sometimes it is hard, hard work. I have learned a lot about
determination and passion in Energy Enhancement meditation. And as in
meditation, so in life!

The techniques of Level 2, after being introduced to the expansive vistas of
the basic environment of Energy Enhancement in Level 1, allow you to go into
meditation even deeper, clearing out deeper blockages with more efficacy.
You become a true warrior! The meditations I have experienced are extremely
dynamic, allowing me to explore my own sense of creativity and improve my
ability to solve problems without being a slave to dogma, including some of
my own rigid belief structures, which come to the surface quickly and
require dealing with. Here you are given the tools to deal with these things
and you must learn how to use them yourself. Only you can walk your path.
The only insistence is that ALL YOUR BLOCKAGES MUST GO!

Having been on a 10 day Goenka Vipassana silent retreat where I meditated for
8 hours a day I can say that coming to stay with
Satchi and Devi is so much more grounded in everyday life. The difficulty in
spiritual life is balancing the material and spiritual worlds effectively.
Energy Enhancement does not promote a spirituality that grows only in the
mountains, apart from the cities and the hustle and bustle of everyday life.
It shows you how to integrate the peace of retreat with the activity of life
- work, relationships, enjoyment, and spirituality - there should be no
separation!
Satchi and Devi are both inspiring, wonderful examples of how to
achieve this integration. No ascetic renunciation here! Only energy; how to
get more of it, how to connect.

The way Satchi and Devi work with you is by being excellent hosts, giving
you close individual attention, a wonderful environment with incredible
opportunity to learn and grow, and most importantly, by leaving you to get
on with it! There is no forceful discipline here, only the gentle but steady
encouragement and help to remove your blockages. They are always on hand but
they want you to be able to heal yourself and not rely on them. And so one
of the greatest things I am learning is self-discipline and self-motivation.
I can see myself being able to carry what I am learning here back into my
everyday life with ease, keeping the balance and becoming more and more
integrated.

This is an amazing time of growth and discovery for me, setting me in good
stead for the rest of my life. Before I came here I was being f%%%%% by
existence. My relationships were getting messier and messier, my life path
was unclear and my general mood was one of despondency and frustration.

Having spent two weeks here, not all of it easy, believe me, I can honestly
say that my perspective is changed. I am feeling more full of energy, more
alive. The future is wide, open, bright, full of mystery, and it excites me!
I am looking forwards to getting back to my adventure.


My advice is come! Do not delay!
Talk to Satchi and Devi about it.

For Bookings Email
CLICK BELOW FOR-
MEDITATION Energy Enhancement Courses BARGAIN PRICE 4STAR HOTEL IN ROSARIO PLAZA DEL SOL ARGENTINA JANUARY 2005
MEDITATION Energy Enhancement Courses IN CAMPING CABINS IN L'ESCALA COSTA BRAVA SPAIN SEPTMBER 2005
MEDITATION Energy Enhancement Courses on Tour in India in 5 Star Hotels ANYTIME
MEDITATION Energy Enhancement 7 wonders 5STAR courses at the Taj Mahal, Egypt Pyramids and Iguazu Falls Argentina
MEDITATION Energy Enhancement Courses on Tour in Sacred India time by Negotiation
---
THE ENERGY ENHANCEMENT SYMBOL
The Truth is One the Paths are Many.
Energy Enhancement Synthesis Of Light Ltd
A Non-Profit Organization, dedicated to raising the World's Evolutionary Energy.
ENQUIRIES, JOIN SOL MAILING LIST CLICK HERE!!
Or you can learn By Clicking The MEDITATION Energy Enhancement Video Course or The MEDITATION Energy Enhancement Online Course .....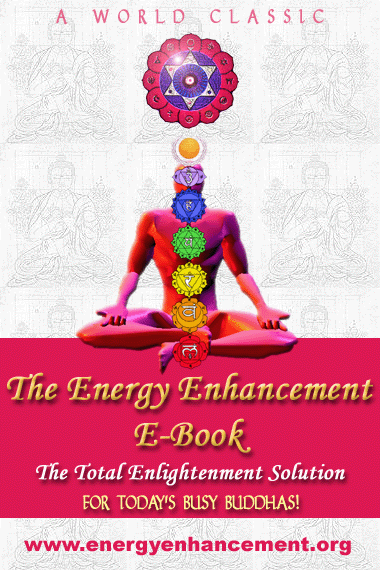 Well, if you want to know more about Meditation Energy Enhancement then you need to click on certain sections of the website like...
Shockwave Meditation Energy Enhancement
Meditation Energy Enhancement Introduction - Find out More!!
Meditation Energy Enhancement One Week Course Level 1
Meditation Energy Enhancement One Week Course Level 2
Meditation Energy Enhancement One Week Course Level 3
Meditation Energy Enhancement Testimonials - What our Clients SAY!!
Online Downloadable Book Written by SATCHIDANAND of Meditation and Energy Enhancement
SATCHIDANAND Online Downloadable Talks and Lectures of Meditation and Energy Enhancement
Online Downloadable Course of Meditation and Energy Enhancement
SATCHIDANAND AND DEVI DHYANI Online Video Course on six CDs or VHS cassettes of Meditation and Energy Enhancement - Initiations 1 - 4 and Chants the Heart Sutra and Om Shanti
Energy Enhancement Yoga Teacher Training and Certification
Energy Enhancement Teacher Training and Certification
Reiki Free Reiki Initiations to Reiki Master with Meditation Energy Enhancement
Meditation Energy Enhancement Courses and Retreats - European Summer at our Villa on the Costa Brava in Spain
Meditation Energy Enhancement Courses and Retreats - European Winter is a 33C Summer at our Villa in Argentina and Tours to Iguazu Falls
Meditation Energy Enhancement Courses and Retreats - Winter in India at the Taj Mahal!!
Bookmark this page - add it to your Favourites Now!!
CLICK BELOW TO GO TO
Take your time, this site has much new wonderful information.
For Enlightenment using Sufi Zen Tao and Tantra Techniques you need to click HERE!!!