OSHO
ZEN
WALKING IN ZEN, SITTING IN ZEN
Chapter 4: A Question Of Being
Question 8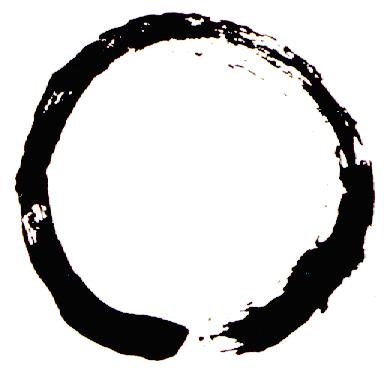 Energy Enhancement Enlightened Texts Zen Walking in Zen, Sitting in Zen
And the last question
Question 8
OSHO,
HOW DO YOU MANAGE TO DELIVER SO MANY BEAUTIFUL DISCOURSES?
Devakar
WHAT DISCOURSES? You call this yakkety-yak discourse? Discourse is a serious phenomenon! Discourse is something religious, holy, sacred. It is delivered in churches, temples. This place is not a church. This place belongs to the drunkards - it is a pub! What discourse? I have never delivered any discourse. Yes, I gossip, that is true, but there is no gospel in it and there is no art, no secret in it. It is very simple - my method is very simple.
A great emperor was passing through a village. He was one of the most famous warriors of those days and he was a lover of archery. He loved the people who were perfect archers. Passing through the village he saw on many trees, lampposts, and garden fences, arrows sticking exactly in the middle of circles - exactly in the middle, at the centers, of circles. So many arrows everywhere... he was surprised.
He asked, "Who is this man? I have never seen such a perfect archer! His aim is perfect, he never misses, not even by a fragment of an inch. The arrow always goes exactly into the center. Each target is a proof of it." He stopped his chariot, he called the people of the village. He said, "Who is this man?"
And they all laughed and said, "Don't be worried about him. He is a madman!"
He said, "What do you mean by madman? He may be mad, but he is the greatest archer I have seen."
They said, "It is nothing to do with archery. He knows nothing about archery."
The king said, "But then it is a puzzle. How does he manage?"
They said, "It is simple. First he shoots the arrow at the tree and then he goes and makes a circle around it!"
That's exactly my method. It is simple! Hence you can ask anything. Whatsoever I want to say, I say it. First I shoot the arrow and then I draw a circle around it - just as a finishing touch!
A parish priest was having a few words with his bishop and in the course of conversation said, "It's all right for you, my Lord. When you prepare a sermon you can deliver it to several churches in the diocese, but I have to give two new sermons every Sunday."
The bishop replied, "You should be able to give a sermon on almost any subject at a moment's notice, as I can."
"I'll take you up on that," said the parson. "You come to my church next Sunday and I will put you to the test."
The bishop agreed and in due course went to the pulpit to find a card with the one word "constipation" written on it. Without hesitation he started, "And Moses took two tablets and went out onto the mountain side."
Next: Chapter 5: Playing On The Path, Question 1
Energy Enhancement Enlightened Texts Zen Walking in Zen, Sitting in Zen
Chapter 4:
Osho - Talks on Zen: Walking in Zen, Sitting in Zen, Chapter 4: A Question Of Being, Question 1, THE VISION 'NEITHER THIS NOR THAT' FEELS SO NEGATIVE. HOW CAN I BE ACCEPTING OR EVEN CREATIVE WITH THIS? I FEEL TOTALLY CONFUSED at energyenhancement.org
Osho - Talks on Zen: Walking in Zen, Sitting in Zen, Chapter 4: A Question Of Being, Question 2, WHAT IS SATORI AND HOW TO ATTAIN IT? at energyenhancement.org
Osho - Talks on Zen: Walking in Zen, Sitting in Zen, Chapter 4: A Question Of Being, Question 3, I STILL DON'T BELIEVE THAT SEX IS STUPID at energyenhancement.org
Osho - Talks on Zen: Walking in Zen, Sitting in Zen, Chapter 4: A Question Of Being, Question 4, I'M IN VIPASSANA. TELL ME A JOKE! at energyenhancement.org
Osho - Talks on Zen: Walking in Zen, Sitting in Zen, Chapter 4: A Question Of Being, Question 5, DO YOU REALLY THINK THAT NOTHING BEAUTIFUL HAS EVER COME OUT OF ITALY? at energyenhancement.org
Osho - Talks on Zen: Walking in Zen, Sitting in Zen, Chapter 4: A Question Of Being, Question 6, I MUST BE THE MOST GREEDY PERSON IN THE WHOLE WORLD. WHAT SHOULD I DO ABOUT IT? at energyenhancement.org
Osho - Talks on Zen: Walking in Zen, Sitting in Zen, Chapter 4: A Question Of Being, Question 7, I WAS BORN ON FEBRUARY 29TH, HENCE MY BIRTHDAY COMES ONLY ONCE IN FOUR YEARS. IS THERE SOME SIGNIFICANCE IN IT? at energyenhancement.org
Osho - Talks on Zen: Walking in Zen, Sitting in Zen, Chapter 4: A Question Of Being, Question 8, HOW DO YOU MANAGE TO DELIVER SO MANY BEAUTIFUL DISCOURSES? at energyenhancement.org