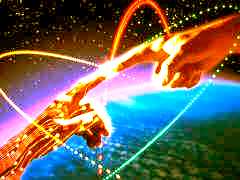 ENERGY ENHANCEMENT LEVEL ONE
      NOW AVAILABLE IN THE U.K. 
 
    Get peace and energy in one complete course. 
 
 
My thanks go to Swami Satchidanand and Devi Dhyani for giving me the teacher training for Level One, which I carried out first in the summer of 2003.  I found the course very informative, challenging and professional. Having practised energy enhancement personally for 4 four years and found it life changing, I am ready to share my knowledge with others. 
 
The course material is as Swami Satchidanand teaches and details of which can be found throughout this website, particularly the videos. 
 
Level One is complete on its own. The course goes systematically through the initiations step by step building on each initiation, which is a new technique. The theory behind each initiation is explained and ample time will be given to practising the technique and questions answered.  The groups will be kept to small numbers for personalised instruction. There will be support via email during the duration of the course and beyond. 
 
If you want to progress more quickly on your spiritual path, then this is the course for you.  Don't hesitate - sign up now.  
 
Enquiries or booking 
 
Email: VanessaEGraham@aol.com
Phone 01273 495554 
 
Itinerary
Saturday May 19th Getting Started – Initiations One & Two
A.M. Meditation posture and practice – squaring the circle & stopping the mind
P.M.  Energy circulation – microcosmic orbit, Kundalini kriyas 
 
Saturday 2nd June – the Grounding of Negative Energies – Initiation Three
Alchemy, Vitriol and Earth Connection 
 
Saturday 16th June – Accessing the Universal Energy Source – Initiation Four
Macrocosmic orbit, Advanced Kundalini Kriyas 
 
Saturday 7th July – Grounding of Toxins in Food  - Initiation Five
Re-awakening your psychic ability to detect poisons. 
 
Saturday 21st July – Protections
Merkaba, Columns of Protection and Pyramids of Protection 
 
Saturday 4th August – Auric Protections 
 
 
Each workshop will begin with a revision of the previous initiation and any difficulties resolved, before progressing onto the next. 
 
Cost of complete course £400/ €600 payable by cheque in advance.
A light lunch provided
Concessions are available 
 
LOCATION 
 
20 km North of Brighton
30 km South of Gatwick Airport
20 km West of Haywards Heath (main railway line from London - one hour by train) 
Easily accessible via M25, M23 then A23 and the M27, A27.
Vanessa_Graham_Meditation_Testimonial
Vanessa_Graham_Meditation_Testimonial_Part_2
Vanessa Graham England_Meditation_Course at the Oshadi Meditation Center
VANESSA GRAHAM ENERGY ENHANCEMENT MEDITATION LEVEL ONE COURSE IN THE UK AT THE OSHADI MEDITATION CENTER