The Energy Enhancement Awakening of the Light Body Matrix

The activation of the sustained reconnection of the Infinite Chakras of your Light Body Matrix Human bio-circuitry is accomplished via Energy Enhancement Initiations in the Buddhafield and the removal of Energy Blockages preventing connection with the Chakras above the Head.

Energy Enhancement Initiations in the Buddhafield are a coded convergence of energy and removal of Energy Blockages, which, together with the revelations of Humanity's origins and history and the full potential of the immortal Human design, initiates a powerful and transformative journey into the past, the ability to courageously be conscious and grounded in the present, and an understanding of the future which we will collectively co-create through the resurrection of the light body.

We are the amalgamation of various visible and invisible energy systems that together generate the Human hologram. The primary system that supplies this unit with the energetic nature of Creative Intelligence that births the field is the Infinite Chakras above the Head. At this time the chakra system is considerably less than optimal. The fact that out of 3 billion base pair chemicals in the Human gene code only 60 million are active and that we only use a fraction of our brain capacity are manifest signs that point to Energy Blockages preventing connection with the Infinite Chakras above the Head and their connection powering up the Human gene code.

FROM THE EE STREAMING VIDEO COURSE


"Do not worry about small capacitor (chakras in the body) instead connect with big generator (the Infinite Chakras above the Head)" - Gurdjieff

Built upon the laws of Alchemy, the Infinite Chakras above the Head powering up and creating synergy with the vibratory infrastructure of your dormant DNA, Energy Enhancement Initiations are a transcendent model that offers the un-interpreted, uncensored energetic truth of Creation, delivered by the simple reconnection of electromagnetic energy via bio-circuitry.

DNA ANTAHKARANA BRIDGE FROM THE CHAKRAS ABOVE THE HEAD


Conscious communion with the Infinite Chakras above the Head through Energy Enhancement Initiations is a fundamental aspect of our evolutionary awakening.

The reconnection of chakra circuitry revitalizes the endocrine system and renders us able to receive, translate and utilize the full spectrum geometries of light that we may ready ourselves for the luminous data density offered by the 2012 portal of opportunity in order to collectively stabilize a new matrix… reconnection with the Infinite Chakras above the Head and their connection powering up the infinite talent body powers of the Human gene code (out of 3 billion base pair chemicals in the Human gene code only 60 million are active) - a paradigm resonant with the integrity of light.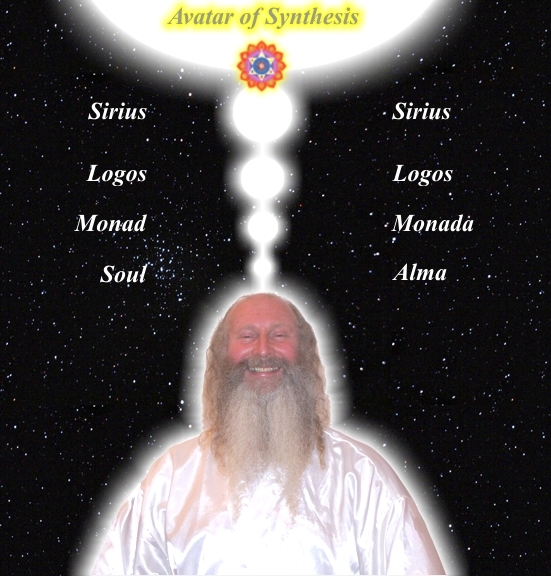 Humanity is the flower of evolution



Humanity is the flower of evolution on this earth with creativity, the ability to evolve and overcome all problems using the earth as a base to explore the stars. Humanity is the most important creation of God.

The "Secret" says ignore the negative and concentrate on the positive, but I have to tell you, if you do not know just how the world works, how it rolls, then all you do will fail. You will be innocent, naive, confused, deceived, gulled.. SHEEPLE!!
Study the negative to propel the positive.

ELIMINATE THE NEGATIVE, ACCENTUATE THE POSITIVE
REMOVE ENERGY BLOCKAGES FROM THE HEART CHAKRAS OF HUMANITY USING MEDITATION..
TRANSMUTE NEGATIVE THOUGHTFORMS FROM THE WORLD BY THE ENERGY ENHANCEMENT SEVEN STEP PROCESS
THAT'S WHAT GETS RESULTS!!
NOW!!
WITH ENERGY ENHANCEMENT
REMOVAL OF ENERGY BLOCKAGES,
CREATION OF TALENT ANGELS,
ATTAINMENT OF ENLIGHTENMENT!!
Sustainability is the murder of the human species.

Sustainability is another green con and like Agenda 21, Global Warming, Climate change - all policies of the Rockefeller United Nations designed to murder humanity, murder the spirit of humanity, and benefit our oligarch masters who have controlled humanity through poverty and degeneration for 10,000 years

http://www.energyenhancement.org/Global-Warming-and-Climate-Change-as-instruments-for-Austrian-Economics-Global-Depopulation-Genocide-Agenda.htm



The Infinite Energy Energy Enhancement Buddhafield



Satchidanand has been a student of Yoga and Meditation for 50 years. His teachers are zen Master Hogen Daido Yamahata and Swami Satchidananda, Yogiraj and Student of Sivananda of Rishikesh.

You can understand why all mention of these techniques - The Kundalini Key, the Grounding of Negative Energies, Samadhi from the infinity of Chakras above the head - as part of the Meditational training have been consciously removed from the books and from all Traditional Meditations.

Because control over meditation is the ultimate power on this World!!

Usually we need to remove negativity and energy blockages..

This World is controlled by absolute evil yet we have found that the projection of absolute love by Samyama, the seven step process of Energy Enhancement can ameliorate that evil, the spiritual way!!

In London we had an encounter with a disturbed young man with a knife, basically, "your money or your life!!" as we turned our loving samyama gaze upon him he burst into tears, apologised and ran off.

There are stories of Sivananda being insulted by people, yet the same people apologising the next day and bowing at his feet. Sivananda said it was Samy who did it - Samyama!!

Presidents have been changed by the application of the power of love by meditators over many years. Franklin Delano Roosevelt after three terms as president was proposing economic human rights!! Thereafter only two term presidents were allowed. Same with JFK and three term Putin.

Energy Enhancement can teach you how to easily change men's hearts, Change the World...

Most people are fooled by the propaganda, naive, afraid..

So it is good to learn the truth, "The truth will set you free" said Jesus Christ.

Once you have learned how to Project yourself out of the body into the Soul Chakra above the head and have seen the three dimensional matrix of all of your past lives, entered into them and seen them for yourself, then you know you are immortal. It is not just theory or hearsay, it is a vital experience which then informs your life, removes all fear, helps make you enlightened.

Fear.. Many people say prepare, guns, gold, cash, food and a getaway plan.

But this is all physical and mental and runs the chance of becoming just like your enemy.

Energy Enhancement Meditation says learn how to change your heart - enter into your deepest peace - and to change the hearts of everyone around you and thus change the World, make it a better place, for you and for me and for everyone else!! It's Easy!!

Make a Resolution - Start your Meditation Evolution Now!!

Easily Achieve Your Deep Peace..

http://www.energyenhancement.org/THE-FUNCTION-OF-THE-BUDDHAFIELD-OF-THE-SPIRITUAL-MASTER-IS-TO-PURIFY-THE-ENERGY-BLOCKAGES-OF-THE-STUDENT-ENERGY-CONNECTIONS-BETWEEN-PEOPLE-CHAKRAS-AND-IMPLANT-CONTROL-VAMPIRE-ENERGY-BLOCKAGES-sexual-Implants.htm
Energy Enhancement - The New Paradigm
As this present cycle runs its course to begin its ascent upon the next evolutionary spiral, the structure of the material field is showing signs of extreme decay. Individually and collectively we face the deterioration of our socio-sexual, political, and religious structures, and witness the proliferation of environmental degradation, war, famine and genocide across our Earth.

The arrival of this phase of transformation has been anticipated for most of our lives. However it comes concurrent with a time of great darkness on this planet and the relief of its arrival is tainted with global grief.

It is during the phase of culmination that the rotting fruit expels the new seed into the light of day. The end holds potential for the beginning. The radical extent to which the global control mechanism has accelerated is being laid bare, the masks of the gods have fallen. Conspiracy theories once damned as delusional are now seen as not only plausible but concrete. This paradigm is a complex, elaborately contrived mechanism of survival that not only distracts us from discovering our full potential but also convinces us to consume, be silent and die.

We are all challenged by the atrocities playing out on the global stage. The agenda citing 'the war on terror' as the provocation for the brazen violation of civil and Human rights is executed daily, as is the righteous justification of invasions that are smoke screens for destruction and genocide. Racism and all forms of immigration and racial prejudice are being strategically stimulated and simulated for heavy media coverage designed to agitate and separate, to generate hate.

Beneath it all brews a stratagem that has been intricately planned out for some time, a pattern of synchronised circumstances, responses and resolutions that connect these events together in one all-encompassing agenda of oppression.

We are witnessing the dawning of the next TERM AND DOMINION of absolute control under the reign of a new World Overlord. Under his dominion, there is one order…and one god. He IS that god. As he prepares the stage for his turn in the game, the board is being reset and the new super power holders put in place. A menacing posture of reconfigured global tyranny is surfacing.

The wars, genocide and atrocities that plague Human existence are not culturally, economically or politically engendered, nor can they be attributed to the truthless charge of innate corruption of Human nature, but are the result of the catastrophic intrusion of a predatory and brutal species with an agenda of world dominance…

We are experiencing a world that is in the clutches of forces which we are finally beginning to openly and bravely evaluate. Through the interconnectivity of the worldwide media web, a great many individuals are awakening to realisations regarding the predatory and merciless nature of those who are running this reality.

As a result this knowledge has pervaded the collective field of shared consciousness. Many are now, to varying degrees, working with these realisations and struggling to accept them. However religions (including the New Age) have a built-in prophecy designed to compartmentalise the end game scenario as a part of the sin/saviour karma/atonement Armageddon clause.

As a result the present acceleration of degeneracy, debasement and debauchery in world affairs (and within elite cultures) is registered and accredited to the prophecies of their chosen faith – as the unavoidable "fate" or righteous retribution.

"Two of the most important days in your life are the day you were born and the day you find out why".
– Mark Twain

Disgust and Disenchantment is required in order to fully recognise and appreciate the complex elaboration of dark agendas that are climaxing to a point of all encompassing global control and to see beyond the facade of waring factions and identify the true perpetrators.

It will help you to understand what is happening around you and the depth of what it is you are experiencing. Why such a demonic consciousness would be able to overtake Humanity on a global scale and your potentially congruous and feasible response to the events unfolding around you.

The inescapable assessment that the construct of this paradigm is beyond redemption breaks down barriers of denial and prepares you to reconsider the reason you chose to incarnate at such a time. What we are about to achieve is extraordinary. We did not come here to suffer the apocalypse…we came to embody the solution…to harness these energies of culmination…to collectively construct the transcendent reality resonant with our original blueprint prior to energy blockage modification.

There is a renewed collective calling to achieve a level and strength of personal transformation that ultimately impacts the global reality, a form of transformation that provides both deliverance from personal suffering and a clear understanding of how changes at the fulcrum point of individual awareness will impact the morpho-genetic-spiritual influence vital to sustainable enlightenment and conscious evolution on a planetary scale.

At this time of challenge, we now have an opportunity using Energy Enhancement to remove the energy blockages to allow us to align with the higher chakras above the head of creation to resurrect that most awesome piece of spiritual-energetic-biotechnology: the Human. This will require the acknowledgment and reconnection with our totality. Not only are we physical, mental and emotional beings, we are electromagnetic and ultimately spiritual beings.


Energy-Chakra-circuitry & DNA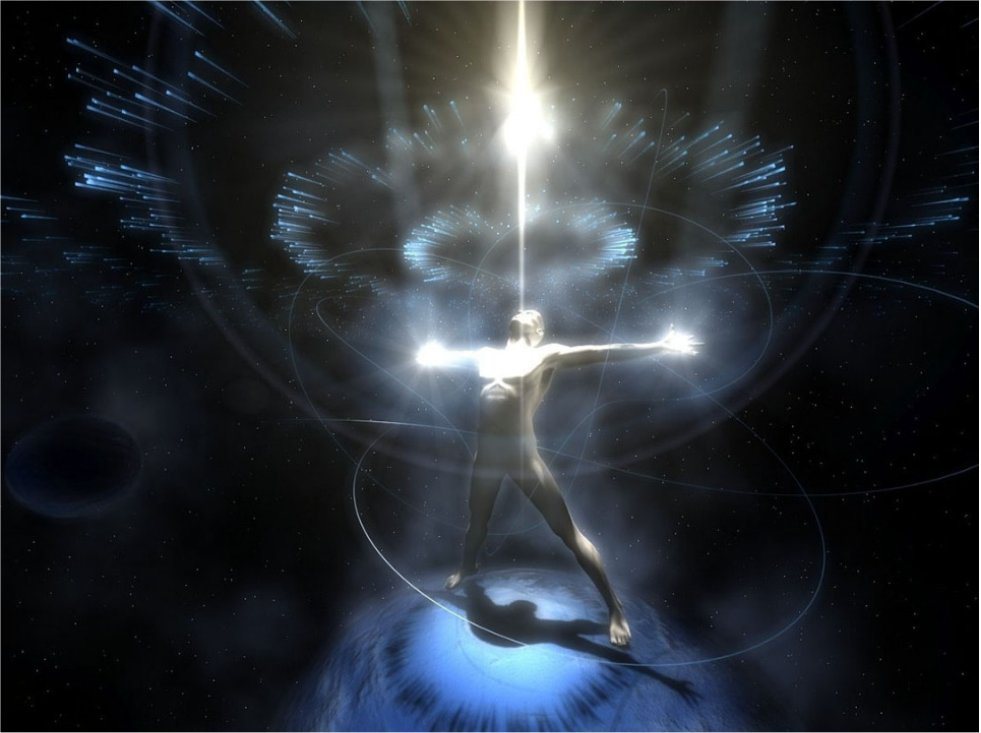 The map of the evolution of the Human entity is indelibly written into our genetic codes and infinite chakras above the head. Our ability to activate and integrate the fullness of these codes and infinite chakra system is a question of spiritual circuitry the removal of energy blockages within the infinite chakra matrix of the chakras above the head, connecting us with God and the infinite chakras below the muladhara base.

Energy Enhancement links alchemical meditational practise with brain chemistry, bio-circuitry, the endocrine system, DNA, the archetypal arena and the morphogenetic field to reveal the holonomic system of creation which births and binds the Human infinite chakra Universe hologram.

Energy Enhancement creates an intelligent patterning of information that acts as an alchemical catalyst to activate dormant Human potential, initiating a journey of healing, forgiveness, remembrance, resurrection and, ultimately, transcendence of the dualistic mortal paradigm: a journey of liberation and empowerment, to retrieve the knowledge of our true history, our soul's lineage, and our celestial seeding.

As units of Human chakra energy circuitry, we are the culmination of a variety of life-force energy systems. The new frontier of healing lies in the knowledge that these systems are not fully connected due to energy blockages. The energetic nature of consciousness that fosters all life is integrated by the infinite-chakra-Human heart-body-mind via bio-energetic circuitry. The infinite chakra circuitry is the delivery system that integrates this Source Intelligence from the infinity of chakras above the head, translating this energetic electromagnetic life-force into the bio-informational matrix that is the vibratory infrastructure of the Human hologram.

As a result of energy blockages the Human bio-computer is not capable of sustaining its molecular structure in a state of super-consciousness. The reconnection of circuitry through the removal of energy blackages restores the fundamental energy supply intrinsic to the Human ability to achieve and sustain conscious evolution into the new paradigm. This spiritual electromagnetic energy from the infinite chakras above the head is integrated into the body through meridians or circuits, to be translated by the chakra centres into bio-informational signals for the endocrine system to utilize.

The chakra energy circuitry does not begin and end around the Human energy field. Each chakra circuit is spherical and intersects with another spherical field of conscious energy, which, in turn, interacts with another, as part of an electromagnetic intelligence system that encompasses all - from the subatomic to the multi-universal, the wheels within wheels.

Each chakra sphere of consciousness is a holonomic fractal of Source Intelligence when connected to the source - the infinite chakra above the head of God. The Source is everywhere. The more chakra circuitry the Human entity is able to utilize within its computational system, the more Source Intelligence it is able to integrate and synthesize, and the more conscious and enlightened that entity becomes.

Enlightenment is not simply a state in which the intellect is in possession of questions and answers - it is a state of being in which the full spectrum of Source Consciousness from the infinite chakras above the head is integrated, synthesized and crystallized into the incarnate body presence, understood in the mind, felt in the heart and made tangible in the body.


The Energy Enhancement Science of Transcendence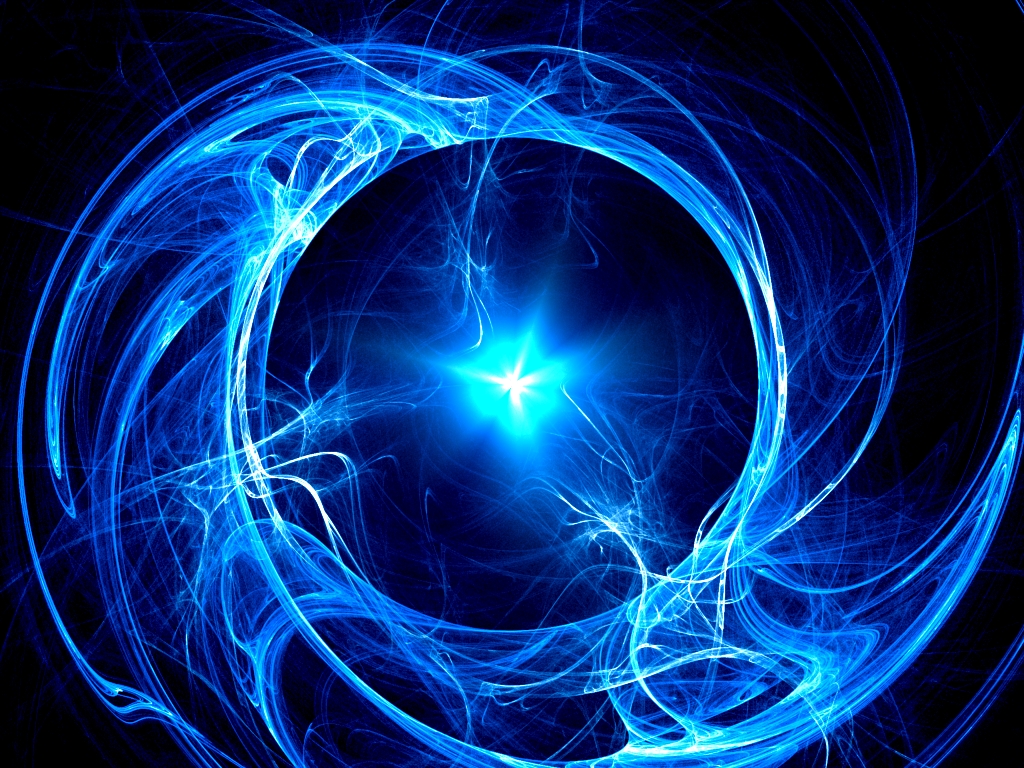 As we witness the consciously created acceleration of the deterioration of our environment, social, political and economic structures.

As we witness the poisoning of the water with fluoride and the contamination of vaccines with mercury, aluminium, cancer viruses and aspartame in order to brain damage the babies and young children as well as the addition of hormones to sterilise female children.

As we witness the contamination of food with Monsatan Roundup pesticide contamination the water tables and poisonous Genetically modified food crops.

As we witness the centuries long suppression of science to prevent fusion power free energy generation.

As we witness the corruption of economics starting with the satanic hack Adam Smith, "Private Vices ... may be turned into Public Benefits", paid by the head of the East India Company and Prime Minister of Venetian taken over England, Lord Shelburne - leading to the total rigging of the stock markets, bond markets, gold and foreign exchange markets - leading to the 10,000 years Oligarchic, "Principle of Poverty" - the conscious lack of investment in infrastructure, in anything which can make people wealthy.

So, it is beneficial to understand the evolutionary and energy blockage influences that are driving this age.

By so doing we can consciously implicate ourselves within the phenomenal opportunity for transmutation that is available during this phase of culmination. It is the transitional phase of conception and deterioration in any cycle which creates the powerful frictions that open the portals for transcendence.

It is during the degenerative phase that the rotting fruit falls away and the new seed is expelled. The global crisis is not a dark event but a redistribution of natural power created by an immense influx of light, activating evolution, stimulating energy blockages in the process of throwing them out.

This influx is being created by the maturing influences of a solar system that is itself reaching higher and higher states of cosmic comprehension, transmitting to Earth and its inhabitants through the chakras above the head ever new spectrums of radiance data - light. Massive beams of this 'hyper-creation code' are emanating from the Galactic Core to sweep their influence through the solar system, activating and integrating the symbiotic evolutionary covenants that lie dormant and waiting in every cell of every living creation for this kiss of light to awaken them to a new model of existence, a new paradigm.

It will be the degree to which we are able to translate and utilize this light code that will allow us to break the barriers of illusion - the energy blockages set by this dualistic paradigm and the energy blockage genetic modifications that are in resonance with it. It is because of this light influx that we are now able to answer the three most fundamental questions that define us as conscious Human entities: "Who am I? Where am I from? Why am I here?"

In order to do so, we must have some ability to understand the implicate order of our own creation and, to some degree, the complexity of the reality in which we find ourselves. No living thing within creation exists in isolation. The interconnected, interactive, co-creative individual system of each entity is a fractal of the one holographic infinite chakra system that encompasses the subatomic to the multi-universal. Transcendence requires the resurrection of the dormant energy blocked chakras within the Human hologram, to be re-embraced into the governing mechanism of the universal infinite chakras above the head holography.


Energy Enhancement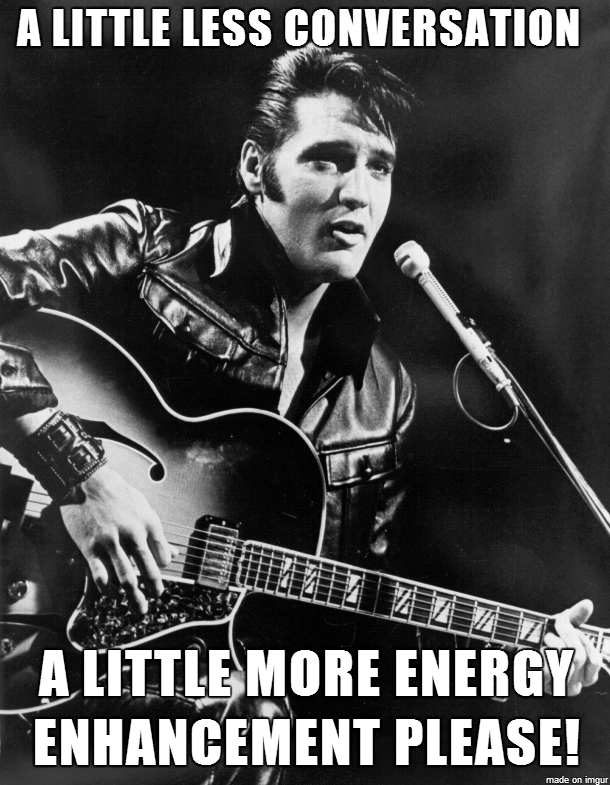 The Energy Enhancement reconnection process restores the infinite chakra system, through ancient meditational techniques and the presence of the video and live presence Buddhafield. It takes place in four levels in a series of energy buddhafield coded Initations:

Research..

EE HOME PAGE INTRODUCTION http://www.energyenhancement.org/
EE LEVEL 1 EIGHT INITIATIONS - POWER UP!! GAIN SUPER SAMADHI KUNDALINI ENERGY http://www.energyenhancement.org/Level1.htm
EE LEVEL 2 SEVEN INITIATIONS - ELIMINATE ENERGY BLOCKAGES http://www.energyenhancement.org/Level2.htm
EE LEVEL 3 SEVEN INITIATIONS - CLEAN KARMA BLOCKAGES AND PAST LIFE KARMA BY TRANSMUTATION http://www.energyenhancement.org/Level3.htm
EE LEVEL 4 SEVEN INITIATIONS - MASTER ENERGY CONNECTIONS AND RELATIONSHIPS http://www.energyenhancement.org/Level4.htm


The design and progression of the twenty-eight Energy Enhancement Initiations are combination codes which, through Buddhafield resonance, remove the energy blockages to build synergy with the vibratory structure of the DNA, reconnecting the infinite chakra bio-circuitry ..permanently.

This initiates the return to wholeness, re-establishing our true identities and freeing us from the fear-based matrix that rules our deepest behavioural patterns, and connecting us to a new consciousness infinite chakra grid.


The Soul Covenant



The reconnection with the Human Soul - the first chakra above the head is a Covenant which contains a holonomic symbiotic code in which the Human is the sensory organ of planetary transcendence as Earth is the sensory organ for Human transcendence. The Initiations of Energy Enhancement resurrect our ability to translate and utilize, through our physical bodies, the language of light – to achieve, literally, en-light-enment. Energy Enhancement is not for a spiritual elite but for everyone of any age, race or creed who wonder what is happening to our mother planet and to those who are sustained by Her: who feel, however dimly, the stirrings of the remembrance of their quintessential identity.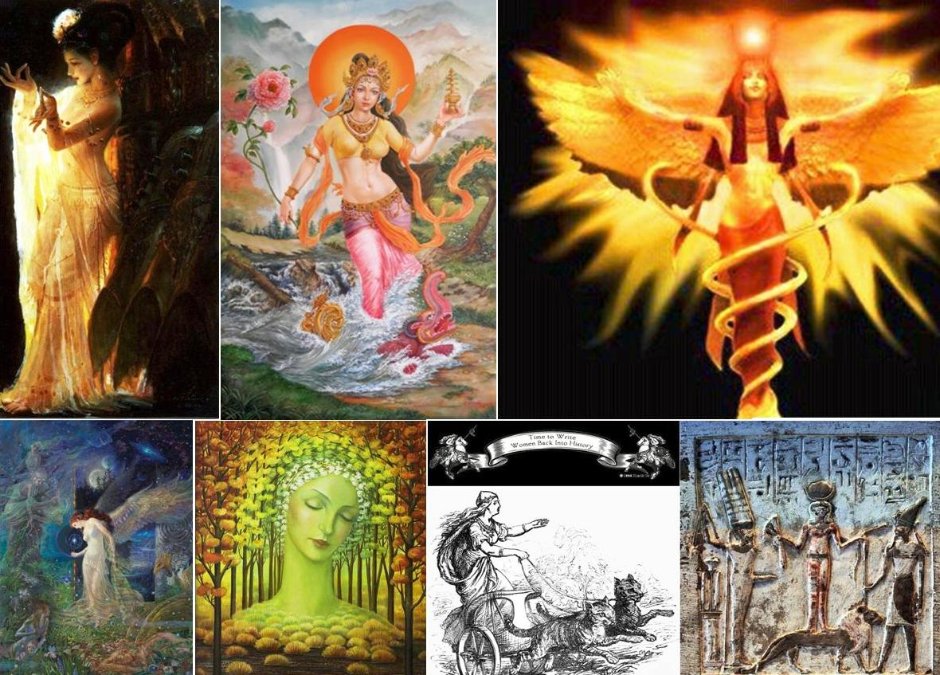 Satchidanand

is the creator of Energy Enhancement integrating the Meditational techniques of the Ancient Worlds - Patanjali and his Master, Alchemical Bhogar - in order to create the Integration of Worlds - Enlazador del Mundos - Enlightenment for All!!

The Energy Enhancement Yoga Sutras of Patanjali - and Energy Blockages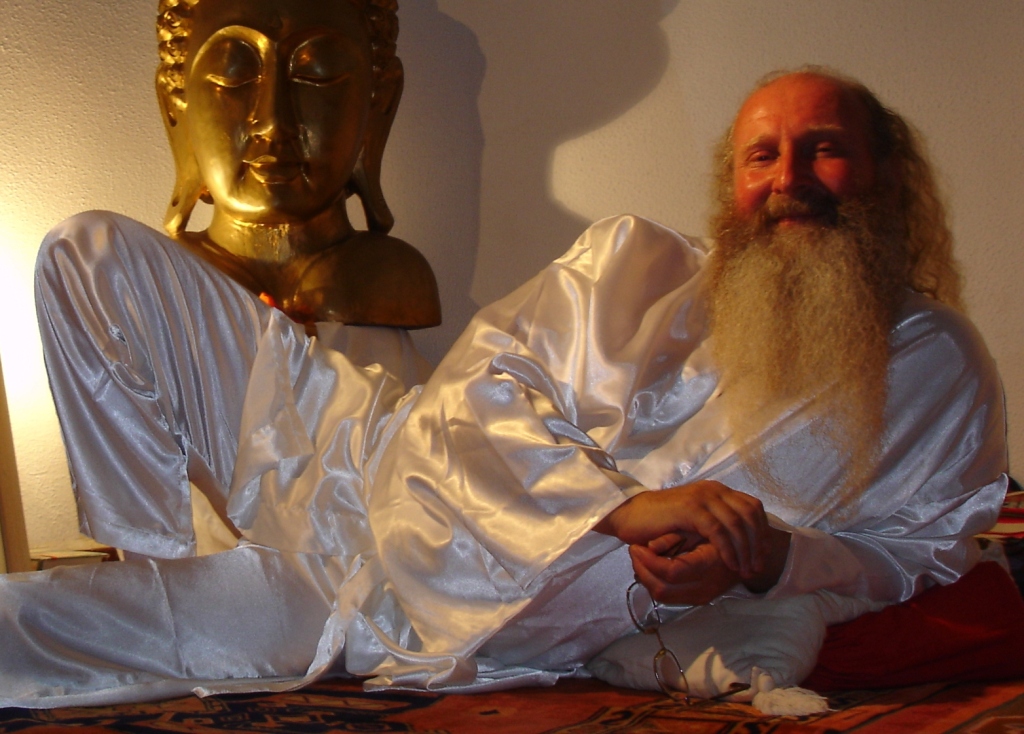 Against Austerity



Austerity is a part of the 10,000 years old Oligarchic "principle of poverty" designed to control humanity.

Austerity is genocide, part of Austrian Economics, paid for by the Rockefellers, the Royal Knights of Malta and the 1000 years old "Iron" Vatican Bank Fronted by the Rothschilds which owns 500 Trillion Dollars, 70% of Fortune 500 Companies 70% of all Banks, 100% of Central Banks and the Pope CEO now wants 1000 Trillion Dollars by Carbon Taxing Petrol, further increasing your poverty, rather than developing Fusion power generation - free energy - and going to the stars.

Wealth, the New Human Right.. Franklin Delano Roosevelt Economic Human Rights. As being the major Aim and Test of every Government is to plan for WEALTH, rather than Austerity. An increase in Wealth of 10% per year every year to get Freedom and the pursuit of happiness based on Wealth. Wealth for all humanity, Free Toxin Free Water, Air, food, medicine, electricity, books, entertainment, art, transport, housing, computers - which can only come from vast increases in WEALTH!! - in order for humanity to be freed from compulsion to work at that which does not interest them and attain Enlightenment.

http://www.energyenhancement.org/THE-TEN-THOUSAND-YEARS-OLD-PRINCIPLE-OF-POVERTY-THE-TEN-WAYS-OF-CREATING-POVERTY-AND-THE-HUMAN-RIGHT-TO-WEALTH.htm




The Galla

The other most important aspect of the Galla - the priests of the ancient system Of Cybele and Adonis, The State Religion of the Roman Empire - Roman Catholic priests and their continuation of the worship of Cybele - The Virgin Mary, is the distinction between celibacy and an abstinence of sex. The Galla ritually cut off their genitals so they could no longer perform sexual acts as men.

This, however, did not preclude them from having sex - quite the opposite. It opened the door for 'sacred' homosexual acts where the Galla were sodomized during various rituals and celebrations as Dog Priests..

http://www.energyenhancement.org/Skull-and-Bones-Brotherhood-Death-Odfellows-Eulogia-Ishtar-Cybele-Attis-Dagon-Baal-Molech-Inquisition-Ninth-Satanic-Circle.htm

ALEISTER CROWLEY

ALEISTER CROWLEY - SEX TANTRA ADDICT, DRUG ADDICT, VICTIM OF VAMPIRE IMPLANT ADDICTION BLOCKAGES

http://www.energyenhancement.org/ALEISTER-CROWLEY-SEX-TANTRA-ADDICT-DRUG-ADDICT-VICTIM-OF-VAMPIRE-SEX-DRUG-AND-FOOD-ADDICTION-IMPLANT-BLOCKAGES-ENERGY-CONNECTIONS-BETWEEN-PEOPLE-CHAKRAS-AND-IMPLANT-CONTROL-VAMPIRE-ENERGY-BLOCKAGES-sexual-Implants.htm
THE ENERGY ENHANCEMENT COURSE - THE MOST EFFECTIVE IMPORTANT EVOLUTIONARY TEACHINGS FOR 10,000 YEARS!!
SOFIA, WISDOM


REINCARNATION
The dictionary meaning of the word 'reincarnation' means rebirth. Thus, it refers to one's soul 'being born again' or 'being flesh again.' Soul, the central seat of all power, energy and emotions of an individual is immortal in nature and it is trapped in the physical body. After the body dies, the soul leaves it and reincarnates in another new one.

We do not remember our past lives because the soul which is the first chakra above the head along the column of energy between heaven and earth along which are strung all the infinity of chakras on the way to atman. The soul root is spiritual and it is not affected by the coming and going of the physical bodies, stem or flower. What the soul wants is to aggregate more talents into its mechanism so that it can perfect itself or evolve. Why does it want to do that, so that it can become a better channel for the energies and action of the chakras above it, that infinity of chakras ending in God. The one god with ten thousand names.

GROW YOUR TALENT BODY
Talents are energy mechanisms like astral computers and they are created by us wanting to do something. Over time the talent grows - the amount of mechanisms within the mechanism gets larger, like the number of transistors in a processor chip getting more and more, faster and faster, more and more capable, sometimes over many lifetimes. Over many many lifetimes we develop many talents and thus evolve, become stronger, manage our emotions, more bright, more intellectual. We gain the ability to channel energy from the higher chakras into whatever we do.
The Energy Enhancement Removal of Energy Blockages frees up many Talents to increase the size and function of Your Talent Body.
THIS IS THE NEW METHOD OF INCREASING YOUR TALENT BODY - YOUR EVOLUTION - THE ENERGY ENHANCEMENT WAY!!

The ancient poets had this ability to spontaneously break into song or rhyme but more than this, they had the ability to channel life energy into anything they created.

The ability to handle and channel the Psychic Charge.
This is what makes movies and music popular - the very best Art is powered by the Living Energy of the Psychic Charge!!

Thus the long livedness of some Art - it only happens to objects charged up with the, "Charge of the Soul" - Walt Whitman, of the products of the lives of Jesus Christ and the Buddha, but also of Bach, Mozart, Beethoven, Leonardo da Vinci and Tolkien - and many many more.

The living energy of the Ascended Master is that which powers his work in this world, affecting all who see or hear it.

The living energy of the master is that which increases the life energy of all who see or hear it, thus increasing the livingness and evolution of those who hear.

"The quality of mercy is not constrained. It droppeth as the gentle dew from heaven upon its place beneath. It is twice blessed, first by he who gives, and then by he who receives" - Shakespeare

RECEIVING THE PSYCHIC CHARGE
Shakespeare, another Ascended Master, is saying that there is no point in just giving. It must also be received in order to bear fruit.

In fact there are no individuals. The whole of humanity is one body and unless we communicate and spread our energy throughout the human body, the human race cannot evolve so quickly.

Those who have ears to hear. Those who have eyes to see. Because what is life unless we can understand and more, unless we can be understood.

And indeed it seems that humanity is divided into several emotional and intellectual levels which can only understand messages which come from within itself and ignore the truth which comes from the human members with the highest evolution.
It is Energy Blockages which put on your Blinkers!!

The fuction of Energy Blockages is Misdirection and Amnesia
Dead whilst still alive. Thus the, "Wake Up!" of Jesus Christ to the dead man, Lazarus, because most people are dead, they need a form of resurrection before they can start to hear the music. Thus the quantum leap of Illumination which shines its life on all, yet most turn away from that light because its just too much.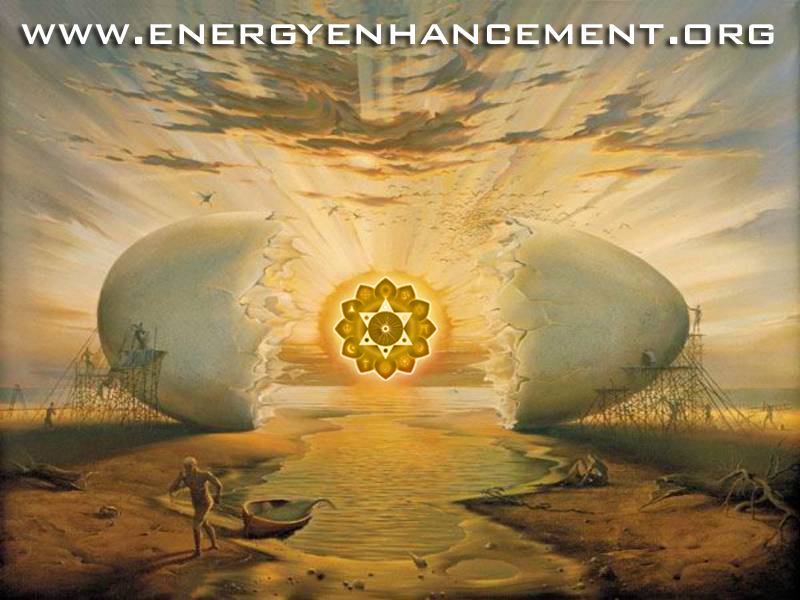 SALVADOR DALI - ENERGY ENHANCEMENT SYMBOL OF THE AVATAR OF SYNTHESIS - THE SOCIETY PROPPED UP EGO EGG - the Alchemical cosmic egg - SHELL IS BROKEN REVEALING THE LIGHT OF THE SOUL WHICH ALL UNMADE MEN - FILLED WITH ENERGY BLOCKAGES, - TURN THEIR BACKS ON
ENERGY BLOCKAGE MIND CONTROL!!
Better to go to sleep, plug yourself back into the power plant, and watch X factor and sports on TV.

Thus Osho who said he could only really talk to his disciples, the rest of humanity tuned him out and the same thing with the message of Christ now extant for thousands of years.. Who really follows the teaching of the Christ from their heart and not just from dead rules given by dead interpreters?

The higher the spiritual energy, the fewer the disciples, because they just can't take it!!
ENERGY BLOCKAGES TUNE OUT THE SIGNAL!!
ENERGY BLOCKAGES PREVENT RESURRECTION!!

Many a times the term reincarnation is used synonymously with that of metamorphosis and resurrection. It must be clarified at the very start that all these three terms differ in their meanings and implications to a considerable extent. While metamorphosis means changing one form of life to another, the Christian term resurrection refers to rise of the body from the dead - like Lazarus.

Reincarnation is also known as soul transmigration or body jumping, moving from body to body to achieve immortality, and has been a concept which has been believed in since the ancient times. Prevalent in both the eastern and western hemispheres of the word during those days, it was part of almost all doctrines that studied the infinite potential of the human soul.

Starting from the ancient eastern beliefs, mention may be made of Hinduism, the age old religion that is known to be one of the oldest and richest in terms of its spiritual content. Ancient Hindu scripts known as Upanishads contain this core belief in reincarnation where the soul is stated to be immortal trapped in the body which is subjected to life and death in the world which is an illusion.

GROUND ALL YOUR ANCIENT KARMA WITH ENERGY ENHANCEMENT!!
Another core concept of Hinduism is that of the 'Karma' or quality of your deeds in your past lives. Thus past karma defines the quality of life and experiences you undergo in your current life. Till the time you attain complete spiritual understanding of the ultimate truth, your soul goes on being reincarnated into this illusionary world.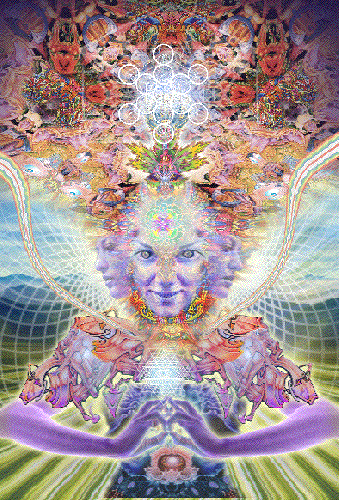 THE IMMORTAL SELF INHABITS THE DNA BODY AUTOMATON FROM CHAKRAS ABOVE THE HEAD


When after numerous reincarnations you understand that real lasting happiness rests in something else than earthly desires, you start spiritual practice known as 'Sadhana' and ultimately realize the ultimate truth that soul is the central seat of all emotions, power and energy and all other things are illusions. It is then that your reincarnation stops and your soul attains the final liberation or 'Moksha'.

Ancient Egyptians and Greek philosophies during that time are not much different with both believing in reincarnation. Egyptians believed in 'ka' as the source of supreme power and energy which can be compared to our concept of the soul.
ENERGY ENHANCEMENT DRIVING YOUR OWN "KA"RMA
Proof of their belief lies in their act of preserving bodies of the dead so that it can accompany the 'ka' into the next world.

The Greeks on the other hand believed that the soul leaves one body and rests in a place called the underworld for purification thereafter reincarnating itself in another new born body. Till the time this purification takes place, the soul goes through reincarnations. Once ultimate purification is attained, the cycle of reincarnation stops.

Theosophical belief refers to spirit or souls as an immortal, omnipotent, ageless, timeless and formless source of energy which comes to and goes back from the earth through a rhythmic process. It manifests itself on earth in life form only to gain more experience and after that is over, it departs to the high sublime layers to complete the rhythmic process.
THE ENERGY ENHANCEMENT COURSE IN FOUR LEVELS
FROM KUNDALINI TO ENERGY BLOCKAGES TO ENLIGHTENMENT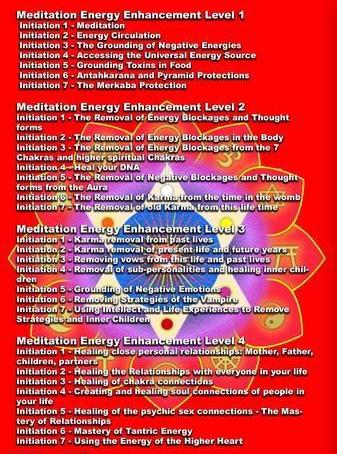 If you are interested to know more about your reincarnations, in other words, information about your past life, the Energy Enhancement level Three Regression Technique is the best method.
Using meditation Energy Enhancement helps the mind to focus and thereby attain a higher spiritual awakening so as to recollect memories of his/her past lives. Not only that Energy Enhancement level Three clears out, lightens the load of all the trauma - we have absorbed many traumas in past lives - formed negative karmic mass from all the thousands of past lives in one go in order to free up the psychic body for Illumination or Enlightenment.

The clearing of trauma karma from this life and past life memories is talked about on many of our students reports. Read the report by Honey Kalaria of how she made sense of many of her her past lives with Energy Enhancement Level Three.

Moreover, Energy Enhancement Meditation also leads the way towards heightened awareness about yourself, controlling the unconscious and subconscious, brightening the conscious, and getting in sync with your soul and the infinity of chakras above the Soul on the way to God.
Download these 4 Energy Enhancement Evolutionary Books

Click below and right click and "save as" on each book to download

https://archive.org/search.php?query=meditation%20satchidanand
ENERGY ENHANCEMENT STUDENT DON'S PAST LIFETIMES - A SMALL PORTION OF HIS COURSE REPORT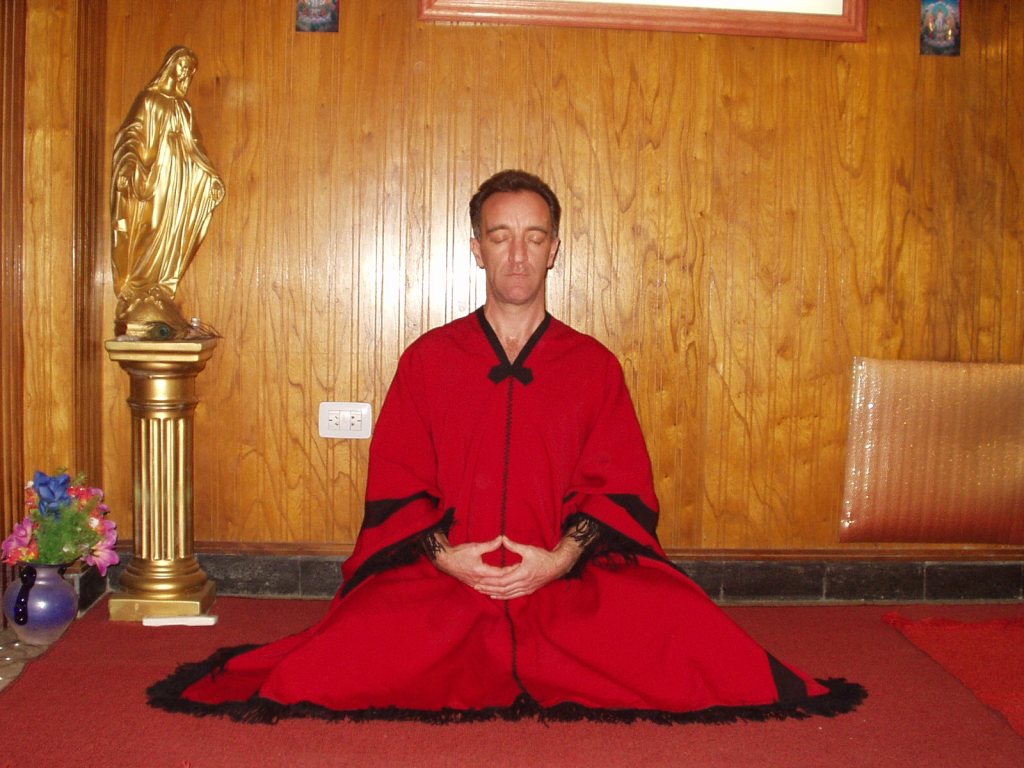 Don on the Energy Enhancement course
At this point I have to deviate slightly so you can share with me something that happened last night that has blown me away and here I am hoping that you will respect whole heartily this most personal and staggering experience which I am about to tell you.
Please feel free to comment on this or recount any of your own similar experiences.
I have been awake most of the night wondering if I should write about this or not and I have come to the decision that it should be told because it must be told. It has huge implications for anyone wondering what is really going on in this existence of ours.
If you have any doubts about the authenticity of this Energy Enhancement course then this will set your minds straight and that's for sure.
To fully appreciate the implications of this account I am going to have to give you more private information about my life so you can see how things pan out over eons and multiple lifetimes and why and how things happen.
I was born in Highgate in London in 1960 the year of the rat, of Irish and Scottish decent; mother Irish and father Scottish neither of which I have ever seen. I was born out of wedlock so I was considered a bastard and was given up to the catholic nuns in London and was removed from my birth country to a catholic adoption home in Ireland to be adopted in to a nice catholic family. I was just one year old. This was a horrifying experience as I spent the first ten years of my childhood being kept and treated as an animal being severely abused both mentally and physically, battered like a rag doll which left me with many physical scars to this present day, specifically so, to the base chakra the crown chakra and the throat chakra. I looked like a famine victim. Despite the horror and against all odds I survived and retained most of my grip on my mental and physical health and I managed to escape at the age of twelve with the help of a kind local farmer who gave me shelter protection and a home for a number of years. I then made my way alone in the world and have never seen a single blood relative in my entire life to date
I arrived here in Rosario and met the other course members and one, a lady of Irish decent, whose family came here in 1850, three years after the great famine in Ireland seemed familiar to me and she also looked me up and down and I could see there was some kind of connection here. She was roughly the same height and when younger would have had the same kind of hair and I noticed that her hands were the same size as mine. She is twelve years older than me and also born in the year of the rat. I dismissed it as nothing as you do.
Then two nights ago we were all meditating with Satchi and Devi looking for energy blockages in ourselves and I had a realisation of how traumatised I was as a baby and began to feel a great sadness so began to weep a bit and this woman came to my assistance and helped me through it giving me this love I have not experienced before stroking my head and treating me like a small child and I let her do it because it seemed like the most natural thing in the world to do. I didn't feel embarrassed about it because it felt so right in its place. She has only a few words of English and I have only a few words of Spanish but it didn't seem to matter. There was no need for communication, and then later on she said that I felt like her son and we laughed and joked that she could adopt me.
Then last night we were all with Satchi and Devi again, meditating, looking for energy blockage in ourselves and specifically so in areas that were hurting or where we had hurt ourselves in the past or where we were hurt by others and this lady had decided to deal with a pain in her abdomen she felt from time to time. We were using the seven step technique given by Satchi to ground and destroy the energy blockages which is a very effective and powerful way of ridding oneself of the blockage. After we do the exercise Satchi gets everyone to recount the experience and this lady who is very psychic and has great visionary ability began to describe what happened. She said that she found herself back some 400 years in Ireland as a very young and beautiful girl with long blond hair who painted played the harp and was riding and hunting.
I had brought with me from England a set of water colour pencils given to me by my wife to doodle with. As I don't paint I had given them to this lady as a present on the second day of knowing her.
She had a very lovely young suitor whom she was going to marry and was totally in love with this man. Then she said there was another powerful man a provincial governor who wanted also to have her and he had killed her chosen suitor and had also killed his own wife so he could be free to marry her, a dowry of 100 head of cattle was paid to her father. Her own father in this life time was the bastard priest (the words of the man who married her) who married her off in that time. In effect she was sold and two people were murdered so this could take place. On her wedding day to this monster she took the dagger they used for killing the pigs and plunged it into her self and committed suicide.
This was the pain she was feeling in her side. Satchi asked why this had happened and to go back and find out some more. She went back and saw an image of me and asked why I was there and was told by the governor that I was programmed to be her son in that lifetime and her murdered love was to be the father. Since then she has never had any children in her life for 400 years and it seems that I have never had a mother in 400 years either.
She cried and I cried and we hugged and cried in each others arms and then we started to laugh and laugh and cry and laugh and laughed some more and there was such a release of energy and everything became so clear. I had come 12000 miles around the world to find the last mother I was supposed to have and Satchi said, O that is quite normal on Energy Enhancement courses. It happens a lot. It appears we have healed the ancestral line going back 400 years in one sitting. Now I and this woman can move on to new families in the next life or maybe if I go for it I will reach for enlightenment and finish the journey.
We were both destroyed by nasty black people for 400 years who have stayed with us and continued to have their black tentacles rooted in us both for all of this time. Now after this I asked where this happened and she said in the south west of Ireland. I nearly fell over I was taken to the south west of Ireland and there I was nearly destroyed. We looked at the map of Ireland and I asked her where. She pointed to a place and then I got pictures off the internet and she recognised the little island in Muckross Lake near Killarney in county Kerry where her love was murdered and I have married a woman from a few miles from there who is also born in the year of the rat and we have been there often as a couple. Even our children have been there.
You can look this up for yourselves and view the lake and the little island and muckross house. What a story and she has never been anywhere near this place in her life. So you see, nothing is quite what it seems and we go on and on forever.
After that diversion I have to get back to the course and I have to say that there is so much happening that you could write a whole book on the various experiences that have happened in the short three weeks that I have been here so far.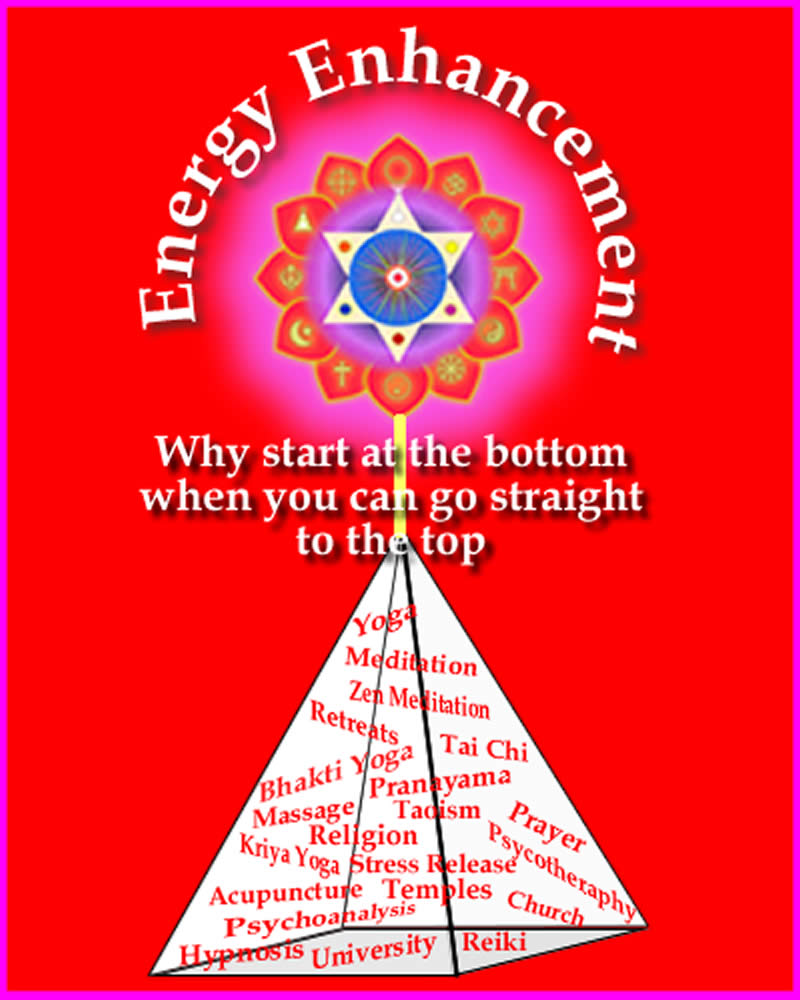 THE ENERGY ENHANCEMENT COURSES
LIVE COURSES STREAMING VIDEOS IN FOUR LEVELS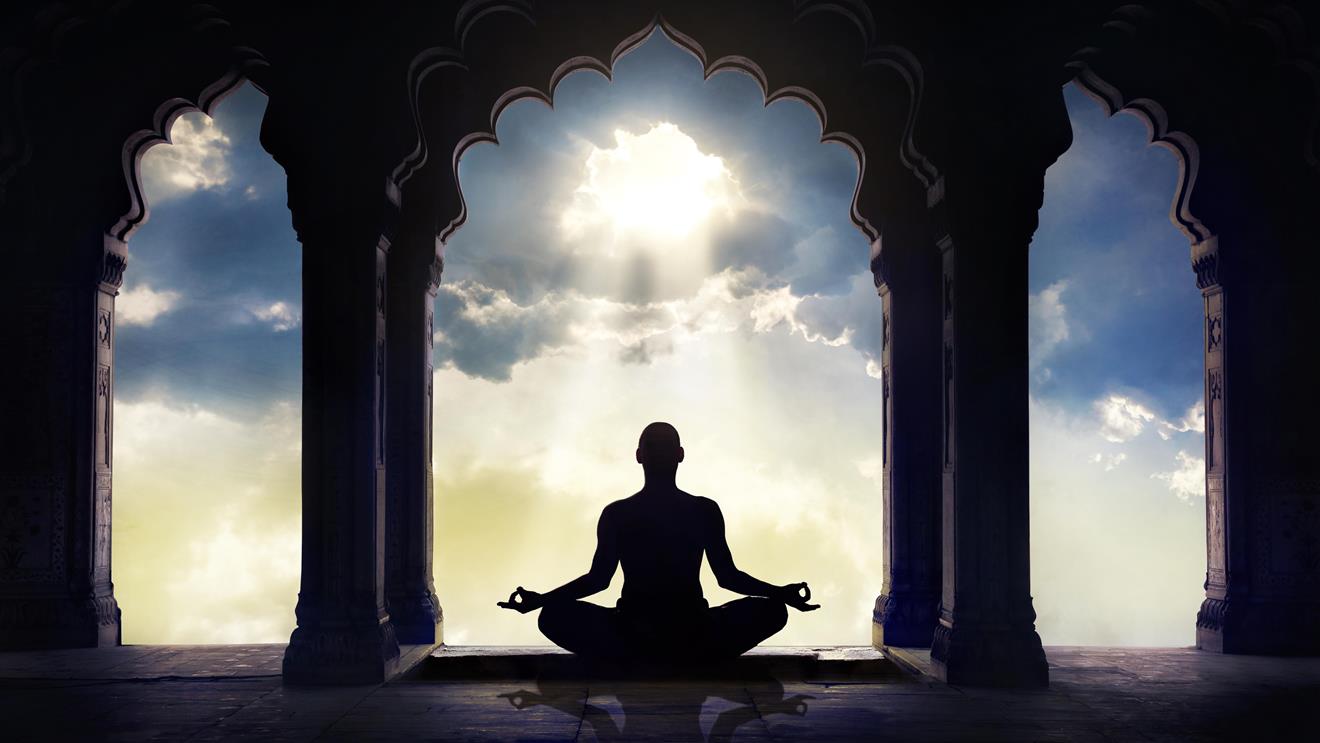 "Miracles, Miracles and yet more Miracles!!"

- Graham Smith on his Energy Enhancement Course in India November 2009

"DO IT!"

M.S. - HR Director PepsiCo Europe/Asia

INCREDIBLE PRICE REDUCTIONS!!

Buy Now!!

GIVE YOURSELF A

PRESENT

MAKE A NEW YEAR RESOLUTION!!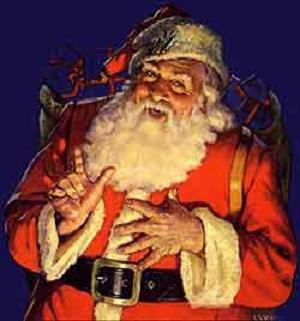 WHICH CAN...
SPEED UP!
IMMEDIATE Meditational Experience
AT A VERY GOOD PRICE
Buy Now!!
VIDEO EXCERPTS FROM THE ENERGY ENHANCEMENT VIDEO COURSE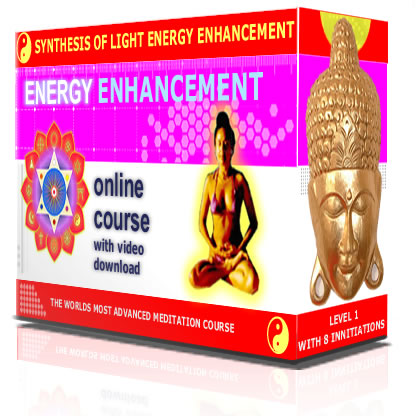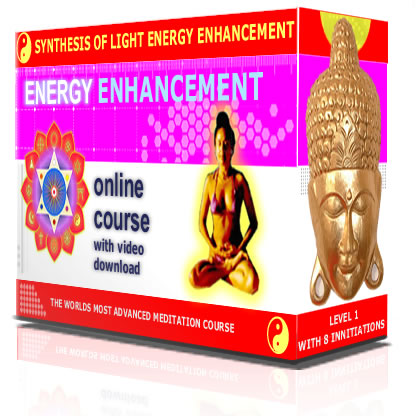 NOW.. IN VIDEO...
ENERGY ENHANCEMENT IS THE NEWEST AND HIGHEST SPIRITUAL IMPULSE ON THIS PLANET.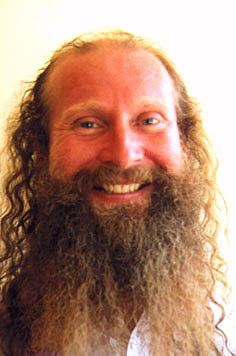 IF YOU WANT TO SPEED UP YOUR PROCESS WITH THE ULTIMATE TECHNIQUES ON THE PATH OF ENLIGHTENMENT.......
SPECIAL OFFER - 50% OFF - BUY NOW!!
EMAIL US NOW TO GET
STREAMING VIDEO!!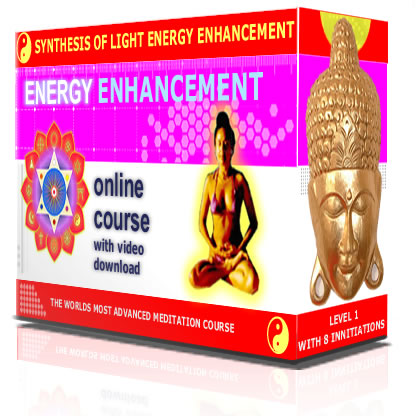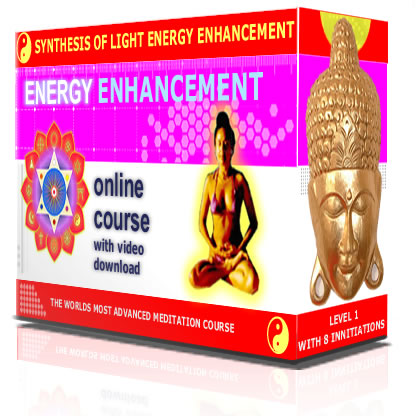 START THE PROCESS!!

EE

VIDEO COURSE STREAMING VIDEO -

EMAIL sol@energyenhancement.org
Buy Now!!

EMAIL US NOW TO GET
STREAMING VIDEO!!
MAKE A NEW YEAR RESOLUTION AND BUY YOURSELF AN ENERGY PRESENT!!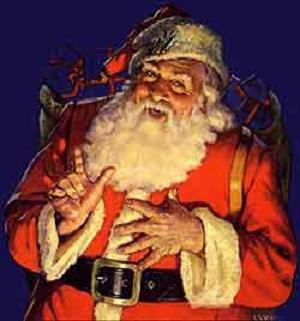 STREAMING VIDEO STUDENT

REPORT FROM "L" NOVEMBER - DECEMBER 2012

"Sweating with Kundalini Heat" - "L" November - December 2012

"After i came out of the guided mediation there was an extraordinary calm and serenity deep in me, a burden felt lifted"




"Yet after this momentary briefest touch of a spiritual experience, i just began crying and crying...and when i eventually stopped, i felt light and free."


EMAIL sol@energyenhancement.org
EMAIL US NOW TO GET
STREAMING VIDEO!!
EMAIL US NOW!!
EMAIL sol@energyenhancement.org
Practise a little meditation every day with the Energy Enhancement Course and ask questions of Satchidanand by email - USE THE ENERGY ENHANCEMENT KUNDALINI KEY, CONSCIOUSLY REMOVED FROM ALL OTHER MEDITATION COURSES, TO SPEED UP THE PROCESS OF ENLIGHTENMENT, TO ACCESS INFINITE ENERGY FROM THE CHAKRAS ABOVE THE HEAD, TO INCREASE PSYCHIC VISION, PSYCHIC POWERS AND REMOVE ENERGY BLOCKAGES.
We teach and charge for Energy Enhancement Initiations by the level - Streaming Videos, or Live Courses.
We recommend to practise One or Two levels of the Energy Enhancement Streaming Video Course with meditation questions to Satchidanand prior to a Live Course

Level One - The Gaining Of Energy is the Kundalini Kriyas and Psychic Protection We have 15 Hours of Tuition by Video for this.
Level Two is The Removal of Energy Blockages which needs the energy of level One in order to activate the Seven Step Process of Blockages Removal. We have streaming Videos Online to learn Levels 1 to 4 in the comfort of your own home.

We have a Live Course which Takes 28 Days of study to learn and Practise Level One and Level Two. Same for level Three - Remove ancient Karma and Level Four Master Relationships in Iguassu, Brazil.

Brazil - Two LEVEL Course
Two to Four LEVEL Courses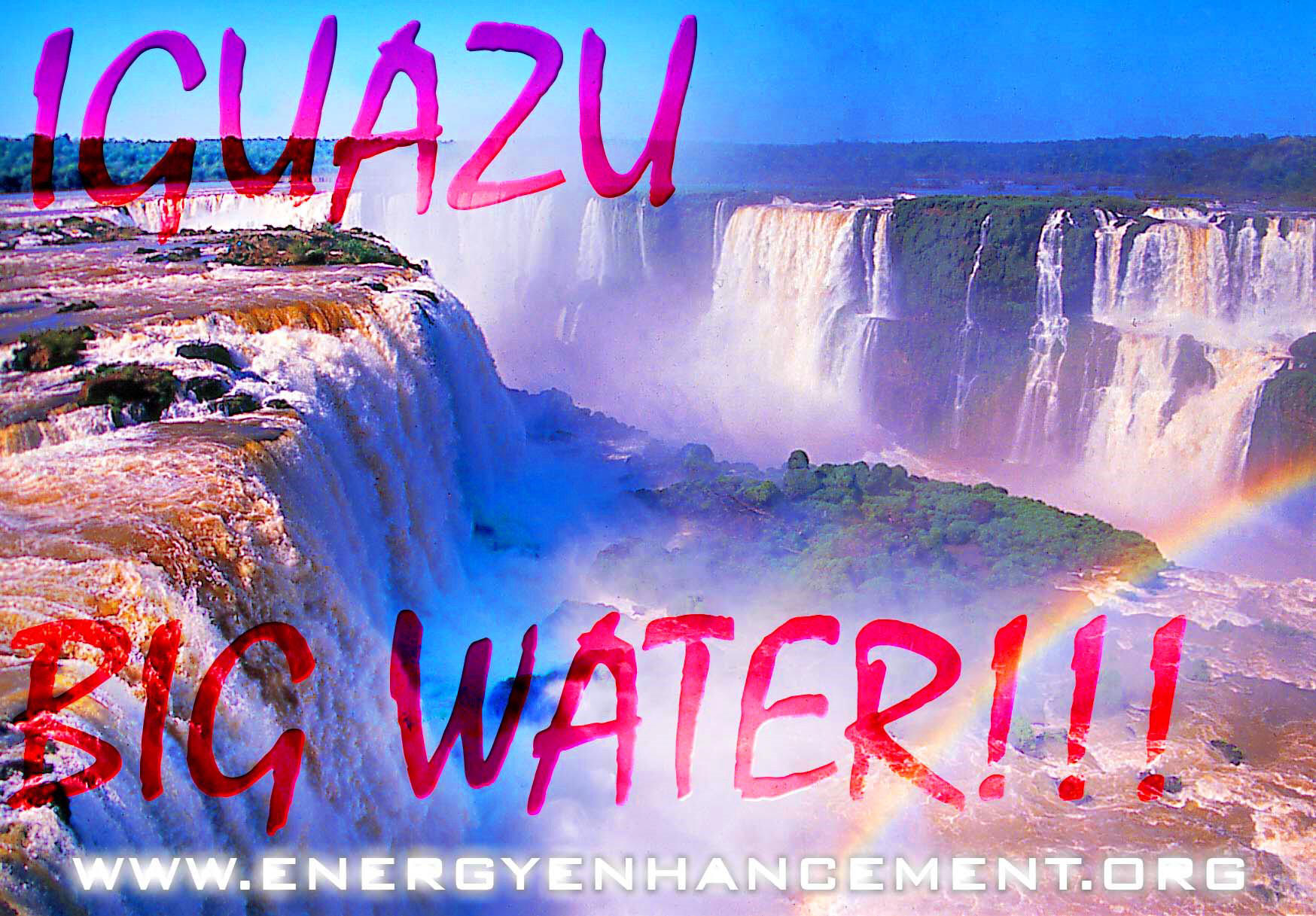 Start at the Energy Enhancement Ashram at Iguazu Falls with Satchidanand and Devi Dhyani!!
Plus Free Reiki Initiations

In order to access Illumination and increase the Kundalini Cosmic Energies which enter from Chakras outside the Body usually we need to remove energy blockages using Energy Enhancement Ancient and Effective techniques.- The Seven Step Process of Level 2. .

Illumination and Enlightenment are the removal of ALL Energy Blockages!!
THE ENERGY ENHANCEMENT COURSE IN FOUR LEVELS
FROM KUNDALINI TO ENERGY BLOCKAGES TO ENLIGHTENMENT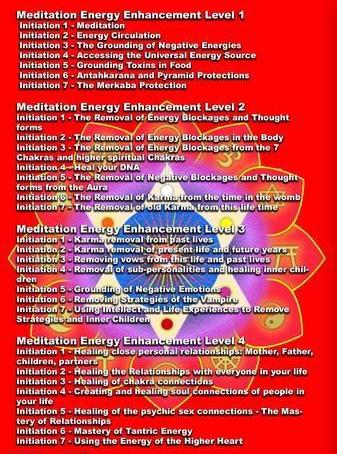 Research..
EE HOME PAGE INTRODUCTION http://www.energyenhancement.org/
EE LEVEL 1 POWER UP!! GAIN SUPER ENERGY http://www.energyenhancement.org/Level1.htm
EE LEVEL 2 ELIMINATE ENERGY BLOCKAGES http://www.energyenhancement.org/Level2.htm
EE LEVEL 3 CLEAN KARMA BLOCKAGES AND PAST LIFE KARMA BY TRANSMUTATION http://www.energyenhancement.org/Level3.htm
EE LEVEL 4 MASTER ENERGY CONNECTIONS AND RELATIONSHIPS http://www.energyenhancement.org/Level4.htm
EMAIL sol@energyenhancement.org
DON'S WIFE, ANNA'S ENERGY ENHANCEMENT COURSE STUDENT REPORT - JAN 22ND TO FEBRUARY 25TH 2011-
PSYCHIC POWERS, PSYCHIC VISION, SIDDHIS, AND INCREDIBLE SPIRITUAL EXPERIENCES WITH THE TRIANGLE OF CHAKRAS IN THE HEAD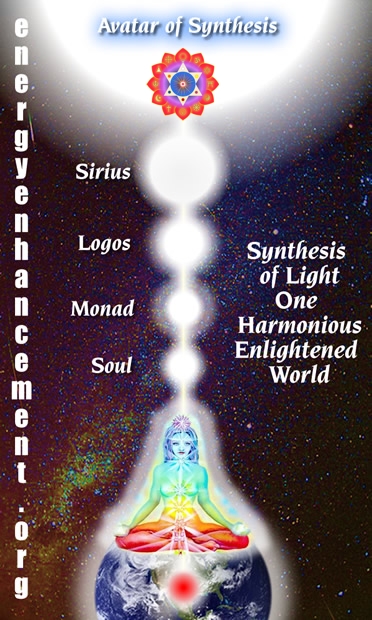 "A few days ago Satchidanand was glowing such that Anna could not look at him.

She said she needed sunglasses.

She had to leave the presence.

The growing pains produced by the spiritual radiation were intense.

"Swami Satchidanand is Radiator of Spiritual Tension,

a Walking Point of Crisis"

- This is The Buddhafield of Satchidanand

Due to the effects of the Radiation she took a day out and went to sleep.

In the dream she knew she was dreaming.

In the dream she was asleep. and she knew she was asleep in the dream.

And she was watching what was going on in the second dream - three levels.

She saw Devi cleaning the floor, and Devi was not happy with the result. Some floorboards were white but some were dark.

Eventually Devi gave up and left a crystal on a bed of salt with a cloth over the top.

Anna examined the crystal from the second level.

And then a cat came in with three kittens.

Apparently Satchidanand was there because he said, "She is feeding, shoo her out!!" so she did. And we think this refers to the three energy blockage snakes in the cave of snakes Anna found in the sacrum during the first week with us. Blockages out!!

And then onto the fourth level of dream, a pink room where Satchidanand was cleaning a mirror of its greasy marks because the mind needs to reflect that which is to be truly true. Greasy spots reflect a lie, an untruth, the symptoms of energy blockages"

"There she removed five inner children sub-personalities and a mazy unclarity in the limpid clarity required of a clean mental aura.

As she cleared it she was allowed to ascend to Sirius and in the temple there entered into the sacred flame. She found herself entering naked into a golden room with golden filigrees on the door. Eight naked men followed her in. With her in the center they lay on the floor feet towards her, heads pointing away in a circle around her. There they turned into golden skeletons and Anna ascended up the Antahkarana spinning clockwise.

There was an Angel who noted her name in the book and allowed her to continue her ascent in to the Avatar of Synthesis - SYMBOLISING THAT NOW, AFTER PURIFICATION, SHE CAN BE A PART OF THAT HIGH COMMUNITY. There she noticed many clones of Master Satchidanand with his glasses who is the hands of the Avatar of Synthesis on this planet"

"There she also received the vision of herself on a Long Superhighway. There are many souls in the cars speeding along there. She knows it is a long road. But she also knows that Energy Enhancement is the Fastest Path!!

"After her meditation on the superhighway Anna continued her Energy Enhancement Initiations with The Spiritual Aura of Energy Enhancement Level 2 Initiation 5. As she went out into the infinite spiritual Aura she was taken upwards exactly as in the previous Initiation in the mental Aura. She was taken Higher. As she ascended again the Angel checked her name off in the book allowing her to enter into the great community of Souls at the Avatar of Synthesis.

She found herself in front of Satchidanand who was sitting on a throne, radiating white light. She felt herself like a three years old child taken by Satchidanand and standing at his side, enfolded in his arms and in his love. She felt him touching her back and head and tears came down from her eyes.

From the crowd of great souls around her came the cry, "Give her the present!"

And Satchidanand gave her a triangular mechanism created out of pure mental matter looking like light or ether. She was told it was to integrate the triangle of Chakras in the head, forming a

n integrated Unit out of the three chakras of the head.

The functioning triangle of Sahasrara Ray One of Purpose and Will connected with the light of the Central Spiritual Sun above the head of Intuition, Alta Major Center at the occipital base of the Skull Ray Two of Love connected with the energies beaming out of the left eye, and Ajna Brow Chakra Ray Three of the Intellect connected with the energies beaming out of the right eye and the connections between them - ALL POWERED BY THE VAST ENERGIES OF THE BASE CHAKRA CONNECTED WITH THE INFINITE ENERGIES OF KUNDALINI CHAKRA.

Putting in the integrative triangle was a blast. Satchidanand said, "You need to get used to it"

The purpose of this triangle is to Radiate the Light of the higher chakras and so influence and evolve her own students.. I suppose they will have to get sunglasses also!! LOL!!

"

DON'S WIFE, ANNA'S ENERGY ENHANCEMENT COURSE STUDENT REPORT - JAN 22ND TO FEBRUARY 25TH 2011

BEFORE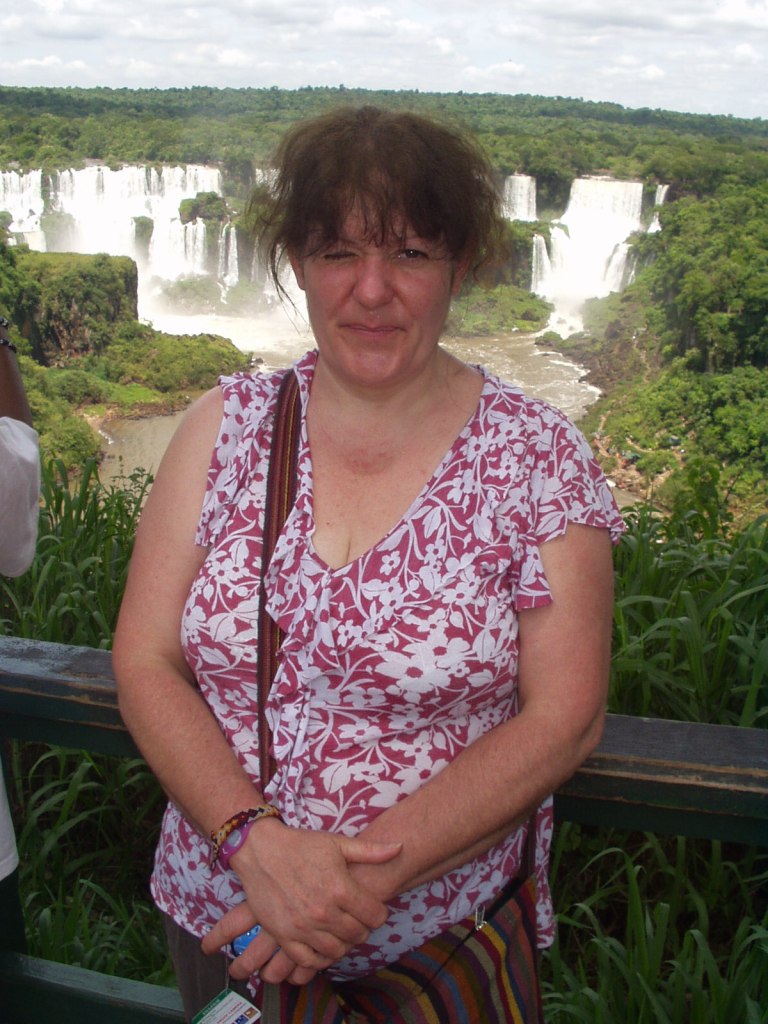 Anna Visiting Iguassu Falls January 2011
AFTER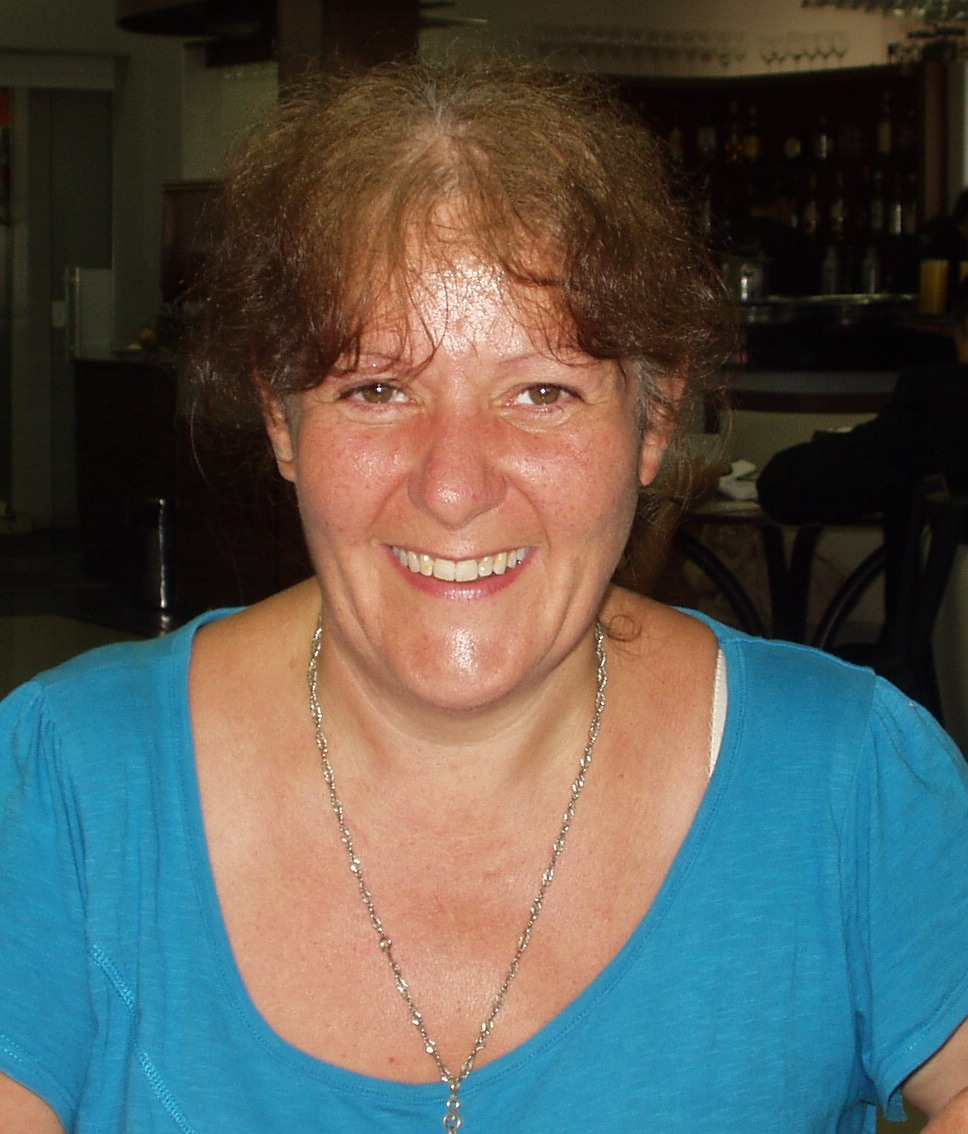 Anna - After the Energy Enhancement Meditation Course 25th February 2011
Anna's Energy Enhancement Course Report 22nd February 2011
I never realized the power of blockages until a couple of weeks prior to coming on this course. As my departure date came closer the blockages began to show themselves in greater intensity. They showed themselves in every aspect of my relationships with all around me. They invaded my thoughts, my emotions and my actions. Creating statements not only in my head but also voiced statements which I knew were not really what I deeply felt about me and the reasons why the course was important to me. I wanted to be rid of these blockages they were holding me back from my Path. They were preventing further advancement, they wanted to hold me were I was, the blockages were happy with their life in me. I knew that I needed to travel away from my own reality to have undisturbed time, devoted time, with out distraction to be able to work on these deep seated blockages. As soon as I got on the airplane the blockages fell silent, they tried to hide even deeper inside of me hoping that they would not be discovered.

When the work began, the blockages would try to distract me in every way possible. Creating illusions in my mind and procrastination, I'll do it later, I don't need to do this now, I'll read, dream, sleep anything but settle down to do the meditation required to deal with a particular aspect of the blockages. Slowly the work reached into the deeper levels of my subconscious and I could look at the different effects that particular blockages had upon how I responded to certain situations, repeated patterns of behavior that I had been trying to break using other spiritual methods I knew.

Deeper and deeper I travel into my subconscious and the benefits I received back became deeper and deeper. I recover my inner sense of joy and happiness which I had not felt for a while. Life can beat you down every now and again and I had few tools to be able to restore my inner joy and inner happiness. My internal smile returned.

As the Initiations progressed so did my internal peace. As I was reaching the end of Initiation 3, which took a lot of time, dedication and bloody mindedness I received several amazing gifts from Spirit, from the Divine Love that we all crave for. I had three distinct experiences.

The first one was of a downloading nature; I had gone to lie down after a particularly challenging meditation, I had placed my newly acquired large quartz crystal on my heart chakra. I realized that time had passed but not how long and when I came to I found it difficult to move my arms and legs, my body was so heavy, my palm chakras were shining so brightly, I felt as if crystals had been implanted, energy flowed down my forearms, down my legs. I had been out for just over an hour. I felt as if I had been floating, somewhere else, not completely sure of where or what had been happening, but I felt so good, so blessed, so loved. It took me a few hours to fully integrate back into my physical body.

The next gift happened the shortly after. I got up but was having great difficulty in waking up, my mind just wanted to go back to sleep. I forced myself to attend breakfast and after it was decided that I should go back to sleep for a while. I fell into a deep sleep for 3 hours and awoke remembering in full detail the contents of the most amazing dream I have ever experienced. I was dreaming in three different realities. I knew I was asleep in the physical sense; I was also asleep in my dream and also walking about. I knew in my dream that I was asleep in both realities. At some point during my physical sleep I turned onto my back, all that happened next was whilst I was asleep.

I began to realize that my occipital was hurting; hurting like it had never hurt before. I felt a loving hand gently stroke the right side of my face, tears rolled down my face in both my dream and in reality. Tears created by the loving compassionate touch that I received. I only saw the hand. I had blazing white light fill my mind and time had no meaning. This happened several times during the dream sequence. I knew I was asleep in the physical world and I knew I was asleep in my dream world.

I moved from the room that I was asleep in, in my dream world, to a space that was occupied by Satchi and Devi. They were cleaning, Devi on her hands and knees cleaning the floor around where I sat on a reclining chair. In through the French window to my left I saw a black Mother cat come into the room followed by three little fuzzy black balls, her kittens. I said to Satchi the cats have got in. In a very loving voice Satchi says to me ´She is feeding; make sure you get her out´. It was as if the cat was just looking for somewhere safe to feed her kittens. I got up from the chair and walked down a corridor and shushed the cats out, Satchi said you might wanted to have a look in this room and I entered a totally baby pink room, the floor, ceiling and walls baby pink in color. The only thing in the room was a large mirror which Satchi had been cleaning grease marks off of.

I then return to the room in which I am asleep in my dream and I find Devi cleaning the floor around me. She knew I was asleep. She is not happy with the way the floor had turned out and she is complaining about using too much liquid to clean the floor. It was as if the floor had been bleached in parts. I wake up in my dream and find that she has left a cloth, some salts and a large quartz crystal on the floor beside me. I pick up the crystal to investigate what she has left and return all in the same place as I found it.

Before returning to the physical world I became aware of the pain in both my palms and I turn to look at my right palm and find a clear quartz crystal has been placed into my palm chakra. I also have a pain in my left palm but not to the same intensity. Upon waking I realize that I have had my right hand in the receiving position, palm upwards by my head and my left hand in the releasing position, palm downwards facing towards my feet.

At some point in my dream I did think Satchi what have you done to me and could you turn down the intensity please but I also know that you only receive what you can cope with. I woke up feeling refreshed, amazed and a little bit in awe of what I had just experienced. The number three had already been present in my mediations and I immediately understood that the cat and her kittens were blockages trying to return. I also understood that Satchi and Devi had both been working hard to help me clean my body, soul and chakras.

My third out of this world experience happened towards the end of completing Initiation Four of Level Two. Just before the meditation came to an end I was propelled upwards, higher than I have ever been before. It was as if my Antahkarana had become a space ship, higher and higher I went. I was taken to an outcrop, a landing platform with mountains all around.

In the centre of the circular disc was a lit candle. With out hesitation I walked straight in to the burning candle. As soon as I did this the candle changed into a golden circular chamber with beautiful lattice grills all around. A door opened and people began to walk in to the chamber. I thought who are they? But the image quickly changed and they lay down all around me in an eight pointed shape with their feet towards me. They had turned into golden skeletons. I was raised higher, spinning, turning in a clockwise direction with rainbow light showering down upon me.

Satchi advised me to return to this place to ask where I had gone to, what was the name of this place? What was the reason I was taken there? What was the next step in my path? When I returned the next day I was shown several different levels as I was taken higher and higher. At one stage I was shown an Angel looking in a book, I had the impression that she was checking to see if my name was there.

As I arrived at the next level I began to see Satchi look-alikes, several men with long white beards and wearing glasses. I had been asking my questions and the images changed to a long road, a highway spreading out before me. As I began to travel along the highway, cars came and went in both directions. Sitting on the highway barriers, on both sides of the highway, I saw people. The souls of people also traveling the path or people waiting to helped along their soul path?

I have had many other experiences whilst here, feelings of great gratitude and forgiveness towards family members, towards friends both past and present, towards my self in this present life and towards myself in past lives. I have felt things make sense, a sort of order restored within, a newly found strength of balance. New tools to help me deal with what life can throw at me. I feel that I am able to love myself more than before. I have felt supported, physically, emotionally and spiritually by Satchi and Devi. I have felt their compassion and the compassion of the Divine Universal love for all.
ANNA - 22ND FEBRUARY 2011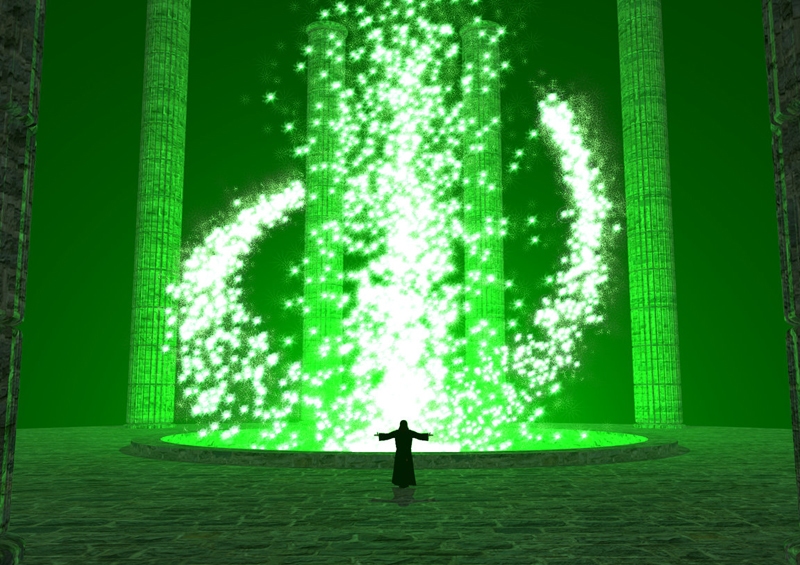 Satchidanand's Energy Enhancement Course Report on Anna, Updated 25th February 2011 - Including a few of the Teachings and Experiences received by Anna on the Course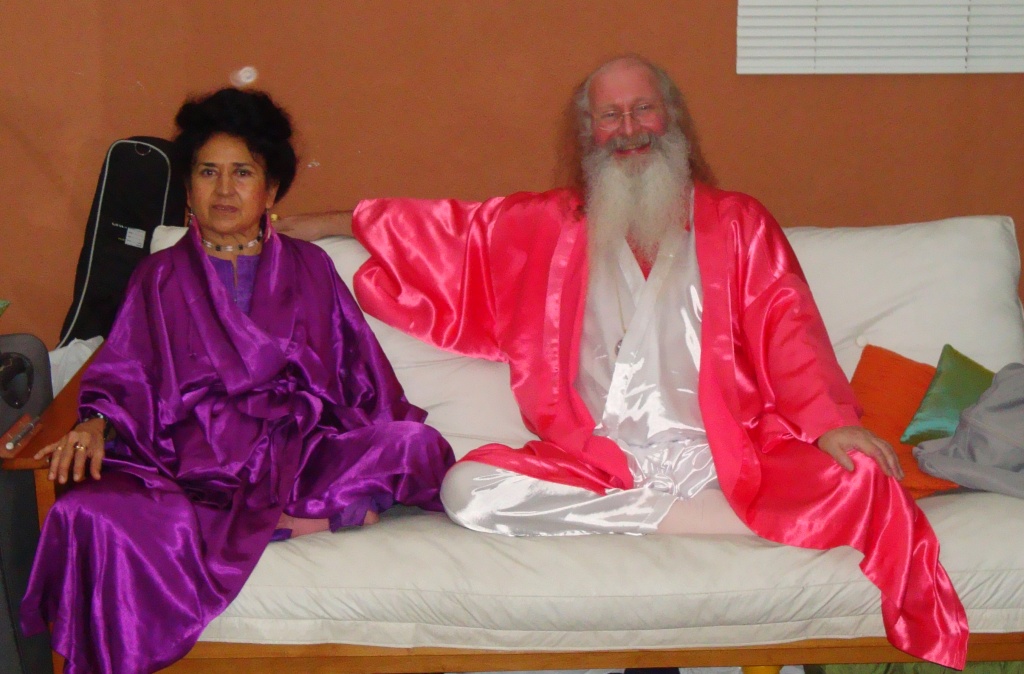 Anna came to Iguassu for a One Month Two Level Energy Enhancement Course. She is the Loving wife of one of our previous students and mother of two strapping Irish sons. She has been involved in Shaman training and now teaches how to make shamanic drums in workshops worldwide.

We all have psychic powers. Normally they have so little energy powering them that they do not work properly - As we "Powered UP!" all of the psychic powers in Energy Enhancement Level One - Anna started to "see" (Psychic Vision is always one of the first "Siddhis" to arrive in Energy Enhancement) She had the experience of Blockages above the head in the chakras above the head which she "Saw" as the inability to create the antahkarana higher than the Logos chakra, preventing her ascent of the Antahkarana.

In association of the information on the Omphallos Stone (See the Energy Enhancement Book, "Super Energy and Sacred Symbols") - captured in its "Argenon" or "Snake basket" from Delphi and the dark, "Pythonesses" the divinatory priestesses of the Delphi Cult which covered the whole Mediterranean and through Plutarch, the then head of the order, became one of the state religions of Rome through Augustus Caesar in his meeting with them in Capri. She investigated the, "Cave of the Snakes" which she found in the spine in the Sacral Region and worked on three Viper Snake energy blockages which she found there - from past lifetimes in these organisations.

As we move on into Energy Enhancement Level Two, - The Elimination of Energy Blockages - all these blockages we have seen will have to go!!

Anna has been talking of looking and feeling much better now, so I suppose we will have to have the, "After" picture to follow the, "Before" one above.

As Anna was working on the Energy Blockages above the head using the Seven Step Process of level 2 she found incredible energy intensity as she grounded and sent up Energy Blockages implanted into her Antahkarana many lifetimes ago.

She said, "but you did not tell me about the intensity of the Energy before I came" and this is what I wrote to her husband by email..

Anna is Working on the Fourth Level and above of the Seven step process.

She said, "You didn't tell me it would be this intense!"

I say that its like this the very first time. Growing pains. It will not be like that again.

All we are doing is increasing our abilities to handle the highest flux densities of energy.

The end of the process is that we become Ascended Masters.

To do this we have to study with someone at a higher level.

Its all very well working on the things we can do easily.

But in order to progress, we need to work on the things at a higher level.

More on the edge.

In chess, "we can only improve by playing a better opponent". (From The Guy Ritchie Movie, "Revolver", First Cut, where the whole movie is about removing all the sub personalities of the Ego)

Its what Castaneda calls, "The Perfect Enemy"

Long may it continue from that place of, "No Fear"

Anna has removed blockages from above the head, below the base and is now working on the blockages within the body. Base Chakra, Money, sex, security, fear, Base Chakra energy connections with other people.

As she says, "The Three F's Fear, Food and Fucking". And as she was working on these areas she was getting the past life experiences where these blockages were formed.

Energy Enhancement works on the, "Need to Know" basis. Most of the stuff we do not need to know, and this stuff just gets grounded. But sometimes there is something which our Soul wants us to know. These are the visions which are shown to us all the way through the Energy Enhancement Course.

And in Energy Enhancement it is the Soul who is in charge of the Course. Not Me. Not the Anna personality, but that Soul infused Personality who is in the process of throwing out all the other Dark Sub-Personalities, connected to the dark side, infused with trauma caused negative Karmic mass. This process is just that symbolised by the Bhagavad Gita where Arjuna represents the Pandava White Angels inside a human being and The Kaurava family represents the Dark Angels within a human being. The war between the two of them represents the process of purification of the Energy Enhancement course where our student will ground and heal all the Energy Blockages before absorbing them back into the Soul where they all become ONE! There can only be ONE!!

THIS BATTLE CAN ONLY BE WON WITH THE HELP OF KRISHNA WHO SYMBOLISES THE HIGHER SELF, THE SOUL, THE MONAD AND HIGHER!!

As she was working on some of the childish sub personalities created in every family where there is competition and jealousy for the love and attention of the parents from every sibling, she had tremendous intensity of energy in the Visshuddhi throat chakra moving down into the Heart chakra particularly in the Mental Aura of the heart Chakra.

"The energy was so intense", she said, "But I was in that space of No-Mind and it was not me doing the work. Everything was ready for this great operation and It was being Done for me and as I sat for an Hour!! (I have never ever been able to sit for anything like that length of time before) so the whole mass of deep dark energy blockages were cleared out of the region. The result was that someone, Shiva, Lakshmi, Krishna, opened up all the minor chakras in my body, shining in my hand chakras and brow chakra and I felt all the meridians flowing with the light. Wow!!

After that I had a go at the triangle of Chakras within the head. The functioning triangle of Sahasrara Ray One of Purpose and Will connected with the light of the Central Spiritual Sun above the head of Intuition, Alta Major Center at the occipital base of the Skull Ray Two of Love connected with the energies beaming out of the left eye, and Ajna Brow Chakra Ray Three of the Intellect connected with the energies beaming out of the right eye and the connections between them.

Removing the Energy Blockages in this region caused me the next day to be blinded by the light emanating from the psychic body of Satchidanand during our regular daily talks. Every day I see his Aura glowing bright white, but today it was so brilliant I could barely watch him. I suppose I will have to wear sun glasses!!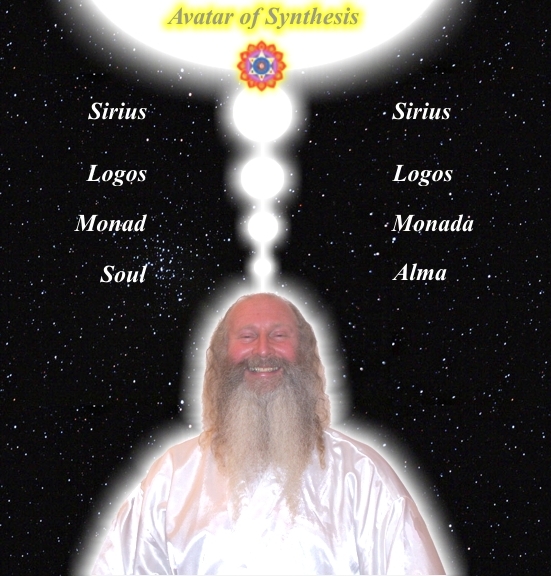 I told him that it was only the preparation of previous courses on the Shamanka Shamanic path which had given me enough purity and strength to continue the Energy Enhancement Process. He told me that great masters will not meet with normal people as the radiant energy of the master will be too much for the normal student and will, "Blow them out". The Radiant Light, The Buddhafield of Masters will, "cast out" the energy blockages of the student. Usually the Energy Blockages will talk to the students to Go from the Ashram before that can happen by creating bad thoughts and resentment over anything to do with the Master or the Ashram. Thus they are, "Blown Out". Great Masters will only meet with their disciples who have proven able to take the energies..
Before I came on the Energy Enhancement Course. For two weeks before it I was in the state of incredible fear. All my blockages were afraid, jumping up and down and trying to get me not to come. I was in an incredible state just before I had to get on the plane but I knew what was going on. I knew I had to defeat these energy blockages and now I am here I would never not have come. The course has just blown me away!!
Thus Satchidanand says, "You have been looking all over the World to find One Master who is Genuine. Me, I've been looking all my life for a genuine Student" We need to know that we are on the path of increasing that studentness inside of us. For this, normally we need some previous spiritual path before meeting a genuine Master. Only a genuine student can become enlightened.
Osho had a student in Germany who wrote to everyone to say that he was Enlightened. Osho knew he was not and so asked him to come to meet him again. When he came he said, "I don't know what happened. When I was in Germany I was Enlightened. But now I am here suddenly it has gone from me and I am back in the same unenlightened state." But then he want back to Germany and again he was writing everyone to say he was enlightened again.
There are many people alive in the world like Hitler and Stalin who are the cause of all the problems in the World.
There are many Charlatans in the World. Milarepa visited one before he found his real Master and became Enlightened. Milarepa became one of the greatest saints in Tibet and the thousand songs of Milarepa are still sung in Tibet. But before he went on the Path of Light, Milarepa practised to become a Black Magician so he had some previous spiritual training. He came to a monastery on the banks of one of the deepest and coldest lakes in the Himalayas. The Master there said, "Just chant my name and you will be able to do anything!!"
One of the defining traits of a Student is faith. People who are cynical would say naivety. Whatever we call it, this trait is necessary. To believe that one person in the World has ever become enlightened requires a big leap of Faith whether that person is Jesus Christ, Buddha or Krishna.
So when Milarepa came out out of his interview with the Master all the cynical non students decided to have some fun. They said, "At the top of the mountain is a 1000 meter cliff. Surely by chanting the Masters name you can jump off the top without any problems!" And Milarepa was so stupid he said, "yes!"
And the students followed him up the mountain to the top of the cliff every moment expecting him to chicken out. But Milarepa sat at the top in the Lotus. And chanting the Masters name he flung himself from the top!!
The students were horrified. They ran to the bottom expecting to see his broken body on the rocks. But he was there!! Sitting in the Lotus posture chanting the Master's name.
So they said, "Now walk across the waters of the Lake" and chanting the Masters name, Milarepa walked on the Waters of the deepest coldest lake in the whole of Tibet.
The Master was looking out of his window and saw this. He asked his closest disciple what was going on and the Disciple told him that he was chanting the Masters name and thus was able to do anything.
The Master was really proud, "I am so powerful" he thought.
So next morning at 4am he went out to the lake and chanting his own name went out onto the lake, fell in and drowned!!
They were all searching for the Master. Where was he?
But Milarepa just shrugged and went off looking for his genuine Master, found him and became Enlightened.
Just because you have psychic powers does not mean that you are enlightened. Milarepa developed his on a dark path of Black magic.
Everyone on the energy enhancement course develops psychic powers in order to remove energy blockages in yourself, and in others..
The test of Illumination is the ability to stay with a Master without any problems as the Master and his Soul and his Monad will always try to bring the Student's Energy Blockages to the attention of the Student so that he can work on them and remove them.
WRITTEN 16TH FEBRUARY 2011 - ONLY NINE DAYS LEFT TO GO!!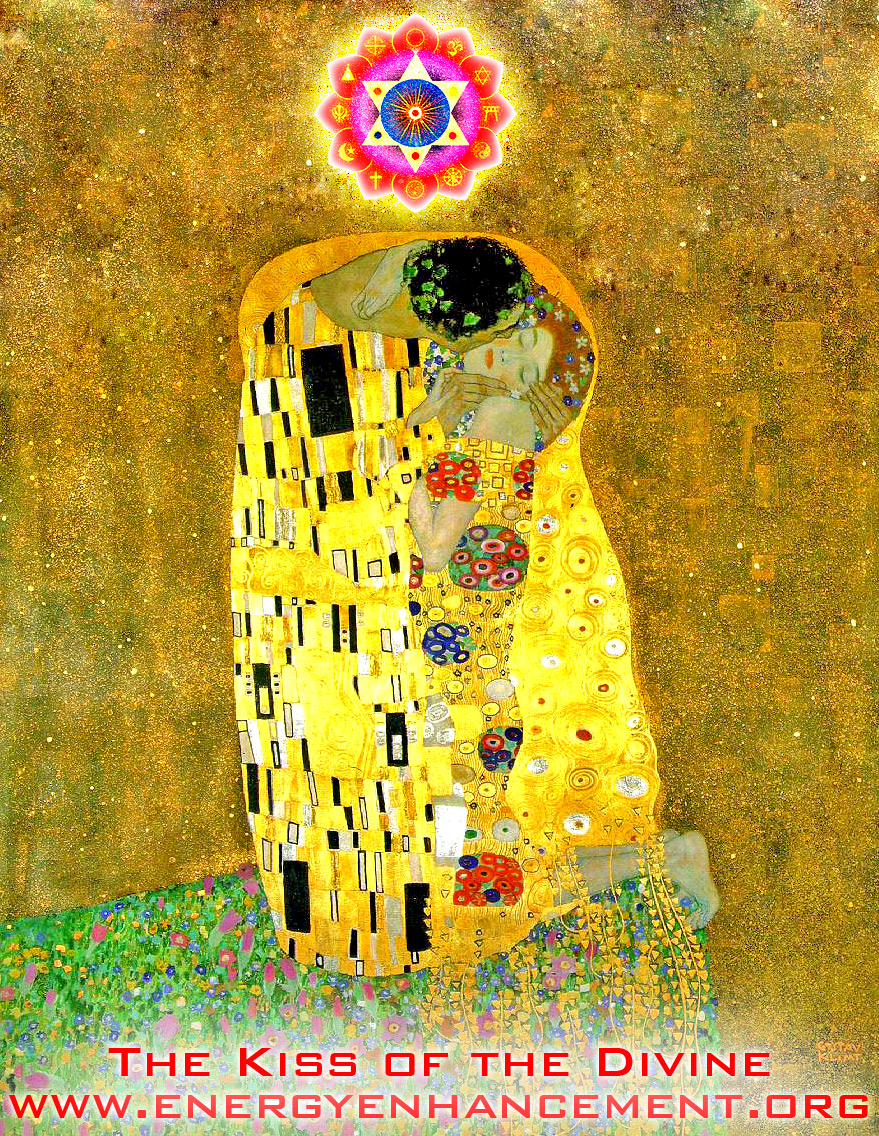 Hi,

Anna is very happy!!

A few days ago I was glowing such that she could not look at me.

She said she needed sunglasses.
She had to leave the presence.

The growing pains produced by the spiritual radiation were intense.
"
Swami Satchidanand is Radiator of Spiritual Tension,
a Walking Point of Crisis"
- This is The Buddhafield of Satchidanand


Due to the effects of the Radiation she took a day out and went to sleep.

In the dream she knew she was dreaming.

In the dream she was asleep. and she knew she was asleep in the dream.

And she was watching what was going on in the second dream - three levels.

She saw Devi cleaning the floor, and Devi was not happy with the result. Some floorboards were white but some were dark.

Eventually Devi gave up and left a crystal on a bed of salt with a cloth over the top.

Anna examined the crystal from the second level.

And then a cat came in with three kittens.

Apparently Satchidanand was there because he said, "She is feeding, shoo her out!!" so she did. And we think this refers to the three energy blockage snakes in the cave of snakes Anna found in the sacrum during the first week with us. Blockages out!!

And then onto the fourth level of dream, a pink room where Satchidanand was cleaning a mirror of its greasy marks because the mind needs to reflect that which is to be truly true. Greasy spots reflect a lie, an untruth, the symptoms of energy blockages. And so on.

Anna can tell you the rest.

But Anna is very happy with the result of her efforts in meditation, cleaning all the chakras of the antahkarana very carefully every day.

Because spiritual experiences have to be earned.

A lot of very good work has been done.

Anna is happy and energised.

We read her palm and very good future it is too.

More work needs to be done and Anna is thinking of a regular Energy Enhancement session every day at home.

Good!!

We also are happy at keeping it all together!!

Lots of Love and Light,

Masters Satchidanand and Devi Dhyani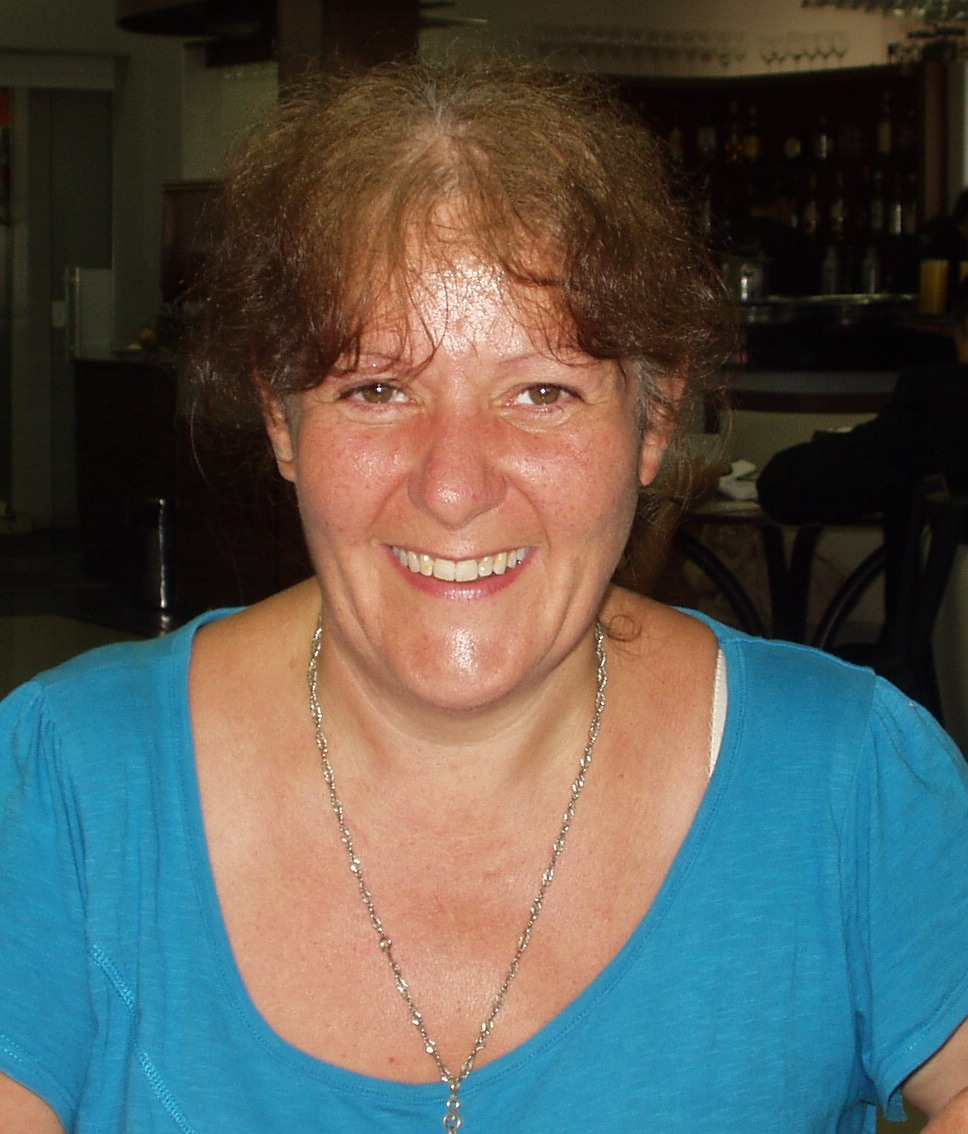 Anna - After the Energy Enhancement Meditation Course 25th February 2011
Written 22nd February 2011
Well, since her dream Anna has been working on the Four Auras - Initiation Five of Level Two of Energy Enhancement - including the Physical Aura and the DNA.
As she was working on the Physical Aura she had the experience of seeing a spear point lodged in her shoulder, in the middle of the Clavicle right side. She saw that it was there from past lives but was also having its effects in this lifetime having severe pain there, worked on it for many years with acupuncture which although it drained the pain, did not fully remove the cause. In this meditation the spear point was handed to her, she grounded it and sent it up and then sewed the damage in the clavicle with golden thread.
The emotional aura was tough too, so much so that even with the air conditioning on, she was sweating with the effort and the intensity needed for clearing it. She felt the weight on her shoulders felt all of her life, from supporting those around her, disappearing.
And on to the mental aura. There she removed five inner children sub-personalities and a mazy unclarity in the limpid clarity required of a clean mental aura.
As she cleared it she was allowed to ascend to Sirius and in the temple there entered into the sacred flame. She found herself entering naked into a golden room with golden filigrees on the door. Eight naked men followed her in. With her in the center they lay on the floor feet towards her, heads pointing away in a circle around her. There they turned into golden skeletons and Anna ascended up the Antahkarana spinning clockwise.
There was an Angel who noted her name in the book and allowed her to continue her ascent in to the Avatar of Synthesis - SYMBOLISING THAT NOW, AFTER PURIFICATION, SHE CAN BE A PART OF THAT HIGH COMMUNITY. There she noticed many clones of Master Satchidanand with his glasses who is the hands of the Avatar of Synthesis on this planet.
Each organisation tests its aspirants to see if they are high enough to join them. Those who do not pass the test are rejected. Then they grow within the organisation.
There she also received the vision of herself on a Long Superhighway. There are many souls in the cars speeding along there. She knows it is a long road. But she also knows that Energy Enhancement is the Fastest Path!!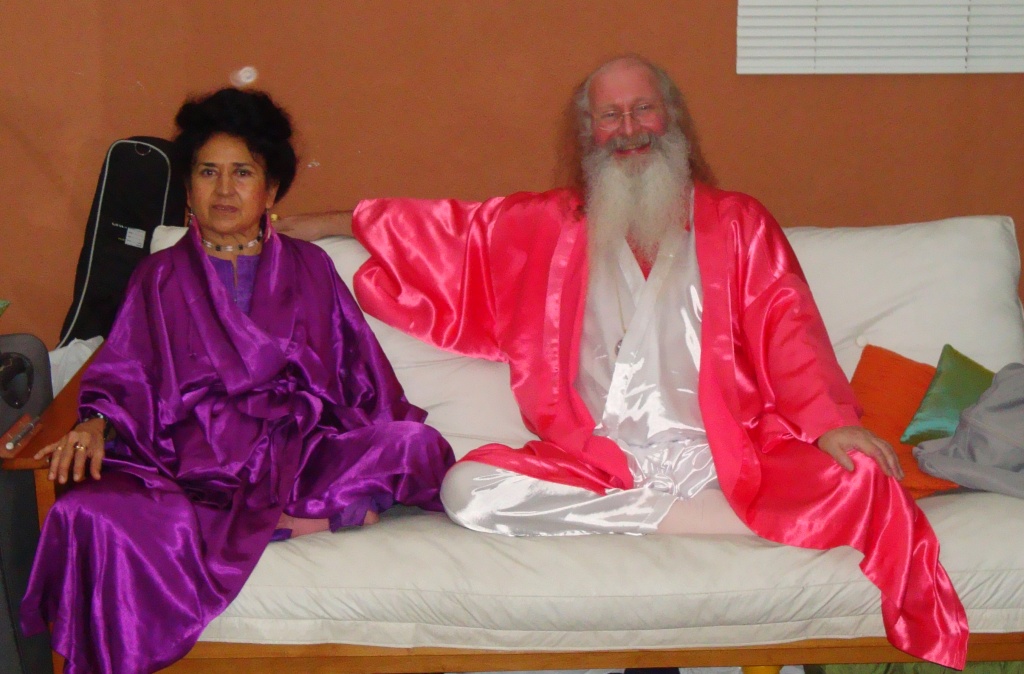 After her meditation on the superhighway Anna continued her Energy Enhancement Initiations with The Spiritual Aura of Energy Enhancement Level 2 Initiation 5. As she went out into the infinite spiritual Aura she was taken upwards exactly as in the previous Initiation in the mental Aura. She was taken Higher. As she ascended again the Angel checked her name off in the book allowing her to enter into the great community of Souls at the Avatar of Synthesis.

She found herself in front of Satchidanand who was sitting on a throne, radiating white light. She felt herself like a three years old child taken by Satchidanand and standing at his side, enfolded in his arms and in his love. She felt him touching her back and head and tears came down from her eyes.

From the crowd of great souls around her came the cry, "Give her the present!"

And Satchidanand gave her a triangular mechanism created out of pure mental matter looking like light or ether. She was told it was to integrate the triangle of Chakras in the head, forming a

n integrated Unit out of the three chakras of the head.

The functioning triangle of Sahasrara Ray One of Purpose and Will connected with the light of the Central Spiritual Sun above the head of Intuition, Alta Major Center at the occipital base of the Skull Ray Two of Love connected with the energies beaming out of the left eye, and Ajna Brow Chakra Ray Three of the Intellect connected with the energies beaming out of the right eye and the connections between them - ALL POWERED BY THE VAST ENERGIES OF THE BASE CHAKRA CONNECTED WITH THE INFINITE ENERGIES OF KUNDALINI CHAKRA.

Putting in the integrative triangle was a blast. Satchidanand said, "You need to get used to it"

The purpose of this triangle is to Radiate the Light of the higher chakras and so influence and evolve her own students.. I suppose they will have to get sunglasses also!! LOL!!

Only two more days to go!!

Recapitulating the Years of the Life was the final initiation of Level Two of Energy Enhancement.

As Devi gave her a special Course on the Elimination of Energy Blockages including removing all negative energy from the conception point where she found that practising the Initiations again would remove even more of the selfish competitive star, the "Self Importance" of don Juan and Castaneda, The "Vanity" of Gurdjieff, and aid the "Creation of Impeccability", Anna could only report on the first few years of her life. The rest is homework.

However

she did mention the start of spotting the Inner Children Saboteurs of her life. To start with, these Inner Children Saboteurs tried to prevent the process through the technique employed by many different types of Energy Blockages called, "Procrastination"

Due to the fact that Anna's birthday is the 21st December she very rarely had a special birthday celebration as a child - it being so near to Christmas. The angry/sad Inner Child created at this point had tried to gain attention and vampirise the energies of all around her by creating Dramas, becoming a, "Drama Queen" at this date every year of her life up till now.

Anna saw this. And now she has used the Energy Enhancement techniques to drain the trauma-formed negative Karmic mass out of the Birthdays, out of the Birthday Inner child and to Integrate this troublesome Inner Child with Love, back into the Central Stem of the Soul, thus further integrating the mind.

Anna spotted more and more Inner Children and knew the task in front of her was steep to Integrate ALL the Inner Children created during this past lifetime.

To help the process of removing all, "Touchiness" which is the symptom of all inner children in her and your life, I recommended the use of the technique of the Petty Tyrant in order to reach the, "Impeccableness" of Illumination. Petty Tyrants show us our, "Self Importance" of the Selfish Competitive Ego.

To help with the process I read out the following story all the while saying that the path of don Juan came from a dark Sorceric path only recently cleaned out by don Juan himself and a lot of the teachings of the sorcerors way can take you down the path of darkness.

Even, "Impeccability" is not sufficient because, "Impeccability" can be used only with the energies of Intellect and Will as by Stalin, Hitler and Mao, whereas the true perfection of "Impeccability" can only come with the use of Intellect, Will AND Love!! as given by the Buddha and Jesus Christ.

However, the use of treating Petty Tyrants in your life to, "Stalk" yourself so as to find all points of, "Touchiness" of, "Self Importance" is a great technique. Use it!! Use it!!

So I read out the following excerpt so she could understand the technique... See Don Juan Carlos Castaneda and Petty Tyrants CLICK HERE!!

Use the Energy Enhancement techniques to drain the Self Important trauma-formed negative Karmic mass out of the Inner children to Integrate these troublesome Inner Children with Love, back into the Central Stem of the Soul, thus further integrating the mind.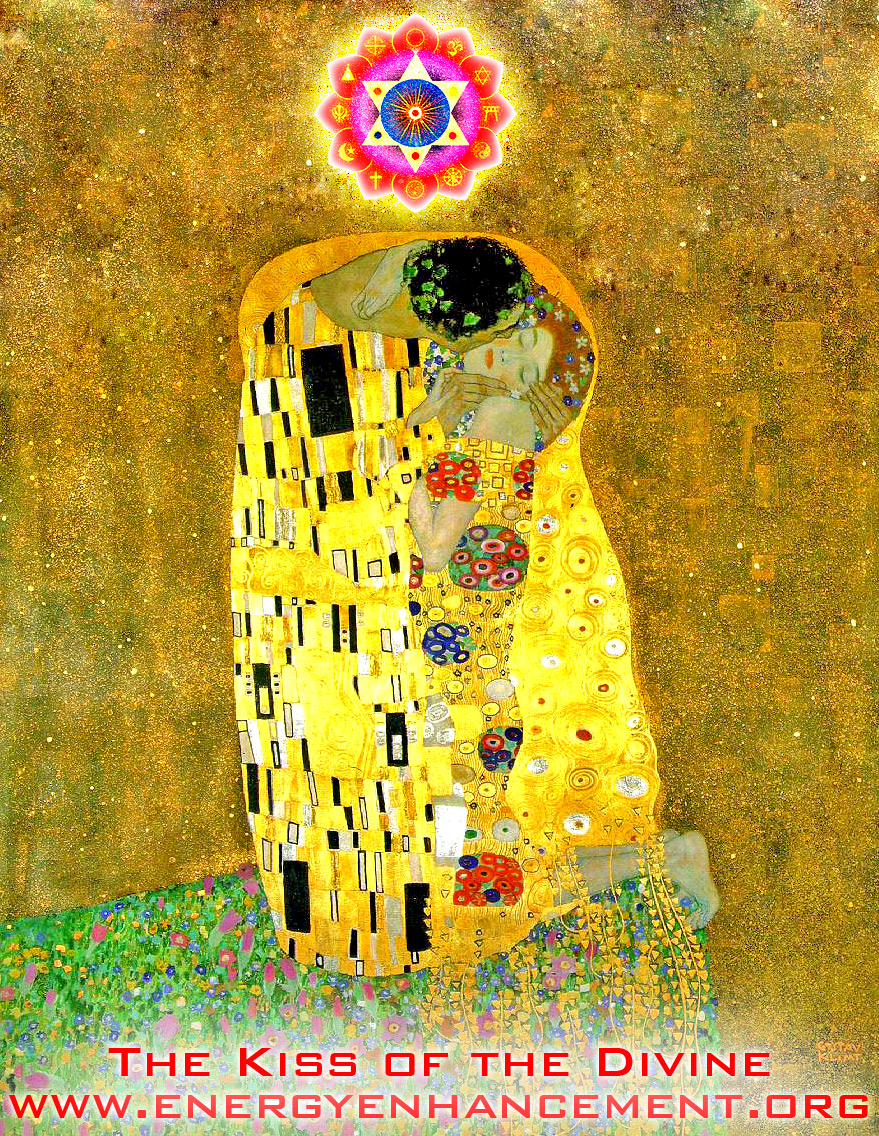 Better out than in!!

LEARN TO RECOGNIZE THE FALSE AS FALSE
-WITHOUT THAT, THERE CAN BE NO LASTING TRANSFORMATION
ENERGY ENHANCEMENT IS THE ONLY COURSE WHICH GIVES YOU THE TOOLS TO REMOVE THE FALSE TRAUMA - FORMED NEGATIVE KARMIC MASS PAIN BODY, AND ENERGY BLOCKAGES - FAST!!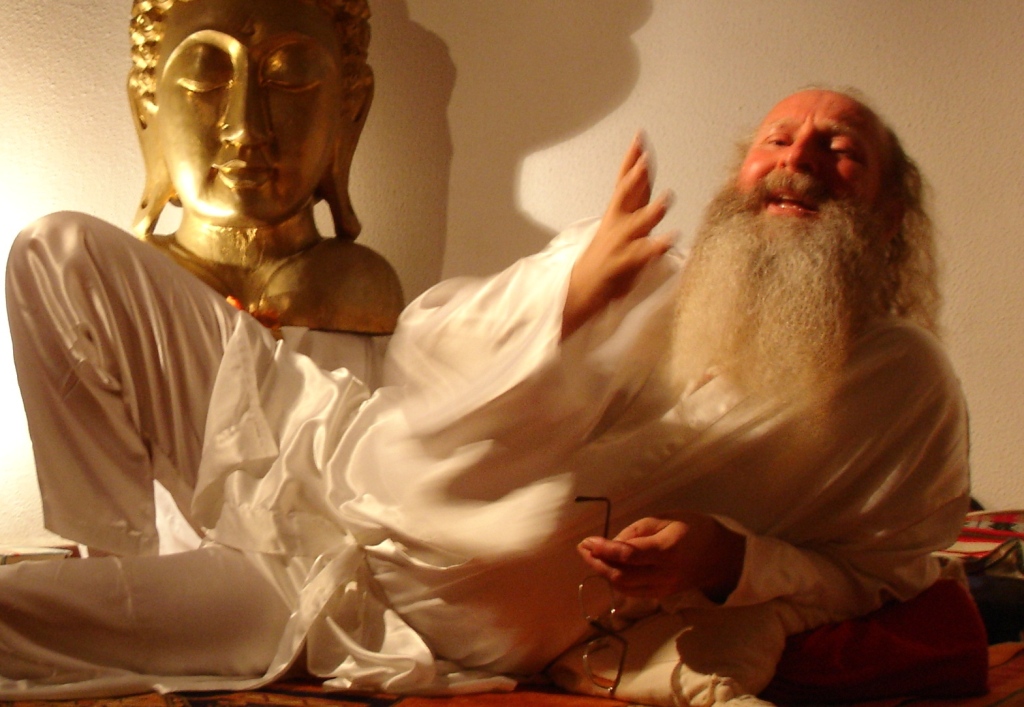 THERE ARE NO SHORT CUTS
DEEP EXPERIENCE COMES FROM THE BEST SOURCES ONLY
FROM THE GENUINE GURUS - THE REAL REMOVERS OF DARKNESS
DON'T BE A MISERLY CAMEL - GET THE PEARL OF ENERGY ENHANCEMENT NOW!!
COME ON A LIVE ENERGY ENHANCEMENT COURSE!!
AT THE
WORLD ENERGY CENTER SACRED TO THE INCAS SACRED TO THE GUARANI
IGUAZU FALLS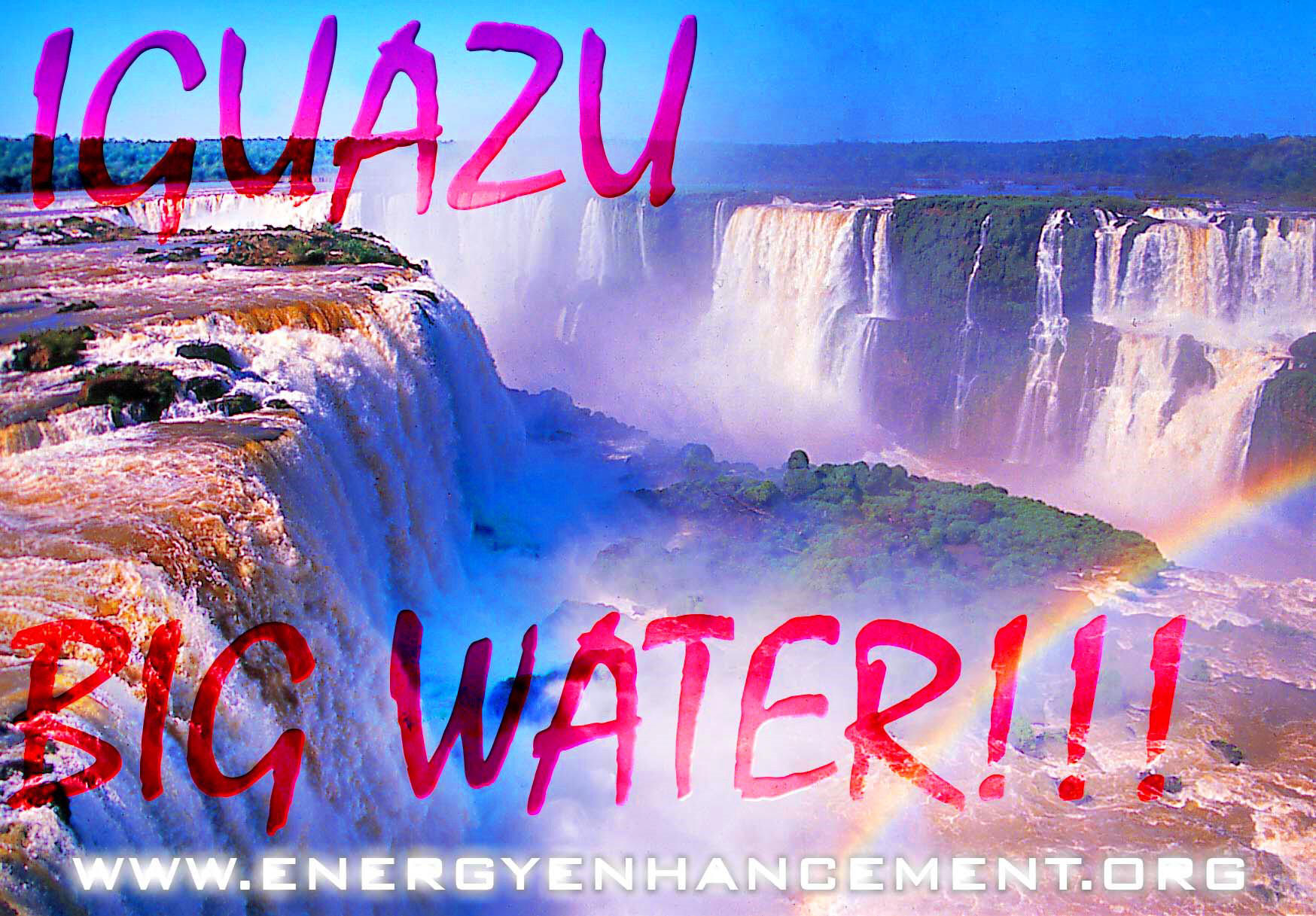 IGUAZU FALLS IS A WORLD ENERGY CENTER SACRED TO THE INCA AND THE GUARANI FOR THOUSANDS OF YEARS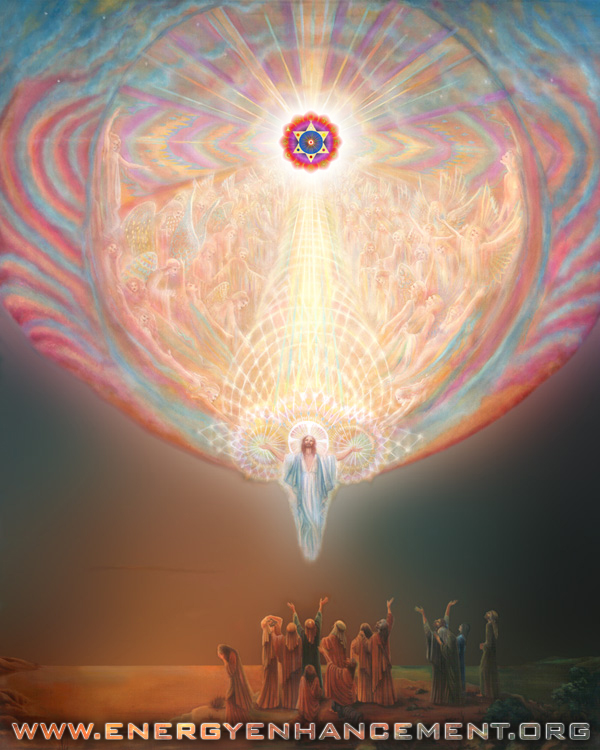 INITIATIONS ON THE PATH OF ENLIGHTENMENT TO BECOME A MERLIN, A JEDI, AN AVATAR AND RELATIONSHIPS
PREPARATION FOR THE INITIATION OF THE OPENING OF THE HEART AND THE THE INITIATION OF THE MASTERY OF RELATIONSHIPS AND THEN THE INITIATION OF SOUL FUSION - BECOME A JEDI, A MERLIN, AN AVATAR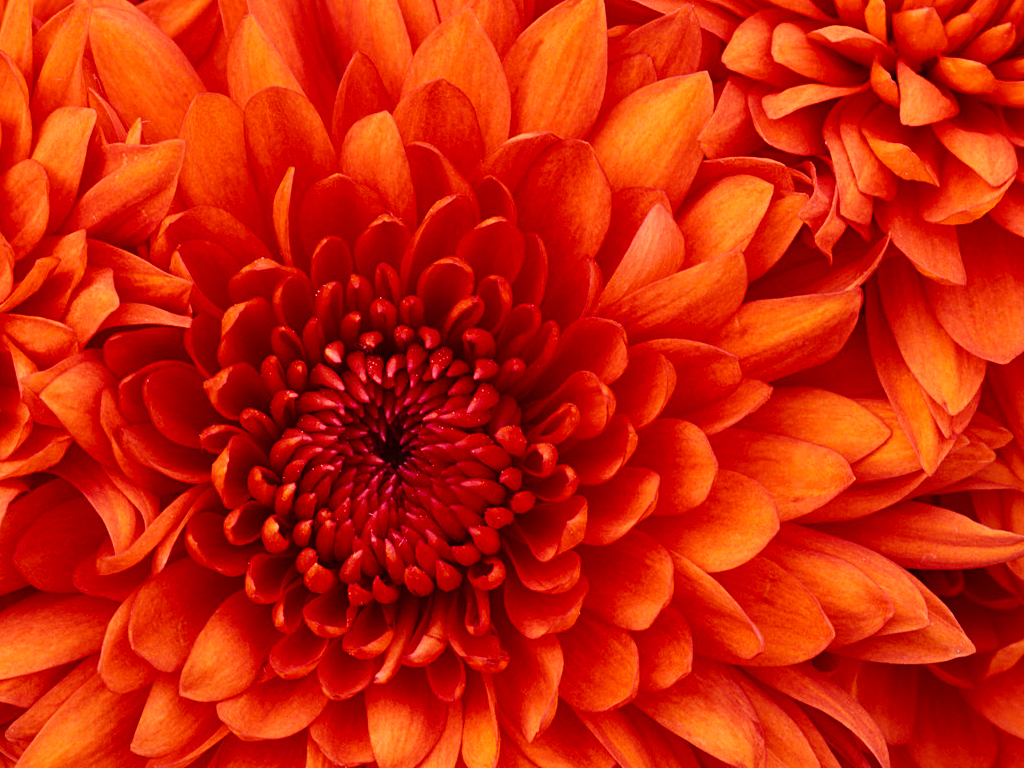 You are that Seed!!
You who have been born with the possibility of a soul need the the Energy Enhancement Techniques bringing water-wine, the light of Heaven and time in order to grow so that you too can grow sufficiently high to channel the Holy Spirit, the Energy of God.
Aham Bramasmi - I Am That
Tat Tvam Asi - You are that also
If a map is true then the results will be profound, the path will work. All Students of Energy Enhancement Speed Up their process, develop Psychic Vision, Remove their Blockages by themselves.
For thousands of years Enlightened Masters have existed. They exist in every age. And they all say, if you are really serious about Illumination, then you need to learn from one who has walked the path. One who knows by his experience the TRUE and not the false path.
Come and learn from Energy Enhancement..

"I feel that I have been given some secret knowledge, which was only given to the initiated, or hidden among a lot of unnecessary sub techniques in other disciplines."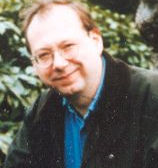 "One effect of Energy Enhancement is that I can no longer look at other disciplines like Ashtanga Yoga, Transcendental Meditation, NLP, Aikido and Ki Aikido and Mantak Chia and his Chi Gung, in the same light, because they do not contain this learning"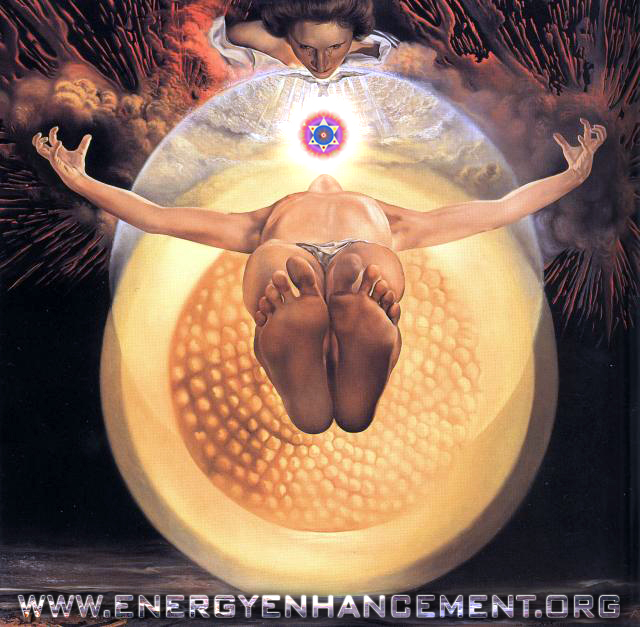 COME ON A LIVE ENERGY ENHANCEMENT COURSE!!
WITH
SATCHIDANAND AND DEVI DHYANI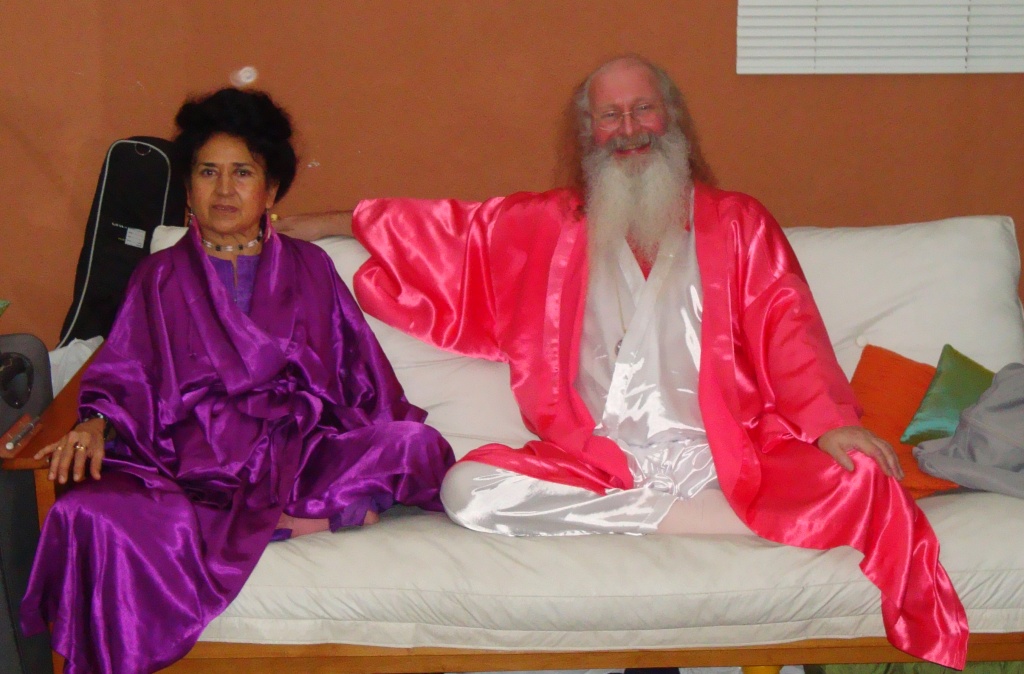 GROUNDING IS THE START OF THE KARMA CLEARING PROCESS.
KARMA CLEANING PROCESS, CLEAN THE KARMA FROM PAST LIVES, FUTURE LIFE, FUTURE LIFETIMES, SOUL FRAGMENTATION AND RETRIEVAL, INNER CHILDREN, SELFISH EGO SUB PERSONALITES, LIFE DESTROYING STRATEGIES, THE ALOOF, THE INTERROGATOR, THE POOR ME, THE VIOLATOR, THE SELFISH COMPETITIVE STAR, THE VAMP OR DON JUAN, THE PLEASER, THE BLAMER, THE CRITIC, THE KING, THE SELF DESTRUCTOR, ALL THE DESTRUCTIVE VOWS FROM THIS AND PAST LIFETIMES, THE CREATION OF SELF LOVE, LOVE AND SERVICE.
Spiritual Experience is a million times better than listening about it or reading the books
ENERGY ENHANCEMENT EXPERIENCE
is the proof of the books!!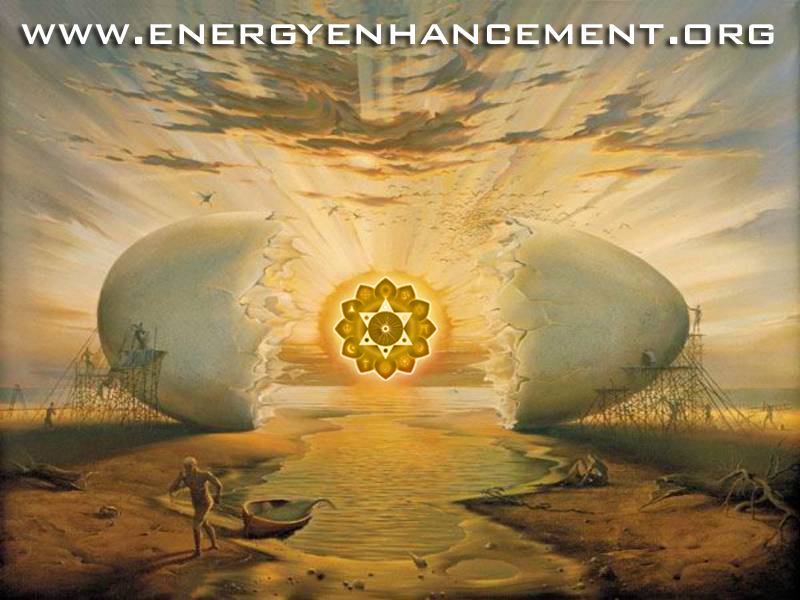 SALVADOR DALI ENERGY ENHANCEMENT SYMBOL OF THE AVATAR OF SYNTHESIS - THE SOCIETY PROPPED UP EGO EGG SHELL IS BROKEN REVEALING THE LIGHT OF THE SOUL WHICH ALL UNMADE MEN - FILLED WITH ENERGY BLOCKAGES, TURN THEIR BACKS ON


And he got this experience and many more like it because he has been on the Energy Enhancement Course!!

And everyone who comes on the Energy Enhancement Course or tries the DVD Course gets many spiritual experiences.. just READ the Reports of our Students

Come try it Yourself...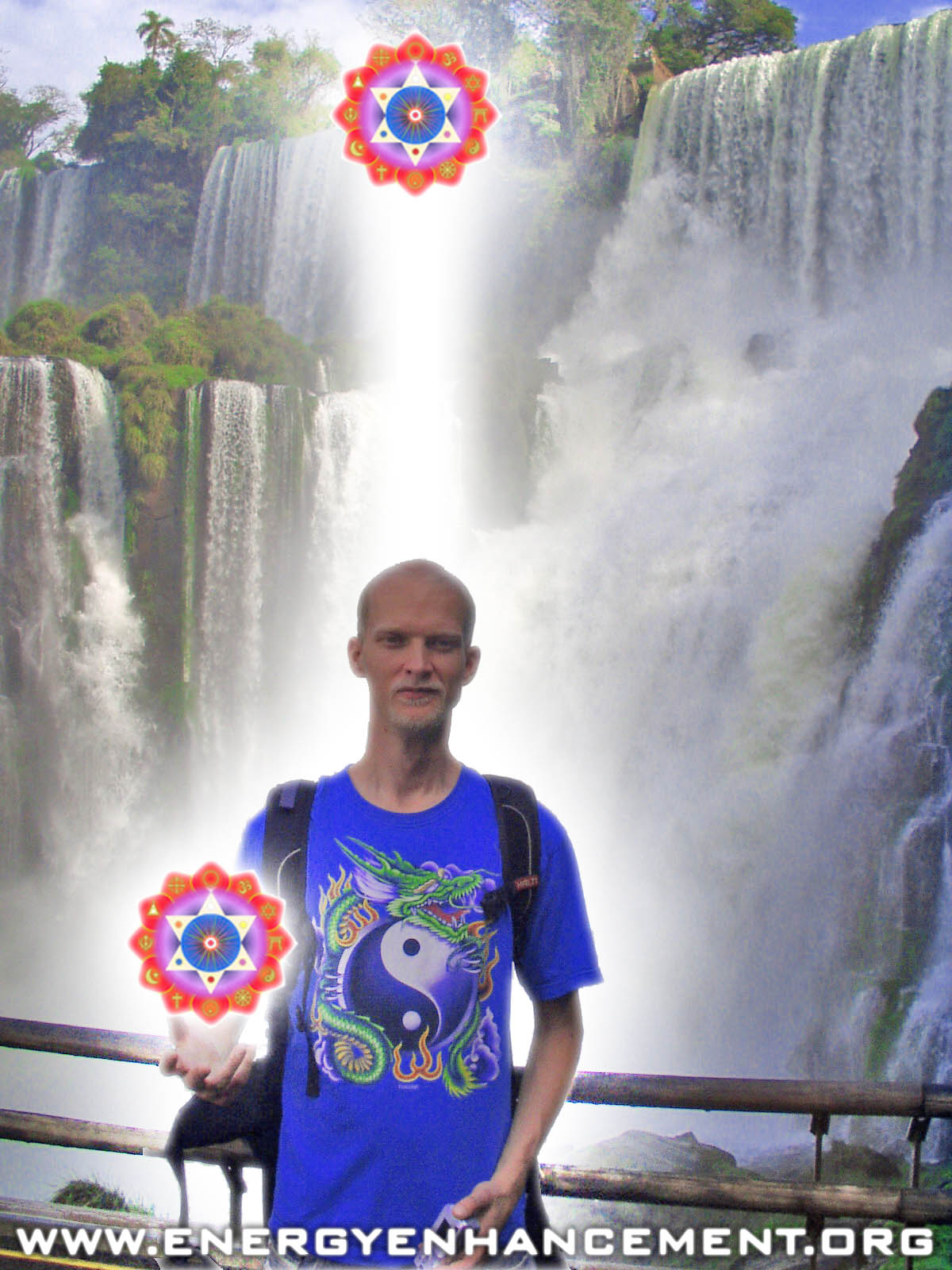 UK DVD STUDENT JAN 2011
"Oh and using your technique I've very recently just shifted a massive block from the sacral which has aided my grounding and all other chakras. From this my solar plexus will be working much more effectively and so will attract more abundance so paying you should be less difficult."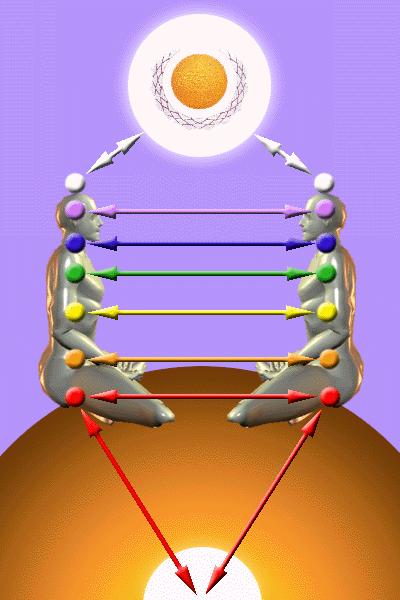 Hello Satchi and Devi!

I had some meditation experiences I'd like to share.

I woke up in the middle of the night last week and could not sleep so I decided to meditate.
I connected to the center of the earth and it was unlike anything I've ever felt. And
there has not been a day since that I don't think of that feeling. . I felt pulsing, gentle
waves of energy, like the oceans waves and just as much power as the ocean but there was a
mother like quality about it. It felt very sacred.

Since that day I keep getting information about being grounded to this force. And to think
that it all started because I pushed a stream of love out from my heart. Isn't it funny how something so
simple can change a life forever.

I am taking my time with the course. It is my main goal in life to integrate Energy
Enhancement into my being. I am ecstatic to think of what more sacred feelings I have in
store on my journey toward illumination!

And that is the first share that I wrote and now the second.

It is Oct. 22 and my paternal Grandfather died. I am remembering a dream I had of him
coming to me and sobbing and telling me he has led a "mutated" life.

It was not two weeks before that I was in meditation when I felt I had entered Samadhi.
Directly after I was done meditating my brother came to me and told me my Grandfather was
very sick and at the hospital.

In the course of the two weeks before his death I had been waking up at night and seeing a
Gremlin like creature on or by my bed.

In a past article I got from Satchi he says his own father came to him four days before he
died and Satchi cleared him and sent him to heaven. He said that usually family members who
die go to the most evolved person and can cause them cancer.

I know my Grandfather has come to me for help. I want to make my family happy! I know that
if I don't bring him to heaven he will give me cancer. I SEE it.

All this is what will push me more and more and more to Energy Enhancement. I have to do
it!!!!

And that is all I have to share.

Love and Light,
M, DVD Student, 23rd Jan 2011
USA DVD STUDENTS JAN 2011
"Dear Satchi and Devi, We were happy to hear from you! We are still in the process of moving to a new place and we maybe making a much larger move than we once thought. We are very excited! The new levels sound great! I turned 24 on the 9th of January and leading up to that day I was going through a lot of karmic mass related stuff. I worked everyday to ground some negative energy and I now feel better and lighter than ever! I understand more of myself now too and feel more able to show love to myself and all those around me. And also I feel this experience has made my meditation experience even stronger!

You are both an inspiration of love and light and we are blessed to have you in our lives!" Much Love and Light!" USA DVD STUDENTS JAN 2011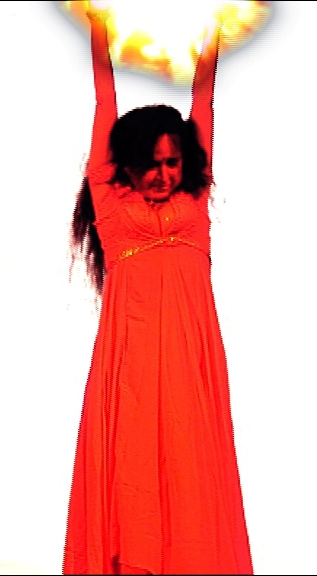 "I had to burst out in laughter as I listened to Track 9.. It is perhaps the most powerful, insightful, cosmic, depth-charging piece I've ever experienced in all my lifetimes — I literally felt the gears locking into place as I watched and listened.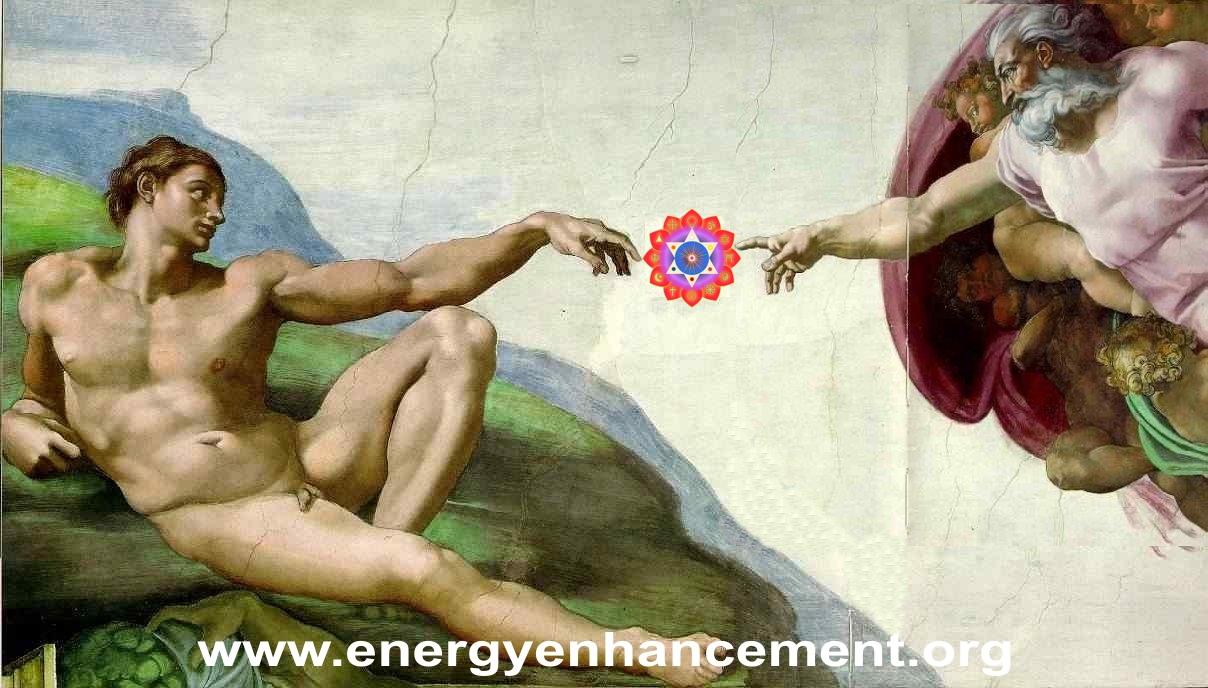 I was receiving downloads in my soul throughout that remain there untapped consciously for now, but I could feel their luminosity and comfort"
USA DVD STUDENT JULY 2010 "J"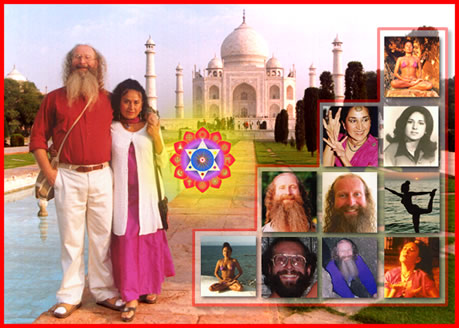 COME ON THE ENERGY ENHANCEMENT COURSE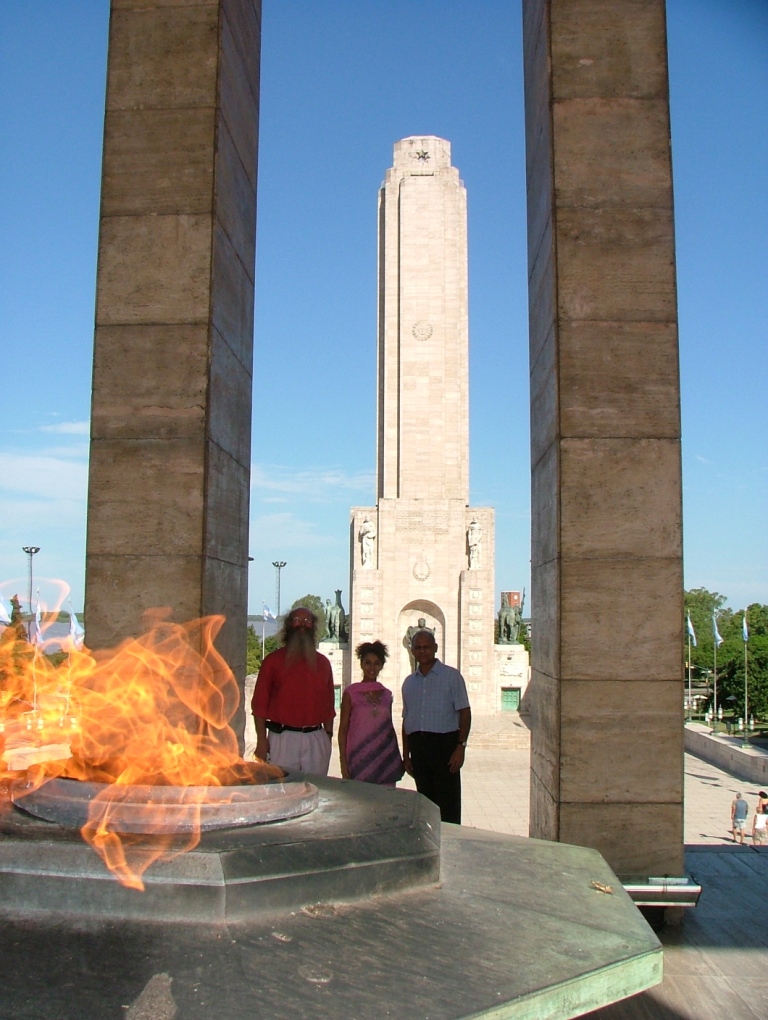 HONEY, SATCHI AND NATWARLAL, HONEYS FATHER, AT THE ANTAHKARANA MONUMENT FROM THE JAN 2005 COURSE IN ARGENTINA
During the Meditation Retreat in Argentina Honey Kalaria had the following experiences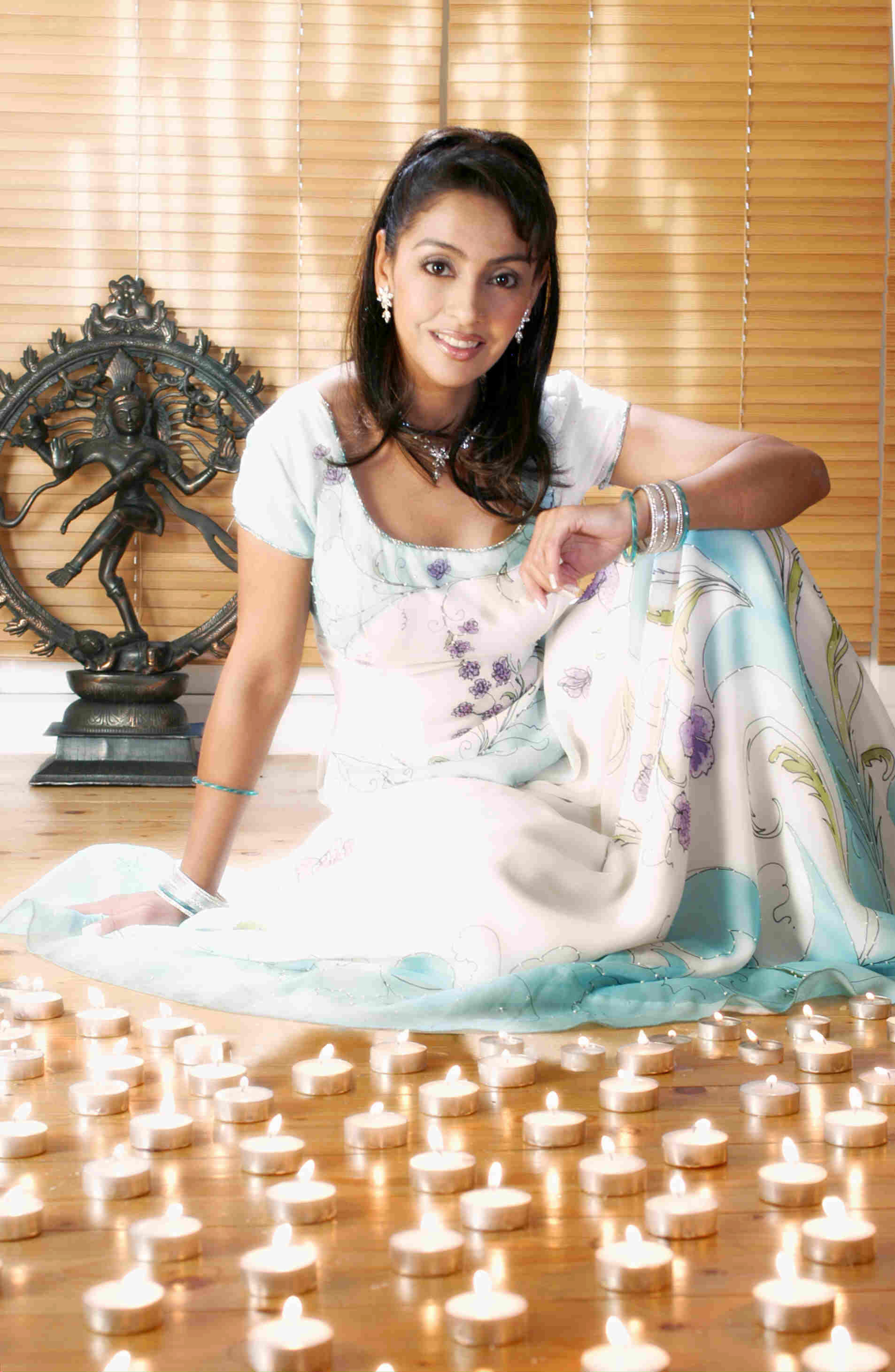 Honey Kalaria is an incredibly beautiful woman, Filmstar, Choreographer, Businesswoman who runs Diva Entertainments and has been presented with a Doctorate in the Arts from London University in recognition of her services.
Here I am today, sitting down, putting pen down on paper whilst gathering my thoughts on the amazing Energy Enhancement Course that I am currently on.
Where do I begin? Firstly, I felt it would be great to share my experiences of the Energy Enhancement course with other like-minded people. The following information is for those interested in growing spiritually, and wanting this world to become a better place - starting from improving themselves!
My name is Honey Kalaria ( www.honeykalaria.com ). I live in London, UK and am a dancer, choreographer and an actress specializing in the world of Bollywood (the Indian Film Industry). I run Honeys Dance Academy, the largest British Asian Dance academy in the UK, running 14 schools throughout London and teaching bollywood dance, bhangra and acting ( www.honeysdanceacademy.com ). I also run Diva Entertainments, which is an agency specialising in providing Asian artists for television, films and stage shows ( www.divaentertainments.com ).
Although involved in the world of glitz and glamour, I have always been interested in Yoga, meditation and growing spiritually. I respect all religions and faiths, as I believe they can all be used as a ladder to climb up to God. Personally, although I am from a Hindu background, I am a firm follower of the Religion of Humanity. For me, this means trying to make a difference to the people around you every single day, trying to follow a righteous path every single day and making a difference to the world every single day. This I believe should be done through your work, actions, words and deeds, instead of following rituals and customs, although rituals do help people focus on the religious work at hand.
INTEREST IN SPIRITUALITY
My interest in spirituality has been there since childhood. My Mother used to advise me on how I should pray every night before going to sleep so God could look after me. So, from the age of 2-3 years, I have prayed almost every night, except when I went through a period of becoming an atheist. Yes, an atheist!
My knowledge of spirituality came from a lot of different sources – from a young age I used to get involved in a lot of Hindu ceremonies, around the age of 13years I attended Bible study classes and by the age of 18, I had attended numerous seminars, workshops and courses on meditation and had read many books on related subjects. In my late teens I lost my sister in a tragic car accident. I was shocked and felt abandoned by God due to what had happened, and it was then that I became an atheist for a number of years. Luckily, with passing of time I healed and became strong again. I couldn't keep away from my thirst for spiritual knowledge, and so after a few years, I began learning about different faiths again. I studied about Buddhism, Hinduism, Islam and Christianity and read extensively about Mysticism and Eastern Philosophy. It seemed like God kept testing me along my path through different experiences, and teaching me lessons to help me acquire more wisdom and understanding, but never allowing me to lose complete faith.
MEETING WITH THE GURU
In the year 2000 I was blessed to meet my Guru - My spiritual growth accelerated in the next few years with Guruji's blessings, and to help me grow further, I feel he guided me to enrol on the Energy Enhancement Course. I felt strangely drawn towards the Energy Enhancement Course when I stumbled upon it through my internet research, a week or two after I had returned from "Guru Purnima", a special spiritual event that I celebrated in India in July 2004.
Since then I have started up a meditation centre where meditation is taught for free within easy traveling distance of London.
THE ENERGY ENHANCEMENT COURSE
A t the East London Meditation centre, I thought I would inform everyone of this opportunity. There seemed to be a lot of personal commitments coming in the way and resistance to the Energy Enhancement Course by everyone except one friend and my father who agreed to join me. So without wasting much time, the course was booked for the three of us. The course was run by Satchiji, a modern day Guru, and assisted by Devi, a chakra clearing sacred dance expert and Reiki Master.
Once on the course, my exciting adventurous journey began! In my life I have done hundreds of courses but the Energy Enhancement Course I found to be completely different. Firstly, the contents and the teachings seem to be inspired by higher forces and had a deep base in spirituality.
DIRECT EXPERIENCE OF INFINITE ENERGY
Also, you don't just learn about ideas, concepts and theory, but also learn through direct experiences whilst doing the exercises. As you progress through the course, the powerful and effective techniques are taught step by step, so that at each initiation you can work thoroughly and obtain a firm understanding.
The Energy Enhancement Course involved learning how to connect with the Universal Energy , some would call it the Life Force, Spiritual Energy or God , and being able to tap into this powerful energy.
By having a direct connection with the Infinite Energy you begin clearing and activating your chakras or the seven power centres in your body and those chakras above the physical ones , and start removing blockages from your physical and your psychic bodies (aura).
These blockages normally prevent people from growing spiritually and living a more harmonious and peaceful life.
The Energy Enhancement Course has helped me to strengthen physically, emotionally, mentally and spiritually whilst building my psychic muscles to encourage stronger intuitive skills to develop.
THE SEVEN CHAKRA SUPER COMPUTER YOU
I was told that each of our seven chakras within our bodies and the chakras above the crown chakra should be seen as a separate mind - brain like one of the processors in a parallel processing computer . All the Super Computers these days are parallel processing computers. The integration of all the processor chakras produces the super computer you. We use only one brain or processor and the idea is to activate the other chakra brains or processors to build your creativity, intellect, wisdom and genius abilities.
This will lead you to become happier and healthier, enjoy being a more emotionally and mentally balanced person and become a more blockage free ( free of negative emotions) human being. The idea is to have a purpose in life to make this world a better, more peaceful and spiritual place, starting from working on yourself as mentioned before.
The Energy Enhancement Course offers a wide range of theoretical knowledge gathered from the most powerful spiritual teachers and sources in the world. I have had the opportunity to absorb teachings from world renowned Guru's, Religions and topics such as Satchidananda, Maharishi Mahesh Yogi, Sai Baba, Gurdjieff, Bhagavad Gita, The Bible, Zen Buddhis m , Sufism, Mantras, The Yoga Sutras of Patanjali, powerful meditations, Free Reiki Mastery and much, much more. I also learnt techniques that include visualization, psychology and powerful spiritual practices together with studying films with spiritual messages. This combination has resulted in giving each student on the course, including myself, a "fast track" spiritual growth boost by expanding our awareness levels and sharpening our intuitive powers.
AMAZING EXPERIENCES ON THE ENERGY ENHANCEMENT COURSE
I must admit that when I started I wasn't exactly sure where all the exercises were going to be leading to, but then I began to have profound experiences.
There are just too many to share and perhaps one day I may even write a book on the amazing journey that I have been through whilst on the Energy Enhancement Course. My experiences include having visions, being healed physically, receiving excellent guidance and deep insights from the Spirit of God, finding hidden inner children, sub-personalities and strategies that I use to behave in a certain way and justify my actions and then finding my 400 year old husband!! The list just goes on.
PAST LIFE EXPERIENCES
One of the experiences I would like to share with those who believe in re-incarnation is that in one of the exercises, I was blessed to see some of my past lives. I was astounded by what I saw, the clarity of the visions and with actual dates being revealed. What I learnt was that we came into this life to learn various lessons or to complete certain outstanding desires. It is so important to be careful with what you wish for in this life.
These were the past lives I saw :-
PAST LIFE IN LONDON
1308 – I was a high society male teacher / lecturer who gave talks about my research into stars, astrology and philosophy. I taught large groups of people, was involved in discussion and debate groups and was well respected in the area of my work. I was also a womaniser and drunkard and died at a young age in my mid 30's. I tried to get my name and got the name Martin or Matthew and second name was something like Hayward or Haywood.
CURRENT PERSONALITY TRAITS : I am a strong communicator, enjoy teaching as I am presently a dance teacher, give lectures in business and success, interested in Astrology and philosophy, a non alcoholic and am a leader in my field of work.
PAST LIFE IN INDIA
1412 – In my next life I was again living in high society – it must have become a habit to be born into such an environment. I used to be a right hand assistant to the Princess of Jaipur and was accustomed to living in luxury in a grand palace. The princess and I used to take dance classes with a dance Guru and then we would both have fun and practice together. My Father was a farmer providing food and fruits to the King. I got used to organising all the important things for the princess. I even regularly prayed and danced in the Temple for Religious celebrations with the women. There was an incident where a Prince had come to ask for the hand in marriage of the Princess but ended up falling in love with me. From that a lot of challenges and problems were created for everyone concerned.
CURRENT PERSONALITY TRAITS: I have developed skills to delegate and organise projects, run my entertainment business empire successfully, enjoy wearing beautiful Indian costumes and garments, always thought I deserve to be treated as a Princess, perform dance professionally, appreciate historical buildings and palaces.
PAST LIFE IN NORWAY
1638 – It seems that I had taken away someone else's potential marriage partner, so in my next life a partner was not written in my destiny. I was a popular happy go lucky Norwegian girl born in a poor family. I saw my house based on top of a hill with countryside to be seen all around, the market place where I would go to buy vegetables and many other details. My mother had passed away and so being the only child, I used to look after my old and weak father. I always felt that to be a good daughter I had to support my family, otherwise I felt guilty for not being there for them. As a result, I never married my lover and suppressed all my wants and desires. I lived the rest of my life as a spinster.
CURRENT PERSONALITY TRAITS: Find it difficult to break away from my family, and am presently quite happy to be single and living with them. I am also attracted to European men, enjoy the countryside, love nature and get great pleasure in spending time at home (whenever time permits from my busy schedule). I am comfortable living in extravagance as I did in the Jaipur Palace and yet I can be equally satisfied living in simple accommodation as I did here.
PAST LIFE IN ARABIA
1705 – Perhaps I was so heart broken that I must have been wishing to experience what it would have been like being married or having men in my life. So in my next life, I was born as an Arabian dancer, dancing for the rich Sheikh in the desert. I used to look after and be of service to the male guests of the King, and possess excellent communication skills and etiquette. I was born to a beautiful single Mother and was trained to dance at a very young age. After I reached a particular age, I was sold/given away. Luckily I had a lot of faith in God to make things better and constantly prayed to give me strength and take me away from the lifestyle that I was in.
CURRENT PERSONALITY TRAITS: Learnt that it is important to establish a long term personal relationship packed full of variety and consider one night stands as complete waste of time, blessed with natural dancing talent from birth (the skills have developed over many lifetimes), I adore Arabic music and consider belly dancing to be one of my favourite dance forms, I am very spiritual, I enjoy water around me (probably because it was rare to see water in the desert) and have an aquarium in my home and a pond with a waterfall in my garden. I also tend to get along very well with male friends and business associates.
PAST LIFE IN TIBET
1893 – God always answers prayers from the heart. Wishing to follow spirituality and living away from women serving men led me to become a 11 year old Tibetan boy living in a Buddhist Monastery. It involved simple living, regular meditation and following a chaste life. The training helped me to become extremely disciplined and I gained a lot of my spiritual knowledge and intuitive powers through this lifetime. I had a wise Buddhist Master, who I feel may still be guiding me to stay on the path of spirituality. He used to always say: "You ask too many questions!"
CURRENT PERSONALITY TRAITS: I am always asking questions - as I'm sure all my present Gurus and teachers would agree! I'm extremely interested in spirituality and feel drawn to that area. I have now chosen to wait for a lifetime partner to enjoy a sacred physical relationship with and I felt an urge to study Buddhism.
PAST LIFE IN TURKEY
Satchiji suggested I go through an Energy Enhancement past life regression exercise to find out if I previously knew one of the students on the Energy Enhancement course called Ramya. Ramya is half Italian and half Spanish, a Hare Rama Hare Krishna devotee and is a Radio presenter for a spiritual program that was voted the best Radio Program in Argentina and received The Golden Seagull award.

I was feeling his magnetic energy from the start of the course and became curious as to why – I have never felt this type of intense connection! I felt that I knew him and Ramya also felt that we had met before and had a very strong connection of some sort.

1611 During the exercise I found myself on a battlefield / town in Turkey. I was crying and leaning over Ramya's body that was covered in blood as he lay dying in front of me! Scenes of death and destruction were all around me. I had a young child in my left arm and I was pregnant. I was so much in love with my husband and felt heart broken seeing him suffer during his last moments of life. I must have made a vow to meet again in our next life so we can be together once more.

CURRENT PERSONALITY TRAITS:
I noticed how throughout my lives I had never got married and even today I remain single as I am so dedicated to my work. Ramya and I had to both ground this karmic relationship using Energy Enhancement techniques so that we could now be free to move on.

From the Energy Enhancement Course I have just realised that my past lives have also enabled me to develop an interest in different religions and faiths. From my life in Jaipur, I followed Hinduism; as a British lecturer or Norwegian, perhaps Christianity; from the life as an Arabic dancer Islam/Sufism and from a Buddhist monk, Buddhism and meditation.
THE MYSTERY OF KARMA AND THE GROUNDING OF NEGATIVE ENERGIES
I understood how lifetime lessons and experiences actually develop your soul and past life impressions remain on your psychic bodies. Once certain negative karmas are found, they need to be grounded so that they do not affect your current life situations. I found this insight to be such an eye opener, especially when meeting my 400 year old past life husband from Turkey! I couldn't believe that from all the places in the world that I can travel to, I ended up being drawn to Argentina, doing a meditation course, meeting Ramya and completing a Karmic relationship promise that I had made 400 years ago.
CHANGE YOUR LIFE
There were many other outstanding experiences by the other dozen or so members that were on the course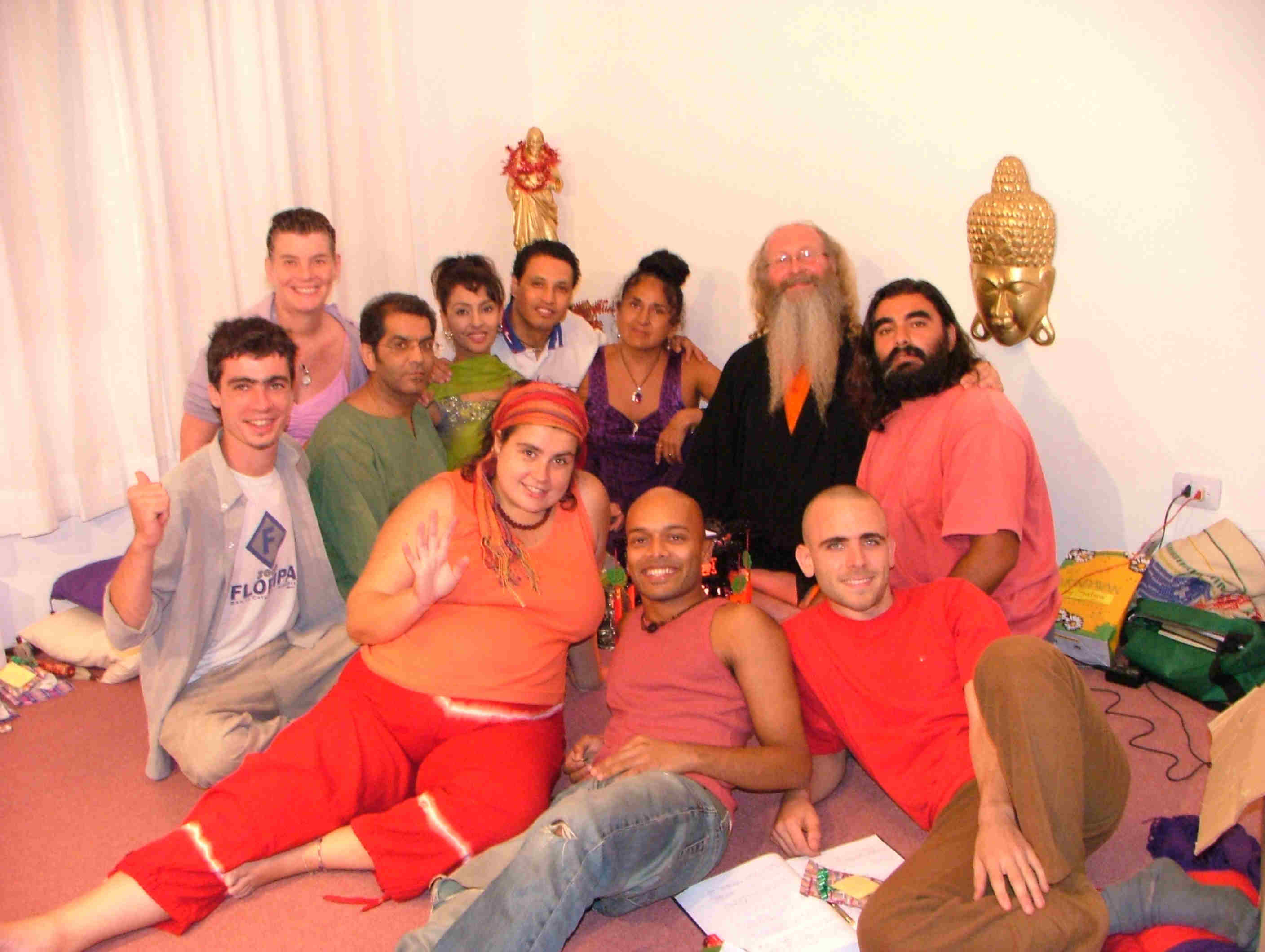 DEVI, VANESSA, DHIREN, RAMIA, HONEY, FEDERICO, SIVANANDA, DAVID, SHAKTIANANDA, SANTHAN, NATWARLAL, HONEY, DEVI AND SATCHI, ON THE JANUARY 2005 COURSE IN ARGENTINA ABOVE.
These people came from all faiths – Sai Baba followers, Catholics, Buddhists, Krishna devotees etc. Shaktiananda gave birth to two babies 2 months after the course! It was fantastic to see insights into the world of spirituality and how the Energy Enhancement techniques were creating profound changes in people's lives.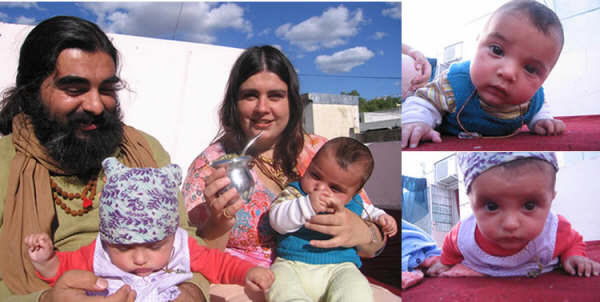 THE ENERGY ENHANCEMENT KARMA CLEARING PROCESS
Deep rooted issues would surface and as soon as they were dealt with, even deeper issues would emerge that we would have to deal with. It was like peeling layers of an onion to go deeper and deeper into our core being to understand who we are and what kind of personality traits we have adopted, consciously and sub-consciously to deal with the issues of this world. I understood clearly how these beliefs, conditioning and past life impressions were affecting all areas of our life.
In addition, I also learned how to use the Energy Enhancement techniques to help me ground these negative blockages so they would never affect me again. Of course complete freedom can only come after a maintenance program has been followed.
CHALLENGES ON THE COURSE
I continue to say Thank You to God for blessing me to be on this course. I think you need to be extremely lucky to be able to receive such spiritual knowledge and teachings. When trying to do God's work, you always attract dark forces to keep you away from growing spiritually, and there were many challenges experienced by my fellow students and I trying to prevent us from growing. These would be in the form of negative thoughts, distractions, feeling lazy and sleepy, right though to people having to leave half way through the course.
Satchiji and Devi had already warned us in the beginning that if you are not vigilant then some of you will not be able to complete the course, and I had a direct experience of that. My father was one of the people enrolled on the 1 month course in Argentina who had to leave half way due to the death of my uncle (his older brother). He had to immediately fly back to London after hearing the sad news.
One other Buddhist student on the course left suddenly, perhaps because Satchiji had said that he may have been a Black Magician in one of his past lives. None of us are sure why he left but he just called Devi and said that he had decided to leave. It could have been the ego coming in the way and stopping him progressing. The unusual thing was that whilst a group of us were talking and laughing, a statue of Buddha sitting on a corner table, got hit by accident. We couldn't understand how the head of the Buddha got cut across the neck in a straight line and fell on the floor whilst the body of the Buddha remained on the table without moving an inch. Later we were informed by Satchiji and Devi that this was a sign from the dark forces implying: "We have won and have taken the Buddhist student away".
As I take in depth notes, a local student who works as a radio presenter , Ramia, I talk about him more later, requested if I could go through all the notes and exercises with him. Twice we arranged to meet but each time he failed to turn up. The first time he lost his keys and couldn't get out of his house. The second time he said that he had simply forgot. Again and again I saw these powerful blockages, distractions and situations occurring preventing people from progressing on the course.
It's astounding to see how the Energy Enhancement web site currently gets over 150,000 hits per year and from those only a dozen of us were able to make it to the course, and even from these, the two previously mentioned students were unable to complete the course.
ENERGY ENHANCEMENT, THE MOST ADVANCED MEDITATION COURSE IN THE WORLD
Energy Enhancement Course has been described as the "most advanced meditation course in the world" and I totally agree. It is thorough, the techniques are effective, the knowledge hugely expands your awareness levels, your intuition and perceptive powers increase tremendously, you feel greatly energized with the meditative practices and the course has brought profound changes in my behaviour and in the way I see things.
BENEFITS OF THE ENERGY ENHANCEMENT COURSE
There are many souls on this earth (whatever faith or belief systems they come from) who could hugely benefit from this unique course. The powerful energy that they receive can be used to help themselves and mankind, making this world a better place. The energy allows you to heal yourself and others, enables you to master relationships, removes bad luck and obstacles from your life, assists you to become a more soul infused personality, works towards removing the Ego, your meditation will become deeper and your concentration levels will increase (great for exams or bringing out the genius in you) ensuring that all areas of your life gets touched by the spirit of God. As Satchiji says "Energy Enhancement, The Core Energy Techniques, is the Most Advanced Meditation Course in the World which will accelerate any other course or Technique you care to use," and "anything you do to benefit others will automatically get support from spiritual energy, allowing your work to become more successful" .
Both Satchiji and Devi are beautiful and inspiring souls, passionately committed to helping people grow spiritually and accelerating each students progress towards enlightenment. They allow the students to grow at their own pace, whilst passing on profound knowledge and techniques in a light hearted and joyful manner. Both of them have extensive knowledge, possess strong perceptive powers and bathe people around them in the strong Buddhafield of energy that surrounds them. They have both made my stay in Argentina a delightful and a memorable one.
As I realized how wonderful and life transforming this course is, I got inspired to make this course available to others in London.
There will be a small group of people who will be able to take advantage of this "revolutionary meditative program" in London and be honoured to learn personally from the Great M aster , Satchidanand .
Trust me, the course is priceless.
Why should you not give yourself the opportunity to do a fast track program that will allow you to achieve the same results in a year, that would have taken you over 20 years to obtain with any other course.
HONEY KALARIA EMAILS SATCHIDANAND JANUARY 2011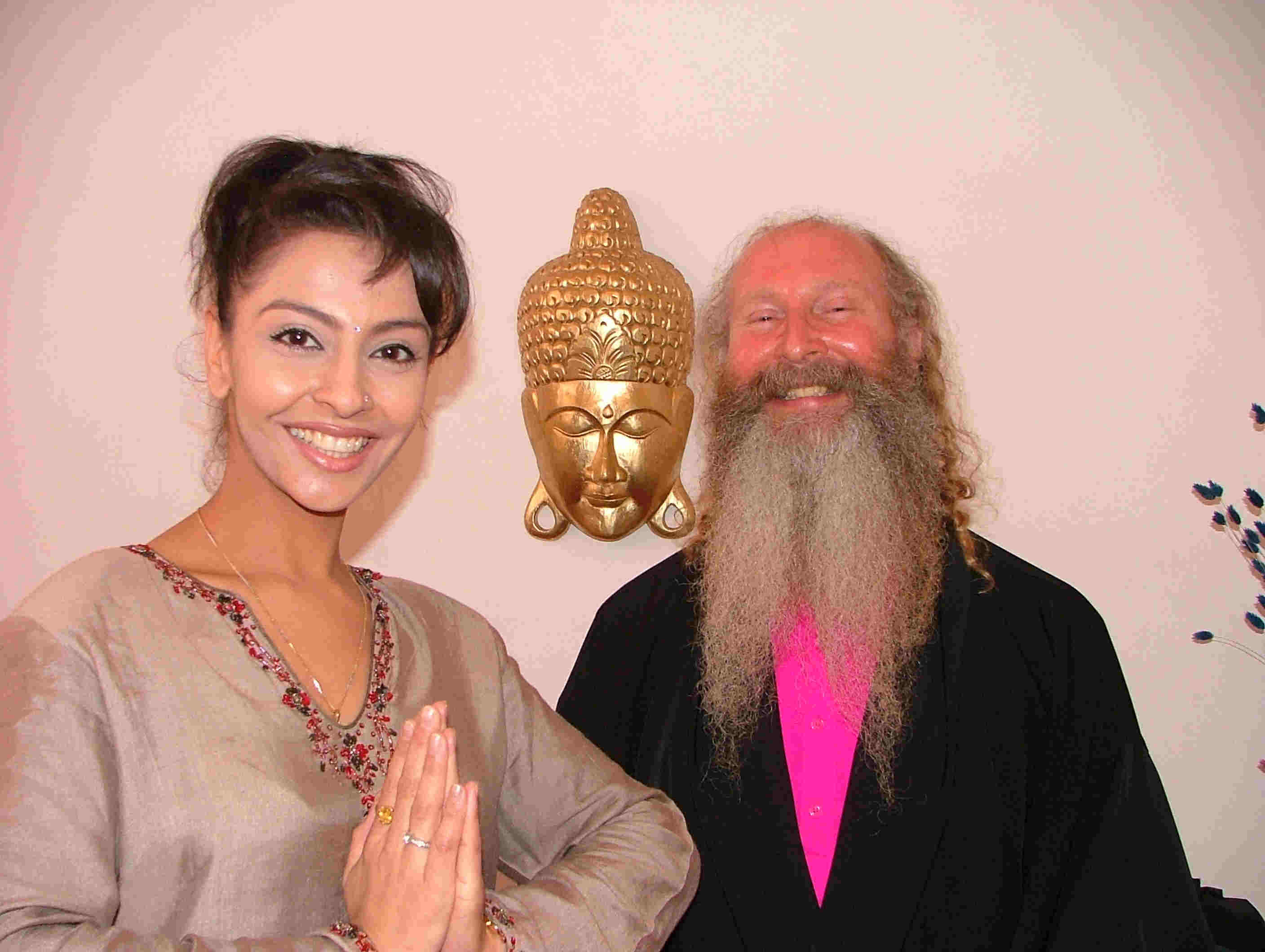 Dear Satchidanandji and Devi

Thank you for the birthday wishes.

How are you? I am so glad to hear about the Iguazu ashram project and wanted to wish you luck with the venture. I hope all is going well. I have just launched my new website - (www.honeykalaria.com) and will shortly be launching The Honey Kalaria Foundation to help various causes. I am also raising funds for an International Meditation Centre here in the UK.

Wishing you love and light


Honey Kalaria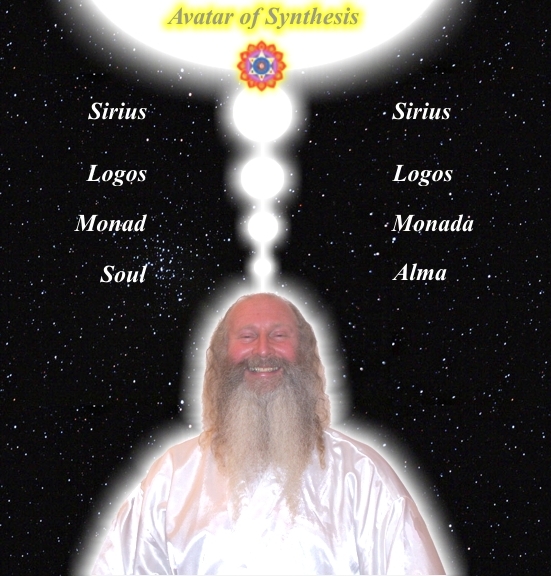 Dear Honey,

How am I? Very well and working hard to make Our Energy Enhancement Foundation the Center of Excellence it already is.

A Five Star Retreat at the World Heritage Site of Iguazu Falls with High Flux Densities of Spiritual Energy in the Buddhafield, Air Conditioning, Upgraded Fixtures, Swimming Pool, Sauna, Incredible Vegetarian Food,

As you know, Energy Enhancement really works - and much better than most of the expensive courses taught by the so called, "famous" teachers.

I told you I had taken away your Energy Blockage in the Second, abdominal chakra, during your course with us and you said your menstrual problem had improved.

I often think that the seven step process could have helped Ramana Maharshi from succumbing to the Energy Blockage which gave him Cancer!!

Yes, Energy Enhancement is a much higher Revelation, meant to help the Enlightened take more, higher, Initiations!!

In your Course Report you said you wanted to know about your relationships and you had lifetime after lifetime of feedback about this, explaining how you came to be as you are now. The problem started with the loss of Your husband in a Turkish past life and you even met up with this guy, Ramiya, on the Course!!

The problem is one of loss, if you like, bereavement and fear of bereavement. To lose the person we are attached to. And the problem of attachment to the Prince and the problems this brought in its wake.

And the solution - a movement to being successful at other things which do not give that same problem. As when you were looking after the business matters of the Princess, with great success.

Yet every success is always followed by failure. In the end it is all taken away as we die, and all of our success, all of our empire cannot follow us into the grave.

Our only legacy is that which we pass on to the people of the future.

Our only legacy is our own evolution, which can only come from the very highest teachings and the highest aspiration.

It is the reduction of attachment which is the key...

Yoga Sutras of Patanjali - "Enlightenment comes through practise and non attachment"

It is the attachment of the Energy Blockages of the ego which needs to be dissolved.

And it is here that Energy Enhancement holds the key!!.

My aim in this lifetime, which cannot fail!! as it is the will of the Higher Masters that this be so, that Energy Enhancement become the new Meditation Technique, which influences all the World Meditations, improving them and thus improving the evolution of all Humanity. This must be so because there is no course in the world which teaches more than Energy Enhancement. It is the Source of all meditational excellence.

Personally, I do not care about name or fame.

It is sufficient that Energy Enhancement fulfils its purpose.

Thus I offer Energy Enhancement..

1 Further Levels to remove even more blockages.
2. Energy Enhancement Teacher Training and Certification.

All at the best lowest prices in order to support the movement of Energy Enhancement into World Centers like London.

This must be my aim, my purpose, my life!!

Yours in Love and Light,

Satchidanand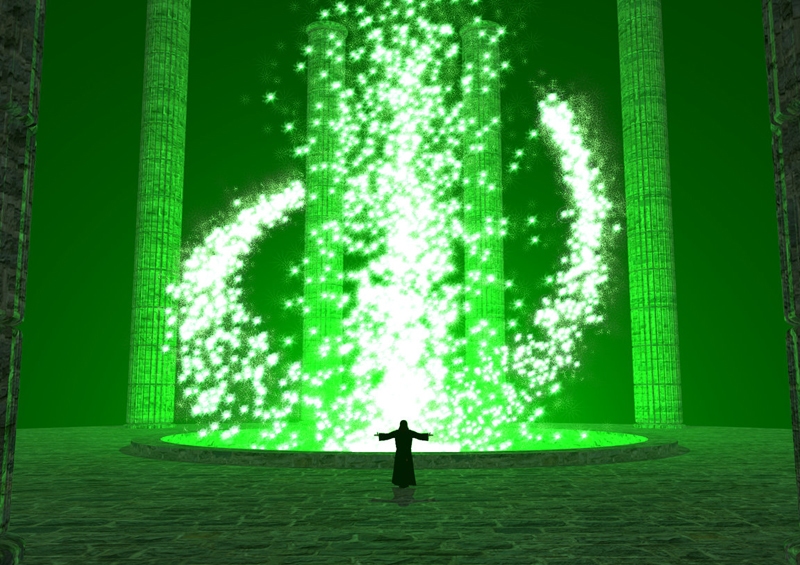 ANTAH KA RANA
IGUASSU FALLS - ONE OF THE SEVEN NATURAL WONDERS OF THE WORLD - UNITED NATIONS WOLD HERITAGE OF HUMANITY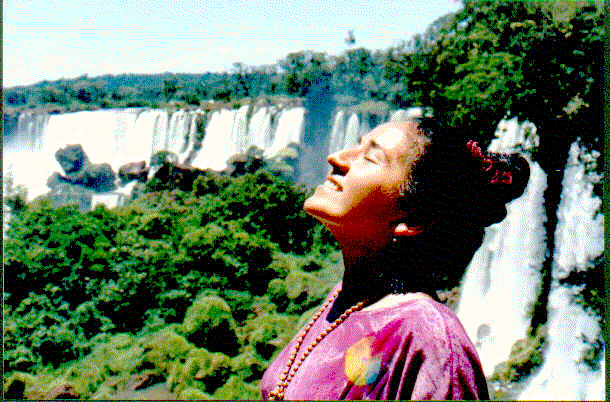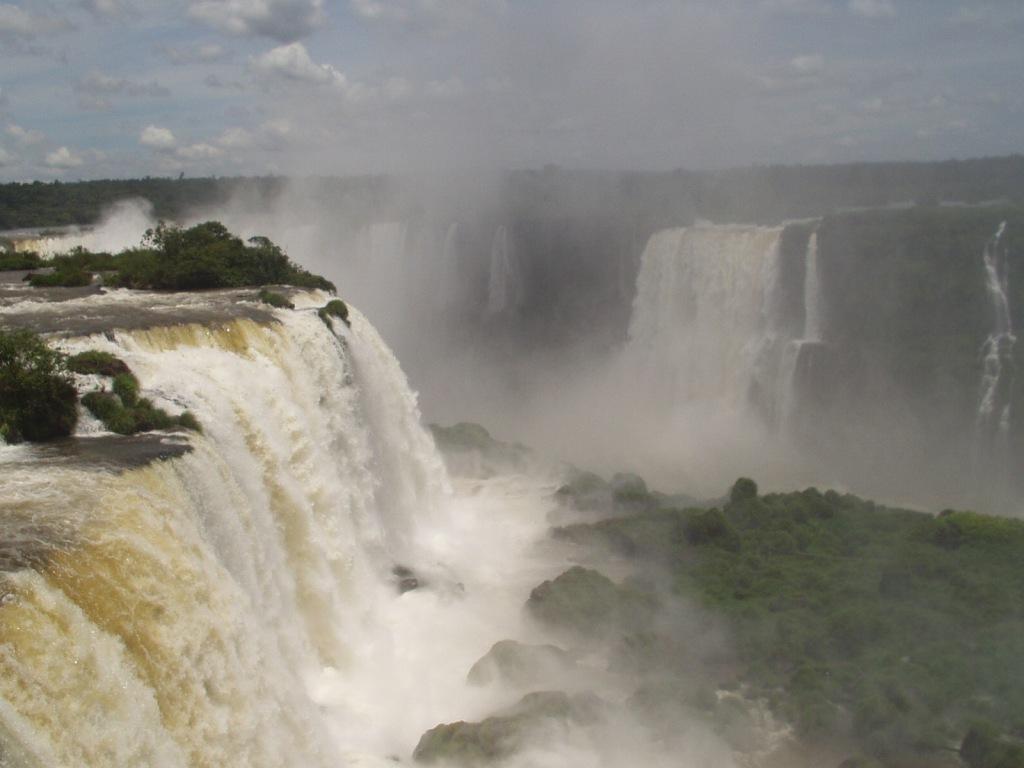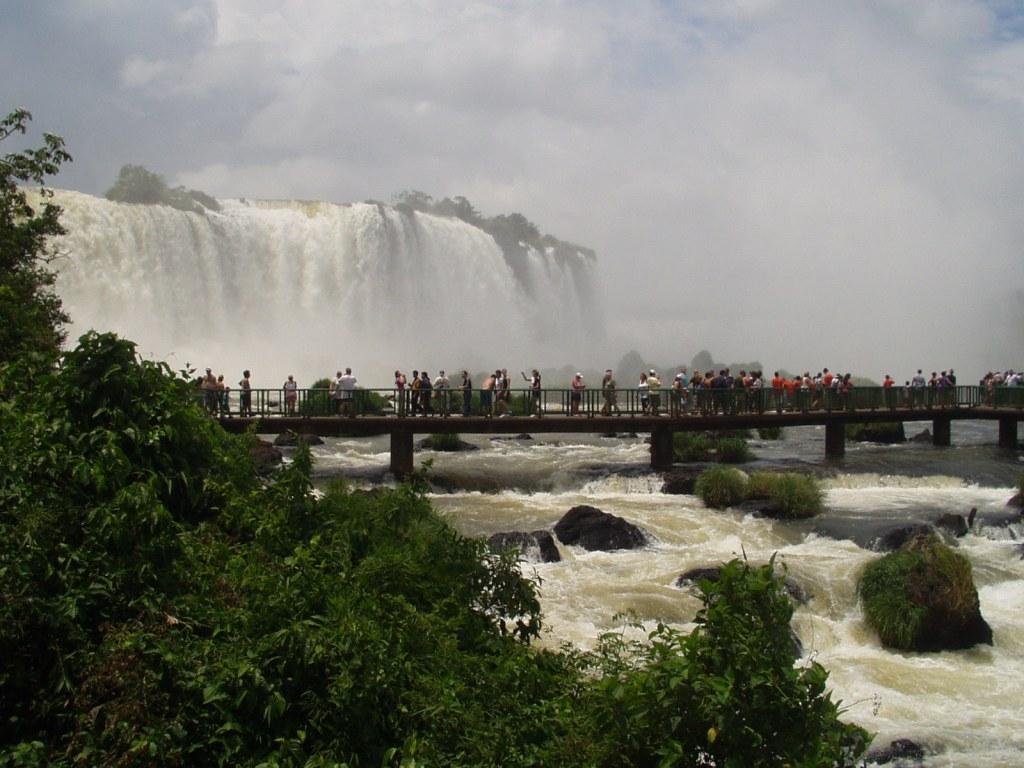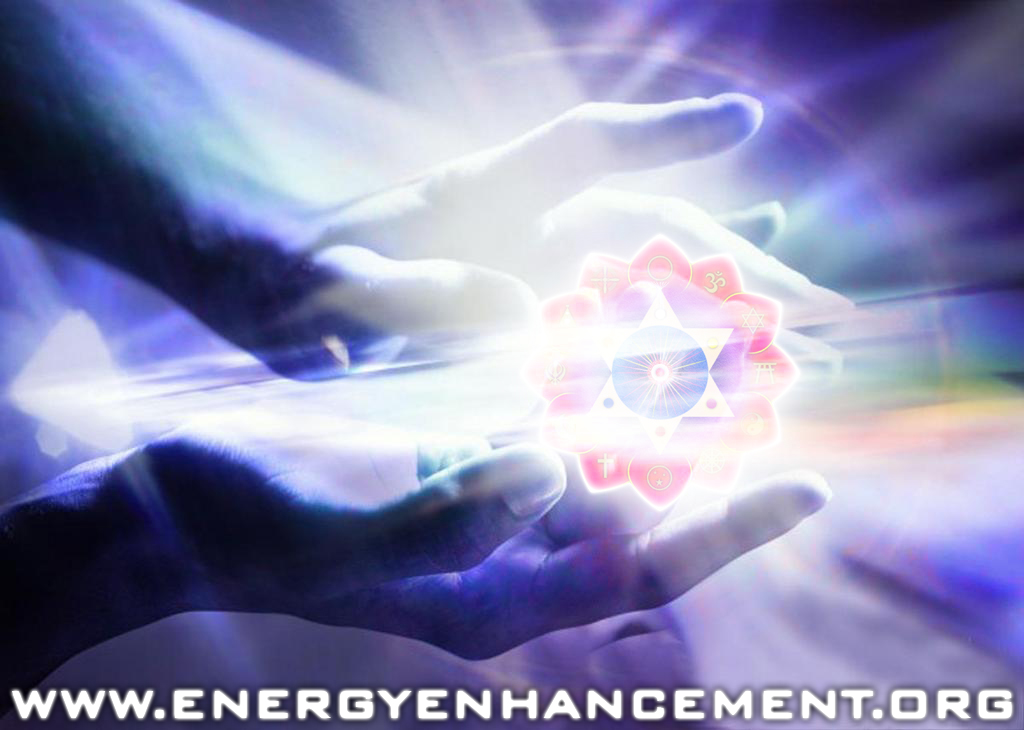 NEXT WEEK WE VISIT THE ARGENTINE SIDE FOR A BOAT TRIP DOWN THE RIVER TO SEE THE NATURE AND ALSO VISIT UNDER THE FALLS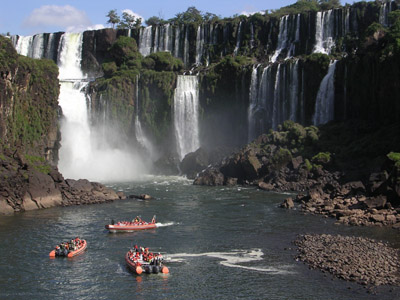 INCREASE YOUR PSYCHIC VISION
FROM DON MINIHANES COURSE REPORT - LAST WEEK OF ENERGY ENHANCEMENT REIKI MASTERY OPTION
"I am now in the last week of the course and I feel like a totally different person. I have regained myself and have been given from nothing having no psychic vision at all at the start of the energy enhancement course, a clarity of psychic vision that is breathtaking."
"As we practiced on each other with Energy Enhancement Level 4 techniques - Energy Connections and the Mastery of Relationships and How to remove Energy Blockages and Implants from our Students - we came very quickly to realise this. I could literally feel the energy moving inside each chakra as the other person worked within me from several meters away and when I worked on the other person I could see me projecting energy to them and could see where the blockages were within their chakras.
I could force the energy from my centres into their centres and clean their centre bringing the energy full circle back to me. You could tell the state of their chakras by the amount of energy returning to your own centre and this was achieved by mind power only.
Before I came here to learn Energy Enhancement Satchi said he would teach me to do it in this way and I was sceptical about this claim. I could never envision me having psychic vision, but I have now, I can now do astonishingly powerful Reiki sessions on people without going any where near them and distance healing over any distance is a piece of cake, incredible stuff."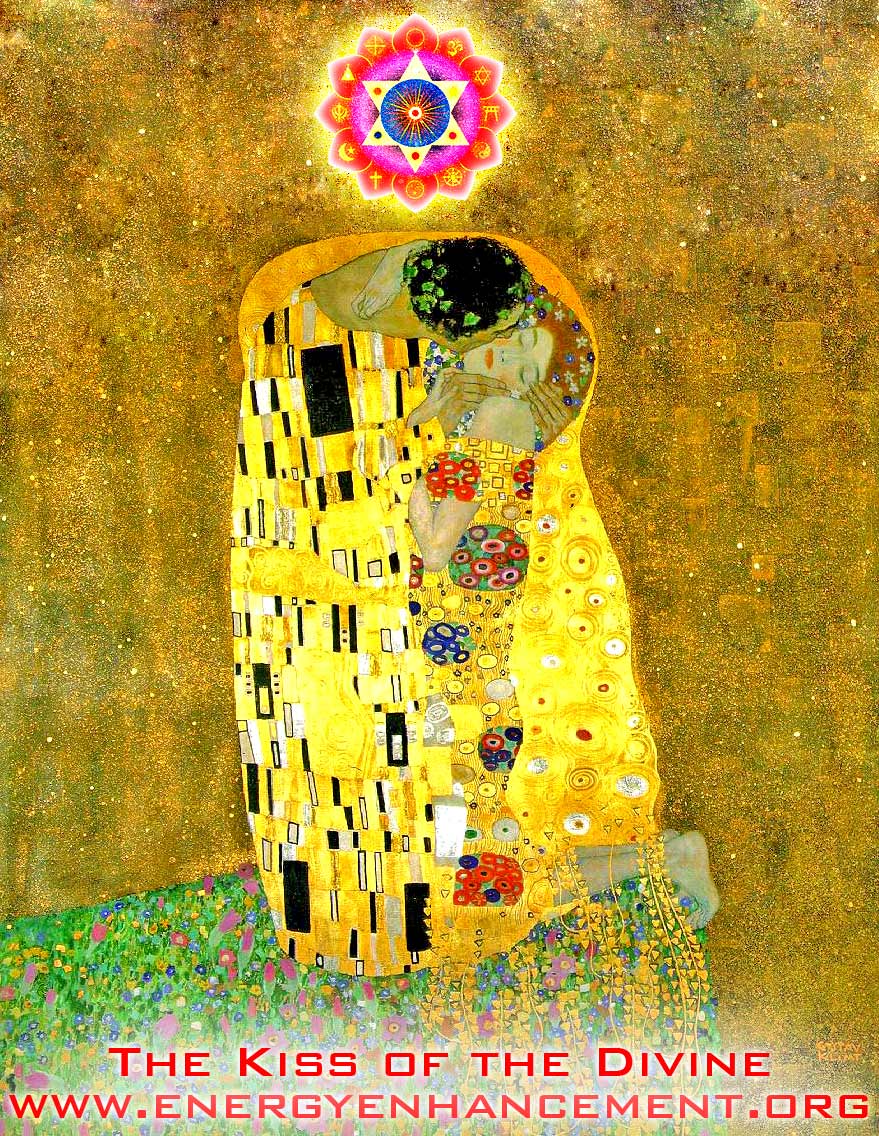 "I am totally de-stressed and have expanded in every way. I feel stronger and fitter and much more mentally agile than I have ever felt in my life. The fog and confusion of life has gone and I feel that I have just received the inside information on everything. I am ready for anything and am wide awake. I am full of the most incredible energy imaginable and have Energy Enhancement Reiki that is so powerful it staggers me. I know a thing or two about Reiki and had a very strong Reiki connection before I got here, now I have a connection that is beyond description and I have yet to undergo the second initiation this week and then the masters. I have opted to take this as an extra and for anyone who is interested, I believe this is beyond anything you will ever experienced anywhere."
I am now equipped with life tools and healing tools that one only dreams of and there is nothing out there in the world that will ever faze me again. I am absolutely delighted that I decided to come here, because this experience has changed me, for the good of me and for all those that I will touch when I leave here. I am so excited and can't wait to start exploring my new found talents"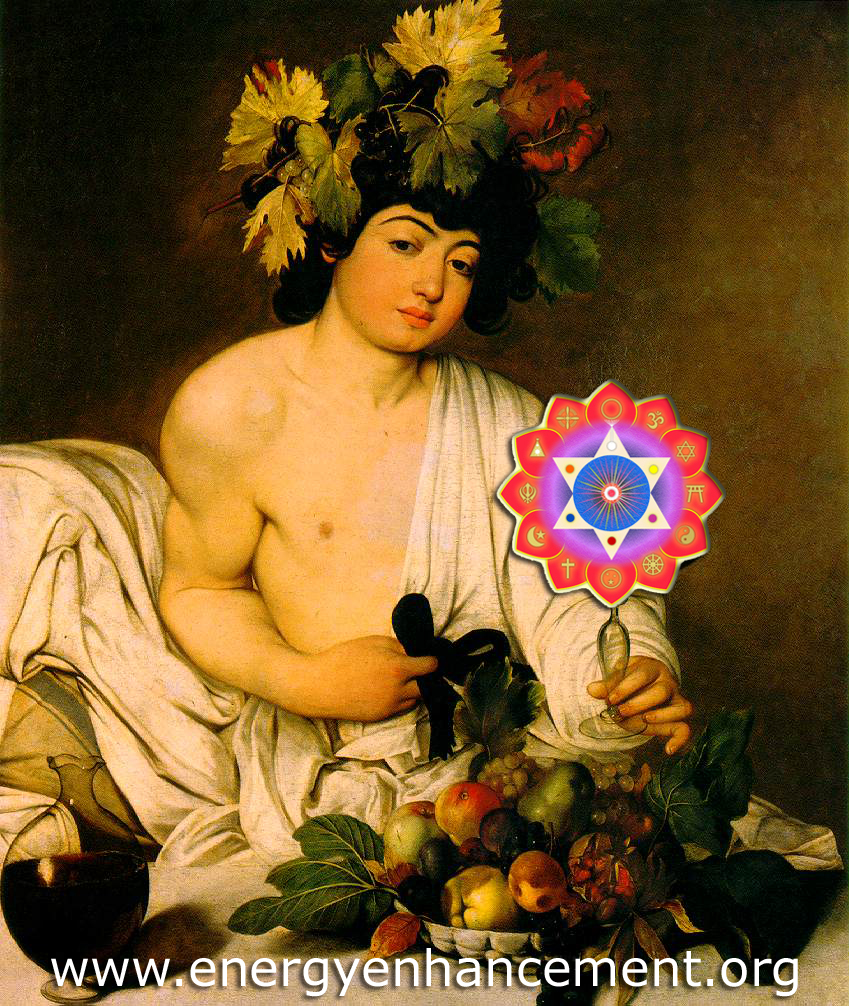 ENERGY ENHANCEMENT LEVEL 4 THE MASTERY OF RELATIONSHIPS..
THE REVENGE OF THE SITH.. the movie review by Satchidanand
- SATCHIDANAND MOVIE REVIEWS DIRECTORY
Energy Enhancement Student .. loved your answer, will take star wars more seriously. Who is George Lucas channelling to bring such wisdom to a film?


Yoda: Premonitions , premonitions. Mm what are these visions you have

Anakin: They're of pain, suffering, death.

Yoda: Yourself u speak of or someone you know

Anakin: Someone

Yoda: Close to you?

Anakin: Yes

Yoda: Careful you must be when sensing the future Anakin, a fear of loss is the path to the dark side

Anakin: I won't let these visions come true Master Yoda

Yoda: Death is a natural part of life, rejoice for those around you that transform to the force, mourn them do not, miss them do not, attatchment leads to jealousy, the shadow of greed that is

Anakin: What must I do Master yoda?

Yoda: Train yourself to let go of everything you fear to lose..
The Mastery of Relationships With Energy Enhancement Level Four!!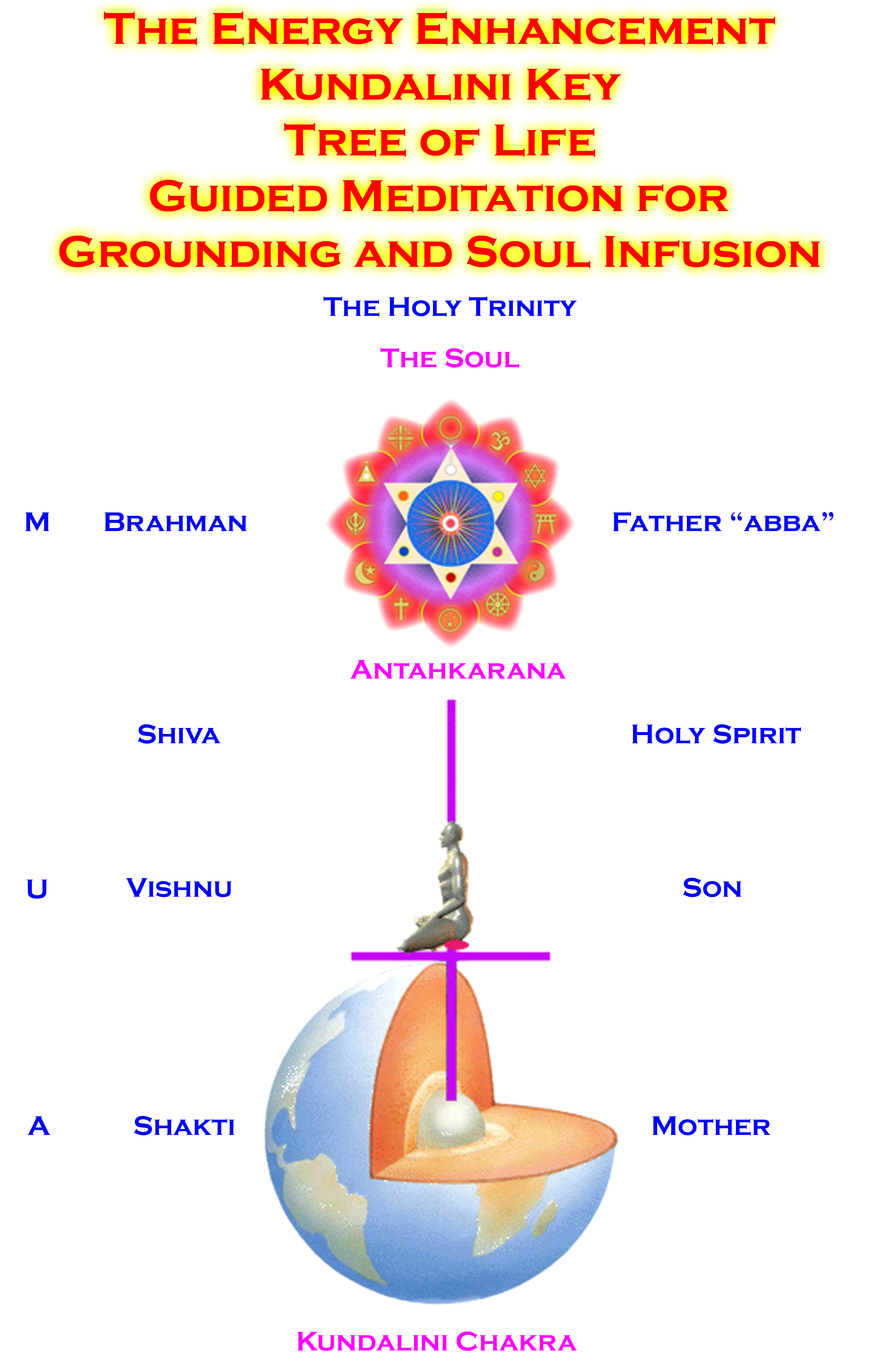 ENERGY ENHANCEMENT ANTAHKARANA DIRECTORY
THE ENERGY ENHANCEMENT SAMYAMA DIRECTORY
Psychology, Transactional Analysis, Life Games, Scripts Energy Blockages Directory
THE SATCHIDANAND KUNDALINI KEY DIRECTORY
SATCHIDANAND MOVIE REVIEWS DIRECTORY
ENERGY ENHANCEMENT PSYCHIC SEXUAL CONNECTION DIRECTORY
ENERGY ENHANCEMENT ENERGY VAMPIRES DIRECTORY
THE LILITH SUCCUBUS INCUBUS DIRECTORY
Tamil Siddar BHOGAR - Kundalini Yoga and Spiritual Alchemy
IGUAZU MANAGED ASHRAM PROPERTY
Further Study