OSHO
ZEN
WALKING IN ZEN, SITTING IN ZEN
Chapter 12: The Heart Always Knows
Question 7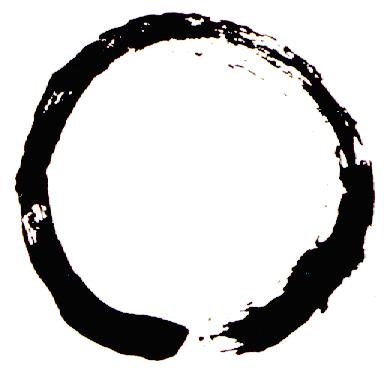 Energy Enhancement Enlightened Texts Zen Walking in Zen, Sitting in Zen
The seventh question
Question 7
OSHO, WHY AM I SO MUCH AFRAID OF DEATH?
Chinmayo,
ONE IS AFRAID OF DEATH because one is unaware of what life is. If you know what life is, the fear of death disappears of its own accord. The question is not of death at all, the question is of life. Because we don't know what life is, hence we are afraid that it is going to end one day. We have not even lived. How can you live without knowing what it is? You have neither lived nor loved; you have simply been dragging, vegetating. And you know that one thing is certain: death is coming closer every day, every moment, hence the fear. The fear is natural because death will close the door forever. And without ever knowing what life was you will be taken away. You were given an opportunity, a great opportunity, and you missed it.
You go on postponing for tomorrow. You say, "Tomorrow I am going to live." But simultaneously, side by side, there is a fear: you know, "Tomorrow, who knows? Tomorrow maybe death will come, then what?" And you have postponed life for tomorrow and there is no more tomorrow -- then what? Then fear arises. And you don't know how to live right now. Nobody tells you how to live right now.
The preachers, the politicians, the parents, they all tell you about the tomorrows. When you are a child they tell you, "When you are a young man then you will know what life is." When you are a young man they say, "You are young fools -- youth is foolishness. When you are old, then you will understand." And when you are old they say, "You are finished. Now there is nothing left. You are like a used cartridge." This is a strange world!
In my childhood, as it happens in every child's life, I used to ask all the elders available thousands of questions. It almost became a torture for them because my questions were embarrassing to them. So the easiest way was: "You are too young. Wait."
One of my father's friends was known in the whole town as a sage. With my father I used to go to him and I used to torture him the most. And he would always say, "Wait. You are too young and your questions are too complicated. When you are a little more grown-up, then you will be able to understand."
I asked him, "You please give me in writing what year I will be grown up. Then I will ask you these questions. Because this is a tricky thing: whenever I ask -- I have been asking for at least five years -- you always say the same thing: When you grow up....' You can go on saying this to me again and again! You just write it down on paper and sign it."
I saw his hand was shaking. I said, "Why is your hand shaking? Why are you afraid? If you know at what age a person becomes able to understand, write it. And if you say at twenty I will ask at twenty-one -- I will give you one year more!"
So he wrote, "Twenty-one years."
So I said, "Okay, I will come only after I am twenty-two."
He must have thought, "At least the problem is solved for the time being. Who knows? After he is twenty-two...?" I must have been at that time nearabout fourteen.
When I became exactly twenty-two I arrived, and I arrived with a crowd -- I had gathered many people. I said, "You come with me," And I had his signed letter. I said, "This is your letter. Now answer!n
He said, "You are such a nuisance! Why have you gathered all these people?"
I said, "Just to witness that you have been cheating me. And not only you have been cheating me, this has been going on all over the world. Every elderly person is cheating young people, telling them'Tomorrow' -- and the tomorrow never comes. Now I am twenty-two years old and you have written twenty-one. I have given you one year more just in case I am not intelligent enough and I take a little longer time to grow up. But now I am not going to leave, I will be here. I want all my questions to be answered."
He said, "To tell you the truth, I don't know anything. And please don't ask me again. Forgive me. You are right -- I have been Lying to you."
"Why did you lie to a child?" I asked him. "How could you lie to a child who was asking out of such innocence, who trusted you? -- and you deceived him! You don't know whether God exists or not and you were telling me that God exists and that I would be able to understand later on. And I knew that very moment that even you didn't understand. You don't know anything about God, you are just repeating like a parrot."
But this is the situation: teachers don't know, professors don't know, priests don't know. Without knowing, they go on pretending that they know. And the whole strategy consists of a single trick: go on postponing. "You will also know when the time is ripe." Of course it is never ripe -- you never grow up. And by the time you are old enough you have to save your own face, so you start saying the same things to your children.
If you love your children, if you love your younger brothers, sisters, never tell lies to them. And your whole religion consists of lies! Be truthful, tell them, "I don't know and I am searching." Don't postpone it for tomorrow.
Our whole life is a postponement, hence the fear of death: "I have not known yet and death is coming."
It is not you alone, Chinmayo, who is afraid of death.
You ask: WHY AM I SO MUCH AFRAID OF DEATH?
Everybody is afraid of death for the simple reason that we have not tasted of life yet. The man who knows what life is is never afraid of death; he welcomes death. Whenever death comes he hugs death, he embraces death, he welcomes death, he receives death as a guest. To the man who has not known what life is, death is an enemy; and to the man who knows what life is, death is the ultimate crescendo of life.
But everybody is afraid of death; that too is contagious. Your parents are afraid of death, your neighbors are afraid of death. Small children start getting infected by this constant fear all around. Everybody is afraid of death. People don't even want to talk about death.
There have been only two taboos in the world: sex and death. It is very strange why sex and death have been the two taboos not to be talked about, to be avoided. They are deeply connected. Sex represents life because all life arises out of sex, and death represents the end. And both have been taboo -- don't talk about sex and don't talk about death.
And there have been only two types of cultures in the world. One category consists of the cultures for whom sex is taboo. They can talk about death, in fact they talk too much about death. For example, in India, listen to the mahatmas, to the saints, and you will find it. Nobody talks about sex, everybody talks about death -- to frighten you, to create fear in you, because out of fear you can be enslaved, out of fear you can be forced to be religious, out of fear you can be forced to bow down to some stupid idea of God, to some stupid idol of God. People are worshipping anything!
Just put a stone in front of your house, paint it red, and just wait on the side and see. Within an hour somebody is going to pass and will bow down to it, thinking it is Hanumanji. Somebody else will come and will put two flowers there and somebody else will follow with a coconut. And this is the beginning of a temple! Soon you will find that a temple has arisen there.
People are so afraid, they are ready to bow down to any nonsense, to any stupidity.
We call religious people "God-fearing." In fact, a religious person is never God-fearing; he is God-loving certainly, but never God-fearing. Fear has no place in a religious man's life -- love and only love. And where love exists, fear disappears; and where fear exists, love has no possibility to grow.
In a society like India, death is not taboo. Indian scriptures are full of very detailed descriptions of death. They describe with gusto how ugly death is. They describe your body in such ugly, disgusting ways that you will be surprised at these people -- why are they so interested, so obsessed with all that is disgusting and nauseating? -- for the simple reason that they want you to become so afraid of life, so antagonistic to life, so negative to life.... They destroy your love for life, your affirmation of life by talking about death, by making death as big as possible and as dark as possible by depicting death in all the ugliest colors.
And then there are societies.... For example, Christianity for centuries has been a society, a culture against sex; sex is the taboo. "Don't talk about sex." Hence the idea -- a sheer nonsense idea -- that Jesus is born of a virgin mother. They have to create this fiction because how can Jesus, a man of such purity, come out of sexuality? Such purity coming out of such impurity? Impossible, illogical! A lotus coming out of mud? Impossible! But, in fact, all lotuses come out of mud.
Jesus is born as naturally as you are born -- he is not a freak! He is not abnormal. And this whole nonsense about the Holy Ghost, that the Holy Ghost makes Mary pregnant.... Now ghosts are making love!
Hamid guards near my room. Just outside the curtain he stands there with a big staff. One day I asked, "Hamid, have you seen the Holy Ghost or not?"
He said, "Holy Ghost?"
"Yes," I said, "some day he will come, so be alert -- because if the Holy Ghost does not come to visit me, then where will he go?"
And one day Rajen was standing there and I told him, "Keep your staff in your hand, otherwise the Holy Ghost may use the staff against you! Rather than this staff being a protection, he will hit your head with your own staff!"
Since then he has left his staff somewhere; I don't see his staff anymore. Maybe afraid.... Sometimes you are not so attentive, and keeping your staff in your hand the whole time... sometimes one has to relax too. Even guards have to go to sleep! And the Holy Ghost comes and finds the staff and hits him on the head! And if the Holy Ghost can make a woman pregnant, what can he not do? He can do anything -- he can even make a man pregnant! Anything is possible; with the Holy Ghost nothing is impossible.
Sex is a taboo for Christianity: "Don't talk about sex!"
Now, after Sigmund Freud, the first taboo is broken; sex is no more a taboo. We have shifted to another taboo; now death has become the taboo. Now don't talk about death. It seems as if man needs some taboo or other. The Victorian society was a society rooted in the taboo of sex. Now the modern society, Western society, is rooted in the taboo of death. Don't talk about death at all, forget all about death as if it does not happen -- at least it does not happen to you, at least it has not happened to you up to now, so why bother about it? Forget all about it.
When a man dies in the West now, there are experts to decorate the man. He may never have looked so beautiful as he looks after death-painted and his cheeks so red as if he had just come from a three months vacation in Florida! And so healthy, as if he had just been exercising and were now doing shravasan -- the death posture -- not really dead. The pretension has to be created that he is not dead. And even on the gravestone it is written: "He is not dead, he is only asleep."
And in all the languages we say... whenever somebody dies nobody says that he is simply dead. We say "He has gone to God. He has become beloved of God. God has chosen him and called him. He has gone to the other world. He has become heavenly."
One man was saying to the other, his friend, "My wife is just divine."
And the other said, "But my wife is still alive!"
You talk about people's divinity, etcetera, when they are dead.
There was a great conflict between Voltaire and Rousseau; their whole lives they were quarreling. Voltaire died; somebody informed Rousseau that Voltaire had died. He said, "Really? He was a great man -- provided that he is really dead!" If he is not dead then he will withdraw his words. Alive, they are enemies; dead, "He was a great man." So he makes a condition: provided that he is really dead, he was a great man.
Once a man dies, nobody speaks against him, nobody says anything against him. He becomes suddenly a saint, suddenly great. His place will never be filled again, his place will always remain empty. The world will always miss him; he was so essential. And nobody had taken any notice while he was alive. These are tricks -- tricks to keep death away, to shut the doors, to forget all about death.
A real humanity will not have any taboos: no taboo about sex, no taboo about death. Life should be lived in its totality, and death is part of life. One should live totally and one should die totally.
And that's my message to my sannyasins, Chinmayo.
You ask: WHY AM I SO MUCH AFRAID OF DEATH?
Because you are not yet living totally. Live totally and the fear of death will disappear. And you are not alone; everybody is in the same boat.
It was a typical British Men's Club: pipe smoke hanging in the air, thick leather chairs, carved oak panels.
The old retired colonel was recounting his daring exploits in Africa. "Nearly lost me life to a black-maned lion once!"
"Oh, really, sir?" said a young officer, feigning interest. "Do tell about it."
"Well, fella me lad, there I was striding through the thickest part of the Congo jungle with my faithful gunbearer, Umbogo, when across a small clearing I saw the biggest lion you have ever seen. Cool as a cucumber sandwich, I took my trusty rifle from Umbogo, took aim, and pulled the trigger.'Click' -- the damn thing was a dud. Unperturbed, I handed back the dud and took a second rifle.'Click' -- another dud. By this time Umbogo had gone and I thought I had better get going, too. I ran as fast as I could, but in no time the beast was close behind. I could feel his breath down the back of my neck and I knew he was about to pounce; but just as he was about to, he slipped. This gave me my chance and I ran as fast as I could. But he was soon there again -- breath down the back of my neck, about to pounce, and again he slipped. This happened three times, and the third time I managed to get into the jolly old Land Rover and get away."
"How amazing, sir," said the young officer. "I am sure that if that had been me I would have messed my pants."
"Messed your pants?!" bellowed the old colonel. "What do you think the lion was slipping on?"
Next: Chapter 12: The Heart Always Knows, Question 8
Energy Enhancement Enlightened Texts Zen Walking in Zen, Sitting in Zen
Chapter 12:
Osho - Talks on Zen: Walking in Zen, Sitting in Zen, Chapter 12: The Heart Always Knows, Question 1, THE BUDDHA SAID, 'IF YOU WANT TO SEE, SEE AT ONCE. DON'T LET THE MIND ENTER INTO IT.' CAN YOU TELL US MORE ABOUT 'SEEING'? at energyenhancement.org
Osho - Talks on Zen: Walking in Zen, Sitting in Zen, Chapter 12: The Heart Always Knows, Question 2, I HAVE FOUR SPECIALTIES: I SLEEP VERY DEEPLY IN YOUR DISCOURSE, I EAT LOTS OF CHOCOLATE AND ICE CREAM, I AM A GERMAN GIRL AND I AM FOOLING AROUND WITH AN INDIAN SWAMI. CAN I GET ENLIGHTENED? at energyenhancement.org
Osho - Talks on Zen: Walking in Zen, Sitting in Zen, Chapter 12: The Heart Always Knows, Question 3, I TOOK SANNYAS OUT OF THE WRONG REASONS, NOT OUT OF THE HEART. I HAD THOUGHT,
Osho - Talks on Zen: Walking in Zen, Sitting in Zen, Chapter 12: The Heart Always Knows, Question 4, TWEARING THE MALA IS NO LONGER A SACRIFICE BUT A GRACE AND A PLEASURE at energyenhancement.org
Osho - Talks on Zen: Walking in Zen, Sitting in Zen, Chapter 12: The Heart Always Knows, Question 5, EVEN SOME OLD PROBLEMS JUST DISAPPEARED at energyenhancement.org
Osho - Talks on Zen: Walking in Zen, Sitting in Zen, Chapter 12: The Heart Always Knows, Question 6, WHAT DO YOU SAY TO A MIND WHICH GOES ON THINKING IN FOUR DIFFERENT LANGUAGES? (PERSIAN, ENGLISH, FRENCH, GERMAN.) at energyenhancement.org
Osho - Talks on Zen: Walking in Zen, Sitting in Zen, Chapter 12: The Heart Always Knows, Question 7, WHY AM I SO MUCH AFRAID OF DEATH? at energyenhancement.org
Osho - Talks on Zen: Walking in Zen, Sitting in Zen, Chapter 12: The Heart Always Knows, Question 8, WHAT DO YOU DO FOR EXERCISE? at energyenhancement.org
Osho - Talks on Zen: Walking in Zen, Sitting in Zen, Chapter 12: The Heart Always Knows, Question 9, ARE THERE REALLY ANY COINCIDENCES? at energyenhancement.org