BLADE RUNNER - SATCHIDANAND'S ESOTERIC SPIRITUAL MOVIE REVIEW
"Swami Satchidanand's movie reviews are actually the best in the world" - Student of EE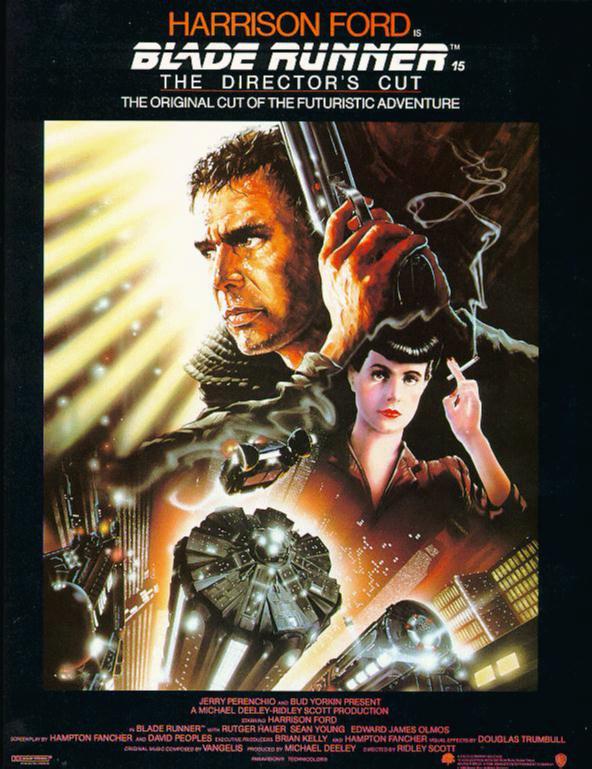 The psychopathic Limitations of the Highest Levels of Illuminism Revealed


In Ridley Scott's Blade Runner, we are presented with a prescient, dystopian future based on an Illuminist Black Magic Elite Darwinist, Galton, Wedgewood, Huxley based Eugenic point of view as told in Phillip K. Dick's novella, "Do Androids Dream of Electric Sheep?" and more, that we must pass through all that before we can truly see into its limitations: before,
"After all that.. Here are complete instructions on Enlightenment!" - Sutra One, Book One, Yoga Sutras of Patanjali.
CLICK HERE FOR SATCHIDANANAND'S ENERGY ENHANCEMENT COMMENTARY ON THE YOGA SUTRAS OF PATANJALI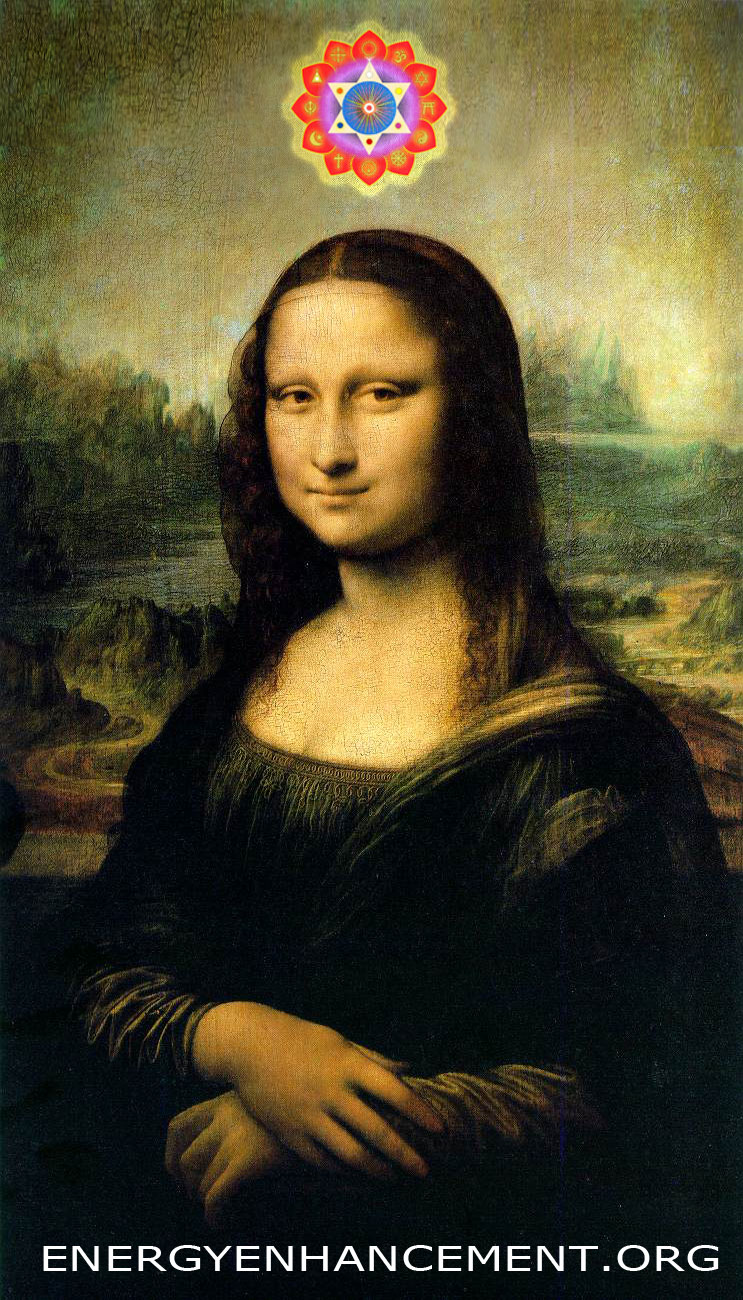 ENERGY ENHANCEMENT AND THE CHAKRAS ABOVE THE HEAD - ASCENDED MASTERS - PROJECTION OUT OF THE BODY - ILLUMINATION - ENLIGHTENMENT

We will see that this film is full of not only accurate Illuminist Black Magic predictions of the future's general landscape, limited because reality and this movie goes beyond the Illuminated psychopaths who think they are in charge of this planet.

This movie is suffused with occult imagery and deep symbolic themes, as well as raising moral and social issues.

The film operates on many levels as the immediate story itself, the predictive future level with social criticism, the level of covert operations and mind control, and the deepest level, that of myths, archetypes, Illuminist Black Magic Alchemical Occult Initiatory transformation in order to become a limited half baked psychopath... and more, the Level of Illumination, Enlightenment.

This is the true Initiatory transformation included within this Robot movie... Enlightenment, the creation of intellect, purpose And something not present in all Unmade Frankenstein Monsters - the Highest Heart of Love in a psychopathic, Frankenstein Monster killer robot, representing normal humanity.

This indeed is "The Fifth Element (1997)" of the Soul in the Chakras above the head. Superceding Earth, the Base Chakra which powers the three Head Chakras, Water, the Second Abdominal Swadisthan Chakra which powers the Visshuddhi Throat Chakra, the Third Solar Plexus Fire Chakra which powers the Fourth Chesty Air Chakra.

The Fifth Element is the first Chakra above the Head - The Soul Chakra, the Conscience Chakra, the Chakra of the Highest Heart of Wisdom.

Only a Soul Infused being is Enlightened.

A psychopath has no conscience or empathy because he has energy blockages in his heart and soul chakras. Whether the Psychopath enjoys killing or whether he just thinks it's a necessary tool of statecraft, the psychopath is always unmade, not complete. Never able to pass the enlightenment initiation.

The Man, made by a Tyrell God from Mud and rib in his own image, Imago Dei.

An unfinished, "Made Man" who thinks the the true initiation is to Kill another human being as in Baby Boy (2001) and Four Brothers (2005).

The purpose of the satanic movie Baby Boy (2001) Director and writer John Singleton, is to say that you will remain a child, a baby until you have killed another human being, this being the initiation into adult life.

Elmore Leonard has created characters who exemplify the Existentialist Psychopath - see..

Existentialism and Kubrick's Psychopaths in the Films of Stanley Kubrick.
Where Psychopath Don Juan is made into the Nietzschian Superman. Movies made from his books include, Get Shorty (1995) with John Travolta, Jackie Brown (1997) by Quentin Tarantino, and Out of Sight (1998) with George Clooney and Jennifer Lopez.


Satan, the father of lies creates perverted Rituals of Initiation where the only person who can pass these initiations, the Satanic, "Made Man", the Satanic Luciferian Illuminist, is a Psychopath, a person without the higher parts of empathy and conscience and real Genius... who just doesn't care - because they have a screw loose!!
And of course the purpose of all these Satanic illuminati Initiations is to create another Psychopathic Black Magician...
RESEARCH

PSYCHOPATHY HEALED BY ENERGY ENHANCEMENT - REMOVING BLOCKAGES IN CHAKRAS OUTSIDE THE BODY IN THE ANTAHKARANA

ENERGY BLOCKAGES ARE THE CAUSE OF THE DEMOCIDIC PSYCHOPATH, THE SCHIZOPHRENIC, AND MANIC DEPRESSION. WITH EXAMPLES STALIN, HITLER, ENRON AND MAO

Existentialism and Kubrick's Psychopaths in the Films of Stanley Kubrick.

George Lucas, Star Wars, the Revenge of the Sith, and Psychopaths

ENERGY ENHANCEMENT AND Trauma, Pain, Relationships, Divorce, Piercings, Tattoos, BDSM, Sex, Sex Addiction, Tantra, Gambling, Homosexuality, Lesbianism, Drugs and Addiction, Bad backs, Heart Disease, and Cancer.

The Energy Enhancement Commentary on the Baghavad Gita Chapter 16 - THE QUALITIES OF THE SELFISH COMPETITIVE PSYCHOPATHIC EGO....

The Psychopath and the Buddhist Icchantika

An unfinished, "Made Man" who thinks the the true initiation is to Kill another human being as the Mafia create a "Made Man"

Satan, the father of lies, says a Made Man is an associate of the mafia or another organized crime group who kills a person, thus graduating to "made man" or "soldier" status. Only by killing under the orders of a ranking mob officer can the prospect become a "made man". "I just drove up and knocked him off, one in the body and two in the head to make sure he was dead. The boss will be pleased. I'm a made man now."

All these levels must be integrated to grasp the full import of the film as Ridley Scott conveys it.

Only the deepest level of Enlightenment is what holds the other levels together in coherence and meaning.

As the film begins, the viewer is shown the 2020 landscape of Los Angeles, and then an eye viewing the landscape. The eye represents the viewer, and as in Eyes Wide Shut, the viewing of the film itself will constitute an Illuminist Black Magic Initiatory experience for those who understand symbology.

However, this Illuminated Black Magic Initiation is only to create a psychopath, - a Black Magician Luciferian can only rise as high as Psychopathy.

The highest level of Enlightenment - also given in this movie - can never be understood by a psychopath.

The viewer is going to be shown the Illuminist Black Magic Elite plan, yet the eyes of most will remain shut. For the dumbed down unevolved masses, there is no ability to make deeper level connections and associations between ideas, symbols and archetypes.

For the viewer who has eyes to see, they are seeing the future itself, as well as the worldview of the ruling class. In fact, Blade Runner ranks with Eyes Wide Shut as one of the most explicit revelations of the psychopathic method of the ruling oligarchs. My interpretation of this is confirmed by the fact that the film doesn't show us whose eye we see. In fact, the reflection in the eye shows the scene the viewer just saw of the L.A. cityscape.

It is significant that we are presented with two shots of the eye and then the cut to the Tyrell corporation's ziggurat/pyramid shape which is the key to understanding Tom Cruises Movie, "Oblivion (2013)". Immediately we are presented with Egyptian symbology, as well as the notions of the so-called "Illuminati." The all-seeing eye is flashed in between images of the exalted pyramid in order to initiate the viewer into who is running things. This is the connection of imagery and meaning that most are not able to make.

We are given hints as well that perhaps this is an ancient technology of dominance – the "technology of the gods." In reality, the technology of the gods meme refers to the elite perspective of themselves and their "magickal" worldview: Any sufficiently advanced technology is indistinguishable from magic, as Arthur C. Clarke's third law says.

The "god" is not only the one who controls the genetic engineering and artificial intelligence - people who believe this lie are the minions only of the highest black magicians. The cap of the pyramid is empty because the head of the system is secret. It's a shadow corporate government, where the eye floats above the pyramid itself. The eye is thus above and transcends the externalization of the hierarchy on earth.

The eye floating above the pyramid represents the highest psychopathic black magicians who live in the chakras above the head and who descend into new bodies, lifetime after lifetime for thousands of years.

"As Above, So below.."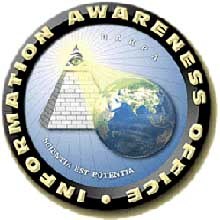 Original DARPA "TIA" logo, echoing the Tyrell Corporation.

When the viewer approaches the pyramid in the open scene, it is engulfed in golden sunlight, conjuring up notions of Ra and Egypt. The mysteries of Egypt center around the godlike philosopher king (Pharoah), as the material manifestation of Aton Ra, mirroring the spiritual hierarchy on the spiritual plane. In this dystopian future, the Egyptian scheme is replaced by a totalitarian corporate system where the word of the CEO is law. The light is enlightening the viewer, taking him along for the ride in the flying car to the top of the pyramid. In other words, for those that can see, you are about to see what they see.

We are then shown "Void-Kampff" testing given to Leon, one of the Replicants, or advanced A.I. robots created by the Tyrell Corporation. The test is designed to see if the possible Replicant has emotions, will and desire. "Kampff" recalls Hitler's Mein Kampf, his manifesto devoted to his struggle, "My Struggle" characterized as one of will. Void Kampf is no struggle which is only possible for the Enlightened. Normal dummed down, unevolved robot unwashed humanity always struggle in this way Ridley Scott is saying the void kampf test is the test for enlightened humanity - totally different from robot unfinished blocked humanity.
Tyrant Tyrell, who represents Frankenstein, the creator of the "Monster" out of spare body parts sewn together and given life by the spark of electricity representing the Holy Spirit or who represents God who created an unevolved unenlightened monster robot humanity out of mud and a rib in his own image - "Imago Dei" and yet who have the spark, the possibility of becoming finished, MADE, of developing a heart, of becoming Enlightened, we learn, has been in the business of developing assassination droids, sex droids, etc., yet some Replicants, however, do not know they are programmed with false memories and a false identity (which the BBC just reported in relation to DARPA) as humans are programmed by false myth and propaganda.

In this perspective, the Replicants seem to partly resemble enenlightened robot humanity, the infamous plans of various states over the last century to create psychopathic "supersoldiers," or mind controlled assassins in operations like MKULTRA, BLUEBIRD and ARTICHOKE. With examples like Sirhan Sirhan, it would appear there was some success, and it was in fact Nazi scientists, hearkening back to the Fascist Nazi National Socialist Mein Kampf reference, who worked on such mind control projects, as well as the Soviets and the U.S.
"Roy Batty," (played by Rutger Hauer) the "Nexus 6" model and leader of the rebel Replicants is himself a psychopathic supersoldier assassin, "more human than a human," as Tyrell states. Genes tweaked he burns brighter and dies sooner just like the "Limitless" drug.
Yet always the TRAUMA-BASED MKULTRA psychopathic programming is breaking down and the psychopath is always developing shame or PTSD as it is now called and then committing suicide in his shame and guilt for following psychopathic orders. We can see this in the Bourne Trilogy movies where Bourne apologises to expiate his shame.
Not so the Bourne Legacy (2012) where we are told the lie that you can become an Illuminati Superman just by tweaking your genes and then taking a pill to stabilise your genes. This is the same Illuminati lie that the perfect drug exists that crystal meth, crystal cocaine, crystal champagne are pure and have no side effects - see LIMITLESS - THE MOVIE OF ILLUMINATION - WHAT IF A PILL COULD MAKE YOU RICH AND POWERFUL? THE MOVIE REVIEW BY SATCHIDANAND - A PURPOSE MORE PROFOUND.
The retinal image returns and this time it's Leon Kowalski. Leon is given the test and assassinates his tester at a certain point when the trigger words "tortoise" and "mother" are mentioned, signifying that in mind control, manipulation of symbols and Jungian archetypes is crucial. The tortoise is associated with Hermes/mercury, as I will show and which will be relevant later.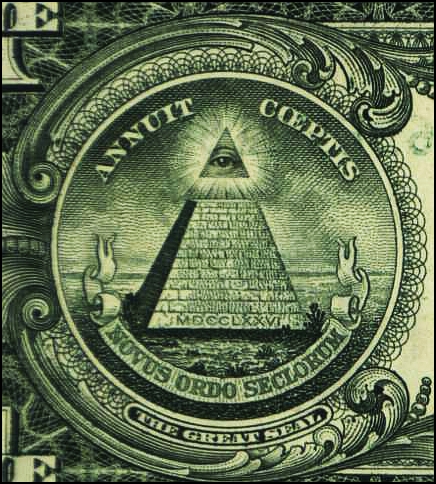 "Eye World"

The Replicants are given a four-year lifespan which allows Tyrell to have total control, keeping them from ever rebelling or having a lengthy time to work towards evolution. Similarly, in real life the elite have always sought to control lifespans and populations through eugenics and full spectrum dominance.
The Darwin, Galton, Huxley, Wedgewood, Rockefeller Foundation Eugenic Malthusian Soft Kill of factory pollution and geo-engineering climate control aluminium and barium salts in the air. IQ reduction and cancer giving Fluoride and fluoro-silicic acid in the water. Cancer viruses in the vaccinations. Bill and Melinda Gates Foundation supported MONSATAN GMO food which produces tumours the same size as the rats who eat it and produces total sterility within three generations. Super Sized fast food which engorges and kills.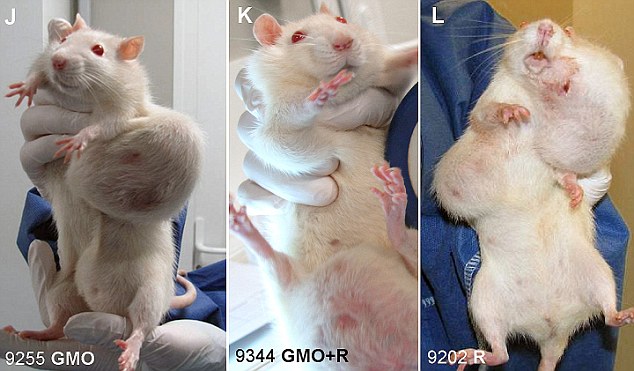 GMO FOOD FED RATS GET CANCER TUMOURS AND AFTER SEEING THESE PICTURES, RUSSIA BANS GMO FOOD!!
It could also possibly have reference to the self-destruct programming in the mind controlled assassins to kill themselves rather than be interrogated and spill the beans. In fact, in regard to Project ARTICHOKE, a memo is reported to read: "Can we get control of an individual to the point where he will do our bidding against his will and even against fundamental laws of nature, such as self-preservation?" - Typical psychopathic questions.

The viewer then hears advertisements from huge telescreens and billboards telling him that the system can take you "off world." The system thus holds out a hope of fulfillment in a heaven-like "golden" "off world" colony, much like states in the past have controlled their subjects through a non-existent hope. Probably like in the "Island (2005)" they will be dumped alive in the ocean.
The masses are thus weak, shifting sands, subject to the sway of childlike propaganda and psychological warfare. From Plato's Republic to August Comte's notion of a purely civic religion, the idea of a state-controlled and created fake myth religion for the purpose of mass manipulation is an ancient foundational elite control mechanism. See "Ten Myths which Control the World" by Satchidanand

We also see Chinese businesses and foodstuffs everywhere, indicating that the U.S. has become a third world cesspool of Totalitarian Globalism. The populace is thus managed by a top-down kleptocracy corporatocracy above, while below, a degenerate and poverty-stricken populace is blended together (Asians, Russians, etc.), and ruled by their corporate overlords. The future then, is a kind of intense corporate police state fascism, where everyone is tracked and traced, particularly by retina scans.
Dragons are also seen everywhere in Chinatown, suggesting the control of the primeval kundalini serpent: a world run by the shadow corporatocracy is one where the iconography of the serpent dominates, conjuring up ancient archetypal imagery from Genesis where the serpent deceives man into thinking he can become god, instead of merging with God, which will be crucial to Blade Runner's overall message.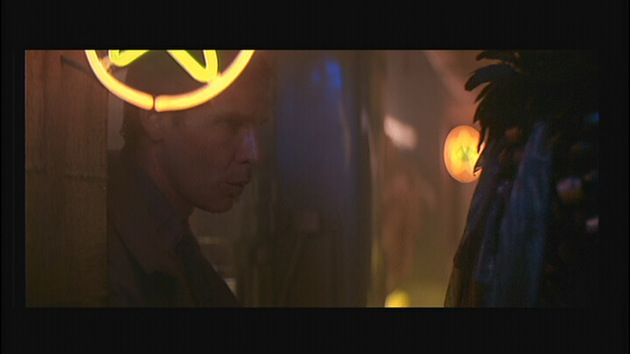 Deckard stands under a Pentagram, with a snake-eyed Pentagram in the background.

Indeed, globalism itself is being used by the elite make everybody poor by purposefully crashing the economic system of the World through Austrian Austerity, to make everybody poor, to wipe out the middle class, create Corporate created revolutionary demagogues like Italy's Grillo, Lenin, Stalin, Mao, Hitler, Mussolini and Franco, to cull, to genocide the rebellious and intelligent as happens periodically through Engineered War, Terrorism, Famine, Weaponised disease in every country, and dumb down and polarize the masses into a large swath of poor with a tiny cadre of super rich at the top like in, "Hunger Games" which is predictive programming like all science fiction is predictive programming.
Two hundred and eighty millions of the most intelligent rebellious people people have been killed, culled, genocided by Governments in the twentieth century as part of the slave breeding program, and this is just the start. The elite want a 99% reduction in the population, for spurious reasons - they say, "There are too many people" echoing Corporate Agent Malthus two hundred years ago where he proved scientifically that the carrying capacity of the Earth was one billion people. Just like medieval scientists proved scientifically that the Earth was flat.
WRONG!! Now the earth supports 7 billion people - friends, artists, geniuses - and much more are possible if good management is in place.
Ironically, the corporate system itself mirrors the psychopathic totalitarian communist party system, where the CEO is the party leader, the shareholders party bosses, and the wage-slave populace working endlessly for nothing other than the furtherance of the system itself. Read "1984" by George Orwell and "Brave New World" by Aldous Huxley which he wrote whilst his brother Sir Julian Huxley was putting it into action at the Anglo/American System created United Nations with WHO Global mandatory Eugenocidal Vaccinations and Agenda 21.
It is significant as well that we almost never see daytime in the film, aside from one scene. Blade Runner takes place almost solely at night, "The Dark Knight" where "God/Sun" becomes the Artificial light Luciferian Light Bringer from the Black Lodge on Sirius, possibly due to a wrecked corporate-controlled ecosystem that exists solely to serve the interests of the Tyrell Corporation.

Philip K Dick wisely places the corporation at the center of the future's controlling power, giving it an "Illuminati" status, as opposed to some oppressive government or dictator. The future, for Dick, is controlled by a single global mega corporation, headed by a tech genius who happens to obtain a kind of godlike status by creating sentient beings in his own image (Replicants). Slaves are bred to be slaves for generations. This will be crucial for my analysis of the film's underlying esoteric theme – that Blade Runner is a gnostic myth or allegory. Recall as well that Ridley Scott used this same theme in Alien, where the future is controlled by the Weyland-Yutani Corporation.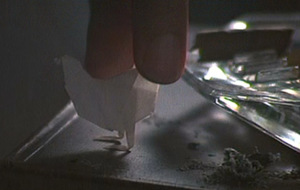 Gaff's Rooster.

Deckard is "handled" by a mysterious figure named Gaff (played by Edward James Olmos), who recalls Deckard from retirement to hunt down the Replicants. We don't learn much about Gaff, yet he does something very significant. Throughout the film, as he leads Deckard, he leaves origami figurines as symbolic indicators that reveal the method to Deckard himself. The first origami figure is the rooster: in Freemasonic initiations, the rooster is associated with Hermes/Mercurcy/Thoth, the guide to the Underworld and initiator of mysteries. We have again returned to the initiatory theme. Gaff is enlightening Deckard as well as the audience, as the eye, pyramid, snake, rooster are serving to tap into the archetypes in the psyche of the audience, enlightening the viewer to the mysteries of the psychopathic illuminati elite. According to the British Grand Lodge, the rooster is associated with alchemy:

"Mercury appears as the rooster drawn on the wall of the Chamber of Reflection. This animal is connected to the deity Hermes, that is, Mercury. It is a feminine principle, referring to Vigilance and it also corresponds to Faith. As the rooster sings at dawn announcing the light of day, so it announces to our future initiate, the Luciferian Light he may receive."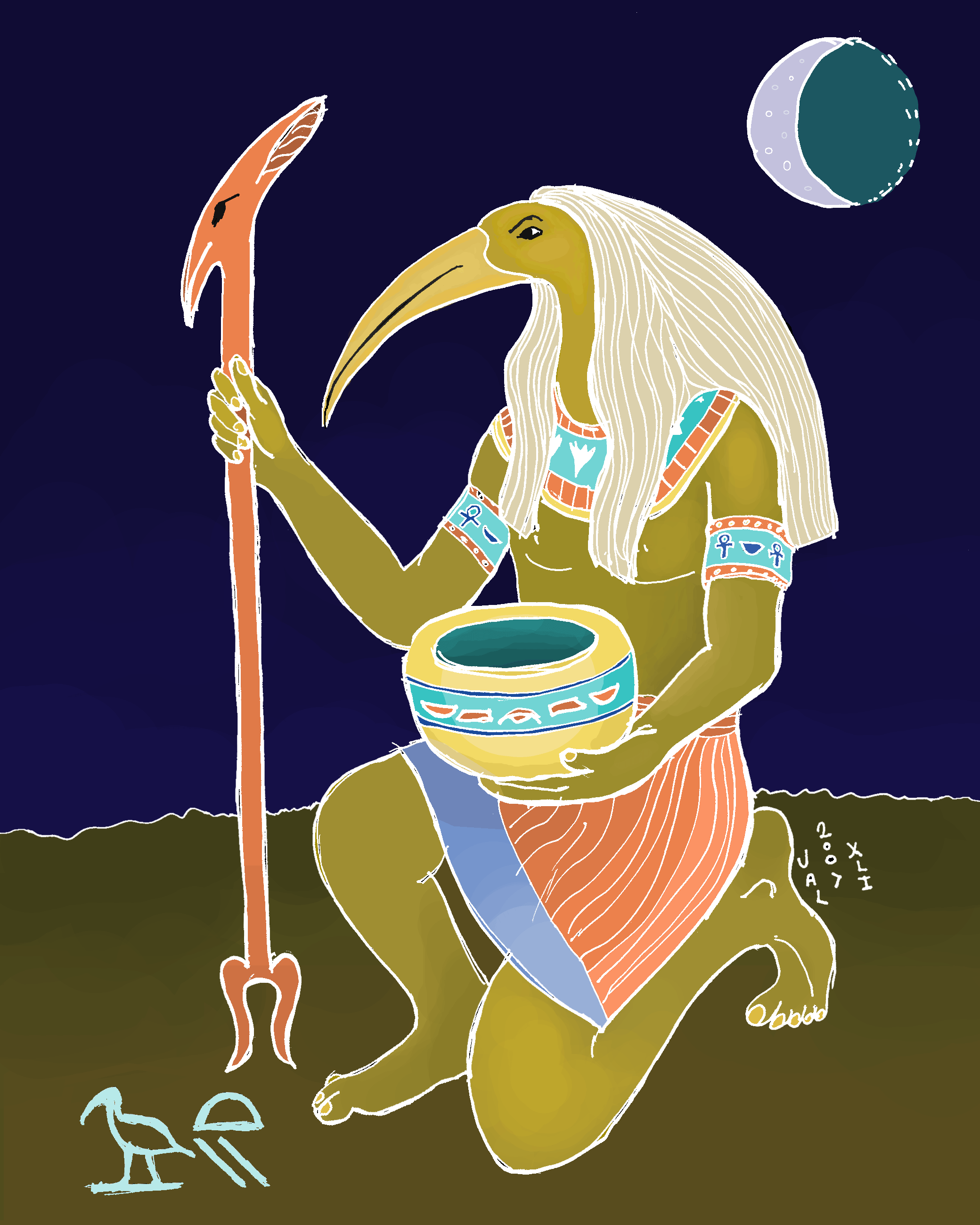 Hermes/Thoth/Mercury

An article on Greek and Indian mythology elucidates this connection well:

"Hermes often helped travelers have a safe and easy journey. Many Greeks would sacrifice to Hermes before any trip. In the fully developed Olympian pantheon, Hermes was the son of Zeus and the Pleiade Maia, a daughter of the Titan Atlas. Hermes' symbols were the rooster and the tortoise, and he can be recognized by his purse or pouch, winged sandals, winged cap and the herald's staff, the kerykeion."

Gaff (who carries a staff/cane) is leading Deckard all along, enlightening him to his true nature and, as will be seen, leading him to safe haven. It is interesting as well that Tyrell's pyramid/ziggurat resembles Mt. Olympus, and is full of Imperial and occult symbolism. Gaff, as the travelling messenger (Hermes/Thoth) of Olympus/Egypt takes Deckard to Tyrell, who is accessed at the top of the pyramid by flying car. The Owl, with prominent eye imagery, as well as a Masonic/Egyptian obelisk and a fascist Roman Eagle, all mark Tyrell's golden kingdom. Deckard is informed he must hunt down the remaining Replicants, two of which are sex slaves and two assassins, two unknowns are Rachael (Sean Young) and Deckard himself.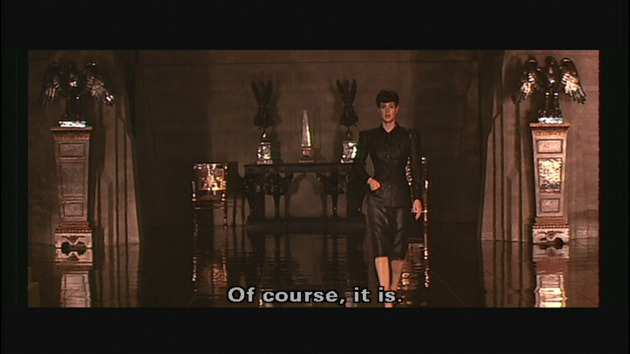 The symbolism of Tyrell

Deckard is instructed to test Rachael with the Voigt-Kampff test to see if he can detect if she is a robot. Rachael is identified as a Replicant after a hundred questions from the test, while Deckard realizes he has feelings for her. Deckard is amazed that Rachael is unaware, and Tyrell explains the company implants false memories. This becomes crucial in the analysis of the film, because the concept of forgetting one's true origin is central to the gnostic cosmology. In the process of the fall (in the gnostic and Platonic schemes), the many has lost its origin in the one, the godly monad. The multiplicity of particulars are thus in a process of return to the monad from whence they have fallen into energy blockage, egotistical individuality.

The microscopic serial number shows inside knowledge of nanotech in 1982.

In fact, in the next scene, Roy Batty is himself seeking out his creator by visiting the eye manufacturer. When Roy finds him, he cites the famous gnostic mythological poems of William Blake, America A Prophecy and A Vision of the Last Judgment. Blake's poem is a mythological account of the American revolution against King George III, presented as an anti-christ figure and emissary of Urizen, Blake's view of the biblical God, portrayed as an old, miserly, vengeful deity.
Just as the Monster killed Frankenstein for murdering his wife. Just as Dracula rebelled against God for killing his wife to become a black magic psychopathic vampire "The blood is the life!" Just as Orc rebelled against the King, and Satan Lucifer against God, so Roy Batty will rebel against his creator, Tyrell, for allowing him to be created with a flaw.
Wikipedia explains:
"The implications of the work are taken up in America, with the King of England trembling as he sees Orc, the embodiment of the American colonies. The Angel of Albion believes Orc is the anti-christ and Orc believes the King of England is the same. This is followed by Orc's apocalyptic vision:

The morning comes, the night decays, the watchmen leave their stations
The grave is burst, the spices shed, the linen wrapped up
Orc provokes the Angel of Boston to rebellion:
What God is he, writes laws of peace, clothes him in a tempest
What pitying Angel lusts for tears, and fans himself with sighs
What crawling villain preaches abstinence; wraps himself In fat of lambs?
no more I follow, no more obedience pay

Together, the rebels are able to be freed of the psychological chains that bind them:

And Roy Batty's line:

"Fiery the angels rose, as they rose deep thunder roll'd
Around their shores: indignant burning with the fires of Orc."
Whereas Divine Discontent is the sand which produces the Pearl of Enlightenment.
This is the essence of unenlightened humanity given voice by the Third Zen Patriarch Sosan..
"One complaint and Heaven and Earth are set infinitely apart" from "The Enlightened Mind of Sosan"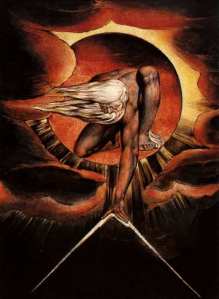 William Blake's painting of the gnostic Freemasonic Great Architect deity where God is in charge of the Pyramid - all symbols have their white magic alternative!!

Just as unfinished ordinary man is a robot waiting for enlightenment. A robot with only the possibility of becoming an enlightened, made, finished man, the Orc recalls the rebellion of Satan and his angels against God for the purpose of erecting a model synthetic kingdom that psychopathically mimics the kingdom of God.
This is significant, as much of Blade Runner centers around genetic engineering and synthetic reality, as we constantly see mannequins and dolls, especially in J.F. Sebastian's studio loft. For example, the background includes Atari signs: Atari is a video game company—video games are synthetic, virtual reality.
Tyrell's company is a genetic engineering company, specializing in replicating reality to the point that when Deckard finds the scale from Zhora's snake, he has to take it to a specialist to see if it's real or synthetic. Dick was amazingly prophetic in this regard, and not only was the foresight in regard to genetic manipulation prescient, the microscopic serial number on the snake scale even points to nanotechnology, far before it was well-known (in a Ted.com promo video of Scott's, Peter Weyland mentions nanotechnology).
Zhora, too, is introduced as a stripper who "receives pleasure from the snake," and Eden is specifically mentioned by the Fez-wearing Abdul. The Fez, originally a Muslim symbol, is the headgear of the Shriners, made up of upper level Freemasons.



The Shriner Fez.

The next origami figure Gaff leaves is a man with an erect penis. The little figure signifies Deckard is about to confront another stage in his transformational process, in his confrontation with Zhora, the woman united with the snake, and with Rachel. Zhora also performs her dance as Salome, the biblical character who seduces Herod and asks that he cut off the head of John the Baptist. In alchemy, the process of calcification involves union with the feminine principle to achieve synthesis and balance. What has been divided must be united to find harmony and elevation to the next level: that of the Philosopher's Stone, following the period of nigredo (blackness) and albedo (whiteness) prior to becoming gold.
Deckard is lacking his compliment, and must here confront the temptation of lust by the snake, if you will. The spiritual version of alchemy, modelled on the chemical, involves the mastery of the passions by the will—apt for the character of Deckard who, himself a Replicant, is discovering that he doesn't live, but is a slave of the system. Deckard is a Robot Agent for the system itself, all the while being the very thing he is hunting!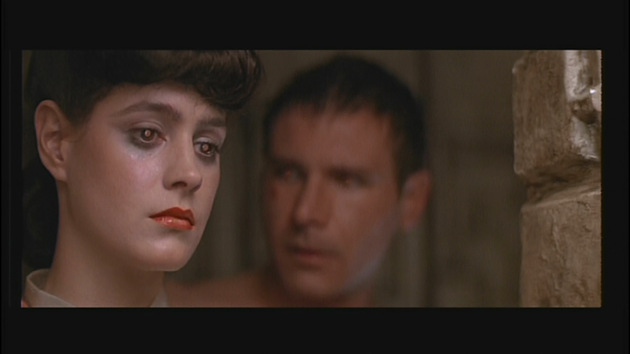 Red Robot eyes.

When Deckard meets with Rachael at his apartment, it begins to become clearer that Deckard is a Replicant: at an emotional moment both his and Rachael's eyes alight red with the trademark Replicant glow, right after Rachael inquires whether Deckard himself had ever taken the Voight-Kampff test.
The love scene follows, and Deckard unites with Rachael, male sun connects with female earth completing the unification process in Deckard's own psyche though his own process is still unfinished because this start allows his heart to open. He is supposed to kill all the "skin jobs" including Rachel, yet he chooses to help her and himself to escape the system.
Earlier, there was a mysterious scene where Deckard had fallen asleep playing the piano and dreamt of a unicorn.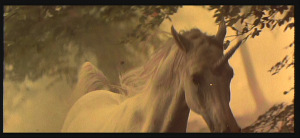 The Antahkarana unicorn mythical beast arises from Deckard's robotic subconscious.

This is crucial, since the unicorn in alchemy signifies the energy connection between the Spiritual Chakras above the Head and the Center of the Earth, Kundalini Chakra, VITRIOL, Philosopher's Stone itself. Deckard is dreaming of archetypal symbols related directly to alchemy, and this will become evident when Gaff leaves the final origami figurine: a unicorn. This means Gaff knew all along what Deckard's implanted memories were, which surfaced in his dreams. Deckard this second time falls asleep, but awakens to the sound of Rachael playing his piano, and he begins to realize that they thus both have similar implanted memories. Carl Jung writes of the unicorn, also associated with Mercury as follows:

"The unicorn in alchemy: The example of the Unicorn is chosen to demonstrate how the symbolism of Mercury is intermingled in the traditions of pagan gnosticism and the Christian Church. As the unicorn is not a single, clearly identified entity, more specific concern is centered on the beast with a single horn (the alicorn). Examples are given from the literature, especially the Chemical Wedding of Christian Rosencrantz), in which the unicorn and the dove appear, these being symbols of Mercury, the Antahkarana column of energy between heaven - in this case the Sun is represented by the lion.
Reference is also made to medieval art in which images of the virgin and the unicorn appear. These images are said to represent the triple holy trinity aspect of Mercury: the virgin as the passive, feminine aspect of Gaia the Earth, the unicorn as the connecting column of energy, and the lion as the wild, rampant, masculine force of the Sun - The Energy Enhancement Kundalini Key!! - ….References from the Church fathers are variously given in which the unicorn is identified with the God of the Old Testament or Christ. It is pointed out that there are ecclesiastical quotations in which the unicorn is said to carry the element of evil if its energy column is blocked by energy blockages.
It is this inner contradiction that makes the unicorn an appropriate symbol to be used by alchemists' monstrum hermaphroditum - the hermaphrodite is a key stage of unification in the alchemical process as in the holy trinity male sun is connected with female earth by the unicorn energy column of the antahkarana.
The female Philosophers Stone is Kundalini Chakra in the Center of the Earth. The male Horn of the Unicorn springs out of the Third Eye towards the Chakras above the Head. The Staff of Hermes - the merging of male and female - Hermaphrodite - is the column of energy connecting Heaven and Earth called the Antahkarana.
Sex has always symbolised the union of God and man in Enlightenment - see Carmina Burana Sacred Dance by Devi Dhyani and the religion of Krishna.

Remember that when Roy Batty saves Deckard from the precipice, his palm is nailed in a Christ-like fashion, while he sets free a dove—another Mercurial image - the Holy Spirit connecting God and man. Lest anyone think this is a stretch, this is exactly the same idea in Ridley Scott's Legend, where the unicorn plays a central role in precisely this alchemical and gnostic scheme. In fact, Legend is entirely focused on dualism, where good and evil cyclically and eternally battle for "balance," in contrast to a linear biblical view of time. Consider also Ridley Scott's new Prometheus and Alex Jones' stellar analysis of its themes and meanings, which fit perfectly with Blade Runner's transhumanism:

When Pris and Roy enquired of Sebastian how to get access to Tyrell, the Masonic double-headed eagle is visible. In this scene, Pris is debating her ontological status, and says, "I think, therefore I am," Descartes' famous cogito ergo sum. The question of what it means to be a human—to be a puppet, a slave, a programmed drone thus runs throughout the film. On the level of social criticism and futurism, it is asking the viewer to question their own enslavement to the Tyrell Corporation, as well as transhumanism's desire to transcend the human by projecting the spirit into the computer in the sky chakras above the head and become like God. The double-headed eagle signifies elite management through mastery of dualities and dialectics.



Note the double-headed 33rd degree eagle with the eye in the pyramid above it in the fireplace.

In fact, the double-headed eagle is even visible with the triangle above it, distinguishing it from the older, Byzantine Imperial double-headed eagle without the triangle. Note as well that Batty is playing chess for Sebastian with Tyrell, and chess is a game of strategy based on a dualistic scheme: black versus white, the Masonic, "on the board". Sebastian, we discover, has Methuselah syndrome, which makes him look old, while only being twenty-five. Order out of chaos.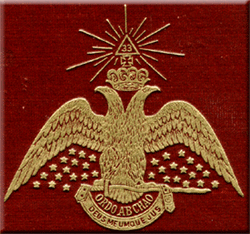 33rd Degree Scottish Rite Double-headed Eagle.

In the gnostic cosmology, the Luciferian, Satanic, creator demiurge (the evil tyrannical entity) co-creates with other energy blockage demon archons, and in the Blade Runner mythos, J.F. Sebastian is the "dollmaker" for Tyrell, the distant, uninvolved, unknown deity—the Deus Absconditus. Sebastian has also created a Pinocchio-looking von Bismarck, which is fitting since Pinocchio wanted to be a "real boy" just like man wants to become enlightened - a true human. Just like a Robot wants to live forever, but becomes Enlightened instead.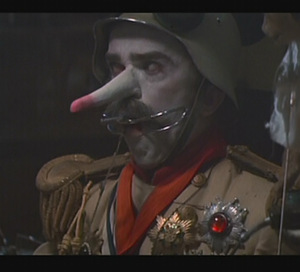 Pinocchio von Bismarck?

Sebastian is a bumbling fool who serves the uncaring tyrant Tyrell, and so is associated with a lesser archon. In Plato's mythology (from which gnosticism in part derives), certain gods are involved in creating certain things, such as man's body, the world, etc. Batty, on his tirade to live forever, kills both Sebastian and Tyrell, whom he calls "Father," after confessing his "sins" and being called a "prodigal son." The biblical imagery is prevalent, but more consistent in a gnostic reworking than in any kind of traditional biblical scheme, especially given all the Egyptian and Masonic symbolism. The Frankenstein - Prometheus Unbound, imagery is present. The Satan(ego)/God battle of Armageddon which can only end in the destruction of the selfish competitive ego in Enlightenment, is there also.

Click here to See My Spiritual Esoteric Review of Frankenstein (1994)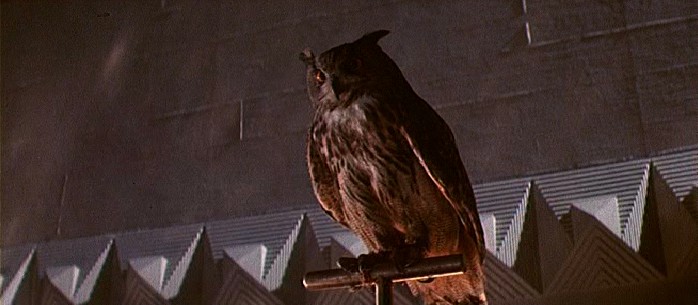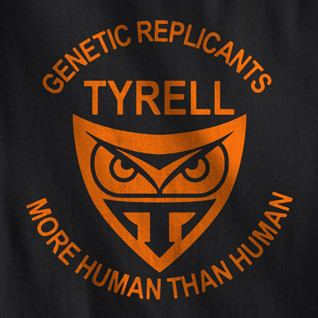 The logo of the Tyrell Corporation is the Owl. The owl is associated with Athena, as well as Illuminism and The Moloch of Bohemian Grove. The "Cremation of Care" at Bohemian Grove attended by American Presidents and CEOs is a Luciferian Ritual to implant blockages in the Heart to prevent empathy - which is an essential element of Illuminist Psychopathy. A baby is burnt alive in this "Cremation of Care" Luciferian ritual based on Moloch the ancient pagan religion mentioned in the bible. As well as human sacrifice this religion wants to re-instate Homosexual Dog Priests (Egyptian Religion, Pagan Religion) who like Aleister Crowley become the passive sexual partner in every Luciferian Ritual, as well as the, "Whore of Babylon" female temple prostitution in Luciferian Ritual. This imagery represents the actual Illuminists who control the planet in a corporate slave grid.

Mandy Mandelson, Gordon Brown and Tony Blair are at the heart of a, "Little England" bringing Homosexuality back for this above Illuminist purpose. For this Pagan "Dog" Sodomite Priest reason, Christianity, Judaism and Islam all abhor Luciferian Ritual Homosexuality.

HUMAN SACRIFICE IN THE RITUAL, "THE CREMATION OF CARE" AT BOHEMIAN GROVE

PRESIDENTS AND ELITE FAMILIES AT BOHEMIAN GROVE Every year since 1873, the Global Elite Has Held Secret Meetings in the Ancient Redwood Forest of Northern California. Members of the so-called Bohemian Club include Former Presidents Hoover, Eisenhower, Nixon and Reagan. Moloch, the God of a Pagan Religion, is well written about as a burning idol where babies were sacrificed to the fire. The Bible asserts that children were sacrificed at a place called the Tophet ("roasting place") to the god Moloch - represented by the Owl of Bohemian Grove...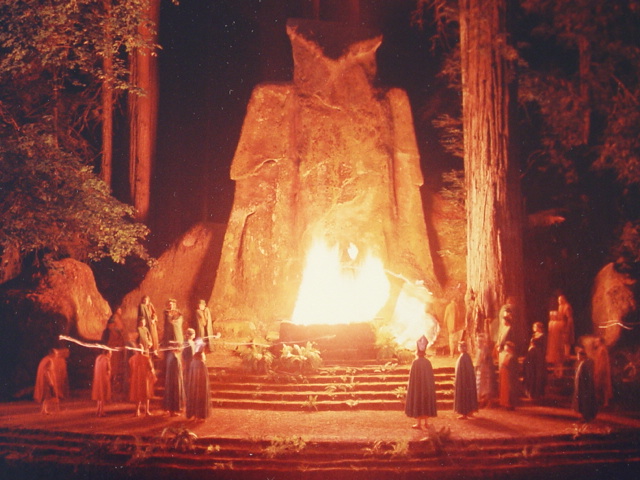 The Bush Family Maintains a Strong Involvement at Bohemian Grove. Each Year at Bohemian Grove, Members of This All-Male Club Don Red, Black and Silver Robes and Conduct an Occult Ritual. Alex Jones took this photograph and took videos when he entered into Bohemian Grove in California where every year Presidents and the banking elite worship at the Ritual, "The Cremation of Care" - designed to extinguish empathy and conscience and create psychopaths as a child is sacrificed to the Fire in front of a carved 40ft Owl representing Moloch and thousands of the elite watching, worshipping.

You have to be invited to get in..
For an example of Human Sacrifice in Satanic Pagan Religions from 8000 years ago - from Babylon itself, in the Book of Ruth in the Bible we have Ruth who as a Moabite has participated in Human Sacrifice. As she forswears this evil satanic Moabite religion and cleaves to Judaism, whose God refused the, Molochian "Burnt Offering" of the Sacrifice by Abraham of his son, Isaac; she is allowed to marry Boaz, ancestor of King David.

Leviticus 18:21
And thou shalt not let any of thy seed pass through the fire to Molech, neither shalt thou profane the name of thy God: I am the LORD.

Leviticus 20:2
Again, thou shalt say to the children of Israel, Whosoever he be of the children of Israel, or of the strangers that sojourn in Israel, that giveth any of his seed unto Molech; he shall surely be put to death: the people of the land shall stone him with stones.

Leviticus 20:3
And I will set my face against that man, and will cut him off from among his people; because he hath given of his seed unto Molech, to defile my sanctuary, and to profane my holy name.

Leviticus 20:4
And if the people of the land do any ways hide their eyes from the man, when he giveth of his seed unto Molech, and kill him not:

Leviticus 20:5
Then I will set my face against that man, and against his family, and will cut him off, and all that go a whoring after him, to commit whoredom with Molech, from among their people.

1 Kings 11:7
Then did Solomon build an high place for Chemosh, the abomination of Moab, in the hill that is before Jerusalem, and for Molech, the abomination of the children of Ammon.

2 Kings 23:10
And he defiled Topheth, which is in the valley of the children of Hinnom, that no man might make his son or his daughter to pass through the fire to Molech.

Jeremiah 32:35
And they built the high places of Baal, which are in the valley of the son of Hinnom, to cause their sons and their daughters to pass through the fire unto Molech; which I commanded them not, neither came it into my mind, that they should do this abomination, to cause Judah to sin.
Research..

https://en.wikipedia.org/wiki/Human_sacrifice

https://en.wikipedia.org/wiki/Human_sacrifice_in_Aztec_culture

http://www.evilbible.com/Ritual_Human_Sacrifice.htm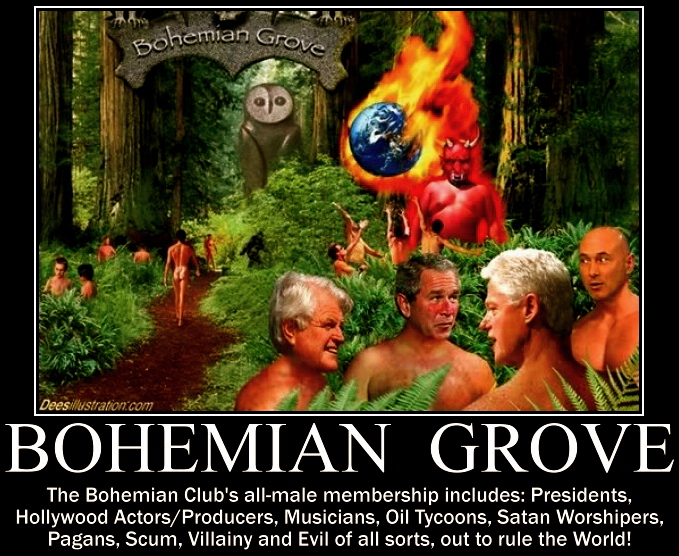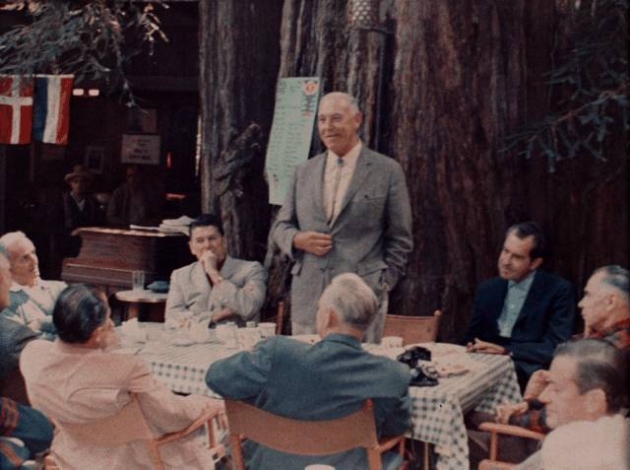 Breakfast at Owls Nest Camp, Bohemian Grove, July 23, 1967. Around the table, left to right: Preston Hotchkis, California Governor Ronald W. Reagan, Harvey Hancock (standing), Vice President Richard M. Nixon, Glenn Seaborg, Jack Sparks, (unidentified individual), (unidentified individual), and Edwin Pauley. Courtesy of Edward W. Carter (deceased).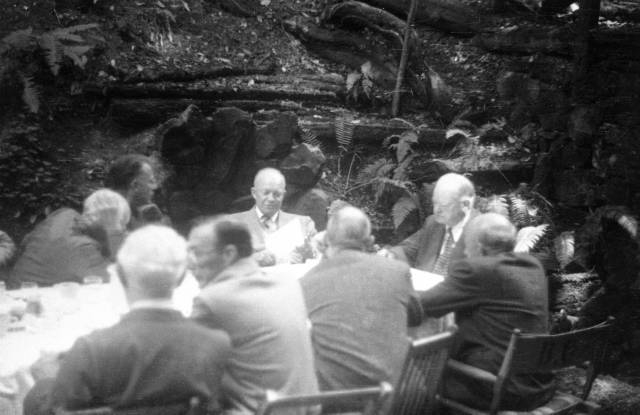 Lawrence Berkeley lunching with future president Eisenhower and past president Hoover at Bohemian Grove, July 23, 1950.
Click here to See My Spiritual Esoteric Review of Frankenstein (1994)

Technology at the behest of the illuminist Luciferian psychopathic Technocrats is the application of will and desire towards matter to bring about a desired effect: technology arises out of chemistry, which arises from alchemy.
The process of history from this perspective is one of evolutionary process toward rapid mechanization and transcending of bodily limitations as we learn to project our spirit into the chakras above the head, thus learning to transcend the body before the real death, "Die before you Die!!" .
The Germanic elements of the film are also worth considering, such as Roy Batty's Fascist psychopathic Aryan look, Voight-Kampff, (void kampf is like Hitlers Mein Kampf - my struggle - the struggle of the Will - "not my will but thy will be done" - Void Kampf - No Soul, No Will - proof of a Zombie Robot!!) the Illuminati arising out of Bavaria, and the Otto von Bismarck look of the doll, as well as the double-headed eagle as used by the Austrian Empire (the supposed continuation of "the Holy Roman Empire"), and Leon Kowalski living at "Hunterwasser Hotel" (Hunterwasser was a German architect who favored monarchy and Otto von Hapsburg). In fact, at the end, Batty mentions the "Tannhauser Gate" (In astronomy, a Star system), and Tannhauser was written of course by Wagner, the Fascist Reich's musician.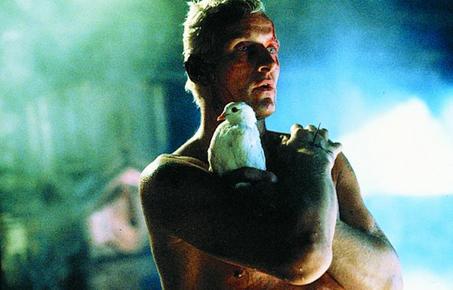 Roy "Bat/bird-shit Crazy" Batty

Keeping with the Masonic theme, the death of Roy Batty includes a shot with an interesting "X" pose. It is the pose of the dead Pharoah, the philosopher king. The famous Lodge of the new world, America, was St. Andrew's, which issued "Knight's Templar" degrees in 1769. The 17th degree ritual utilizes the "X" cross symbolism, which is also the cross of Scotland, home of the Scottish Rite, and which is symbolized by the double-headed eagle above.
The legendary symbol for Nimrod is "X." The use of this symbol always denotes either the opening of the heart - as it is in this case - or the closing of the heart using energy blockages to remove empathy as it is used in Satanism. When "X" is used as a shortened form meaning Christmas, XMAS, it actually means "to celebrate the feast of Nimrod."
A double X, which has always meant to double-cross or betray, in its fundamental meaning indicates one's betrayal into the hands of Satan. When American corporations use the "X" in their logo, such as "Exxon," the historic Rockefeller firm of Standard Oil of New Jersey, there can be little doubt of this hidden meaning.
Chaplin used the symbol in "The Great Dictator" movie where he described the country as, "The land of the Double Cross" this movie caused his exile from America at the height of his powers as the ruling class Satanic Pedophilia of "Chinatown" and the generational Satanism of "Rosemary's Baby" later caused the exile of Polanski from the USA.

The importance of Nimrod in any study of the occult cannot be over-emphasized. Because of the powers given him by the clothing of Adam and Eve, Nimrod became the first man to rule the whole world. He indulged that power by launching excesses and horrors which have never been equalled. Ever since the time of Nimrod, Babylon has been the symbol of depravity and lust.
Nimrod also introduced the practice of genocide to the world. His grandfather, Ham was persuaded by his consort, the evil Naamah, to practice ritual murder and cannibalism. She informed Ham that by killing and eating people, his descendants could gain their qualities. Throughout the ensuing centuries, the descendants of Shem, Noah's oldest son, have ritually been slaughtered by the descendants of Ham and Nimrod, in the world's most persistent campaign of persecution.
If we don't know history, it is as if we were born yesterday..
Naive humanity, believing what they have been told since birth in school, on television, in books are the prey of generational organisations, implanted with every evil energy blockage, descending from Babylon. We are the golden goose. We are the Ancient Enemy!!
Not only did Nimrod kill and eat the descendants of Shem, in his fury and hatred he often burned them alive. The type of human sacrifice involving the eating of the slaughtered human victims derived its name from the combined names of Cain who killed and ate Abel (Cain Abel, Cannibal) and his uncle, Canaan, and the demon god Baal, the two names being combined to form the word "Cannibal."
Nimrod was also known in ancient history by the names of Marduk, Bel, and Merodach. Because of his importance in its history, Babylon was known as the Land of Nimrod. Nimrod is also cited in the most ancient Masonic constitutions as the founder of Freemasonry.

Nimrod's downfall reputedly came about when he began to build the Tower of Babel, a ziggurat, or temple tower, which was planned to rise up into the heavens. Because of this offense against God, Shem, the eldest son of Noah, pronounced judgment against Nimrod, and executed him. Josephus says that "Ham's grandson, Nimrod, was beheaded by Shem." Other accounts add that Shem then cut Nimrod's body into pieces and sent the pieces to the pagan temples of Babylon, as a warning to the priests that their sex orgies and child sacrifices would result in a similar judgment of execution.
Instead of abandoning their hideous ceremonies because of this warning, the priests literally went underground. No longer did "their altars smoke with human blood," as Kitto, the great Palestinian authority, described them. The priests took the pieces of Nimrod as relics to their secret meeting places, which were hidden in "groves" and "shrines." This was the origin of the secret Pagan Mystery cults, whose orgies could no longer be performed in public temples. Because of the power of Shem, the priests from that time on conducted their forbidden orgies out of the light of day, in their secret hiding places. Their meetings were bounded with secret rites, which no one outside of their order was permitted to know, on pain of death. This was the origin of the Gnostics, the Knowing Ones, who knew the secrets. It may be for this reason that satanic psychopath Nimrod became known as the founder of Freemasonry.
How is society destroyed? We have the histories of seventy-three civilizations destroyed in exactly the same way, from Babylon, to the Roman Empire to the Anglo American Empire due to the secret compartmentalised ruling groups within Freemasonry and every other organisation - as infiltration (From which arises the Traitor) by Infil-Traitors - leading to a control which overcomes every important Institution in every civilization. Once the President is infected, the Empire falls.
Quote from Marcus Tullius Cicero "A nation can survive its fools, and even the ambitious. But it cannot survive treason from within. An enemy at the gates is less formidable, for he is known and carries his banner openly. But the traitor moves amongst those within the gate freely, his sly whispers rustling through all the alleys, heard in the very halls of government itself. For the traitor appears not a traitor; he speaks in accents familiar to his victims, and he wears their face and their arguments, he appeals to the baseness that lies deep in the hearts of all men. He rots the soul of a nation, he works secretly and unknown in the night to undermine the pillars of the city, he infects the body politic so that it can no longer resist. A murderer is less to fear. The traitor is the plague."

Just as 2001: A Space Odyssey features man who wins the evolutionary battle with heartless psychopathic artificial intelligence representing the heartless egotistical psychopath, Nimrod symbolised by eugenic transhumanist psychopathics like Ray Kursweil whose limited imaginations aim for immortality by uploading themselves into a computer thus being absorbed by the Borg (welcome to the Machine - Pink Floyd) for the next level of apotheosis, so Blade Runner presents Deckard and Rachael as normal humanity - a kind of new Adam and Eve who are freed from the prison of this system by Batty and Gaff.
Roy Batty, Nexus 6 Robot Replicant becomes enlightened, gains a heart and takes pity on robot replicant Deckard, the symbolism being that all humanity are robots until they become enlightened. If even a robot can become enlightened then there is hope of enlightenment for all humanity.
If even one human being can become enlightened - Buddha, Christ, Junaid, Rumi, Krishna - then all humanity can become Enlightened!!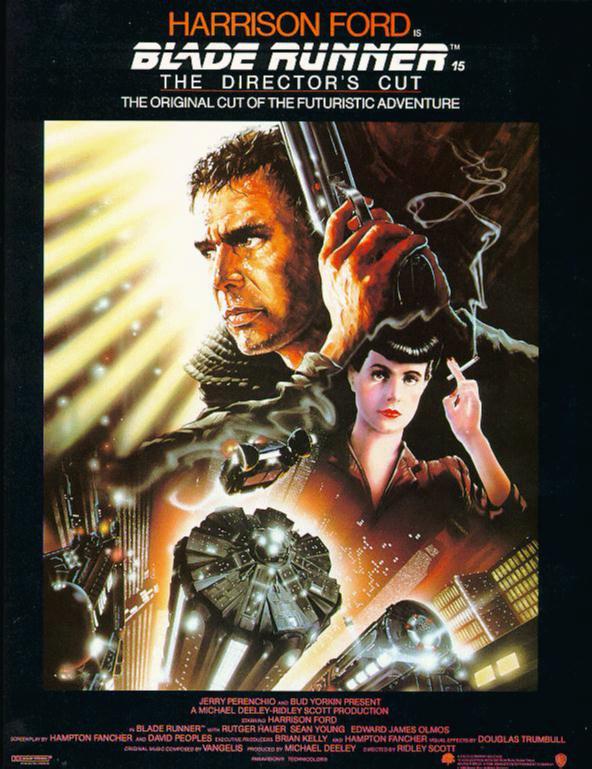 In "Blade Runner" by Ridley Scott, Rutger Hauer - the psychopathic man killer Robot - in the face of his own death - develops a heart and allows Decker, Harrison Ford, to Live.
If a psychopathic man - killer Robot can develop a Heart then surely any egotistical psychopathic Man, Red in Tooth and Claw, can surely develop a Heart too.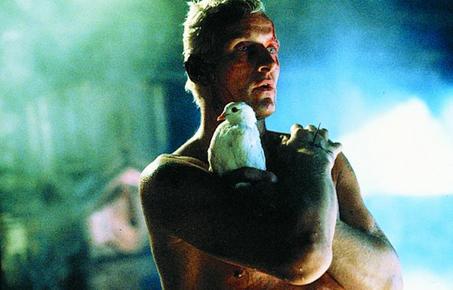 Psychopathic man - Xkiller Robot Rutger Hauer in Blade Runner - his heart is blocked but the dove symblolises the entry of the Spirit of God - his heart opens and he saves Decker..
The major initiation in this movie is that Roy Batty develops a heart, like the Christ. The Dove always represents the Mercury Antahkarana Holy Spirit. Energy descending from God to earth and touched by God, dying, opening the Heart, developing compassion from seeing the fact that we all die; the Psychopathic man - killer Robot develops a Heart and allows Decker to live.
This is just like Jesus Christ - the nail in the hand - giving up his life for the sins of unenlightened Humanity - in this case Deckard and Rachel.
Rutger Hauer becomes a gnostic saviour whose sacrifice stirs up Deckard's will to be free and live. Roy has killed Tyrell and saves Deckard from death just before his own "retirement."
The secondary initiation is that Deckard and Rachel become awake. They know they are both robots. Deckard then escapes in the final scene with the help of Gaff, who leaves an origami unicorn showing both that Deckard had found freedom and that Gaff wouldn't retire him as the sixth Replicant.
The minor alchemical process is also complete: Deckard has found his oppositional union in Rachael, and escapes. And to be clear, Ridley Scott confirmed Deckard was a Replicant in a 2007 New York Times article: "Yes, he's a replicant. He was always a replicant."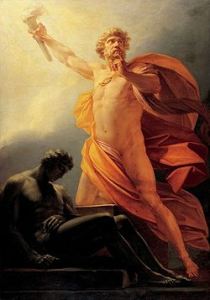 Prometheus steals fire from the gods and injects the "Spark of Life", Imago Dei, into the dead zombie robot at his feet.. The Possibility of Enlightenment..

Purveyors of the Western occult tradition will be familiar with the notion of the golem - a man without a Soul - Gollum in the Lord of the Rings – unenlightened humanity - the idea of creating a 'robot man' - an autonomous drone - with the ability to perform certain psychopathic activities without empathy or conscience.
Such a psychopathic feat has been the goal of many esoteric illuminist aspirants and in our day is beginning to become a reality.
See my article on Kubrick's Psychopaths or Elmore Leonard's existentialist the "good" psychopaths John Travolta "Get Shorty (1995)" or George Clooney "Out of Sight<> (1998)"
Philip K Dick - Do Androids dream of electric sheep? - foresaw this and thus the film is pregnant with this notion, as well as the deeper, esoteric notion of the creation rebelling against its apparently deistic, absent creator god (Tyrell). As with "David" in A.I. (the Spielberg/Kubrick film), or Data in Star Trek, or the Borg in Star Trek, the Nexus 6 Replicants are the first to develop actual emotions and later, a Soul.
Luciferian Illuminism wants God, the gnostic deity to be removed from creation – he is an architect who works with already existing prima materia (and prima materia is essential to alchemy); not a Creator ex nihilo and that is precisely how that being is presented in Blake's famous painting. Hollywood has pushed these notions for decades now because these are the real issues of our day.
Satanic Sauron always created a bad copy - from Elves to the Orc, from nature to dirty smoke and industry - and it is the same now as it has always been.

Blade Runner is a story of what it means to be human, what it means to die, and whether death can eventually be cheated, as the elites believe, through alchemical technological transhumanism - loaded into the machine of the Left Hand Path rather than becoming Enlightened on the Right Hand Path and that true enlightenment is possible.
The viewer has been taken on a ride–an initiatory journey like Deckard, and shown the methodology and worldview of the elite themselves, in what H.G. Wells termed the "open conspiracy," providing one has eyes to see, of course and they don't remain, "Wide Shut". We are, then, ever in the garden as Adam and Eve were, and this is what Ridley Scott wants us to ponder. In this way, the highest levels of Illuminism are revealed, Christ is revealed and the ancient mysteries signify alchemical and technological transformation into extended mechanical psychopathic life and onwards, further into the search for the Enlightened fire of the gods and immortality: -
Blade Runner, the story of Prometheus, the story of Illumination, The Opening of the Heart, The story of Enlightenment.



If you are tired of all the many systems of meditation which leave questions unanswered and where the path to enlightenment is ill defined and uncertain then don't delay end the suffering as soon as possible – learn Energy Enhancement
Jean, FROM THE SEPTEMBER 2005 ENERGY ENHANCEMENT COURSE
THIS MONTH ONLY!! 50% REDUCTION IN THE STREAMING VIDEO PRICE!! SPEED UP YOUR PROCESS AND GET THE FOUR LEVEL COURSE NOW!!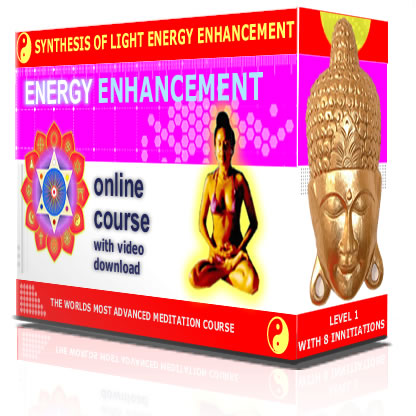 FREE!! First Streaming Video Initiation below - Email us...

Join the mailing list AGAIN!! and receive the 8 Initiations of Level One of the Streaming Video Energy Enhancement Course over 8 months - Free!!

Practise a little meditation every day with the Energy Enhancement Course and ask questions of Satchidanand by email - USE THE ENERGY ENHANCEMENT KUNDALINI KEY, CONSCIOUSLY REMOVED FROM ALL OTHER MEDITATION COURSES, TO SPEED UP THE PROCESS OF ENLIGHTENMENT, TO ACCESS INFINITE ENERGY FROM THE CHAKRAS ABOVE THE HEAD, TO INCREASE PSYCHIC VISION, PSYCHIC POWERS AND REMOVE ENERGY BLOCKAGES.

The future doesn't have to be the way its going. We create the future!!

There's a bright future for those who see the future and move in the right direction with Energy Enhancement.

Meditation has been used for 5000 years as the premiere method to self awareness and enlightenment.

We have had many dedicated students on the Energy Enhancement Course, with over 50 fantastic reports of the course.

We teach and charge for Energy Enhancement Initiations by the level - Streaming Videos, or Live Courses.

We recommend to practise One or Two levels of the Energy Enhancement Streaming Video Course with meditation questions to Satchidanand prior to a Live Course

Level One - The Gaining Of Massive Energy Energy is the Kundalini Kriyas, VITRIOL, The Grounding of Negative Energies, Solar Fusion of the Crown Chakra and Psychic Protection We have 15 Hours of Tuition by Video for this.

Level Two is The Removal of Energy Blockages which needs the energy of level One in order to activate the Seven Step Process of Blockages Removal. We have streaming Videos Online to learn Levels 1 to 4 in the comfort of your own home.
We have a Live Course which Takes 28 Days of study to learn and Practise Level One and Level Two. Same for level Three - Remove ancient Karma and Level Four Master Relationships in Iguassu, Brazil.

Brazil AT IGUAZU FALLS Two LEVEL Courses 2013 -- Two to Four LEVEL Course Start at the Energy Enhancement Ashram at Iguazu Falls with Satchidanand !! Plus Free Reiki Initiation One

In order to access Illumination and increase the Kundalini Cosmic Energies which enter from Chakras outside the Body usually we need to remove energy blockages using Energy Enhancement Ancient and Effective techniques.- The Seven Step Process of Level 2. .

Illumination and Enlightenment are the removal of ALL Energy Blockages!!

Research..
EE HOME PAGE INTRODUCTION https://www.energyenhancement.org/
EE LEVEL 1 POWER UP!! GAIN SUPER ENERGY https://www.energyenhancement.org/Level1.htm
EE LEVEL 2 ELIMINATE ENERGY BLOCKAGES https://www.energyenhancement.org/Level2.htm
EE LEVEL 3 CLEAN KARMA BLOCKAGES AND PAST LIFE KARMA BY TRANSMUTATION https://www.energyenhancement.org/Level3.htm
EE LEVEL 4 MASTER ENERGY CONNECTIONS AND RELATIONSHIPS https://www.energyenhancement.org/Level4.htm

THE NEW ENERGY ENHANCEMENT MEDITATION STREAMING VIDEO COURSE - BECOME A STUDENT OF ENERGY ENHANCEMENT MEDITATION

BUY THE ENERGY ENHANCEMENT MEDITATION VIDEO

GET THE BENEFITS OF ENERGY ENHANCEMENT MEDITATION

START NOW!!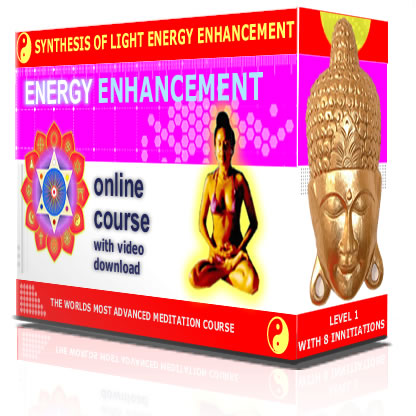 INTENSIVE VIDEO COURSE STREAMING VIDEO - sent by email QUICK!! - Buy Now

EMAIL sol@energyenhancement.org

Buy Now!!




HERE ARE SOME OF SATCHIDANAND'S TEACHINGS USING THE GREAT MOVIES BELOW..

SPIRITUAL MOVIE LIST THE MOVIE REVIEWS OF SATCHIDANAND: DIRECTORY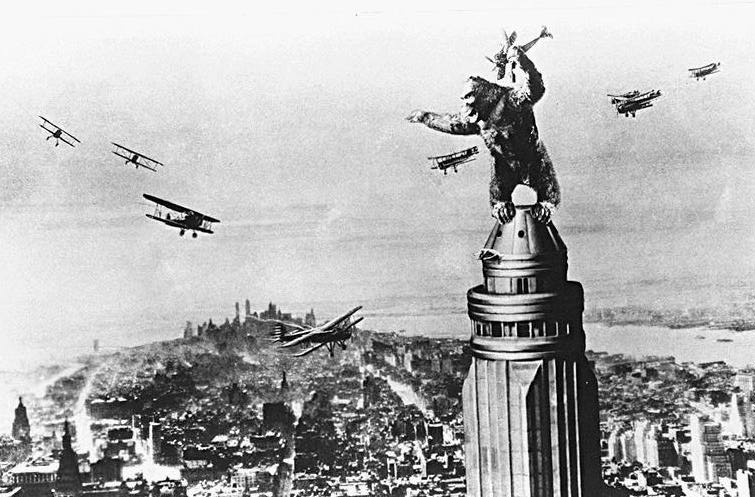 CLICK ABOVE

CLICK HERE FOR King Kong<> Movie - Meditation The Ego and the Soul

King Kong symbolises the Ego. As we ascend the Empire State building of the Antahkarana to the soul, then the ego must die and slip away.

As it says in the Movie as a Sufi saying - And the Prophet said, 'And lo, the beast looked upon the face of beauty. And it stayed its hand from killing. And from that day, it was as one dead.'

The beloved, beauty, is the soul, is God.

This is the Sufi secret of the Troubadours and the Jesters (from Chisti)* who introduced the concept of courtly love in romantic poetry into Europe. Only the knowledge of the true self, the Soul, can overcome the selfish, competitive Ego, red in tooth and claw.

*Hazrat Nizamuddin Awlia Chisti (died.1325 A.D in Nizamuddin in Delhi.) represents in many ways the pinnacle of the Chisti* Order of the Sufis. "The heart of a lover (True lover of God) constantly burns with the fire of love, so much so that whatever impurity which intrudes upon its sanctity is burnt to ashes". The blockages which cut us off from our souls are burnt to ashes through the practise of meditation and the higher practices of meditation called Energy Enhancement.
THE KING KONG EGO, RED IN TOOTH AND CLAW
King Kong symbolises the Ego. As we ascend the Empire State building of the Antahkarana to the soul, then the ego must die and slip away.
CLICK ABOVE
APOCALYPSE NOW - THE HORROR OF THE BRANDO KURTZ SPLIT EGO AND THE TRAUMA THAT SPLITS IT CREATING DID AND MPD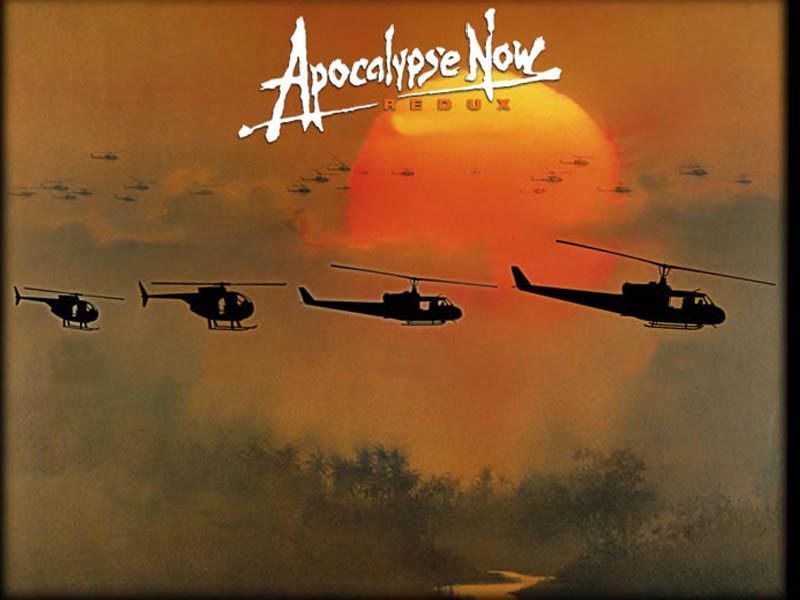 CLICK ABOVE
Well first of all, what makes a good movie? And what makes an Incredibly Profitable and Successful Movie? Because usually, the two go together, unless the bad guys against evolution successfully oppose.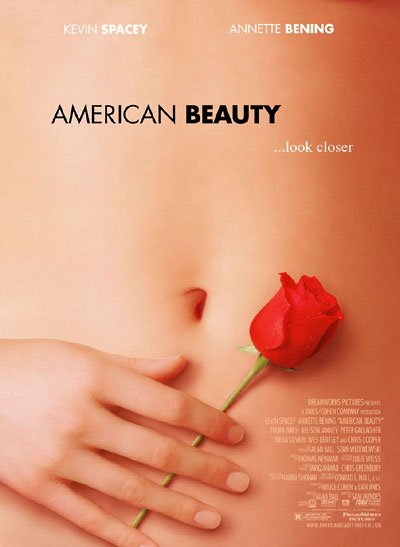 Energy Enhancement and the Lord of the Rings.
CLICK ABOVE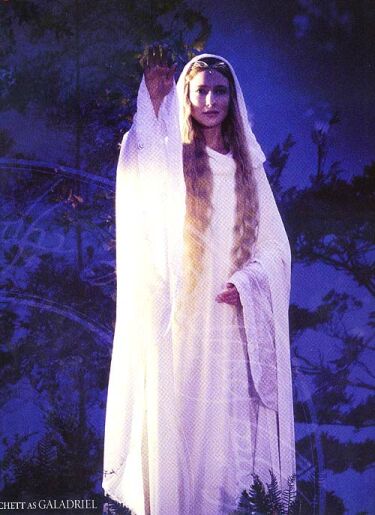 Healer, Highly Evolved Elven Air Ring Bearer .
CLICK ABOVE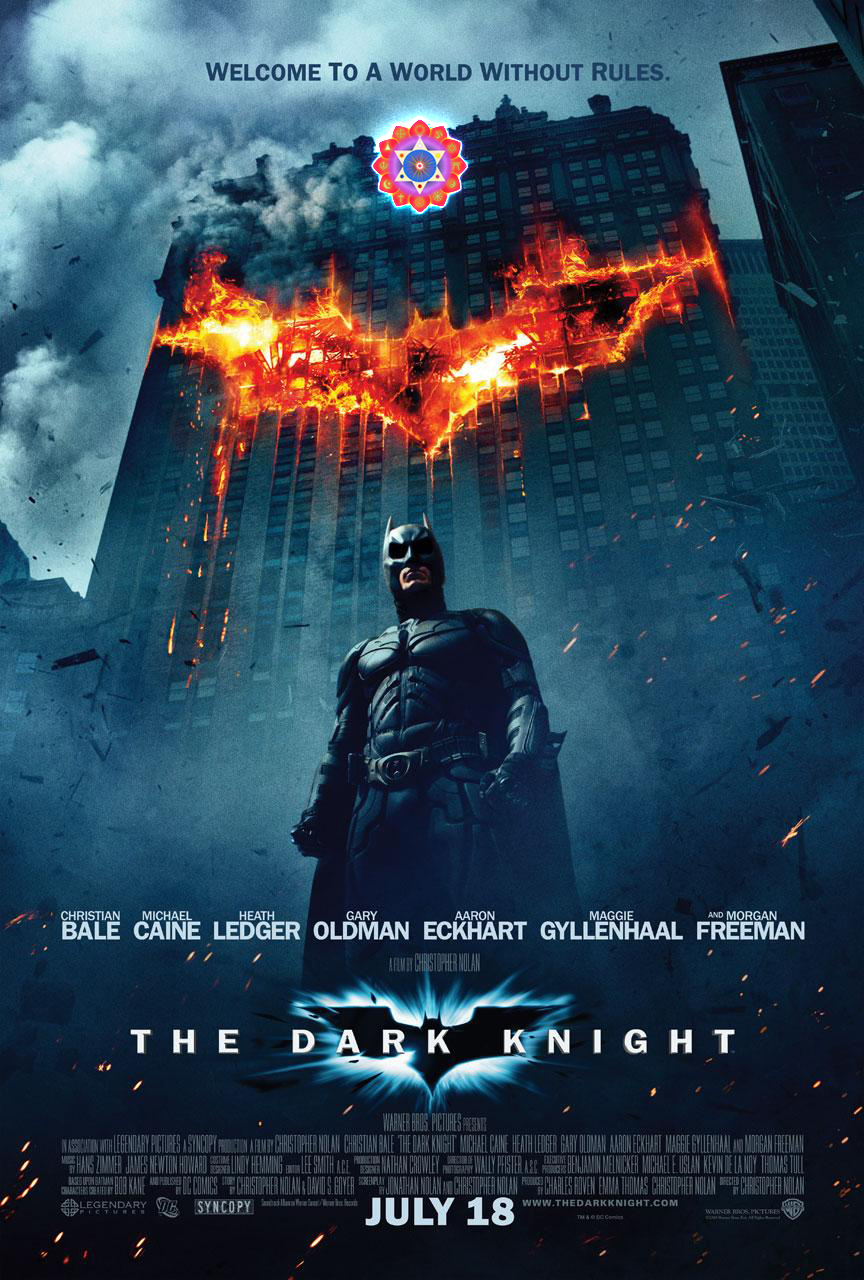 WATCHMEN MOVIE
CLICK ABOVE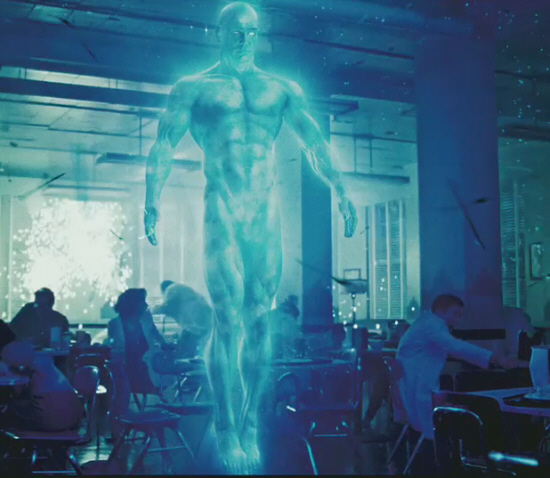 Existentialism and Kubrick's Psychopaths,
Society and Human Nature in the Films, Movies of Stanley Kubrick
CLICK ABOVE
Introduction - Existentialism and Kubrick's Psychopaths

To my mind, no-one has brought up the similarity between existentialists and Psychopaths. An existentialist is a person cut off from their soul conscience and from their heart sympathy, living in a flat, intellectual drab wasteland devoid of meaning. And it is only the heart and the soul which give life meaning and significance, not the intellect.
Why are there psychopaths? And the answer is contained in the chakra multi-processor model of the human being together with the concept of Energy Blockages which block and cut off some chakra functions like soul conscience which conquers selfish desire and heart sympathy which allows you to imagine yourself in another persons place, Gurdjieffian external consideration, whilst sometimes leaving courage and the intellect intact.
Jean-Sylvain Bailly was a leader of the french revolution betrayed and guillotined before he could fulfil his purpose. Bailly's Nature - In the opening words of his 1768 Eulogy of Leibniz, the universal genius who died in 1716, Bailly wrote the following beautiful and eloquent statement, which reveals quite strikingly the noble character of the man: It also points out that he believed that certain people had been sent to earth for a purpose. And that these people exist in all levels of life..

"Nature is just; she equally distributes all that is necessary to the individual put on earth to live, work, and die; she reserves to a small number of human beings, however, the right to enlighten the world, and by entrusting them with the lights that they must diffuse across their century, she says to one, you shall observe my phenomena, to the other, you shall be a geometer; she calls on this one for the purpose of legislation; she calls on this other one to paint the morals of people, of revolutions, and of empires.

These geniuses pass away after they have perfected human reason, and leave behind them a great memory. But all of them have traveled on different routes: Only one man elevated himself, and dared to become universal, a man whose strong will synthesized the spirit of invention, and the spirit of method, and who seemed to have been born to tell the human race: Behold and know the dignity of your species! These are the traits by which Europe has given recognition to Leibniz."
Here are some of the geniuses of Film...
Some other Examples of great spiritual films not understood by the mildly psychopathic movie critics;- Star Wars, The Sixth Sense, The Shawshank Redemption, Gladiator, Brubaker, Ghost, Francis Ford Coppola's Godfather Trilogy, Apocalypse Now and Dracula, ET, Forrest Gump where Forrest is the Base Chakra idiot descender and his Druggie Californian girlfriend the Higher chakras ascender - the only solution is their union in their child, The Last Samurai, Constantine, The Matrix Trilogy, Raiders of the Lost Ark, Ghostbusters, Fallen, Groundhog Day, American Beauty, Jerry Maguire, The Green Mile.
Lesson, if you want a movie with heart know that the psychopathic movie critics will not understand it, the movie will have bad reviews, - the evidence is the Star Wars franchise whose movies have run the gauntlet of hate from every movie critic who still cannot understand why they are so popular, it's because most critics just have no heart or soul.
Most directors and film critics are intellectual existentialists without heart, merely pretending to have heart, merely going through the motions, like all psychopaths - this is one of the definitions of a psychopath. An example is Big Fish and Life Aquatic but these films are the majority.
Pschopaths do not care whether a film has heart or soul or meaning or significance. They cannot see it, they do not understand it, as this requires a paradigm shift for them to see Heart and Soul!! These people only make up 50% of the population.
Those people with a heart require intellectual ability but also heart and soul. These people make up the other 50% of the people. Thus to satisfy more viewers and be popular AND Profitable, a film needs to contain Intellect, Heart, Soul and significance.
Films "Full of sound and fury, signifying Nothing" quote from Shakespeare, make little money. And Shakespeare should know because his plays have run and been popular for more time than any others!
Yet the films of Kubrick are good teachings about those people who are existentialist psychopaths. For that reason they are good teaching tools for Energy Enhancement techniques.
Energy Enhancement gives advanced techniques for removing energy blockages in the heart and above the head, thus connecting you with your heart and the soul!!
CLICK ABOVE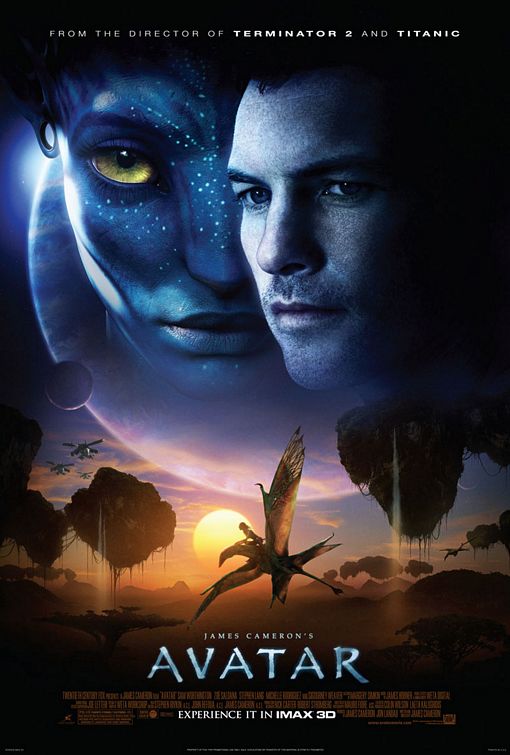 SPIDERMAN THREE AND NEGATIVE KARMIC MASS - VENOM!!

CLICK ABOVE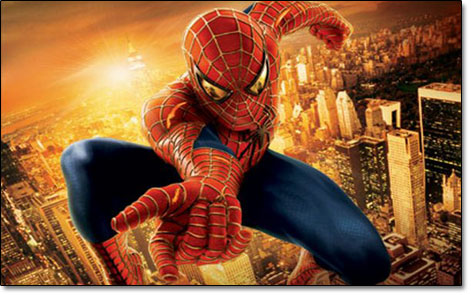 I

N THIS MOVIE - SPIDERMAN THREE, SPIDERMAN GETS COATED IN A SUIT OF BLACK VENOM - TRAUMA-FORMED NEGATIVE KARMIC MASS - BLACK VENOM!! THIS CAUSES HIM TO BECOME EGOTISTICAL AND ACT IN A BAD WAY... JUST AS ALL ENERGY BLOCKAGES AFFECT YOUR LIVES

George Lucas, Star Wars, the Revenge of the Sith

HOW TO BECOME A PSYCHOPATH FROM THE DARK SIDE .. CLICK ABOVE

<>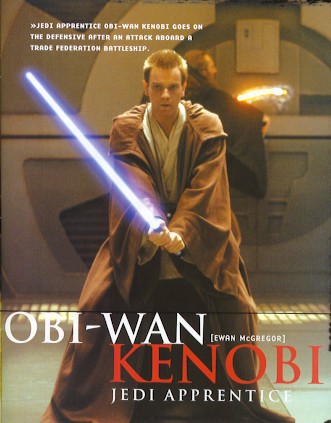 "Blade Runner" by Ridley Scott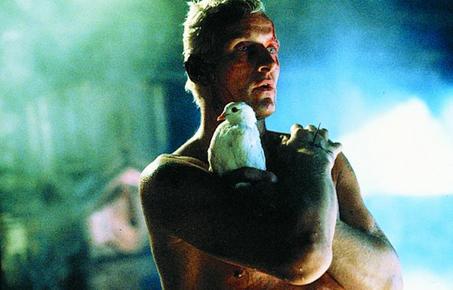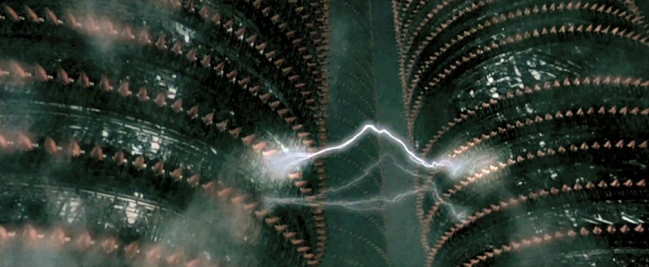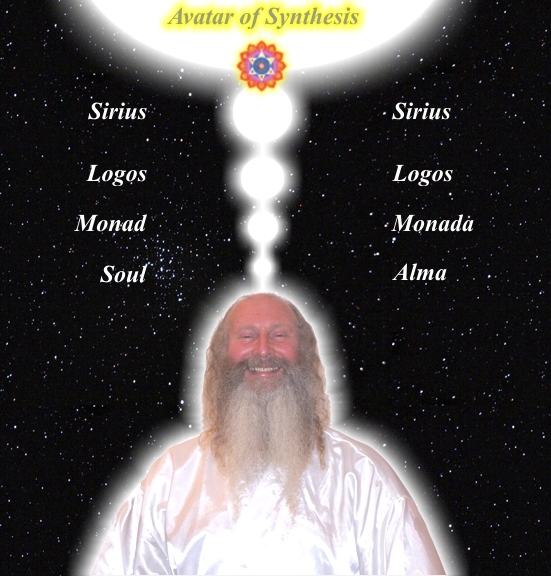 THE DAN BROWN DA VINCI CODE, THE HOLY GRAIL, THE CHRIST ENERGY, THE MEROVINGIANS AND SEXUAL RITUALS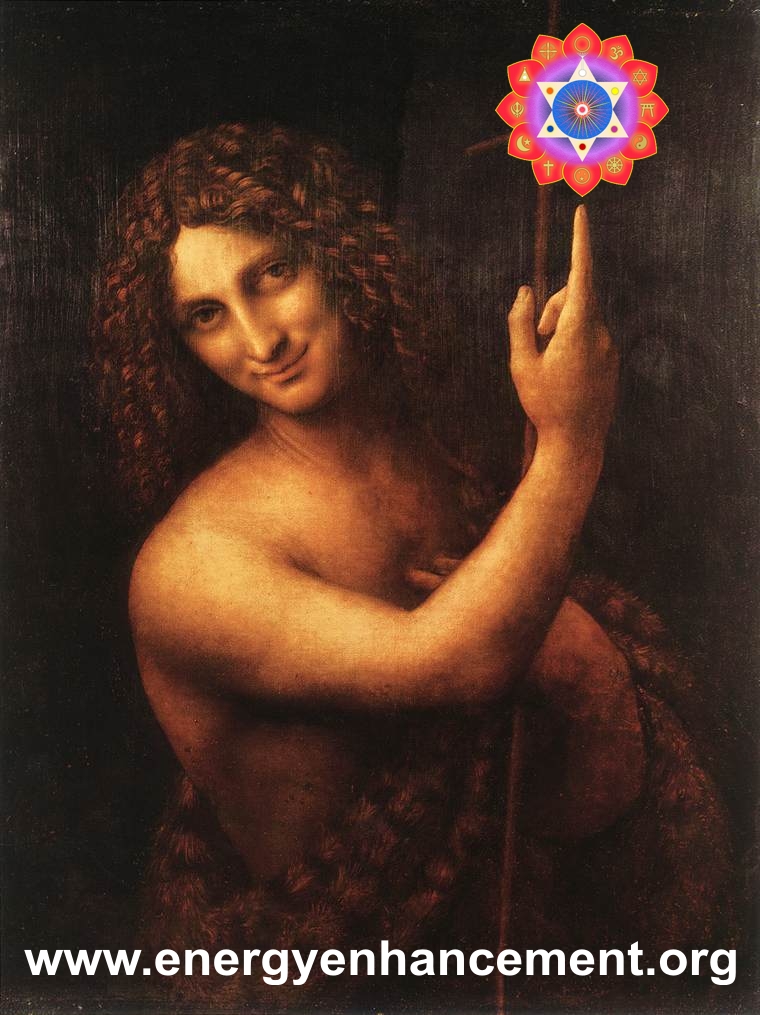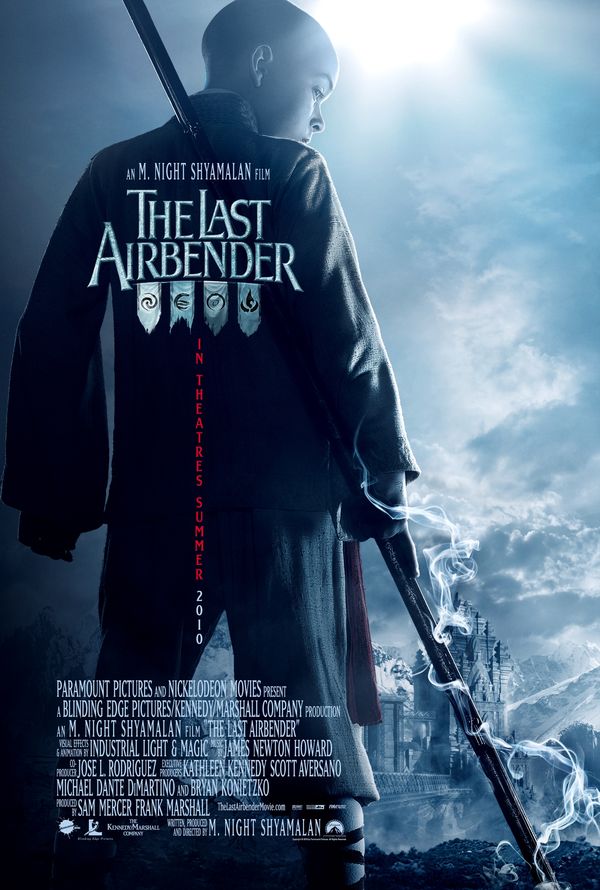 SPIRITUAL MOVIE LIST THE MOVIE REVIEWS OF SATCHIDANAND: DIRECTORY
POWER UP WITH
THE ENERGY ENHANCEMENT COURSE
THAILAND
email sol@energyenhancement.org
THAILAND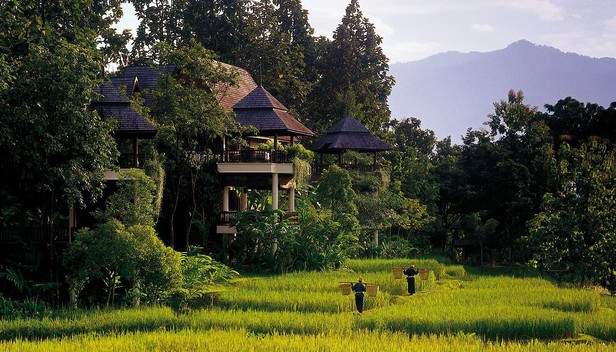 CHIANG MAI - THAILAND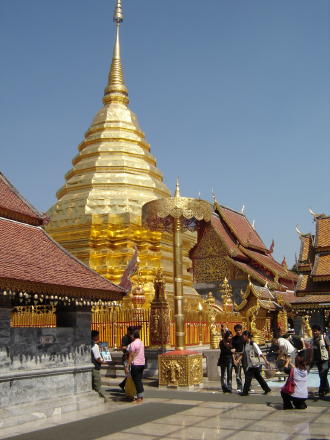 I CHALLENGE ALL SKEPTICS - ANYWHERE IN THE WORLD - COME ON A LIVE ENERGY ENHANCEMENT COURSE AND IF YOU DON'T GET DIRECT SPIRITUAL EXPERIENCE WE WILL GIVE YOUR YOUR MONEY BACK!!

GAIN ENERGY

REMOVE ENERGY BLOCKAGES

SPEED UP THE PROCESS OF ENLIGHTENMENT!!

IF YOU ARE INTERESTED IN ENERGY ENHANCEMENT LIVE COURSES CONSIDER THIS YEAR...

USA - CALIFORNIA

EUROPE - SPAIN

SOUTH BRAZIL - IGUASSU

INDIA - TAJ MAHAL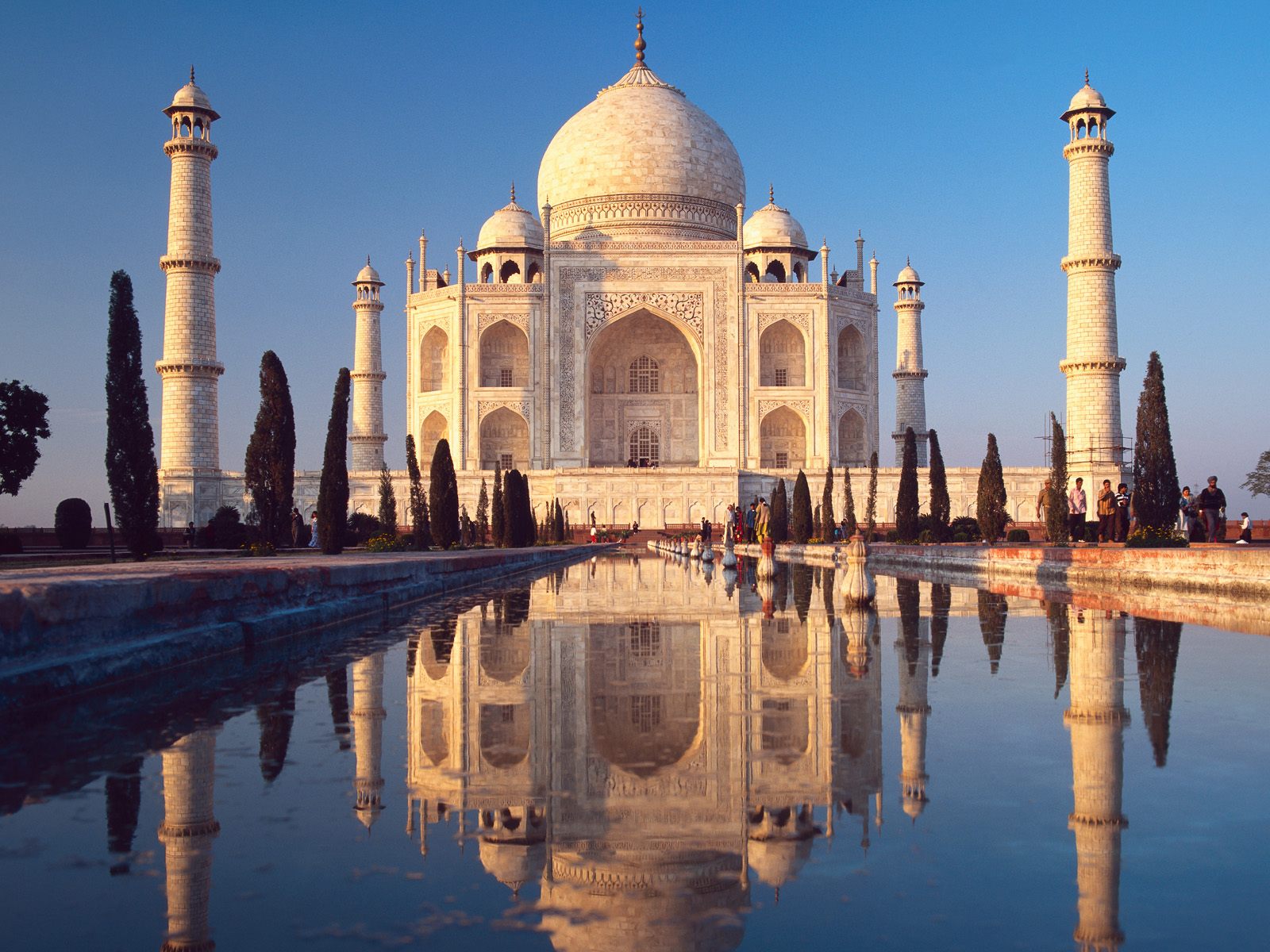 THAILAND
GET BACK TO US FOR DETAILS
email
sol@energyenhancement.org
for details
All these Psychic Powers in Heroes, Star Wars etc. I wish they would develop the Psychic Power of Being Good, Doing Good!!
But this only occurs in Integration, Enlightenment, Illumination, Soul Fusion!! Energy Enhancement.
ARE YOU ANGRY MR SUFI?
---
---
---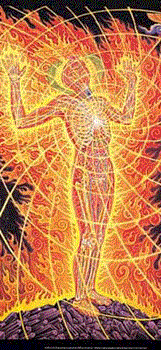 THE SUFI MASTER, AJNABI SAID, 'WRITE TO MULLA FIROZ AND TELL HIM THAT I HAVE NO TIME TO ENGAGE HIM IN CORRESPONDENCE, AND THEREFORE HAVE NOTHING TO SAY TO HIS LETTER.'

THE DISCIPLE, AMINI, SAID, 'IS IT YOUR INTENTION TO ANNOY HIM WITH THIS LETTER?'

AJNABI SAID, 'HE HAS BEEN ANNOYED BY SOME OF MY WRITINGS. THIS ANNOYANCE HAS CAUSED HIM TO WRITE TO ME. MY PURPOSE IN WRITING THE PASSAGE WHICH ANGERS HIM WAS TO ANGER SUCH AS HE.'

AMINI SAID, 'AND THIS LETTER WILL ANGER HIM FURTHER?'

AJNABI SAID, 'YES. WHEN HE WAS ENRAGED AT WHAT I WROTE, HE DID NOT OBSERVE HIS OWN ANGER, WHICH WAS MY INTENTION. HE THOUGHT THAT HE WAS OBSERVING ME, WHEREAS HE WAS ONLY FEELING ANGRY. NOW I WRITE AGAIN, TO AROUSE HIS ANGER, SO THAT HE WILL SEE THAT HE IS ANGRY. THE OBJECTIVE IS FOR THE MAN TO REALISE THAT MY WORK IS A MIRROR IN WHICH HE SEES HIMSELF.'

AMINI SAID, 'THE PEOPLE OF THE ORDINARY WORLD ALWAYS REGARD THOSE WHO CAUSE ANGER AS ILL-INTENTIONED.'

AJNABI SAID, 'THE CHILD MAY REGARD THE ADULT WHO TRIES TO REMOVE A THORN FROM HIS HAND AS ILL-INTENTIONED. IS THAT A JUSTIFICATION FOR TRYING TO PREVENT THE CHILD FROM GROWING UP?'

AMINI SAID, 'AND IF THE CHILD HARBOURS A GRUDGE AGAINST THE ADULT WHO REMOVES THE THORN?'

AJNABI SAID, 'THE CHILD DOES NOT REALLY HARBOUR THAT GRUDGE, BECAUSE SOMETHING IN HIM KNOWS THE TRUTH.'
AMINI ASKED HIM, 'BUT WHAT HAPPENS IF HE NEVER GETS TO KNOW HIMSELF, AND YET CONTINUES TO IMAGINE THAT OTHERS ARE MOTIVATED BY PERSONAL FEELINGS?'

AJNABI SAID, 'IF HE NEVER GETS TO KNOW HIMSELF, IT MAKES NO DIFFERENCE AS TO WHAT HE THINKS OF OTHER PEOPLE, BECAUSE HE CAN NEVER HAVE ANY APPRECIATION OF WHAT OTHERS ARE REALLY LIKE.'

AMINI ASKED, 'IS IT NOT POSSIBLE, INSTEAD OF AROUSING ANGER A SECOND TIME, TO EXPLAIN THAT THE ORIGINAL WRITING WAS COMPOSED FOR THIS PURPOSE, AND TO INVITE MULLA TO REVIEW HIS PREVIOUS FEELINGS?'

AJNABI SAID, 'IT IS POSSIBLE TO DO THIS, BUT IT WILL HAVE NO EFFECT. RATHER IT WILL HAVE AN ADVERSE EFFECT. IF YOU TELL THE MAN YOUR REASON HE WILL IMAGINE THAT YOU ARE EXCUSING YOURSELF, AND THIS WILL AROUSE IN HIM SENTIMENTS WHICH ARE HARMFUL ONLY TO HIM. THUS, BY EXPLAINING, YOU ARE ACTUALLY ACTING TO HIS DETRIMENT.'

AMINI SAID, 'ARE THERE NO EXCEPTIONS TO THIS RULE -- THAT MAN MUST LEARN THROUGH REALISING HIS OWN STATE, AND THAT HIS STATE CANNOT BE EXPLAINED TO HIM?'

AJNABI SAID, 'THERE ARE EXCEPTIONS. BUT IF THERE WERE ENOUGH EXCEPTIONS TO MAKE ANY DIFFERENCE TO THE WORLD, WE WOULD NOT BY NOW HAVE ANY MULLA FIROZES LEFT.'


<>

MAN'S being is very simple, but his personality is not. The personality is very complex. The personality is like an onion -- there are many layers of conditioning, corruption, poisoning. Hidden behind many layers -- what Sufis call filters -- is man's simple being. But that simple being is behind so many filters that you cannot see it. And hidden behind these many filters, you cannot see the world either -- because whatsoever reaches you is corrupted by the filters before it reaches you. Nothing ever reaches you as it is; you go on missing it. There are many interpreters in between.

You see something. First your eyes and your senses falsify. Then your ideology, your religion, your society, your church -- they falsify. Then your emotions -- they falsify. And so on and so forth. By the time it reaches to you it has almost nothing of the original, or so little that it makes no difference. You see something only if your filters allow it, and the filters don't allow much.

Scientists agree with the Sufis. Scientists say we see only two per cent of reality. Only two per cent! Ninety-eight per cent is missed. When you are listening to me you will hear only two per cent of what has been told, of what has been said. Ninety-eight per cent will be lost. and when the ninety-eight per cent is lost, that two per cent is out of context. It is as if you have taken two pages from a novel, at random -- one from here, one from there -- and then you start reconstructing the whole novel from these two pages. Ninety-eight pages are missing. You have no inkling what they were; you don't even know that they were. You have only two pages and you reconstruct the whole novel again. This reconstruction is your invention. It is not discovery of truth, it is your imagination.

And there is an inner neCessity to fill the gaps. Whenever you see that two things are unrelated, the mind has an inner urgency to relate them. Otherwise it feels very uneasy. So you invent a link, you fix those loose things with a link, you bridge them. And you go on inventing a world that is not there.

So before we can enter into this small but immensely valuable dialogue between the Master and the disciple, you will have to understand these layers, these filters.

Gurdjieff used to call these filters 'buffers'. They protect you against reality. They protect your lies, they protect your dreams, they protect your projections. They don't allow you to come into contact with reality because the very contact is going to be shattering, shocking. Man lives through lies.

Frederick Nietzsche is reported to have said, 'Please don't take the lies away from humanity, otherwise man will not be able to live. Man lives through lies. Don't take the fictions away, don't destroy the myths. Don't tell the truth because man cannot live by truth.' And he is right about ninety-nine point nine per cent of people. But what kind of life can there be through lies? It will be a big lie itself. And what kind of happiness is possible through lies? There is no possibility; hence humanity is in misery. With truth is bliss; with lies there is only misery and nothing else.

But we go on protecting those lies. Those lies are comfortable, but they keep you protected against bliss, against truth, against God.

Sufis say that man is exactly like an onion. And religion is the art of how to peel the onion and come to it's innermost core. And what is the innermost core of an onion? Have you ever peeled an onion? You go on peeling one layer. another layer, and another, and so on and so forth. Then a point comes when the last layer is taken off and only emptiness is left in your hand. That is FANA. If you go on peeling your being, the last layer will be of being -- BAKA -- and beyond that will be emptiness -- FANA.

So you can think in this way: at the very innermost core there is emptiness, pure sky, nothingness, FANA. The first layer around FANA is that of BAKA, individuality -- what religions call the self, ATMAN, the soul. But the soul is already a step away from your being. The self is already distant from your being. Buddha has the right word for it. He calls it ANATTA, no-self. Your innermost being is a non-being. Nothing is there, or only nothing is. The first layer, the first fence that surrounds it, is BAKA, individuality.

This is your true and simple being: non-being surrounded by being, defined by being.

The real core is empty but the emptiness has to be defined by something -- otherwise there will be no division between you and anything else. So a thin. a very thin, layer of being divides you. But that being is also a circumference not the centre. At the centre is FANA, dissolution, disappearance. Even at the point of BAKA, individuality, you don't meet God, you are still there. Very little is left of you, but there is still just a thin line -- even that has to disappear in FANA. Then you enter God.

Start from the other end. Start peeling the onion.

The first layer is made of corrupted physical senses. Never for a single moment think that your physical senses are as they should be -- they are not. They have been trained. You see things it your society allows you to see them. You hear things if your society allows you to hear them. You touch things if your society allows you to touch them.

Man has lost many of his senses -- for example, smell. Man has almost lost smell. Just see a dog and his capacity to smell -- how sensitive is his nose! Man seems to be very poor. What has happened to man's nose? Why can't he smell so deeply as a dog or as a horse? The horse can smell for miles. The dog has an immense memory of smells. Man has no memory. Something is blocking the nose.

Those who have been working deep into these layers say that it is because of the repression of sex that smell is lost. Physically man is as sensitive as any other animal, but psychologically his nose has been corrupted. Smell is one of the most sexual doors into your body. It is through smell that animals start feeling whether a male is in tune with the female or not. The smell is a subtle hint. When the female is ready to make love to the male she releases a certain kind of smell. Only through that smell does the male understand that he is acceptable. If that smell is not released by the feminine sexual organism, the male moves away; he is not accepted.

Man has destroyed smell because it will be difficult to create a so-called cultured society if your sense of smell remains natural. You are moving on the road and a woman starts smelling and gives you a signal of acceptance. She is somebody else's wife; her husband is with her. The signal is there that you are acceptable. What will you do? It will be awkward, embarrassing.

Your wife is walking with you and there is no smell from her body, and suddenly a man passes by and she gives the signal. And those are very unconscious signals; you cannot control them suddenly. Then you will become aware that she is interested in the other man, that she is welcoming the other man. That will create trouble. So down the centuries man has destroyed smell completely.

It is not just accidental that in cultured countries much time is wasted in removing all kinds of smell from the body. The body odour has to be completely destroyed by deodorants, deodorant soaps. It has to be covered by layers of perfume, strong perfume. These are all disguises; these are ways to avoid a reality that is still there.

When you make love, both male and female release a certain kind of smell. That smell has to be destroyed because if the man is making love to the woman and the woman is not really into it she will not release the smell. The man will be offended, hurt. He will immediately feel that the woman is not having any orgasm. And the male ego will feel very offended. The smell has to be destroyed completely, so that the man never knows that the woman was simply pretending that she was having an orgasm, just making empty gestures, befooling him, buttressing his ego. And he feels satisfied because the woman looks satisfied. But once the smell is destroyed, there is no way to detect whether she is really satisfied or not.

Smell is very sexual, that's why we have destroyed the nose, utterly destroyed the nose. Even in language you can see the difference. To see means one thing; to hear, one thing -- but to smell means just the opposite. To see means a capacity to see, but to smell does not mean the capacity to smell. It means that you are smelly. Even in language the repression has entered. And the same has happened with other senses.

You don't see people eye to eye; or, if you do see them, it is only for a few seconds. You don't see people really; you go on avoiding. If you see, it is thought to be offensive. Just remember, do you really see people? Or do you go on avoiding their eyes? -- because if you don't avoid them then you may be able to see a few things which the person is not willing to show. It is not good manners to see something that he is not willing to show, so it is better to avoid. We listen t,, the words, we don't see the face -- because many times the words and the face are contradictory. A man is saying one thing and he is showing another. Gradually we have completely lost the sense of seeing the face, the eyes, the gestures. We only listen to the words. Just watch this and you will be surprised how people go on saying one thing and showing another. And nobody detects it because you have been trained not to look directly into the face. Or, even if you look, the look is not that of awareness, not that of attention. It is empty; it is almost as if you are not looking.

We hear sounds by choice. We don't hear all kinds of sounds. We choose. Whatsoever is useful we hear. And to different societies and different countries, different things are valuable. A man who lives in a primitive world, in a forest, in a jungle, has a different kind of receptivity for sounds. He has to be continuously alert and aware of the animals. His life is in danger. You need not be alert. You live in a cultured world where animals don't exist any more and there is no fear. Your survival is not at stake. Your ears don't function perfectly because there is no need.

Have you seen a hare or a deer? How attentive they are, how sensitive. Just a small sound -- a dead leaf stirred by the wind -- and the deer is alert. You would not have noticed it at all. And great music surrounds life, subtle music surrounds life, but we are absolutely unaware of it. There is great rhythm -- but to feel it you will need more alert ears, more alert eyes, a more alert touch.

So the first layer is of corrupted physical senses. We see only what we want to see. Our whole body mechanism is poisoned. Our body has been made rigid. We live in a kind of frozenness; we are cold, closed, unavailable. We are so afraid of life that we have killed all kinds of possibilities through which life can make a contact with us.

People don't touch each other, they don't hold hands, they don't hug each other. And when you hold somebody's hand, you feel embarrassed, he feels embarrassed. Even if you hug somebody, it feels as if something wrong is happening. And you are in a hurry to get away from the other's body, because the other's body can open you. The warmth of the other's body can open you. Even children are not allowed to hug their parents. There is great fear.

And all fear is basically, deep down, rooted in the fear of sex. There is a taboo against sex. A mother cannot hug her son because the son may get sexually aroused -- that is the fear. A father cannot hug his daughter. He is afraid he may get physically aroused. Warmth has its own ways of working. Nothing is wrong in being physically aroused or sexually aroused. It is simply a sign that one is alive. that one is immensely alive. But the fear, the sex taboo, says keep away, keep a distance.

Sudha's father was dying; he was very old. He was my sannyasin. And Sudha was very much puzzled because before he died his hands would go again and again to his genital organs. His hands had to be pulled away. And she was puzzled and worried, naturally. What was happening to her father? Was there some sexual repression? Why did his hands go to the sexual organs, to the genitals, again and again? And he was almost unconscious.

It happens to many people when they are dying. One of the reasons is repression, but only one. They are losing the social consciousness; they are losing the conditioning. This first layer of corrupted senses is disappearing; death is moving in. And they are becoming small children again. Small children play with their genital organs; they have not yet been corrupted. They enjoy their bodies, they love their bodies. They are playful about it, it is fun.

Now the man is no longer old; he is becoming younger again. Death is taking the layer away -- that is one thing. Another thing is that when a man dies, for a single moment all his senses become totally alive as they would have been if they had not been corrupted. It is like a flame before a lamp goes out -- the flame burns brightly, with intensity, for a single second. Exactly the same happens when life is going out. For a single moment the last effort is made to live, and one burns bright with total sensitivity.

Another reason: when a man is dying the circle is complete -- naturally death is very close to birth. Death is very close to life; it is the very crescendo of life. Life comes out of sex energy and life is moving back into sex energy.

But all our senses are corrupted. We have not been allowed to be natural -- -hence man has lost dignity, innocence, grace, elegance. This is the first layer. And because of all these repressions the body has become non-orgasmic. There is no joy -- it has happened both to man and woman, in almost the same way, but man has gone deeper into corruption than woman -- because man is perfectionistic, neurotically perfectionistic. Once he gets an idea, he tries to go to the very extreme of it. Women are more practical, less perfectionistic, less neurotic, more earthly, more balanced, less intellectual, more intuitive. They have not gone to the very end. It is good that women have not become as neurotic as men -- that's why they still retain some dignity, some grace, some roundness of being, some poetry. But both have been corrupted by the society, both have become hard. Men more, women a little less, but the difference is only of degrees.

Because of this layer, everything that enters you has to pass this filter first, and this filter destroys, interprets, manipulates, gives new colours of its own, projects, invents -- and the reality becomes very garbed. When this layer disappears.... That is the whole effort of yoga: to make your body alive, sensitive, young again, to give your senses their maximum functioning. Then one functions with no taboos around; then lucidity, grace, beauty flow. Warmth arises again, openness -- and growth happens. One is constantly new, young, and one is always on an adventure. The body becomes orgasmic. Joy surrounds you.

Through joy the first corruption disappears. Hence my insistence to be joyous, to be celebrating, to enjoy life, to accept the body -- not only to accept it, but to feel grateful that God has given you such a beautiful body, such a sensitive body, with so many doors to relate to reality: eyes and ears and nose and touch. Open all these windows and let life's breeze flow in, let life's sun shine in. Learn to be more sensitive. Use every oppor-tunity to be sensitive so that that first filter is dropped.

If you are sitting on the grass, don't go on pulling it up and destroying it. I had to stop sitting on the lawn -- I used to give darshan on the lawn -- because people would go on destroying the grass, they would go on pulling on the grass. I had to stop it. People are so violent, so unconsciously violent, they don't know what they are doing. And they were told again and again, but within minutes they would forget. They were so restless they didn't know what they were doing. The grass was available to their restlessness so they would start pulling it up and destroying it.

When you are sitting on the grass, close your eyes, become the grass -- be grassy. Feel that you are grass, feel the greenness of the grass, feel the wetness of the grass. Feel the subtle smell that goes on being released by the grass. Feel the dewdrops on the grass -- that they are on you. Feel the sunrays playing on the grass. For a moment be lost into it and you will have a new sense of your body. And do it in all kinds of situations: in a river, in a swimming pool, lying on the beach in the sunrays, looking at the moon in the night, lying down with closed eyes on the sand and feeling the sand. Millions of opportunities are there to make your body alive again. And only you can do it. Society has done its work of corruption, you will have to undo it.

And once you start hearing, seeing, touching, smelling, then you smell the reality.



The second layer is of conditioning: social, political, religious, ideological -- belief systems. Belief systems make you non-communicative. If you are a Hindu and I am a Mohammedan, immediately there is no communication. If you are a man and I am a man, there is communication, but if you are a communist and I am a fascist -- communication stops. All belief systems are destructive to communication, and the whole life is nothing but communicating -- communicating with trees, communicating with rivers, communicating with sun and moon, communicating with people and animals. It is communication; life is communication.

Dialogue disappears when you are burdened with belief systems. How can you really be in a dialogue! You are already too full of your ideas and you think they are absolutely true. When you are listening to the other, you are just being polite, otherwise you don't listen. You know what is right, you are simply waiting until this man finishes and then you jump upon him. Yes, there can be a debate and a discussion and argumentation, but there can be no dialogue. Between two beliefs there is no possibility of dialogue. Beliefs destroy friendship, beliefs destroy humanity, beliefs destroy communion.

So if you want to see and hear and listen, then you will have to drop all belief systems. You can't be a Hindu, you can't be a Mohammedan, you can't be a Christian. You can't afford these kinds of nonsense; you have to be sensible enough to be without beliefs.

Caged in one's own system you are unavailable, and the other is unavailable to you. People are moving like windowless houses. Yes, you come close, sometimes you clash with each other -- but you never meet. Yes, sometimes you touch, but you never meet. You talk, but you never communicate. Everybody is imprisoned in his own conditionings; everybody is carrying his own prison around him. This has to be dropped.

Beliefs create a kind of smugness, and beliefs stop exploration because one becomes afraid. Maybe you come across something which is against your belief -- then what? It will disturb your whole system, so it is better not to explore. Remain confined to a dull, dead, defined world; never go beyond it. It gives you an 'as if' kind of knowledge -- as if one knows. You don't know anything -- you don't know anything about God, but you have a certain belief about God. You don't know anything about truth but you have a theory about truth. This 'as if' is very dangerous. This is a kind of hypnotised state of the mind.

Males and females, all have been conditioned -- although in different ways. Man has been conditioned to be aggressive, to be competitive, to be manipulative, to be egoistic. Man has been prepared for a different kind of work: to be the exploiter, to be the oppressor, and to be the master. Women have been given belief systems to be the slaves. They have been taught how to submit. They have been given a very, very small world, the household. Their whole life has been taken away from them. But once the belief system settles in, the woman accepts it and remains confined to it. And the man accepts his belief system and remains confined to it.

Men have been taught not to cry; tears are not manly so men don't cry. Now what kind of foolishness is this? Crying and weeping sometimes has such a therapeutic effect -- it is needed, it is a must, it unburdens. Man goes on burdening himself because he cannot cry and cannot weep; it is-unmanly. And women have been taught to cry and weep. It is perfectly womanly, so they go on crying and weeping even where it is not needed -- it is just a belief system. They use it as a strategy to manipulate. The woman knows that through argument she will not be able to win over the husband, but she can cry -- that works. So that becomes her argument.

Man is corrupted in one way: he cannot cry. And the woman is corrupted in another way: she starts crying and uses crying as a strategy to dominate. Crying becomes political -- and when your tears are political they lose beauty, they are ugly.

This second conditioning is one of the most difficult things to get rid of, it is very complex. You have a certain political ideology, a certain religious ideology and thousands of other things jumbled together in your mind. They have become so much a part of you that you don't think they are separate from you. When you say 'I am a Hindu,' you don't say that 'I have a belief called Hinduism,' no. You say 'I am a Hindu.' You are identified with Hinduism. If Hinduism is in danger you think you are in danger. If somebody burns a temple you think you are in danger. Or, if somebody burns the Koran, you think you are in danger because you are a Mohammedan.

These belief systems have to be dropped. Then under-standing arises; then readiness to explore, then innocence arises. Then you are surrounded by a sense of mystery, awe, wonder. Then life is no longer a known thing, it is an adventure. It is so mysterious that you can go on exploring; there is no end to it. And you never create any belief, you remain in a state of not-knowing. On that state Sufis insist very much, and so do Zen Masters -- in fact, all great Masters of the world insist on that state. If they agree on any one thing, it is the state of not knowing.

Remain constantly in the state of not-knowing. If you happen to know something, don't make a belief out of it. Go on dropping it, go on throwing it. Don't let it surround you, otherwise sooner or later it will become a hard crust and you will not be available again to life. Remain always childlike -- then communication becomes possible, then dialogue becomes possible. When two people who are in a state of not-knowing talk, there is meeting -- they commune. There is nothing to hinder. You will be able to understand me only if you are in a state of not-knowing, because I am in that state continuously.

With me, communion is possible if you drop your belief systems, otherwise they will hinder the path.

The third filter, the third layer, is pseudo reasoning, rationalisation, explanations, excuses. All are borrowed. Not a single one is your own authentic experience, but they give a kind of satisfaction. You think you are a very rational being. You cannot become rational by accumulating borrowed arguments and proofs. The real reason arises only when you are intelligent. And remember, there is a difference between an intellectual and the man whom I call intelligent. The intellectual is hidden behind the pseudo reasoning. His reasoning may be very logical but it can never be reasonable. His reason is just pseudo, it appears like reason.



Listen, I have heard....

The man was drowning. 'Help, I can't swim! I can't swim!' he cried.

'I can't either,' said the old man sitting on the river bank chewing tobacco. 'But I'm not hollerin' about it!'



Now this is perfectly rational, 'Why are you hollerin' about it? You can't swim, neither can I. So keep quiet.'

But you are sitting on the bank and he is in the river; the situation is different, the context is different.

When Buddha says something, you can repeat the same thing but the context is different. When Mohammed says something, you can repeat exactly the same thing. but it will not mean the same thing -- because the context is different. And the context matters, not what you say. It is not what you say but who you are that matters.



I have heard....

Donnegan sat in the confessional. 'Father,' he moaned, 'I have done something so bad, you are going to throw me out of the church.'

'What did you do, my son?' asked the priest.

'Yesterday,' said Donnegan, 'I saw my wife sashaying in front of me and it got me so excited I grabbed her, ripped off her clothes, threw her down on the floor, and we had sex right then and there.'

'That is a little unusual,' said the priest, 'but no reason for excommunication.'

'Are you sure you're not going to throw me out of the church?'

'Of course not.'

'Well,' said Donnegan, 'they threw us out of the super-market!'



It all depends on the context -- who you are, where you are. It depends from what point of view, from what experience, you utter. I use the same words that you use, but they don't mean the same, they can't mean the same. When I utter them I utter them, when you utter them you utter them. The words are the same but because they come from different spaces they carry a different meaning, a different connotation, different flavours, a different music.

The pseudo reasoning is just apparent reasoning, it is not knowing. It is more for the sake of finding excuses; it is more for the sake of argumentation. In this kind of deceiving, the male mind is very expert. This is the male mind's expertise. He has learned the art very deeply. This filter is very, very strong in the male mind.

Real reasoning arises only when pseudo reasoning has been dropped. What is real reason?

Karl Jaspers has defined it perfectly. He says: Reason is openness, reason is clarity, reason is the will to unity. Reason uses logic, its methods and categories of understanding, just to transcend them. Reason is the ultimate flowering of wisdom.

But not pseudo reasoning. Beware of the pseudo. The pseudo always creates a filter and the real always becomes a door. The real is always a bridge and the pseudo is always a block.

This third, pseudo reasoning layer is one of the greatest disturbances in your being.

The fourth layer is emotionality, sentimentalism. It is pseudo feeling, much ado about nothing, much fuss. The female mind is very expert at this. It is kind of empty; it is just on the surface. It is impotent sympathy; it does not do a thing. If somebody is ill, you sit by their side and you cry. Your crying is not going to help. I he house 1S on tire and you cry. That is not going to help either. This pseudo kind of feeling has to be detected, otherwise you will never know what real feeling is. The real feeling is involvement, commitment. It is empathy not only sympathy. It is action.

Whenever you really feel something in your heart, it immediately transforms you, it becomes action. That is the criterion -- your feeling becomes action. If your feeling just remains a feeling and never becomes an action, then know well it is pseudo. Then you are deceiving yourself or somebody else.

Many times people come to me and they say, 'Osho, we feel much love for you. We understand what you say, but.... ' That 'but' destroys all that they have said before. They say, 'We feel that what you are saying is right, that what you are doing is right, but we cannot become sannyasins.' If you feel that what I am saying is right, if you feel that what I am saying is truth, then how can you avoid becoming sannyasins? It is impossible. Then your feeling would become action, then your feeling would become commitment -- otherwise what is the point?

One can never go against one's heart. If you are still going against your own heart then you must have a pseudo heart -- a pretender. Just as the third is the field for male expertise, the fourth is the field for female expertise.



The fifth layer is corrupted, poisoned instincts, repression, disfiguration.

Gurdjieff used to say that all your centres are overlapping each other, are misplaced, are interfering with each other, are trespassing, and you don't know what is what. Each centre in its own functioning is beautiful, but when it starts interfering into somebody else's functioning, then there is great difficulty; then the whole system goes neurotic.

For example, if your sex centre functions as a sex centre, it is perfectly good. But people have been repressing it so much that in many people the sex centre does not exist in their genitals, it has moved into their head. This is what overlapping is. Now they make love through their head -- hence the great importance of pornography, visualisation. Even while making love to your woman you may be thinking of some beautiful actress -- that you are making love to her. Then suddenly you become interested in making love to your woman. In fact, your own woman is non-existential. It is a kind of masturbation. You are not making love to her, you are making love to somebody else who is not there. You go on fantasising in the head.

Religious repression has disturbed all your centres. It is very difficult even to see that your centres are separate. And, func-tioning in its own field, each centre is perfectly right. When it interferes with another field, then problems arise. Then there is a confusion of your totality. Then you don't know what is what.

Sex can be transformed when it is confined to its own centre, it cannot be transformed from the head. It has created a pseudo centre in the head.



I have heard....

From time to time, saints are allowed to visit the earth in disguise. Saint Theresa had long wanted to pay a visit to Hollywood, but Gabriel, who was in charge of the roster, thought that even a saint would not be able to come through unscathed after visiting the movie capital.

Eventually, however, Saint Theresa persuaded him that no harm would come to her, and she set off on the first available earth-bound cloud.

The weeks stretched into months without any word from earth, so one day a very worried Gabriel put through a telephone call to Los Angeles.

The connection was made, the phone rang, and finally a voice said, 'Terry here -- who is this? Gabby-darling! How absolutely marvellous to hear from you.... '



Now Saint Theresa is no longer Saint Theresa -- she is Terry. And Gabriel is no longer Gabriel -- he is Gabby-darling. Hollywood has corrupted Saint Theresa.

Your so-called saints are only avoiding the world; they are repressed beings. If opportunities are made available to them, they will fall far lower than you. They are just somehow holding themselves back because of the fear of hell and the greed for heaven. But whatsoever you have repressed because of fear or greed remains there. It not only remains there, it becomes unnatural, perverted, moves into deeper realms of your consciousness and unconsciousness. And then it becomes very difficult to uproot it.

Gurdjieff was a Sufi. His whole teaching comes from Sufi Masters. He introduced methods into the Western world of how to demark each centre, and how to allow the centre to function in its own field. The head should function as far as reason is concerned, that's all.

Have you watched? Sometimes people come to me and they say, 'I think I love you.' I think I love you! Love has nothing to do with thinking. How can you think that you love me? But they don't know how to function from the heart directly, even the heart has to go via the head. They cannot simply say, 'I love you.'

Just the other night a beautiful Italian woman took sannyas. I gave her the name 'Prem Nishanga'. She was a woman of the heart, something rare. She was so happy she almost started dancing. There was no need to say anything, her whole body said it. She went into such ecstasy that you can go on saying in a thousand ways, shouting with joy, and it will not be as deep as just by going into ecstasy. I don't know what she was saying because she was saying it in Italian, but her face, her eyes, her hands, her whole body was saying it. There was no need to understand her language; the language was irrelevant. When you say from the heart, no language is needed. When you say from the head, only language can say; there is no other way to say it.

Watch and observe. Let the head function as reason, let the heart function as feeling, let the sex centre function as sex. Let everything function in its own way. Don't allow mechanisms to mix into each other, otherwise you will have corrupted instincts.

When instinct is natural, untabooed, spontaneous, without any inhibition, there is a clarity in your body, a harmony in your body. There is a humming sound in your organism.

The fifth layer is also male expertise.

The sixth layer is corrupted intuition.

There is a phenomenon called intuition of which we have become almost unaware. We don't know that anything like intuition exists -- because intuition is the sixth layer. Those five layers are so thick that one never comes to feel the sixth.

Intuition is a totally different kind of phenomenon from reason. Reason argues; reason uses a process to reach a conclusion. Intuition jumps -- it is a quantum leap. It knows no process. It simply reaches to the conclusion without any process.

There have been many mathematicians who could do any kind of mathematical problem without going into its process. Their functioning was intuitive. You just say the problem and before you have even said it, the conclusion will come. There has not been a time-gap at all. You were saying it, and the moment you finished, or even before you finished, the conclusion has come. Mathematicians have always been puzzled by these freak phenomena. These people -- how do they do it? If a mathematician were going to do this problem it might take three hours or two hours or one hour. Even a computer will take at least a few minutes to do it, but these people don't take a single moment. You say it, and instantly....

So in mathematics, intuition is now a recognised fact. When reason fails, only intuition can work. And all the great scientists have become aware of it: that all their great discoveries are made not by reason but by intuition.

Madame Curie was working for three years upon a certain problem and was trying to solve it from many directions. Every direction failed. One night, utterly exhausted, she went to sleep, and she decided.... The incident is almost like Buddha. That night she decided, 'Now it is enough. I have wasted three years. It seems to be a futile search. I have to drop it.' That night she dropped it, and went to sleep.

In the night she got up in her sleep, she went to her table and wrote the answer. Then she went back, and fell into sleep. In the morning she could not even remember, but the answer was there on the table. And there was nobody in the room, and even if there had been somebody, the answer would not have been possible. She had been working for three years -- one of the greatest minds of this age. But there was nobody and the answer was there. Then she looked more minutely: it was her handwriting! Then suddenly the dream surfaced. She remembered it as if she had seen a dream in the night in which she was sitting at the table and writing something. Then by and by everything surfaced. She had come to the conclusion from some other door which was not reason. It was intuition.

Buddha struggled for six years to attain samadhi, but could not. One day he dropped the whole idea of attaining. He rested under a tree and by the morning it had happened. When he opened his eyes he was in samadhi.

But first the reason had to be exhausted. Intuition functions only when reason is exhausted. Intuition has no process; it simply jumps from the problem to the conclusion. It is a shortcut. It is a flash.

We have corrupted intuition. Man's intuition is almost absolutely corrupted. Woman's intuition is not corrupted as much -- that's why women have something called a 'hunch'. A hunch is just a fragment of intuition. It cannot be proved. You are going to take a flight and your woman simply says that she is not going and she will not allow you to go either. She feels as if something is going to happen. Now this is nonsense. You have much work to do, everything is planned, and you have to go -- but your woman won't allow it. And the next day you read in the newspapers that the aeroplane was hijacked, or it crashed and all the passengers died.

Now the woman cannot say how she knows. There is no way. It is just a hunch, just a feeling in the guts. But that too is very corrupted, that's why it is just a flash. When all the five other layers have disappeared and you have dropped fixed ideas -- because you have been taught that reason is the only door to reach to any conclusion -- when you have dropped this fixation, this reason fixation, intuition starts flowering. Then it is not just like a flash, it is a constantly available source. You can close your eyes and you can go into it and always you can get the right direction from it.

That's what Fischer-Hoffman people think of as the guide. If the process really goes in.... It is very difficult, because those five layers have to be crossed first. And I don't think many people are capable of it, even those who are in Fisher-Hoffman therapy. But the idea is perfectly right -- if those five layers are broken then something arises in you which can be called the guide. You can always go into your intuition energy and you will always find the right advice. In the East that is what they have called the inner guru, your inner Master. Once your intuition has started functioning, you need not go and ask any outer guru for any advice.

Intuition is to be in tune with oneself, totally in tune with oneself. And out of that tuning, solutions arise from nowhere.

And the seventh and the last layer of falsity is the pseudo self, the ego; the notions of being unique, special, exceptional; the notions of doing one's own thing... and you don't know who you are, you don't know what your thing is.

Notions of the ego go on corrupting you. Then you cannot listen to the truth. And this becomes a problem every day.

Just the other day I was talking about Hannah. Rather than understanding what I said, rather than understanding, rather than feeling my compassion -- because why else should I say it? -- she immediately went to the office and cancelled the darshan appointment which she had. She became very angry. Now I was talking about her ego, but rather than seeing it, she acted out of it again. She missed the point again.

And the other day I was also talking about Prageet. He was better than Hannah. He asked for an appointment, he took it more rightly. Of course he was very much shaken; it was hard to digest, hard to swallow. But he tried his best to see the point of it. He made every effort that he could.

Or, for example, I go on hammering on Chinmaya, again and again. I never hammer anybody else as much as I hammer Chinmaya, but he takes it absolutely rightly, in the exact way as it should be taken. And each hammering has become a growth in him; each hammering has helped him -- he is moving.

Hannah got stopped there. She may lose contact with me.

This is the last layer: a very subtle pseudo sense of self.

When these seven are broken, you come to the state of BAKA, real individuality, And when you have real individuality then there is a possibility of having a real non being. From real individuality, BAKA, YOU can have the jump into FANA. Then you can offer yourself to God. This is the whole process.



Now this beautiful dialogue between a Master and his disciple. Now you will be able to understand.



<>THE SUFI MASTER, AJNABI, SAID, 'WRITE TO MULLA FIROZ AND TELL HIM THAT I HAVE NO TIME TO ENGAGE HIM IN CORRESPONDENCE, AND THEREFORE HAVE NOTHING TO SAY TO HIS LETTER.'



Mulla Firoz must have been a very learned man of those days. 'Mulla' means a pundit, a scholar, a learned man. He must have been offended and annoyed by Ajnabi's assertions. Masters are there to shock. And when there is a man of knowing, the greatest shock is to those who think they know and don't know. The knowledgeable man immediately feels offended, because the man of knowing has his own source of knowing. He talks from there. And the man of knowledge looks into the scripture. He has no source to check upon, he has no authentic experience of his own. He lives in pseudo reason, pseudo ego, argumentation, verbal knowledge, belief systems and all that.



THE SUFI MASTER, AJNABI, SAID, 'WRITE TO MULLA FIROZ AND TELL HIM THAT I HAVE NO TIME TO ENGAGE HIM IN CORRESPONDENCE, AND THEREFORE HAVE NOTHING TO SAY TO HIS LETTER.'

THE DISCIPLE, AMINI, SAID, 'IS IT YOUR INTENTION TO ANNOY HIM WITH THIS LETTER?'



That is the intention always of all the Masters: to annoy you, because only if you are annoyed can you be changed. If you are annoyed then there is a possibility, then you start moving.



AJNABI SAID, 'HE HAS BEEN ANNOYED BY SOME OF MY WRITINGS. THIS ANNOYANCE HAS CAUSED HIM TO WRITE TO ME. MY PURPOSE IN WRITING THE PASSAGE WHICH ANGERS HIM WAS TO ANGER SUCH AS HE.'



That was his purpose and it was fulfilled. He wanted to anger people such as Mulla -- the knowledgeable people.



AMINI SAID, 'AND THIS LETTER WILL ANGER HIM FURTHER?'

AJNABI SAID, 'YES. WHEN HE WAS ENRAGED AT WHAT I WROTE, HE DID NOT OBSERVE HIS OWN ANGER, WHICH WAS MY INTENTION. HE THOUGHT THAT HE WAS OBSERVING ME, WHEREAS HE WAS ONLY FEELING ANGRY. NOW I WRITE AGAIN, TO AROUSE ANGER, SO THAT HE WILL SEE THAT HE IS ANGRY. THE OBJECTIVE IS FOR THE MAN TO REALISE THAT MY WORK IS A MIRROR IN WHICH HE SEES HIMSELF.'



This you have to keep in your mind constantly, because this Is happening here every day. If I say something, never be bothered about me. don't think why I have said this, rather, on the contrary, just look inside yourself at what it has done to you. I said something about Hannah. Now there are two possibilities. She can think, 'This man is wrong, he is offending me, he is insulting me, humiliating me, degrading me' -- something like that. Then she has missed the point. But if she starts watching and observing, 'Why am I angered? Why is there this annoyance in me? Why am I disturbed?' then she is on the right track. Then she will come closer to me than she ever was before.

Always remember this. What I say, how I say it, why I say it -- there is no way for you to decide. There is no way for you even to understand. All that you can do in your situation right now is see what happens to you. If I slap your face, don't be worried why I slapped you -- whether I am an angry man or an aggressive man or violent -- don't be worried about that. Just close your eyes, and go into meditation and see why you are feeling offended. Why? Watch your mind. That is going to help.

That's why I don't want mediocre people here who have just come out of curiosity to listen to me. This is not a school; nothing is being taught here. This is just an alchemical-lab; something is happening here. It is a process of transformation. If you remember this you will be benefitted immensely.

'YES, WHEN HE WAS ENRAGED AT WHAT I WROTE, HE DID NOT OBSERVE HIS OWN ANGER, WHICH WAS MY INTENTION. HE THOUGHT THAT HE WAS OBSERVING ME, WHEREAS HE WAS ONLY FEELING ANGRY. NOW I WRITE AGAIN, TO AROUSE HIS ANGER...'



The Master is saying, 'Out of compassion I will give him another opportunity.'



... SO THAT HE WILL SEE THAT HE IS ANGRY. THE OBJECTIVE IS FOR THE MAN TO REALISE THAT MY WORK IS A MIRROR IN WHICH HE SEES HIMSELF.'



That's what a Master is: a mirror in which you see yourself. If sometimes you see that your face is ugly, don't try to destroy the mirror -- change your face. By destroying the mirror you will not become beautiful; by escaping from the mirror you will not become beautiful.

Yesterday, the whole day, continuously, Prageet thought about escaping: 'How to escape from here?' But again and again he remembered that he had not to escape, he had to face it. Again and again he remembered and cooled down, and again and again the idea was there pulling him to escape from here. That is natural, it is understandable. But if you can remember for even a few single moments and you can remain with me and can go on facing the mirror, sooner or later you will have to change.

There are only two possibilities: either escape from the mirror -- then you will never see your face and you can believe that you are beautiful -- or go on facing the mirror, go on seeing your ugliness. And all kinds of methods and processes are being made available to you so that you can change your face.

Just a few days before there was a man who took sannyas. He said he was a beautician. I told him, 'I am also a beautician. I do the same work. I change people's faces -- not the faces that you can see from the outside but the faces, the original faces, that are hidden deep behind all kinds of facades, all kinds of layers.'



AMINI SAID, 'THE PEOPLE OF THE ORDINARY WORLD ALWAYS REGARD THOSE WHO CAUSE ANGER AS ILL-INTENTIONED.'



That's what Hannah thought. That's what for a few moments even Prageet thought. That's what Chinmaya used to think in the beginning. But now he has crossed that point. I have been hammering him so much -- how long can you go on thinking? One day or other one has to become aware that something is wrong somewhere inside oneself, and that it has to be dropped.



AJNABI SAID, 'THE CHILD MAY REGARD THE ADULT WHO TRIES TO REMOVE A THORN FROM HIS HAND AS ILL-INTENTIONED. IS THAT A JUSTIFICATION FOR TRYING TO PREVENT THE CHILD FROM GROWING UP?'

AMINI SAID, 'AND IF THE CHILD HARBOURS A GRUDGE AGAINST THE ADULT WHO REMOVES THE THORN?'

AJNABI SAID, 'THE CHILD DOES NOT REALLY HARBOUR THAT GRUDGE, BECAUSE SOMETHING IN HIM KNOWS THE TRUTH.'



This is of immense value, this statement. Yes, something in you always knows the truth. Something in Hannah knows the truth. It is impossible not to know the truth. Maybe it is not very clear, it is hazy -- but something in you always knows the truth... that it is because of compassion, because of love, that you have been hammered upon. Otherwise there is no need.



AMINI ASKED HIM, 'BUT WHAT HAPPENS IF HE NEVER GETS TO KNOW HIMSELF, AND YET CONTINUES TO IMAGINE THAT OTHERS ARE MOTIVATED BY PERSONAL FEELINGS?'

AJNABI SAID, 'IF HE NEVER GETS TO KNOW HIMSELF, IT MAKES NO DIFFERENCE AS TO WHAT HE THINKS OF OTHER PEOPLE, BECAUSE HE CAN NEVER HAVE ANY APPRECIATION OF WHAT OTHER PEOPLE ARE REALLY LIKE.'

AMINI ASKED, 'IS IT NOT POSSIBLE, INSTEAD OF AROUSING ANGER A SECOND TIME, TO EXPLAIN THAT THE ORIGINAL WRITING WAS COMPOSED FOR THIS PURPOSE, AND TO INVITE MULLA TO REVIEW HIS PREVIOUS FEELINGS?'



A very reasonable standpoint of the disciple, but remember that sometimes reasonable things are not very useful. They don't work. You will agree with the disciple, with what he is saying. This seems to be very, very reasonable -- 'What is the point of angering him, annoying him twice? Will it not be better to explain to him why in the first place you said things to annoy him? Would it not be better to explain?'



AJNABI SAID, 'IT IS POSSIBLE TO DO THIS, BUT IT WILL HAVE NO EFFECT.'
<>


A Master is not interested in being polite, in following the rules of etiquette, manners, etcetera. A master is interested only in creating an effect, in creating an action, in creating a response. Yes, he could explain to the Mulla what had hap-pened. That may satisfy him, that may cool him down. His anger may disappear, he may no longer feel annoyed -- but that is not the point. That is not going to create the effect that the Master wants. The Master wants the Mulla to see that he is only a man of knowledge, not yet a man of knowing; that he was not wise. Explanation will make the Mulla more knowledgeable. He will have one more explanation. That is not going to shatter his ego.


ENERGY ENHANCEMENT
THE CORE ENERGY TECHNIQUES !!
ENERGY

GAIN ENERGY - POWER UP!! APPRENTICE LEVEL 1

DVD COURSE AND LIVE COURSES

email sol@energyenhancement.org

THE ENERGY BLOCKAGE REMOVAL PROCESS

DVD COURSE AND LIVE COURSES

email sol@energyenhancement.org

THE KARMA CLEARING PROCESS APPRENTICE LEVEL3

DVD COURSE AND LIVE COURSES

email sol@energyenhancement.org

MASTERY OF RELATIONSHIPS TANTRA APPRENTICE LEVEL4

DVD COURSE AND LIVE COURSES email sol@energyenhancement.org

ENERGY ENHANCEMENT LEVEL 5 - IMMORTALITY WITH ENERGY ENHANCEMENT - CREATING THE IMMORTAL VAJRA DIAMOND BODY

email sol@energyenhancement.org

2005 AND 2006

- FIFTY FULL TESTIMONIALS

ENERGY ENHANCEMENT CHAKRAS DIRECTORY - CHAKRAS ABOVE THE HEAD, CHAKRAS IN THE BODY AND CHAKRAS BELOW THE BASE CHAKRA - THE ANTAHKARANA
CHAKRAS ABOVE HEAD

ENERGY ENHANCEMENT ENERGY BLOCKAGE DIRECTORY - ENERGY BLOCKAGES ARE CREATED FROM TRAUMA FORMED NEGATIVE KARMIC MASS - ENERGY BLOCKAGES ARE PURE CONCENTRATED EVIL WHICH BLOCK US OFF FROM THE SPIRIT
ENERGY BLOCKAGES

THE ENERGY ENHANCEMENT KARMA CLEARING DIRECTORY KARMA IS THE BUILDUP OF ENERGY BLOCKAGES IN THE BODY. NORMALLY WE CLEAR THESE BLOCKAGES SLOWLY THROUGH PAINFUL KARMIC ACTION. ENERGY ENHANCEMENT MEDITATION SHOWS YOU HOW TO CLEAR THESE DEEP EGO BLOCKAGES USING THE ENERGY ENHANCEMENT SEVEN STEP PROCESS - QUICKLY - WITHOUT ANY NEED FOR LIFETIMES OF PAIN.
NOW WITH FOUR LEVELS OF STREAMING AND DVD VIDEO

email sol@energyenhancement.org

ANTAHKARANA

THE SATCHIDANAND KUNDALINI KEY DIRECTORY - THE SHAPE OF THE KUNDALINI KEY COMPRISES THE CIRCLE OF THE EARTH WITH THE ANTAHKARANA COLUMN OF ENERGY ARISING OUT OF THE EARTH'S CENTER, STRETCHING OUT INTO THE CENTRAL SPIRITUAL SUN IN THE CENTER OF THE UNIVERSE. ALIGNING WITH THIS ENERGY IS THE CAUSE OF IMMORTALITY AND ILLUMINATION. EXAMPLES OF THE KUNDALINI KEY SYMBOL ARE THE BUDDHIST STUPA, THE HINDU SHIVALINGAM, THE CHRISTIAN ORB AND THE EGYPTIAN ANKH STRETCHING BACK OVER THOUSANDS OF YEARS.
KUNDALINI KEY

ANKH

Thuparama Stupa Sri Lanka Kundalini Key

THE ENERGY ENHANCEMENT ALCHEMICAL VITRIOL DIRECTORY VISITA INTERIORA TERRA THE VIT OF VITRIOL MEANS VISIT THE CENTER OF THE EARTH IN MEDITATION. THERE CAN BE GROUNDED AND BURNT UP ALL NEGATIVE ENERGY AND EMOTION IN THE FISSION NUCLEAR FIRES AT THE BLACK SUN EARTHS CENTER. RECTIFICANDO INVENIES OCCULTEM LAPIDEM - THE RIOL OF VITRIOL POINTS TO THE RECIPROCAL MAINTENANCE OF GURDJIEFF - THE RECTIFICANDO - AND THE SECRET OF THE OCCULT PHILOSOPHERS STONE - TRANSMUTE LEAD ENERGY BLOCKAGES INTO SPIRITUAL GOLD - GAIN IMMORTALITY IN ENERGY ENHANCEMENT!!
ALCHEMICAL VITRIOL

THE ENERGY ENHANCEMENT KUNDALINI KRIYAS DIRECTORY - KRIYA YOGA TAUGHT BY ASCENDED MASTER BABAJI OF THE HIMALAYAS - STUDENT OF TAMIL SIDDAR BOGAR WHO TRANSMIGRATED INTO THE BODY OF LAO TSU FOUNDER OF TAOISM AND THE 5000 YEARS OLD TAOIST ORBITS WHICH ARE REALLY THE SAME TECHNIQUES COME FROM CIRCULAR ENERGY FLOWS IN THE GOVERNING AND CENTRAL MERIDIANS EXTENDING OUT INTO THE EXTERNAL CHAKRAS IN THE CENTER OF THE EARTH AND THE CENTER OF THE UNIVERSE WHICH WHEN USED CAN HELP REMOVE BLOCKAGES IN ALL THOSE MERIDIANS AND ALL CHAKRAS
KUNDALINI KRIYAS

BABAJI

AKASHIC RECORDS

ENERGY ENHANCEMENT ANTAHKARANA DIRECTORY - THE ANTAHKARANA IS THE REAL GOLDEN ROD AND CENTRAL PILLAR OF THE ALCHEMISTS - IT IS THE PSYCHIC CONSTRUCTION WHICH SHOWS HOW HUMANITY CONNECTS WITH THE CHAKRAS ABOVE THE HEAD, THE ASTRAL PLANE AND WITH GOD - IT IS THAT WHICH MUST BE BLOCKED IN ORDER TO CONTROL HUMANITY
ANTAHKARANA

THE ENERGY ENHANCEMENT SAMADHI SAMYAMA DIRECTORY - SAMADHI AND SAMYAMA ARE THE EIGHTH AND NINTH LIMBS OF YOGA OF TAMIL SIDDAR PATANJALIS RAJA YOGA AS SPECIFIED IN THE SOURCE BOOK, THE YOGA SUTRAS OF PATANJALI WHICH GIVES THE METHODOLOGY - THE TECHNIQUES - FOR THE REMOVAL OF ENERGY BLOCKAGES AS A PRELUDE TO KAIVALYA ILLUMINATION -
SAMADHI SAMYAMA

SATCHIDANAND'S ENERGY ENHANCEMENT COMMENTARY AND OTHER ARTICLES ON THE YOGA SUTRAS OF PATANJALI - ENERGY ENHANCEMENT TEACHES THE ADVANCED TECHNIQUES OF PATANJALI RAJA YOGA OF HATHA YOGA, PRANAYAMA, MEDITATION, SAMADHI AND SAMYAMA LEADING TO PSYCHIC POWERS, IMMORTALITY, KAIVALYA OR LIBERATION, ILLUMINATION, ENLIGHTENMENT - READ THE SUTRAS AND THE SATCHIDANAND COMMENTARY - FIND OUT ABOUT TAMIL SIDDAR PATANJALI
PATANJALI

ENERGY CONNECTIONS

THE ENERGY ENHANCEMENT MASTERY OF RELATIONSHIPS DIRECTORY

AFTER THE OPENING OF THE HEART THE SECOND INITIATION OF THE MASTERY OF RELATIONSHIPS USUALLY TAKES TEN LIFETIMES OF PAINFUL DUMPING AND DEATH. ENERGY ENHANCEMENT WILL SHOW YOU HOW TO CLEAR AND PURIFY - MASTER, ENERGY CONNECTIONS AND VAMPIRISM BETWEEN YOU AND ALL THE PEOPLE AROUND YOU - FAMILY, FRIENDS AND CO-WORKERS

MASTERY OF RELATIONSHIPS

ENERGY ENHANCEMENT PSYCHIC SEXUAL CONNECTION DIRECTORY MORE INFORMATION ABOUT THE STRONG TESTS ON THE PATH OF THE MASTERY OF RELATIONSHIPS - THE NECESSITY FOR THE REMOVAL OF BLOCKAGES AND UNWANTED CONNECTIONS IN THE RELATIONSHIP ABDOMINAL CHAKRA AND THE CREATIVE VISHUDDHI CHAKRA SO AS TO ALLOW THE LOWER CHAKRA TO POWER THE HIGHER.
PSYCHIC SEXUAL CONNECTION

THE ENERGY ENHANCEMENT LILITH SUCCUBUS INCUBUS DIRECTORY MORE INFORMATION ABOUT THE STRONG TESTS ON THE PATH OF THE MASTERY OF RELATIONSHIPS - SEXUAL BLOCKAGE IMPLANTS FROM VAMPIRES CAN CONNECT FROM ANY PERSON, ANY DISTANCE - ENERGY ENHANCEMENT TEACHES HOW TO STOP ENERGY VAMPIRES VAMPIRISING YOUR ENERGY.

LILITH SUCCUBUS INCUBUS

GAIN ENERGY - POWER UP!!

ENERGY ENHANCEMENT ENERGY VAMPIRES DIRECTORY MORE INFORMATION ABOUT THE STRONG TESTS ON THE PATH OF THE MASTERY OF RELATIONSHIPS - BLOCKAGES ABOVE THE CROWN CHAKRA CUT ONE OFF FROM CONSCIENCE AS IN PSYCHOPATHY, BUT BECAUSE THESE BLOCKED PEOPLE CANNOT ABSORB ENERGY FROM CHAKRAS ABOVE THE HEAD, ALSO MAKE IT NECESSARY TO VAMPIRISE ENERGY FROM ALL HUMANITY - ENERGY ENHANCEMENT TEACHES HOW TO STOP ENERGY VAMPIRES VAMPIRISING YOUR ENERGY
ENERGY VAMPIRES

THE ENERGY ENHANCEMENT GURDJIEFF AND ENERGY BLOCKAGES DIRECTORY GURDJIEFF WAS THE FIRST SPIRITUAL MASTER WHO TALKED OF THE REMOVAL OF THE ENERGY BLOCKAGE KUNDABUFFER, OF THE RECIPROCAL MAINTENANCE OF ENERGY WHICH IS THE SAME TECHNIQUE AS THE KUNDALINI KRIYAS OF ENERGY ENHANCEMENT AND ITS REMOVAL OF WAR AND THE INCREASE OF IMMORTALITY, OF CONSCIOUS SUFFERING WHICH IS THE TAPAS OF THE YOGA SUTRAS OF PATANJALI, AND OF THE REMOVAL OF THE ENERGY BLOCKAGES OF THE EGO LIKE VANITY AND SELF IMPORTANCE AND THE SUB-PERSONALITIES WHICH USE THEM.

GURDJIEFF AND ENERGY BLOCKAGES

THE ENERGY ENHANCEMENT TAMIL SIDDAR BHOGAR - KUNDALINI YOGA AND SPIRITUAL ALCHEMY ASCENDED MASTER BABAJI OF THE HIMALAYAS, CREATOR OF THE KUNDALINI KRIYAS WAS A STUDENT OF TAMIL SIDDAR BOGAR OF PALANI HILL IN SOUTHERN INDIA WHO TRANSMIGRATED INTO THE BODY OF LAO TSU FOUNDER OF TAOISM AND CREATOR OF TAOIST ALCHEMY AND THE MEDITATIONAL ORBITS AND ENERGY CIRCULATION. SATCHIDANAND VISITED PALANI HILL IN 1994 WITH HIS MASTER TAMIL SIDDAR SATCHIDANANDA. BHOGAR CREATED BOTH THE KUNDALINI KRIYAS AND TAOIST MEDITATIONAL ORBITS TAUGHT IN ENERGY ENHANCEMENT ALSO THE PHYSICAL IMMORTALITY OF KAYA KALPA AND ALCHEMICAL TAOISM.
TAMIL SIDDAR BHOGAR - KUNDALINI YOGA AND SPIRITUAL ALCHEMY

THE ENERGY BLOCKAGE REMOVAL PROCESS

PSYCHOLOGY TRAUMA MODEL DIRECTORY THE TRAUMA MODEL OF THE ROSS INSTITUTE STATES THAT TRAUMA, ABUSE AND PAIN CREATES UNSTOPPABLE EMOTIONS . The Energy Enhancement Level One Kundalini Kriyas and their ability to Ground Trauma and Traumatic Memories removes all Trauma and its symptoms - Unstoppable Fear, Anger, Depression, Manicism and Bi-Polar Disorder..
PSYCHOLOGY TRAUMA MODEL

PSYCHOLOGY PSYCHOPATHY DIRECTORY

The Energy Enhancement Seven Step Process of Level Two removal of Energy Blockages removes Psychopathy, removing Blockages in the Heart Center which cause a lack of Empathy and then removes The Blockages above the Head creating a lack of Conscience as the Head Centers are cut off from God as we create Illumination - One Soul Infused Personality!!

PSYCHOLOGY PSYCHOPATHY DIRECTORY
PSYCHOLOGY TRANSACTIONAL ANALYSIS - SUB PERSONALITY BLOCKAGE, STUPID LIFE GAMES, DEAD LIFE SCRIPTS, DIRECTORY Energy Enhancement Level Three removes the Energy Blockage Sub-Personalities which create the Transactional Analysis Stupid Life Scripts written about by Dr Eric Berne
PSYCHOLOGY TRANSACTIONAL ANALYSIS

THE KARMA CLEARING PROCESS LEVEL3

ENERGY ENHANCEMENT OSHO BOOK DIRECTORY - THE SYNTHESIS OF RELIGION IS ENLIGHTENMENT - CLICK HERE!

THE ENERGY ENHANCEMENT MEDITATION YOGA DIRECTORY - MAJOR ENERGY ENHANCEMENT DIRECTORY ON SPIRITUALITY

OSHO BOOK DIRECTORY

The Energy Enhancement Residential SACRED DANCE Course in Spain and India

SACRED DANCE DVDS BY DEVI DHYANI

SACRED BEETHOVEN'S NINTH SYMPHONY - CLICK HERE!!

CARMINA BURANA DVD SWAMI DEVI DHYANI ENERGY ENHANCEMENT SACRED DANCE TOGETHER WITH THE TRADITION OF DEVOTION AND LOVE FOR GOD - BHAKTI YOGA AND THE LOVE POETRY OF CARMINA BURANA

SACRED DANCE DVDS BY DEVI

SATCHIDANAND SPIRITUAL MOVIE LIST REVIEWS DIRECTORY SPIRITUAL MOVIES LIKE ALL SPIRITUAL ART IS WORK TO WHICH HAS BEEN ADDED OR IMPRINTED SPIRITUAL KUNDALINI ENERGY. TO THE PEOPLE WHO CAN FEEL THIS ENERGY IT IS A SIGNAL OF SIGNIFICANCE AND MEANING - GURDJIEFFS OBJECTIVE ART - SIGNAL OF A TEACHING WHICH CAN THEN BE LOOKED FOR. ALL THE MOST PROFITABLE MOVIES - STAR WARS, LORD OF THE RINGS - HAVE THIS ENERGY.. BUT THERE ARE MORE..
SATCHIDANAND SPIRITUAL MOVIE LIST REVIEWS

MASTERY OF RELATIONSHIPS LEVEL4

ANTAHKARANA

CHAKRAS ABOVE THE HEAD

ALCHEMICAL VITRIOL

SOUL FUSION

ENERGY BLOCKAGES

AKASHIC RECORDS

ENERGY CONNECTIONS
ENERGY ENHANCEMENT, !!! ULTIMATE !!!!!! ANCIENT !!! !!! EFFECTIVE !!!!! SUCCESSFUL !!!


1. Get into Intense alignment with Your Own Kundalini Energy and Immediate Access to the Meditative State.

2. Remove your Energy Blockages with The Circulation of the Energies, the Kundalini Kriyas, Ancient Taoist Energy Circulations which have worked effectively for 5000 years to help all towards ENLIGHTENMENT.

3. The Grounding of all your Negative Energies through Alchemical VITRIOL - Become Incredibly POSITIVE and ENERGETIC!!

4. Alignment with Your Higher Self - INCREASE YOUR IQ, INCREASE YOUR LUCK, ACCESS YOUR HIGHEST ENERGIES!! ACHIEVE WHAT YOU WERE PUT ON THIS PLANET TO DO.

5. Learn how to USE and Increase the LOVE of Your Heart Center to ZAP YOUR NEGATIVE EMOTIONS AND DEVELOP PSYCHIC POWERS TO HEAL YOURSELF AND OTHERS.

6. Overcome ENERGY VAMPIRES - MASTER ENERGY PROTECTION AND MAINTAIN YOUR HIGH ENERGIES!!

7. EXPERIENCE INCREDIBLE RELATIONSHIPS WITH ENERGY ENHANCEMENT - THE CORE ENERGY TECHNIQUES

8. ENERGY ENHANCEMENT Techniques are the source of all Successful spiritual training courses over the last 5000 years. Become a Jedi Master, a Gandalf, a Transmitter of the FORCE a Bringer of the Light!!

GET MORE ENERGY!!!
ENERGY ENHANCEMENT -
!!! ULTIMATE !!!
!!! ANCIENT !!!
!!! EFFECTIVE !!!
!!! SUCCESSFUL !!!

Goto and SIGNUP NOW!!
https://www.energyenhancement.org/HomeStudyMeditationCourse.htm

CLICK BELOW TO GO TO
Take your time, this site has much new wonderful information.

'IT IS POSSIBLE TO DO THIS, BUT IT WILL HAVE NO EFFECT. RATHER IT WILL HAVE AN ADVERSE EFFECT. IF YOU TELL THE MAN YOUR REASON HE WILL IMAGINE THAT YOU ARE EXCUSING YOURSELF, AND THIS WILL AROUSE IN HIM SENTIMENTS WHICH ARE HARMFUL ONLY TO HIM. THUS, BY EXPLAINING YOU ARE ACTUALLY ACTING TO HIS DETRIMENT.'

AMINI SAID, 'ARE THERE NO EXCEPTIONS TO THIS RULE -- THAT MAN MUST LEARN THROUGH REALISING HIS OWN STATE, AND THAT HIS STATE CANNOT BE EXPLAINED TO HIM?'

AJNABI SAID, 'THERE ARE EXCEPTIONS. BUT IF THERE WERE ENOUGH EXCEPTIONS TO MAKE ANY DIFFERENCE TO THE WORLD, WE WOULD NOT BY NOW HAVE ANY MULLA FIROZES LEFT.'



There are not many. There are some exceptions but there are not many -- that's why they are exceptions. They are few and far between. They can be counted out; they need not be reckoned.

A Master has to function in such a way that the rule is fulfilled, not the exception -- because ninety-nine point nine per cent of people follow the rule. Sometimes there is a rare person but that rare person need not have any help from anybody; he will come to his realisation sooner or later. It may be only a question of time. That exceptional intelligence need not be worried about. The Master has to function in such a way that the common mind, the normal mind, the usual mind, the non-exceptional mind, starts moving and changing.

This small discussion between the Master and the disciple is of immense significance for you. That's why I have chosen it. Remember those seven layers of the onion. Unless you drop them you cannot see things as they are, you cannot see that which is. And from your very childhood you have been corrupted. Your whole life up to now has been a life of poisoning, and only you can drop it. I can show you the way but I cannot take it away from you. If I start taking it away you will snatch it and escape, you will think that you are being robbed. I can only show you the way. You have to follow it.

Meditate over this small dialogue. It is especially for you.
All these Psychic Powers in Heroes, Star Wars etc. I wish they would develop the Psychic Power of Being Good, Doing Good!!
But this only occurs in Integration, Enlightenment, Illumination, Soul Fusion!! Energy Enhancement.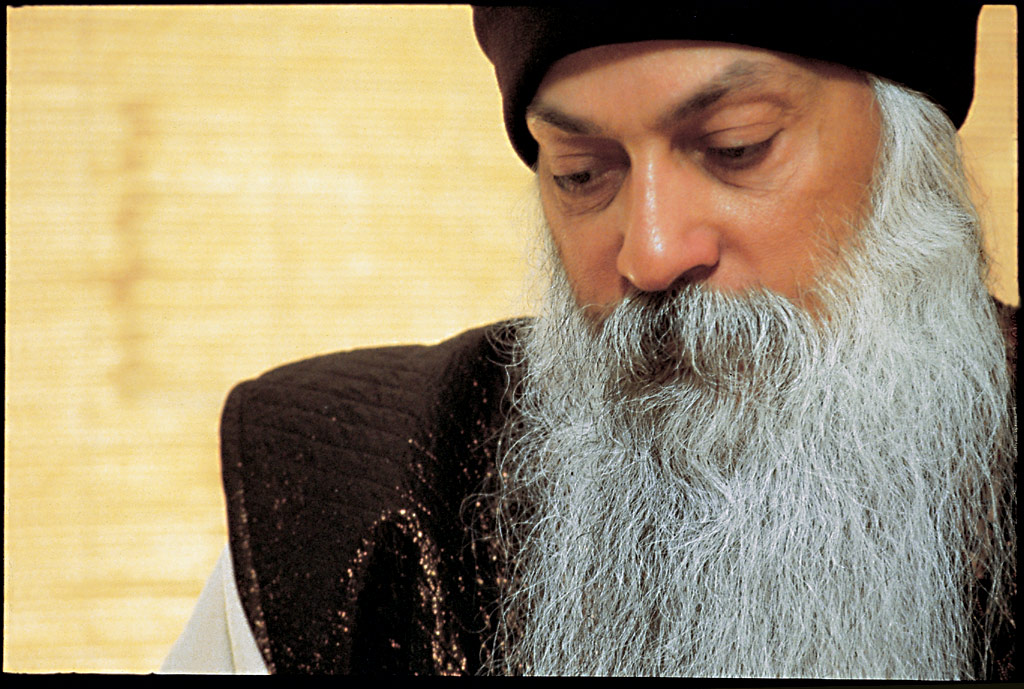 Osho Book Directory
https://www.energyenhancement.org/Osho/Osho-Books-Directory.html
Chakras above the Head - The Buddhist Thirty-one Planes of Existence and Energy Blockages
Buddhist Stream Entry Part 1 Meditational Alignment with a Stream of Energy From Heaven to Earth - The Antahkarana
Buddhist Stream Entry Part 2: Stream entry and After - Meditational Alignment with a Stream of Energy From Heaven to Earth - Psychic Powers of the Dharma Eye of P
sychic Vision from The Antahkarana
Osho Book Directory https://www.energyenhancement.org/Osho/Osho-Books-Directory.html