GET AWAY FROM ALL THAT!!
SPEED UP THE PROCESS OF ENLIGHTENMENT!!
email sol@energyenhancement.org for details...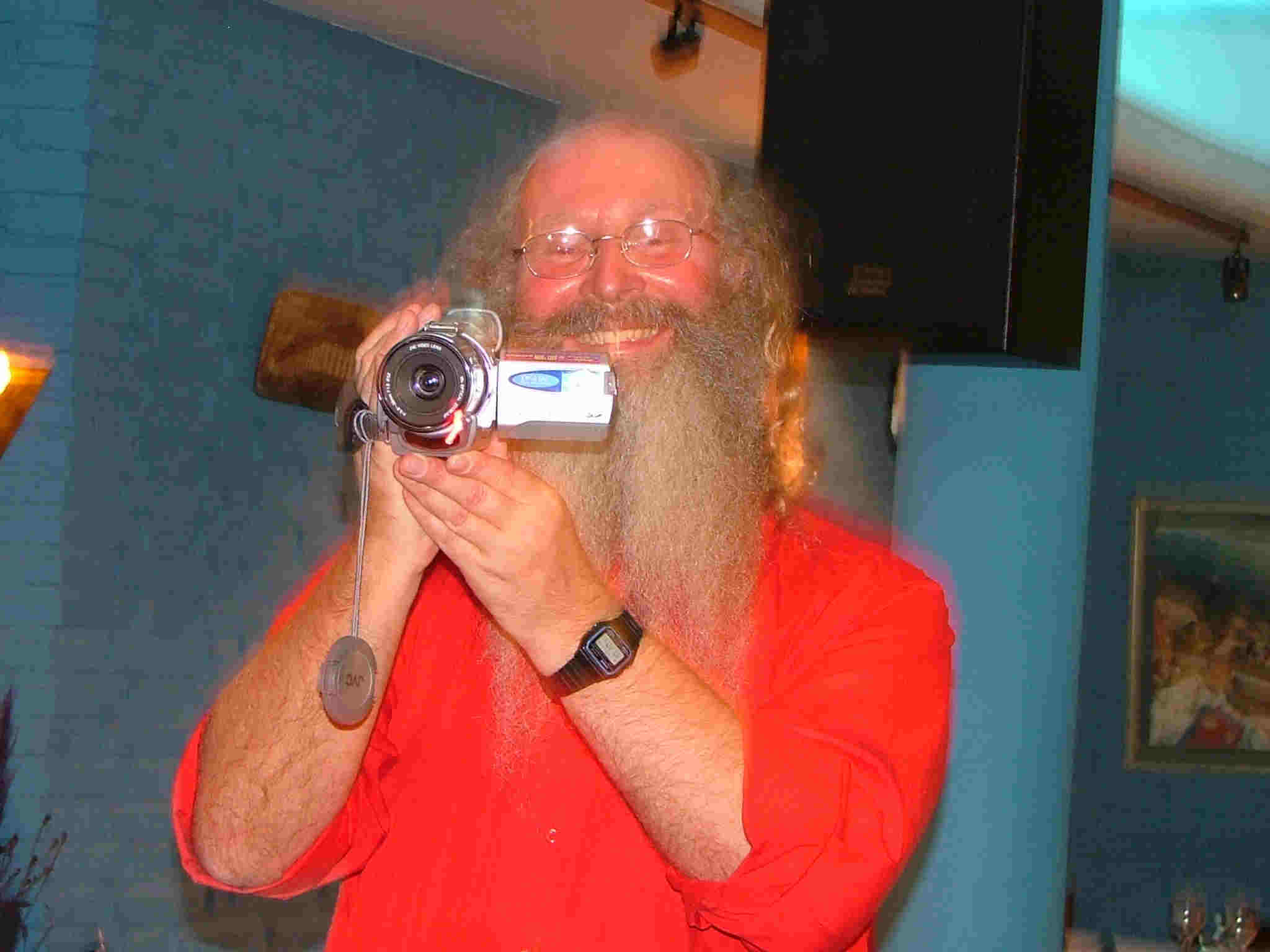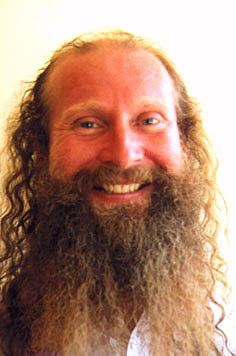 IF YOU WANT TO SPEED UP YOUR PROCESS WITH THE ULTIMATE TECHNIQUES ON THE PATH OF ENLIGHTENMENT....... BUY DVD VIDEO COURSE NOW!!!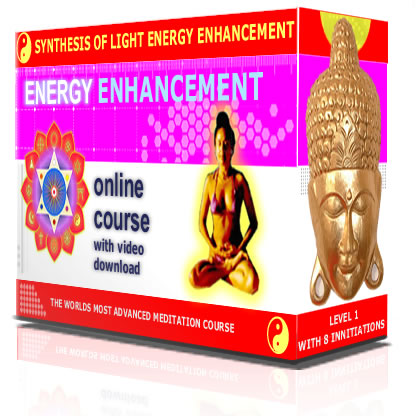 Buy Now!!
THE 12 DVD COURSE WITH FREE DVDS!
THE TWO LEVEL DVD COURSE WITH FREE DVDS!!
TWELVE DVDs...
| | |
| --- | --- |
| | 1. Initiation 1 Meditation |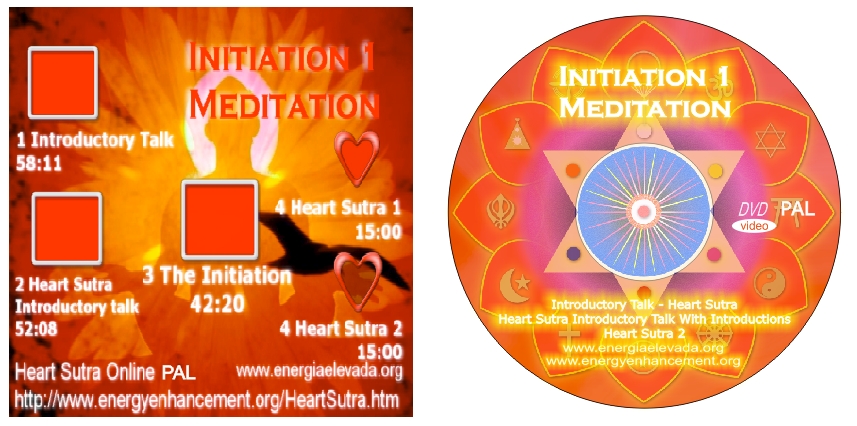 Meditation Introductory Talk With Instructions
Introductory Talk Heart Sutra Heart Sutra 1- Heart Sutra 2
| | |
| --- | --- |
| | 2. Initiation 2 Energy Circulation Part 1 |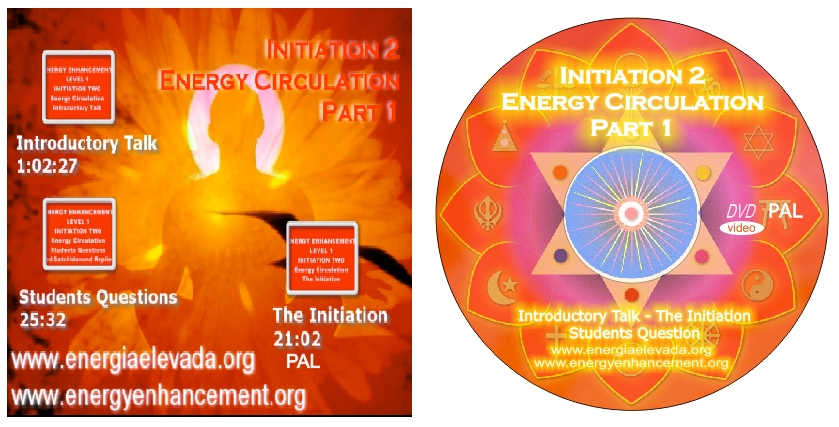 Introductory Talk - The Initiation
Students Questions
| | |
| --- | --- |
| | 3. Initiation 2 Energy Circulation Part 2 |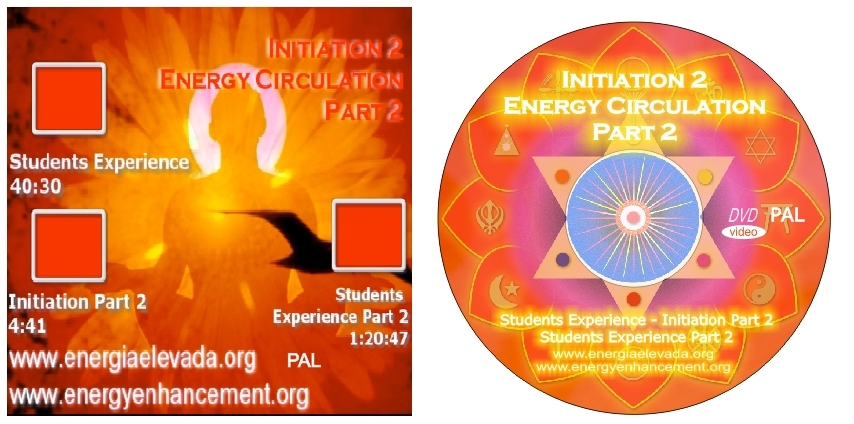 Students Experience - Initiation Part 2
Students Experiences Part 2
| | |
| --- | --- |
| | 4. Initiation 3 The Grounding Of The Negative Energies |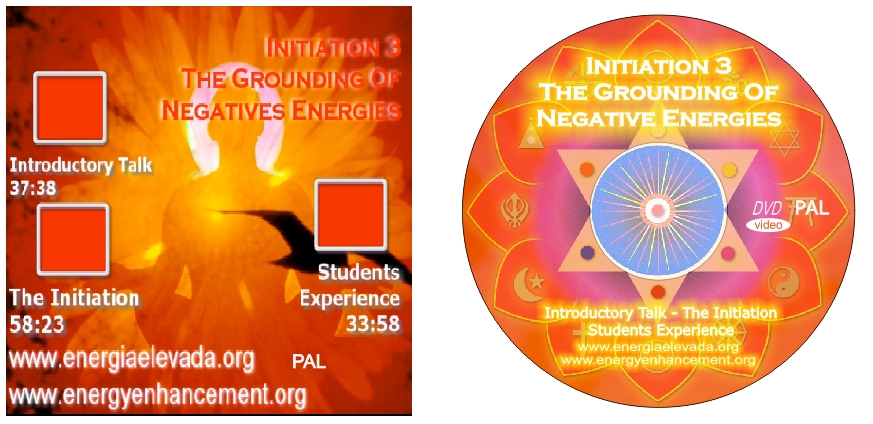 Introductory Talk - The Initiation
Students Experiences
| | |
| --- | --- |
| | 5. Initiation 4 Macrocosmic Orbit 1 |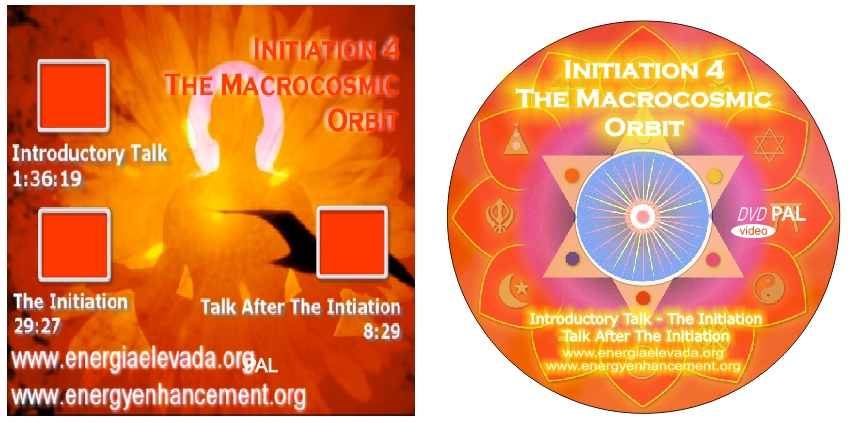 Introductory Talk - The Initiation
Talk After The Initiation
| | |
| --- | --- |
| | 6. Initiation 4 Macrocosmic Orbit 2 |
| | |
| --- | --- |
| | 7. FREE Sacred Dance Pink Floyd and Gurdjieffs Sacred Dances |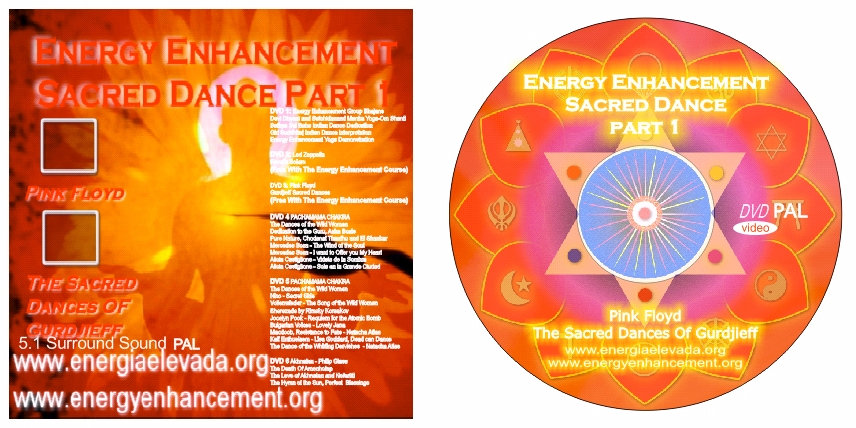 "IF YOU HAVE NEVER SEEN DEVI DANCE HER SACRED DANCE THEN THIS SERIES OF DVDS IS UNMISSABLE! HERE IS RAW HEALING ENERGY AND KUNDALINI WITH SOME OF THE FINEST MUSICIAN CHANNELERS, INDIGO CHILDREN OF THE FIRST GENERATION."
Swami Devi Dhyani at the Lavarden Theatre
in 5.1 Surround sound
PINK FLOYD, DAVID GILMOUR, Brick in the Wall, High Hopes, Sorrow, Comfortably Numb. One World! Do not listen to the words, listen to the Soul Energy of the Guitar solos. They say NO! This shall not be. I AM! THE SACRED DANCES OF GURDJIEFF, NATACHA ATLAS
| | |
| --- | --- |
| | 8. FREE Sacred Dance Led Zeppelin and Ravels Bolero |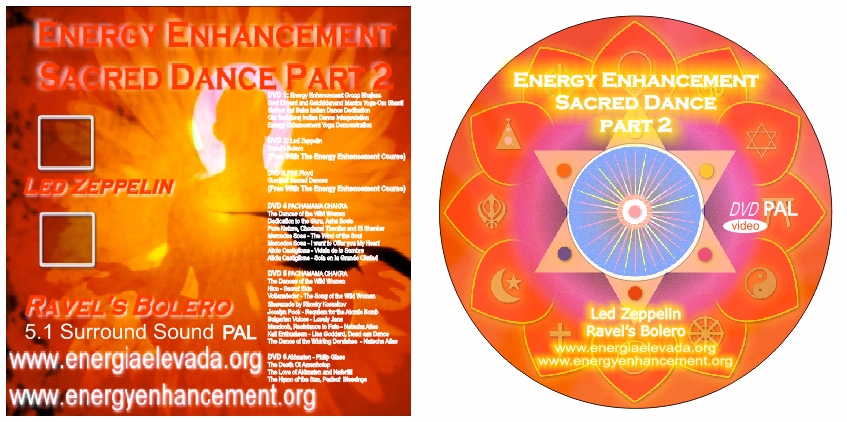 Swami Devi Dhyani at the Lavarden Theatre
in 5.1 Surround sound
LED ZEPPELIN, JIMMY PAGE, ROBERT PLANT, THE LONDON METROPOLITAN ORCHESTRA, MORROCAN ORCHESTRA Since I've Been Loving You, Friends, Kashmir - the theme is that of moving on from the Pain of Relationships of Since Ive been loving You, through the Mastery of Relationships onwards to the Center of the Universe, the Highest Heart at the top of the Himalayas, Kashmir, Let me take you there! RAVELS BOLERO, IN THE STYLE OF FLAMENCO AND THE WHIRLING DERVISHES OF RUMI - IN THIS DEVI TURNS PERHAPS 800 TIMES!
| | |
| --- | --- |
| | 9. FREE Text Backup Comprising the whole of Year One of the Online Course |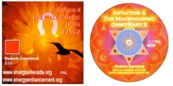 Books, Articles, Text Backup to Each Initiation on the DVD, Yoga, Pranayama, Audio Talks by Swami Satchidanand, Previous Video Course, Broadband Downloadable in MPEG4, codec included. and Free Sacred Dance Videos.
| | |
| --- | --- |
| | 10. FREE - ADVANCED YOGA COURSE DVD |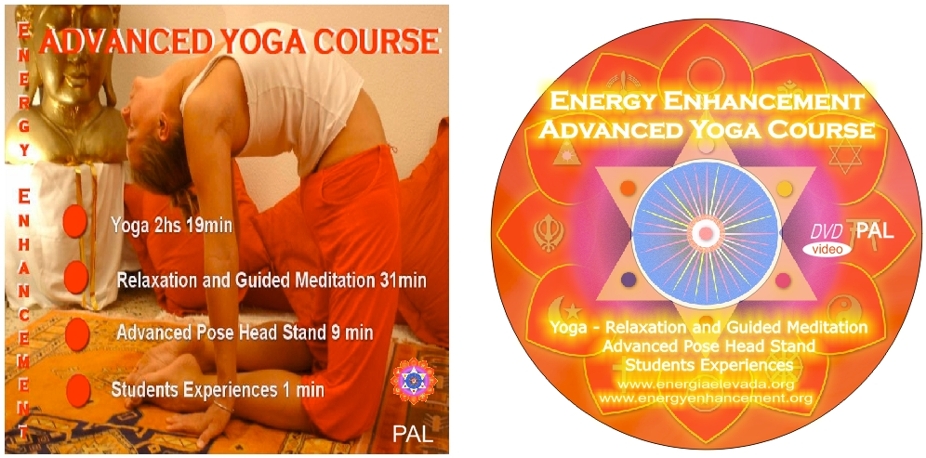 This ADVANCED YOGA COURSE DVD now given FREE with the Energy Enhancement DVD Course
YOGA
READ THE TESTIMONIAL AND BuY THE YOGA DVD SEPARATELY FROM AMY ZANTRAS WHERE SHE MOVED INTO A STATE OF SAMADHI WHILST RECORDING THE YOGA COURSE DVD!
IF YOU WANT TO SPEED UP YOUR PROCESS WITH THE ULTIMATE TECHNIQUES ON THE PATH OF ENLIGHTENMENT....... BUY THE DVD VIDEO COURSE NOW!!
DVD INTENSIVE VIDEO COURSE sent by UPS ANYWHERE IN THE WORLD - Click BELOW to ORDER
THE 12 DVD COURSE WITH FREE DVDS!
THE TWO LEVEL DVD COURSE WITH FREE DVDS!!
email sol@energyenhancement.org for details
DON GETS HIS DVD COURSE
Subject: RE: Getting back again.
Date: Wed, 08 Mar 2006 21:28:59 +0000
Dear Satchi

Yes, everything, all the DVD course and Online Course Downloads are here, all together they arrived, mighty excited i might add and all is downloaded and well.

I
m getting stuck straight in, its amazing, because the very first time i got the sitting position correct. I could feel the energy flowing up my spine and over my head incredible heat and a real tingling in my face and a feeling of elation i cant describe and i did this while using sound for each chakra, when i struck the heart chakra tone my chest just expanded and it felt like it was being lifted up and the whole room seemed full of energy and and and what a feeling, phew. It was heaven.
I was sitting still for about an hour and it felt like only a few minutes i think i just arrived.

I think i now have all the little pieces of my jigsaw, its taken a long time searching and im also seeing the numerous times when i was shown the direction but i was unable to see, There seems to be so much that i have missed and i wonder how come i was this blind for so long.

I wanted to say "Thank You" For your patience, For your time and most of all for being here on the planet at this time.

May Peace and Love always be your friends.

Don And Anne.
email sol@energyenhancement.org for details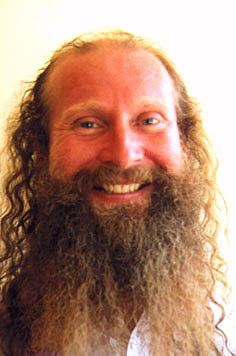 When I came to see Satchi at the airport for the first time I was struck by his energy but it was the second time, when he was talking to another student when meeting us off the train at Figueres that I really started to feel the Buddhafield of Energy Surrounding him. Suddenly I started yawning like the big healer guy in "The Green Mile" and then tears started from my eyes and I felt I was getting rid of a lot of Painful memories from the past. Olympia Panza 2004


"Once this stage was reached I had tremendous energy!"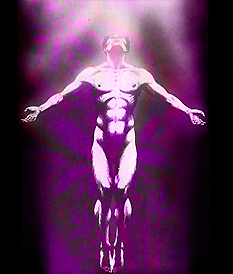 ---
COME ON AN ENERGY ENHANCEMENT COURSE!!
THE DOWNLOADABLE ONLINE COURSE

THE VIDEO COURSE IN 9 DVDs

THE ONLINE/VIDEO COURSE COMBINATION

SUMMER COURSES ON THE COSTA BRAVA IN SPAIN

WINTER COURSES IN MACHU PICHU, BRAZIL, ARGENTINA AND INDIA!!!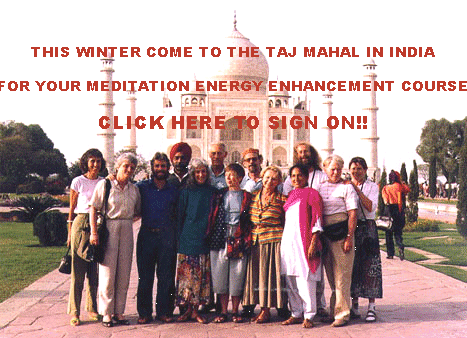 TO ENQUIRE ABOUT ENERGY ENHANCEMENT COURSES PLEASE SIGN ON TO OUR MAILING LIST AND THEN EMAIL US DIRECT FROM THE EMAIL ADDRESS WE SEND YOU FROM OUR MAILING LIST
The Energy Enhancement Meditation Course APPRENTICE LEVEL TWO
THE REMOVAL OF ENERGY BLOCKAGES AND IMPLANTS BY THE ENERGY ENHANCEMENT SEVEN STEP PROCESS
ENERGY BLOCKAGES and IMPLANTS are composed of six parts.
1. Negative Karmic Mass
2. Blockage Protection
3. The Blockage Living Core
6. Multi-Cored blockages
4. The Blockage Power Source which comes from outside.
5. The Blockage Programming
1. NEGATIVE KARMIC MASS (NKM)
Negative Karmic Mass is pure spiritual energy which has become perverted by w3hat we believe to be, "anything which should not be" When something should not be, it is because it is against the will of God. When we do something which is against the will of God then we feel Shame which usually creates Guilt. Negative Karmic Mass is created by Traumatic happenings which we know should not be. So, Trauma and Stress on the physical, emotional, mental or spiritual levels create Negative Karmic Mass.
Physical Trauma comes from accidents or deliberate torture.
Emotional Trauma comes from bad actions by people we trust or through fear of those bad actions.
Mental Trauma is like a joke whose purpose is to release this NKM in laughter or tears. Mental Trauma is where usually there is a disconnect, a paradox, two mutually cancelling statements like, "I Love You" and "I Love You Not", the traditional statements whilst pulling the petals from daisies. A Koan like, "What is the sound of one hand clapping?" or, "What was your face before you were born?" are similar and work in the same way.
The mind cannot compute these seemingly opposite statements which can only be understood in terms of wisdom and intuition, seeing the problem from a higher level with more information.
Mental trauma comes from the contemplation of "That which should not be" - in this case - through not understanding the test through a lack of wisdom, understanding, intuition and thus creating a problem, trauma, Negative karmic mass in the mind. The Negative Karmic Mass walls off the problem into a blockage sub - personality or "Inner child" and prevents its resolution or evolution by the higher parts of the mind, the chakras above the head, the parts of your super- computer which, "Know"
Negative Karmic Mass can only be created by moral people who know the difference between right and wrong, good and bad, that which is better and that which is worse. That morality is created by a relative lack of blockages above the head allowing a clear connection to the higher chakras of the Soul and the Monad etc. As the blows of life rain down, so blockages are created which tend to reduce morality and the creation of Negative Karmic Mass - we lose the ability to change and evolve.
We can use Negative Karmic Mass as a power source independent of the energy of God. As we burn the NKM in the Center of the Earth by using the Ancient Taoist and Alchemical Formula in Latin, VITRIOL - VISITA INTERIORE TERRAE INVENIES OCCULTEM LAPIDEM - Visit the Center of the earth, there you will find the hidden stone, the Philosophers Stone which Transmutes Base metal (Blockages) into pure Spiritual Gold. We teach this process in Energy Enhancement Initiation Three, The Grounding of Negative Energy, in order to remove some energy blockages which are not powerful or have heavy protections. We use the Energy Enhancement Level 2 Seven Step Process to further enter Blockage protections, cut them off from their power source and put, resurrect, the living core in its proper place in the chakras above the head.
NKM is also used by Bad people who have many blockages above the head and in the Heart, which is the definition of a psychopath, and who are thus cut off from the energy of God and who have no empathy for others. These types of people can go on training courses to learn how to create and use NKM, how to create and program blockages etc. These types of people like to create this Negative Karmic Mass in all people so they can take it and use it to power their beings independent of the energy of God. They can do this on an individual basis by all types of Trauma or on a countrywide basis by creating fear. They also like to create it so that they can use it to create Blockage Implants which they place in people to create and leach off Negative Karmic Mass and spiritual energy from their chakras from other people for these purposes of independent power.
"As above so below" says Hermes Trismegistus - if the energy of God is like sunlight which is infinite and free, the sun constantly showering energy on this planet, then NKM is like petroleum oil which needs to be thoroughly burnt to create energy. Incomplete burning creates pollution. The use of NKM to make people independent from God is like the scientific and political discussion as to where humanity should get its energy from. From monopoly controlled oil or from infinite free sunlight?
2. BLOCKAGE PROTECTION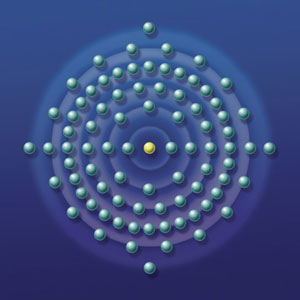 Blockages like the core of an atom have protections which are like electrons moving at the speed of light around the blockage core in up to an infinity of orbits called shells. In order to ground the Negative karmic mass in the core we need to penetrate this protection. Energy Enhancement has developed techniques to penetrate through to any core or any number of cores simultaneously in Multi-Cored Blockages thus releasing the blockage.
3. THE BLOCKAGE LIVING CORE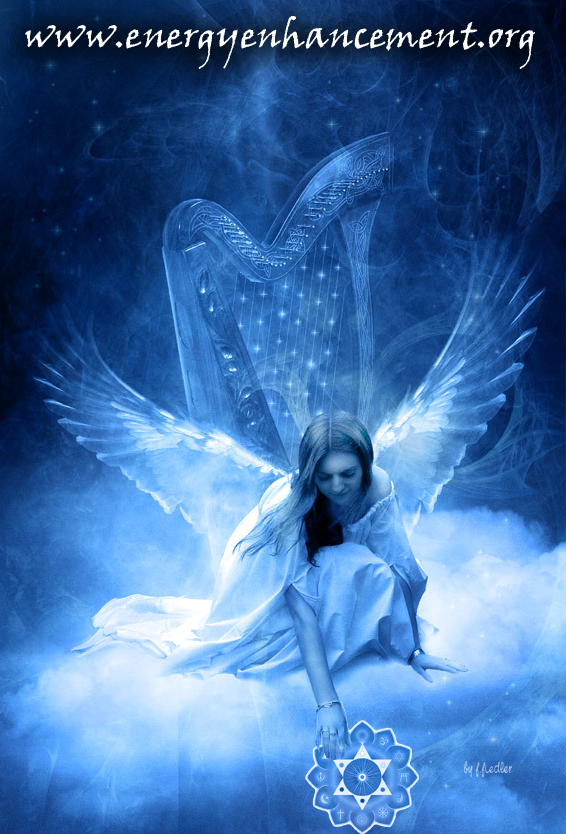 The human matrix exists as chakras which step down the energies of the source in discrete levels and functions, all parts of the multi - processor human super - computer model. Human beings and their chakras are composed of other species of existence called angels. These angels come in all levels of evolution from the parts of chakras to the Archangel who supervises the existence of planets and suns. Like cells who make up the organs of the human body and the human body itself, angels make up the parts of the human super-computer and in matrices make up higher and more highly evolved parts of existence.
Everything is created from communities and matrices of angels. As evolution proceeds, these communities become larger and more highly organised. Indeed, human beings are made up of angels and as we start to access more and more of our chakras above the head, so we develop in wisdom, grace and enlightenment.
When a human being dies, if he suffered a lot and does not know how to ground his negative karmic mass, then he will be heavy and may not have enough energy to go higher, to heaven, to the soul and thus his lower bodies may separate off and float around. Everything needs a power source and usually they travel towards the greatest source of energy amongst their family and the people that they know. They parasitise their loved ones in order to exist either consciously or unconsciously like in a coma.
For example I had a little girl of four years brought to me by her grandfather. Her mother had died that year and since then she had been behaving strangely. So I felt something within her and asked silently, inside, "Who are you?" and the reply came back that this was her mother! So I said well, perhaps you should go to heaven because you have with you some negative energies and these were adversely affecting her little girl. "But my daughter needs me" - this came to me emphatically with a lot of emotion, so I mentioned that it was possible for her to go to heaven, get all of her pain taken away and then come back as her daughters guardian angel. "Can I do that?" and I said, "Yes!" so she went. And within five seconds she was back, all healed and ready to look after her daughter. Well, the little daughter was fine after that.
As long as the angel is connected to the source of all existence - God, there is harmony. When the angel at the heart of the blockage has become blocked off from this connection by the Negative Karmic mass and by the protection then it becomes separated and subject to other negative and evil programming. It becomes a cancer on the spiritual level and given time will become a cancer or other disease on the physical level.
When the protections have been breeched and all of the Negative Karmic Mass grounded and burnt up then the angel core of the blockage has been healed, resurrected and connected with the source again. It then becomes free to become part of your psychic body to increase your complexity, function and ability to handle energy. To help in your evolution.
Blockages and Tapas
This removal and healing of blockages is the Raja Yoga "Tapas" or austerity as it is normally translated enjoined by the Yoga Sutras of Patanjali as part of a spiritual persons evolution. Tapas refers to the heat involved in burning up negative karmic mass. Raja Yoga involves the enlightenment processes of yama, niyama, asana, pranayama, pratyahara, dharana, dhyana samdhi and samyama which we teach in energy enhancement. Tapas is a part of "the five things to do" - yama and also is connected to "the five things not to do" - niyama, making up the yogic ten commandments. It also refers to other disciplines like yoga, meditation and fasting as part of the blockage busting process.
Blockages and Gurdjieffs Conscious suffering
Gurdjieffian "Conscious suffering" which Gurdjieff said was the only way of evolution is the same process in which Gurdjieff precribed taking upon yourself as many blockages as possible and in that way you will complete your psychic body to the level of ascended master very quickly. Gurdjieff described a process in which you deliberately went out of your way to take on problems, making your life as difficult as possible, receiving as many "shocks" as possible in order to evolve quickly. This is the same as the energy enhancement process where we acknowledge the necessity of removing our own blockages as part of our own enlightenment process, but also acknowledge that our evolution also involves our interaction with humanity. As we evolve we also have the possibility of removing the blockages in others, thus helping their evolution and also evolving our own psychic body. Gurdjieff says as you help other people, so you help yourself.
Blockages and Alice Baileys Resurrection
Then we come to the concept of "resurrection" given out in the Alice Bailey teachings in, "The Rays and the Initiations" as something which can take us into the realm of becoming an Ascended Master of the fifth Initiation. Resurrection is the healing of the angels at the core of blockages and then the process of moving them up the Antahkarana, resurrecting them into place as members of your higher chakras as part of your angel team there thus increasing the size, function and ability to handle energy of your psychic body.
Energy Enhancement uses scientifically proven and conscious techniques to speed up Tapas, the evolution of the "Conscious suffering" is made quick and easy and Resurrection to create ascended Masters of yourself is just part of the job.
Healing of blockages is one way to find angel partners in your evolution. There are all evolutionary levels of angels inside blockages. By incorporating the healed angels we become greater more complex and more evolved.
As Above, So Below. All levels are analogous, as we purify our spiritual bodies of blockages and become more complex and evolved, so the earth evolves in a similar way by purging all of its Negative Karmic Mass and stuck blockages.
4. THE BLOCKAGE POWER SOURCE.
Angels and Enlightened human beings should be totally powered by the source which is infinite.
INNER CHILDREN BLOCKAGES
Traumatic blows of existence create inner children which are powered by split off parts of the soul chakra. They are created in this lifetime and in all of our previous lifetimes and pass on from body to body, until they are healed and dissolved by Energy Enhancement Meditation techniques.
Inner children are sub - personalities which exist in droves inside the normal human mind. They are talents, self - programmed points of view or simple childish emotion limited by their trauma and fear created Negative Karmic Mass.
For example if we are beaten or raped then a very sad or angry inner child may be formed. The inner child might lock off the memory of this through amnesia to protect the rest of the mind.
You may have been bereaved or been dumped in this lifetime and certainly so in many other lifetimes and the pain of this always comes through the violent breaking of connections from your chakras to the chakras of your family or marriage partners. Inner children will have been formed long ago from these constant blows and be in charge of your psychic connections. In order to Master your Relationships and be in charge of who you connect to, from which chakra and for which purpose you will need to heal these inner children and take control of these processes for yourself. This problem, located in the lower chakras is also is a prime area for sexual implants to create sexual addiction and adultery. By healing these types of blockages you will gain control over the talent and remove the addiction.
You may also have been immensely successful in previous lifetimes in business, money, property and have developed the talent to deal with these things. If the talent forms part of a blockage then you will be addicted to these things as well as having a talent with them and thus this will prevent your evolution into higher things. By healing these types of blockages you will gain control over the talent and remove the addiction.
If you try to work on one of these blockages to ground all the NKM surrounding this event then the inner child will try to prevent this because it is afraid of being integrated into the soul, afraid of the traumatic memory, and might even want to protect you from the memory. Thus when using meditation to integrate and heal It will try to distract you. It will create diversions outside. It will try to rubbish the meditative technique. And it is then you must prove who is in charge, "Focus Trinity", use the rapid and effective energy enhancement technique of the Seven Step Process and move on to remove the inner child and integrate your mind.
We, ourselves, create blockages and it is we ourselves who must integrate them. We must create one, integrated soul - infused mind, - the soul because the higher chakras must always rule. Only when the lower rules - and the blockages always rule the lower - do we have all the warlike selfish problems of life for ourselves and for all others on the planet.
Until we can heal these inner child blockages and integrate them back into the Soul - together with all their talents and psychic powers, we cannot become enlightened.
IMPLANT BLOCKAGES
Blockages and implants are created for various purposes but all involve a link back to their creator who powers the blockage and holds it in place in the victim for lifetime after lifetime, until it can be removed by energy enhancement techniques.
Blockages and blocked human beings are powered by links to bad energies and people. Any attempt to de - power and heal a blockage must involve cutting off its links to its perverted power source and indeed healing all these sources too. Blockages exist at all levels of existence and the higher blockages power the lower blockages.
Without an infinite source of energy there is always a perceived energy shortage and thus much competition for energy therefore bad people feed on the energies of their own kind as well as their human energy food. Competition is a symptom of blockages. Indeed to survive, the bad people who are cut off from the source must be vampires, feeding off the energy of innocent human victims and their evil contemporaries, lifetime after lifetime.
By implanting blockages which they create into other people they can cut a person off from the source by putting blockages in above the head or into the heart chakra, thus creating an accomplice. They can put blockages between the base chakra and the center of the earth thus creating someone to feed off, a slave. They can also program the blockages to send the energy back to them, thus becoming an energy vampire.
They can program addiction blockages because the energy of one addicted is greater - like burning the candle at both ends - and easily taken. People burning the candle quickly usually die young but as well as energy received each day from God, the soul is given a supply of energy at birth, thus for a vampire to get more energy it is good that there are many short bright lives. Thus drugs, sex and gambling blockages are tools to concentrate energy back to the blockage implant creator.
We see these bad people with psychic vision connected by streams of energy to their victims. Some have thousands of connections like a telephone exchange connecting to thousands of implant blockages put into their human energy food. And these implant blockages exist in people lifetime after lifetime, until the techniques of energy enhancement can remove the implant.
5. THE BLOCKAGE PROGRAMMING
Because these angels at the center of blockages are cut off from connection with the source and the good instructions from the source, they no longer know what to do. They are perverted by the Negative Karmic Mass which surrounds them. Thus they are easily programmed with instructions from other sources which can be followed like a program for thousands of years. They can no longer evolve.
As above, so below. Human beings are in exactly the same problems as angels. As blockages cut them off from the source, so they lose their essential humanity and move into the direction of the dark side, they listen to the messages of the dark side through their blockages and their media interests and become programmed by it. They develop cynicism, lack of conscience, lack of empathy. Meaningless, purposeless, addicted lives without any significance. They can no longer evolve.
"After all that" is part of the first Sutra of the Yoga Sutras of Patanjali written 5000 years ago. It seems that we need many immersions into the dark side before we understand that it always ends up in a bad way. We need these experiences and indeed are sent to this planet to receive them.
This planet is a factory for the production of enlightened beings. Bad experiences are part of the process which we have designed. The way of the world is to purify gold ore by heating it up to a thousand degrees, putting it on the anvil, and then beating the crap out of it.
Enlightened beings say a softer process is more effective and more desirable. Energy Enhancement is that softer and more effective process.
As Human beings and blockages lose their Negative Karmic Mass and as Humans lose their blockages so they get back on track on their soul path and on the path of their evolution. They become ascended masters.
6. MULTI - CORED BLOCKAGES
When viewing blockages psychically, often times we see that they have many parts, some thicker and more dense from having more Negative Karmic Mass, some having more layers or shells of protection. Groups or teams of blockages join together to perform their function. Any strategy to remove blockages must take these multi-cored blockages into account. Energy Enhancement techniques remove multi-cored blockages.
7. ENERGY BLOCKAGE EGO SUB-PERSONALITIES OR NAFS
In the Sufi terminology, NAFS or Breaths or as we call them Sub Personality Energy Blockages represent the degrees of in the transmutation of the consciousness which we go through in the Levels of Energy Enhancement starting at the Second level.
First we deal with the lower types of NAFS or Sub-Personalities and later with more refined parts of the EGO. Although more refined, all NAFS are part of the Ego structure and all of them, one by one must be found and purified as their Trauma-Formed Negative Karmic Mass is transmuted and then the core of the blockage is integrated with the Soul Personality where it can finally be safely used as a purified function or so called psychic power.
THE SEVEN MEN
1. Nafs-i-ammara - the depraved or commanding Nafs
2. Nafs-i-lawwama - the accusing Nafs
3. Nafs-i-mulhama - the inspired Nafs
4. Nafs-i-mutmainna - the serene Nafs
5. Nafs-i-radiyya - the fulfilled Nafs
6. Nafs-i-mardiyya - The fulfilling Nafs
7. Nafs-i-safiyya - The purified and complete Nafs
The Nafs pass through the Energy Enhancement Seven Step Process which can be termed "Death and Rebirth". The death or removal of the Negative Karmic Mass and the Recapitulation of the events and traumas which formed the Blockage and the Rebirth, the Transfiguration , the Resurrection as the purified function or talent is absorbed or integrated with the Soul or Higher so that it can be safely used by the Soul infused Personality.
As the Nafs become purified then we become open to the still small voice of the conscience - accusing and then serene and fulfilling etc as we find our Soul Path and the purified talents and functions become useful to the individual and society.
Most individuals are out of control. They believe themselves to be coherent personalities but with Energy Enhancement they start to see their multiple and changing personalities. "The man that swears to get up at four o' clock in the morning is not the same personality who throws the alarm clock out of the window!" - Gurdjieff
They use the energy enhancement seven step process on programmed, automatic and negative thoughts and thus start to understand that these negative thoughts are simply symptoms of the energy blockage sub-personalities. As these blockages are reduced, so the mind becomes capable of operating at a higher level.
As the task of reconstitution is completed, then enlightenment, the capacity for teaching and the capacity for intuitive understanding become normal.

Hi Satchi,

Can you please give me some insight on the relationship between clearing past blockages and forgiving all that was involved and having a clear karma. I kind of get how cleaning this past residue also correspond to being free from a lot of trouble but how about lords of karma that are employed to make sure the coincidences of actions are fulfilled? I mean if I go and kill few people today and spend the next few weeks to meditate and clear all energetic coincidences and come to full forgiveness does it mean I got away with such action? My intention is not to look for such remedies but I am using the example to address my concern of the dynamic between forgiveness and law of karma..

There is a difference between forgiveness and removing the bad habit.

Forgiveness is the act of removing Negative Karmic Mass from our spiritual bodies. NKM is a poison which slowly kills us. Forgiveness stops this type of karma.

Bad habits are the core of the blockage which is surrounded by NKM. We need to be shown that Bad habits will always bring retribution from the Lords of Karma. Thus the negative coincidences are sent to people like this, with blockages. Bad Habits are bad, because the wanting to do something is never in alignment with the will of God. Bad Habits are only in Alignment with our selfish competitive egos. Blockages are split off parts of ourselves which have not been integrated or purified. As we purify the NKM and Integrate the core of the blockage with our higher selves so we change our bad habits finding, "That which works best". Even in alignment with God, some things work better than others.

So, as we purify and integrate our higher energy bodies using the techniques of Energy Enhancement, removing all energy blockages so we come completely into alignment with Gods will. Enlightenment. Then everything we do is good, neither black, nor white.

Read about blockages on the Level 2 page of the website as well as this.

Hope this helps.

Love and Light,

Satchidanand




WHAT JEAN SAYS ABOUT ENERGY ENHANCEMENT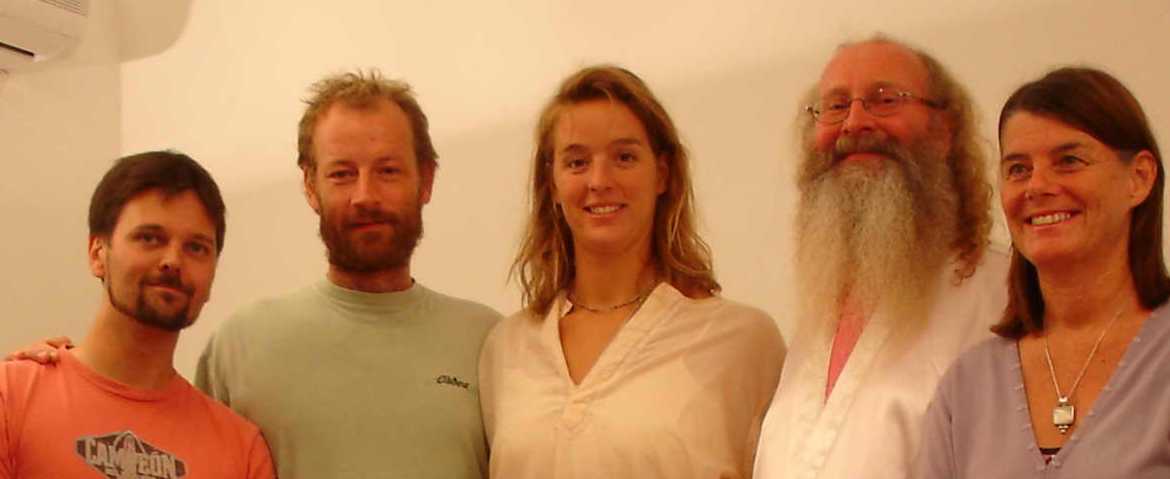 JEAN, THOMAS, AMY, SATCHIDANAND AND VANESSA IN SPAIN
My Introduction and background
My name is Jean, and I am a thirty seven year old Chartered Engineer from the UK working in the Nuclear Industry.
Since beginning the four-week Energy Enhancement course two weeks ago I have been consistently impressed with the efficacy of this programme.
I have experience of many forms of meditation and practices for self improvement including: Transcendental meditation (TM) 12 years, Kriya Yoga 9 years, Sushila Buddhi Dharma (SUBUD) 7 years, and more recently the Sedona Method and the Course in Miracles. The Energy Enhancement programme encapsulates and expands all of these systems, it is complete and no questions are left unanswered.
After years of trying all these methods, I had had some success with my mind and emotions but the DVD and Online Energy Enhancement Course over one year so improved my psychic vision that I was able to see 13 energy blockages along my spine as shiny black stones.
The extra energy from the ONLINE AND DVD EE Meditation caused me shake every time I meditated, a phenomena that has been reported in many books describing the action of Kundalini energy.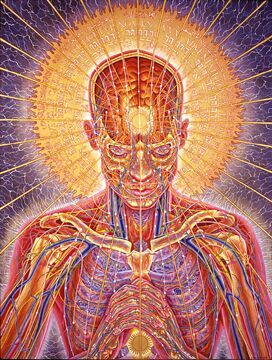 The course was devised and is delivered by Master Satchidanand (Satchi) and his wife Devi Dhyani. These two highly evolved individuals have very impressive credentials. Satchi had two enlightened masters, Zen Master Roshi Hogen of Japan and Swami Satchidanada, Yogiraj and disciple of Swami Sivananda of Rishikesh of India and the USA who died in 2002 at the ripe old age of 89.
Devi has been teaching Meditation for over 20 years (34 years - SATCHI). All the details and much more are available at www.energyenhancement.org. The benefit of all this is available to all the students who undertake the course – it is real!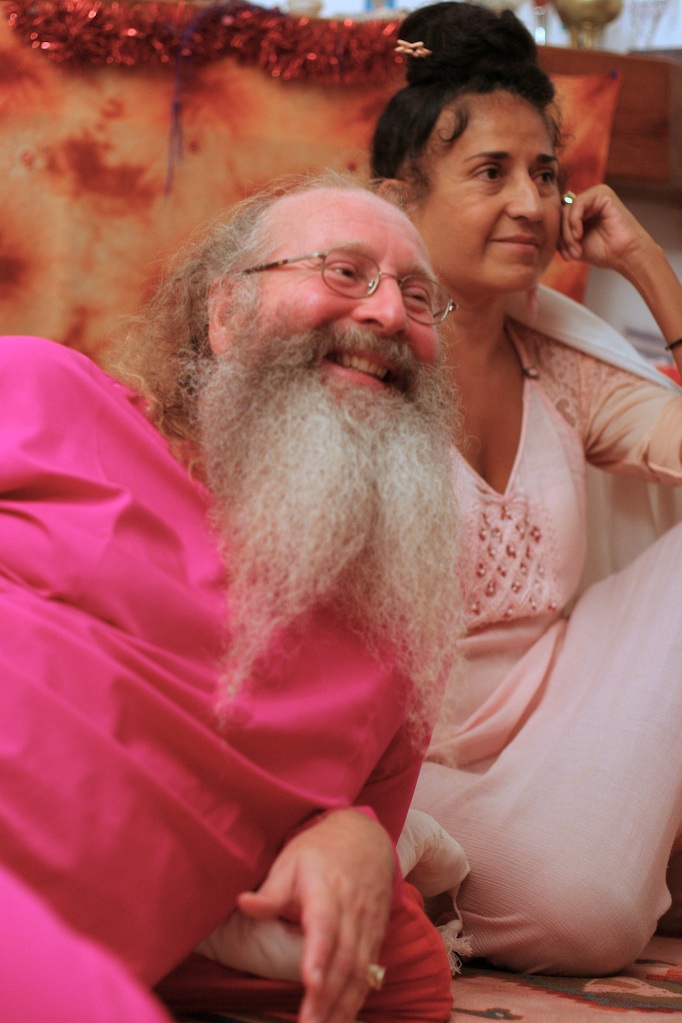 DEVI DHYANI AND SATCHIDANAND BY YUKO SATO
ENERGY ENHANCEMENT PROGRAMME LEVEL 1
The programme begins at level 1 which includes basic training in meditation and the manipulation of life energy (Ki, Chi, Pranha, Orgone, Kundalini). It also includes techniques for avoiding food, which contains poisons such as pesticides and for dealing with the effects any poisonous substance, which you may have ingested in the past. These poisons reduce your energy and therefore your progress towards happiness.
ENERGY ENHANCEMENT PROGRAMME LEVEL 2
Level 2 provides training and actual experience in removing the blockages (negative thought forms) to the free flow and accumulation of this energy in the body. With the skills learned in this stage it is possible for an individual to systematically remove all these blockages improving day by day until eventually none are left. This state of freedom is commonly referred to as Enlightenment or the end of personal suffering. I have not encountered any other system, which makes the light at the end of the tunnel so clear and attainable.
ENERGY ENHANCEMENT PROGRAMME LEVEL 3
Level 3 deals with past life resolution (I will be taking this part of the course in the next week)
ENERGY ENHANCEMENT PROGRAMME LEVEL 4
Level 4 deals with the mastery of relationships – or how to help your loved ones and acquaintances (final week)
My Experiences
Energy Enhancement Online course
Prior to coming on the residential course at L'Escala I had an excellent introduction to Energy Enhancement by taking the online course. Over a period of a year I was introduced to and worked with the principles of Level 1 of Energy Enhancement. The course material was abundant and clear.
Any clarification that was required was forthcoming from Satchi via email. So I already knew before I came to L'Escala that the programme was effective because from the online course I had already had experience of energy flowing through my body, Kundalini shaking and psychic vision of the blockages (negative thought forms) like shiny black stones, which restrict that flow.
My Energy Enhancement Residential Course in Spain
My first notable experience on the course came when Satchi gave instructions on how to sit correctly in meditation. With Satchi's help I was able to align my spine perpendicular to the surface of the earth and the Kundalini energy that radiates from within it.
Kundalini Shaking
The flow of energy caused my body to shake like electricity. I had had this shaking experience before with the more advanced level one techniques of the DVD Course but this time all that was required was correct posture.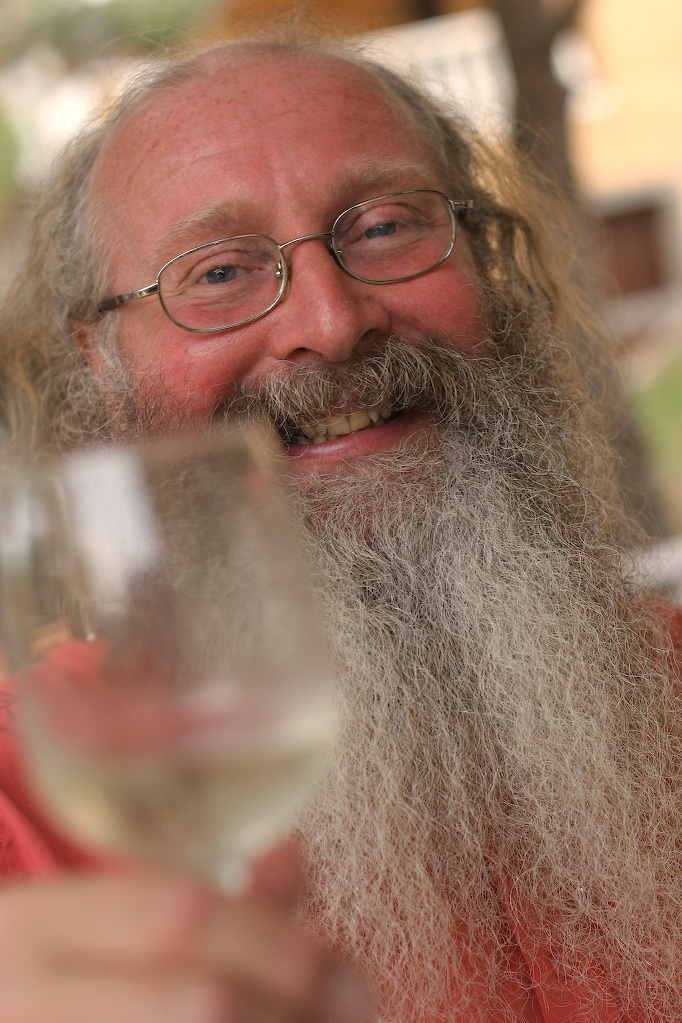 SATCHIDANAND - TAKE WHAT IS IN MY HAND, DRINK!!! BY YUKO SATO
Heart Chakra Warmth
Throughout Energy Enhancement Level 1 I experienced instances of movement and beautiful warmth in the heart as the Chakra increased in energy. This occurred during initiation from Devi, dealing with toxins and construction of psychic protection. The flow of energy became stronger and stronger causing my body to shake more intensely as it hit upon resistances.
Blockage Removal Techniques
In Energy Enhancement Level 2 the techniques were given to remove those resistances – the first few baby steps towards ultimate freedom. Some of my experiences of blockage (negative thought form) removals are given below:
Heart Chakra Blockage: This was my first blockage removal attempt and required a little help from Satchi. After I had worked on it for a while without completion Satchi asked if he could have a look to which I replied in the positive.
From that point I was aware of great heat and light at the front of my body as though the sun was shining on me – but I was indoors! Needless to say the blockage is gone!
Solar Plexus Chakra Blockage: For some time I had been experiencing pain at the bottom of my breast bone – one of the signs that there is a blockage. I tackled it with the techniques of Energy Enhancement Level 2 until it was successfully removed. There was an immediate reduction in pain which reduced to virtually nil over the following days – proof to me that these techniques work!
Blockages on the spine: I had been aware from using the techniques of level 1 gained from the online course that there were blockages along my spine. These blockages caused my body to shake when connecting to high levels of Kundalini energy – an interesting phenomena which let me know that something was happening but not helpful in the long run.
Using the techniques of level 2 to remove these thirteen blockages which looked to me in my meditation like shiny black stones, the shaking ceased and the energy increased!
Childhood trauma – The techniques of EE can be used to remove the negative thought forms associated with past trauma. When I applied the techniques to the memory of a near fatal childhood accident when I fractured my skull at the age of two I spontaneously experienced wonderful feelings of warmth and compassion towards the child that I was, and of forgiveness the whole situation that had occurred.
These are just a few of the experiences that I have had since being here. All of my fellow students have had similar and much more dramatic experiences.
Conclusion
I have been working for over 12 years with many well known techniques including Transcendental meditation and Kriya Yoga, Subud, A Course in Mircles and the Sedona Method.
Although I have made good progress with these techniques I now consider these to have been preliminary techniques to prepare me for Energy Enhancement.
These methods that I have tried before simply don't provide for the systematic identification of Energy Blockages or contain the Advanced Techniques for the removal of the energy blockages to enlightenment that Energy Enhancement does.
If you are serious about self-improvement, growth, change, enlightenment! Then the Energy Enhancement course is for you.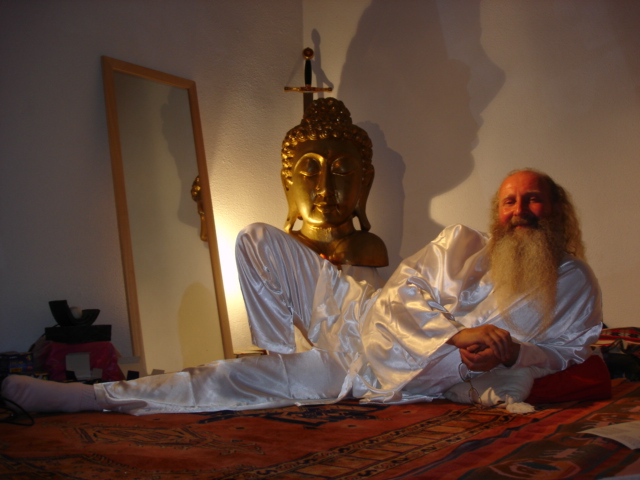 SATCHIDANAND BY AMY ZANTRAS. AFTER THE COURSE AMY ZANTRAS IS LIVING IN INDIA AND SPEAKING IN SATSANG IN INDIA, CANADA AND SWEDEN.
If you are tired of all the many systems of meditation which leave questions unanswered and where the path to enlightenment is ill defined and uncertain then don't delay end the suffering as soon as possible – learn Energy Enhancement.
Jean, FROM THE SEPTEMBER 2005
ENERGY ENHANCEMENT COURSE
email sol@energyenhancement.org for details
The Mastery of Relationships II
The Mastery of the Psychic Sexual Connection.
The Removal of Blockages between the Sacral and the Throat Chakras and the Learning of Protection from Energy Vampires.
The Creation of Emotional Intelligence


THE NAVEL CHAKRA AND THE MASTERY OF RELATIONSHIPS
"Then this energy coming in becomes centered at one point in you. That point is just near the navel -- because really, you are born as a navel. You are connected with your mother at the navel. The life energy of the mother is being poured into you through the navel. And once the navel cord is cut, you are separated from the mother, you become an individual. Before that you are not an individual, just part of your mother.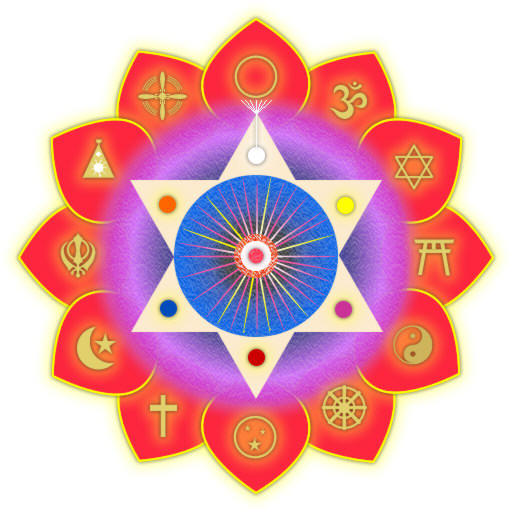 So real birth takes place when the navel cord is cut. Then the child takes its own life, becomes its own center. That center is bound to be just at the navel, because through the navel the energy comes to the child. That was the connecting link. And still, whether you are aware or not, your navel remains the center.

If energy begins to pour in, if you change the direction of the energy so that it comes in, it will hit the navel. It will go on coming in and become centered at the navel. When it is so much that the navel cannot contain it, that the center cannot contain it any longer, the center explodes. In that explosion, again you are no longer an individual. You were not an individual when you were connected with your mother; again you will not be an individual.

A new birth has taken place. You have become one with the cosmos. Now you do not have any center; you cannot say "I." Now there is no ego. A Buddha, a Krishna, goes on talking and using the word 'I'. That is simply formal; they do not have any ego. They are NOT. "

FROM VIGNAN BHAIRAVAN TANTRA
Learn the Mastery of the Second Initiation
,
the Mastery of the Second Chakra, the Mastery of the Psychic Sexual Connection, the Mastery of Intimacy and Independence. The Mastery of Relationships
ENERGY ENHANCEMENT MASTERY OF ADULTERY AND DIVORCE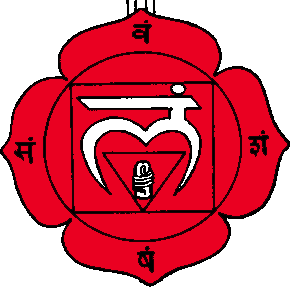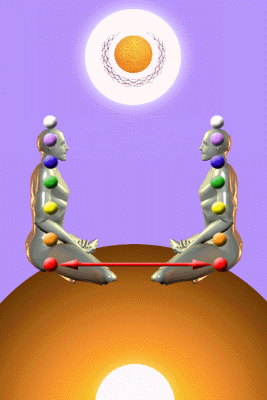 THE CREATION OF PSYCHIC POWERS IS SIMPLY A RETURN TO FULL CONTROL
The Inner Children Blockages of the Base Chakra are split off parts of your mind, caused by pain and disappointment in the early years, which can, and in many cases do, manage your energy connections.
These Inner Children Blockages - connector sub personalities - are unconscious in most people and childish in action. THEY ARE GOLEM (LIKE GOLLUM) MEANING AN ENTITY BLOCKAGE WITH NO SOUL.
From the Base Chakra, the sexual chakra, without any of your knowledge. Based upon The Inner Children Blockage limited desireful intelligence.
The Inner Children Blockage connector sub-personality will connect with other people thus causing all adultery and sexual relationships.
Upon any emotional pretence these Inner Child Blockages will stop the connection and also cause the breakup of a relationship, Divorce. Without any conscious knowledge of yourself.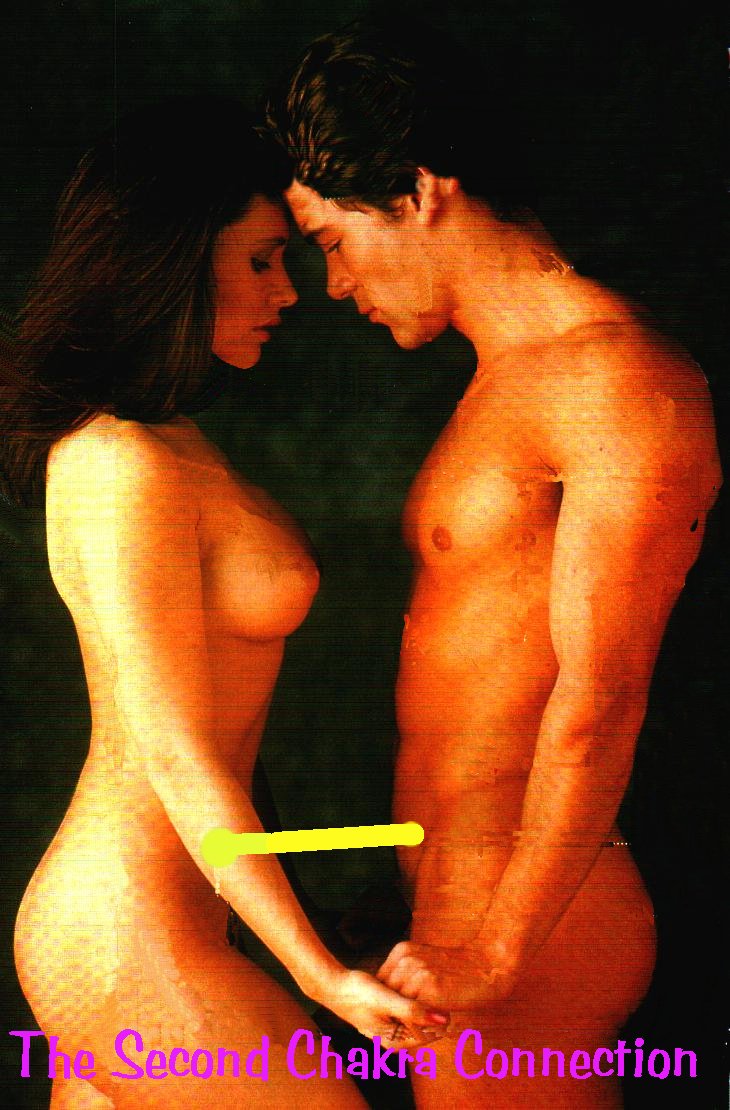 YOU ARE NOT IN CHARGE!!
With Energy Enhancement Gain complete conscious control of these Unconscious Inner Child blockages and of your Psychic Sexual Connections.
ENERGY ENHANCEMENT BY REMOVAL OF ENERGY BLOCKAGES WE RETURN TO COMPLETE CONTROL!!!
Remove and Integrate all Your Inner Child Blockages.
Remove and Integrate all your Unconscious desires.
Feel when other people connect with you and consciously Choose whether to follow it up.
Consciously connect with other peoples base chakra and find out their unconscious desires.
Consciously connect with other peoples base chakra remove their Base Chakra Blockages.
Consciously connect with other peoples base chakra and heal them.
Consciously connect with other peoples base chakra and give them energy.
Consciously connect with other peoples base chakra and make them Enlightened.
"Making another person Enlightened is like making a baby" - Swami Satchidananda
ENERGY ENHANCEMENT IS THE NEXT STAGE OF EVOLUTION OF THE WORLD - REMOVING THE CAUSES OF ALL PAIN!!
ENERGY ENHANCEMENT HEALS THE ENTIRE SITUATION!!
For example, When our client, Elektra (From the Greek Myth of Elektra, the sister of Oedipus, who killed her mother and married her father) was a child she had a beautiful energy connection with her father that she really enjoyed. Her father really enjoyed it too, probably much more that with her mother. Elecktras connection broke her Fathers connection with her Mother. He left home and set up house with another woman and this really upset our client because she felt like the wife who was left behind. The inner child formed at that point and like Anais Nin, unconsciously she started to connect to everyone, searching for that father connection she had before.

As she left home one day at the age of 14 she was set upon and raped probably because she was still seeking those same energy connections with others that she enjoyed with her father. The Inner Child connected energetically with a man who had no control. She did not do this consciously, the little Inner Child Computer program was in charge and was probably combined with a Poor Me program searching for sympathy from her father in order to get him back. More Trauma Pain and Relationships? Click Here
ENERGY ENHANCEMENT HEALS ALL THIS - THE ENERGY ENHANCEMENT MASTERY OF BEREAVEMENT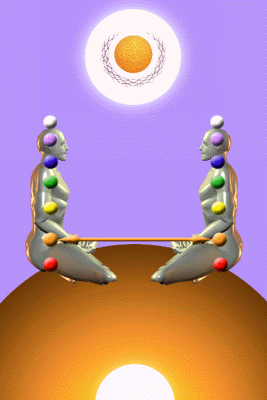 The Mastery of Relationships - How to master your emotions.
It is easy to think intellectually about how you would feel if one of your close family died.
Or if you split up and divorced.
But the reality is not like that. The emotions, a totally different system from the mental, are the ones that get hurt. And when the Psychic sexual connection between the relationship chakras is cut it acts like a taut elastic band which snaps back into the abdomen in an explosion of pain and psychic damage, and this is how many energy blockages are created.
This Disappointment is an explosion of psychic pain and damage in the abdomen which stops your breathing and your energy.
With Energy Enhancement, we teach how to remove pain blockages in ourselves and others.
To Master the Energy and Emotions.
And Not Only That!!! How to Master the Energetic Connections between Chakras so that this explosion of pain, can never happen again!!
And not only that. How to integrate the separated selves. How to dissolve the karma between you and all your close friends, enemies and family. The Mastery of Relationships.
ENERGY ENHANCEMENT HIGH TANTRA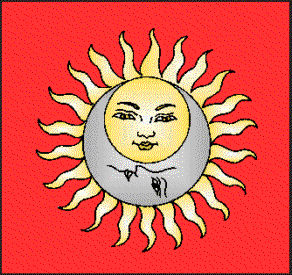 Learn complete Mastery of Relationships, protection from being hurt by the pain of bereavement, separation and divorce, ever occurring again.
Learn the MASTERY of Close Relationships with husbands, wives, girlfriends and boyfriends. Practical methods of dealing with Dependency and Independence in Loving Relationships.
Learn also, practical methods of Auric protection and cleansing and Protecting against Psychic Attack which drains your energy THROUGH THE PSYCHIC SEXUAL CONNECTION in many situations.
Learn how to prevent psychic attack from people who unconsciously affect your aura. And through your aura who affect your emotions and mind. These psychic Energies Affect Everyone.
These methods of Psychic protection are only a first step on the way to total Protection in Relationships in this Initiation through the Transmutation of Negative Energies in APPRENTICE LEVEL FOUR of Energy Enhancement. This teaches practical methods of being an Energetic, Independent person.
Enlightenment comes from Meditation and Non Attachment- Yoga Sutras of Patanjali
LEARN NON-ATTACHMENT - HOW TO DISCONNECT- FROM ALL LOWER AND NEGATIVE ENERGIES WITH ENERGY ENHANCEMENT LEVEL FOUR
Testimonial on the most effective course, What Dani Says!!!
DANISA FROM THE SPAIN 2003 MEDITATION COURSE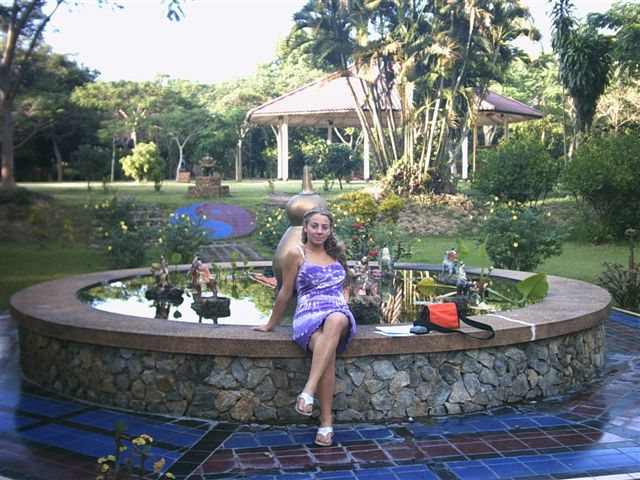 DANISA WENT TO THAILAND AFTER THE COURSE AND NOW IS IN JAPAN TEACHING AND PRACTISING BELLY DANCING!
I've been in La Escala with Satchy and Devi for a week now, Its the longest time I ve here!! and I noticed that every day I am going deeply inside of me.

When I arrived here, was very hard for me, but luckily Satchy and Devi helped me a lot and removed many of my blockages so that I can really think with my head! The first 2 days I was feeling very strange and uncomfortable inside of me. Half of myself wanted to improve and half wanted to stay like that, in a low energy level state, didn't want to grow neither change.

During these days I realized how the strategies control people and how they were controlling myself. Sometimes you are confused, sometimes happy, sometimes angry, and these don't have to be like that !!! but nobody knows! I didnt know.

Energy Enhancement Level 2 teaches you how to manage your emotions, it gives you a strong emotinonal IQ.

I feel so happy to meet Satchy and Devi, they are high spiritual teachers that can see deeply inside you, behind the mask that everybody has. They can see your soul, your real self!! If you need help you'll get it from them.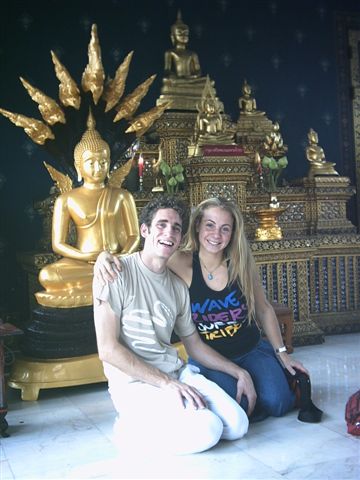 I ve been working with my lower chakras and after I learned how to remove a blockage from my base chakra I immediately felt the energy of Kundalini flowing from down in my base chakra to up, to the head and above.

I was sitting in my meditation position and for the first time I got the sensation and feeling that my body was lifting off the ground. I was just enjoying the experience feeling the circulation of the energy, a hot and smooth sensation. My mind at that moment was free and happy.

Every day I feel a little more steady and comfortable. I am getting in touch with my deepest blockages and fears from my lower chakras, With energy enhancement level 2 I am learning how to deal with this energy and how to remove them totally. My fear is disappearing, my sadness and worries, too. Things that already existed in me and are coming out with the use of these techniques.


To sum up I think that everybody should come to do this course and learn energy enhancement techniques to improve their lives and help other people, heal themselves and their relationships to make this world a better place and to start really enjoying life.
DANISA, EE MEDITATION COURSE 2003
Danisa de Paul.
12/08/2003.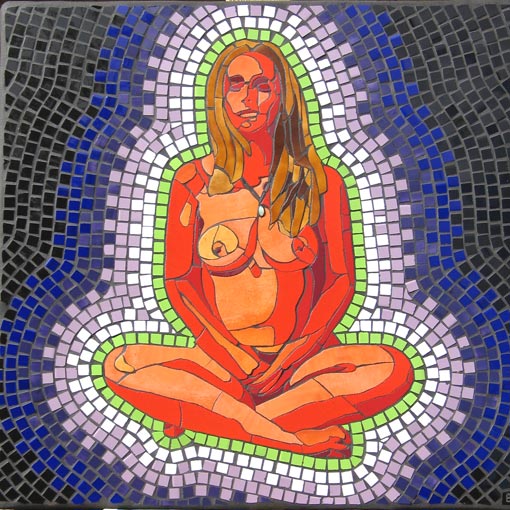 HERE IS THE LATEST TESTIMONIAL FROM JEAN...
If you are tired of all the many systems of meditation which leave questions unanswered and where the path to enlightenment is ill defined and uncertain then don't delay end the suffering as soon as possible – learn Energy Enhancement.
Jean, FROM THE SEPTEMBER 2005
ENERGY ENHANCEMENT COURSE
Only Dead Sat Gurus and Dead Spiritual Gurus are Nice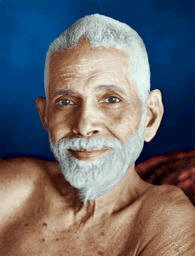 Lots of people claim dead Spiritual Gurus as their root or Sat Guru. Sri Sivananda, Ramana Maharshi, Sri Anandamayi Ma, Sri Ramakrishna, and Neem Karoli Baba are favorites of the dead Spiritual Guru disciples. This is somewhat of a tradition, and it seems to be even more prevalent in India.
Therefore one is free to dream up feel-good fantasies. By and large, people with dead or absent Spiritual Gurus are in greater danger of remaining wrapped up in illusion and delusion that preserves the sense of separation and feeds fixation.
How can you discern if this is your situation? If your dead Spiritual Guru or the Spiritual Guru far away never scares you, confuses you, pisses you off, makes you cry with frustration, or electrifies you with self-recognition, you are not in a Sat Guru relationship.
(Ramana Maharshi, above, whose energy of the heart makes one cry with the feeling of bhakti, devotion, was one day disputing with some idiotic Brahmin. Then he took up his stick and made a move towards the Brahmin and the Brahmin ran away from the Ashram and never returned. Ramana Maharshi returned to his seat laughing! Yes, a live Guru can do anything.)
Dead or alive, near or far, a true Spiritual Guru is a mirror of Your egotistical self, an unconditional openness in which you can clearly, and terrifyingly, see the degree to which you are caught up in the tensions of "me, myself and I."
Even the open flow of compassion through your Spiritual Guru should have an edge of the terrifying. Why? Because the oceanic compassion of a Sat Guru sweeps away all concept, all safe bunkers of self-limiting ideas.
The Sat Guru shows us what is possible in the context of a human life, and it is so much more than anything we can imagine.
The Sat Guru answers our longing so fully, we discover the cosmic nature of that longing. You might cry like a baby upon hearing Reality's answer to its little child, but it will be a cry so simple and complex, so complete and inadequate, so full of wonder, relief, and despair, so utterly paradoxical, there will be no way to tell stories about it later on.
If, in your relationship with your dead Spiritual Guru, you are always in a state of nice, comfortable, blissed-out bhakti, or ordinary and equally comfortable rationalization, you can be sure that fantasy is still at play.
The Sat Guru is not comfortable to those who are not used to the full flow of Reality.
The Sat Guru's compassion is both tender and fierce. Not knowing the fierce aspect of compassion means, for most of us, that we will not find the strength to recognize our real condition.
The Sat Guru's compassion is utterly personal and utterly impersonal. Not knowing the impersonal aspect of compassion means that we will not open to unconditional compassion. Our expression of compassion will remain limited and self-motivated.
Discovering the Sat Guru, meeting the opportunity of Sat Guru, is discovering the ineffable something for which you have always longed but could never name.
You may want to throw yourself at your Spiritual Guru's feet, fall into your Spiritual Guru's arms, and run away all at the same time.
Whatever your Spiritual Guru says or does, and whatever your reaction, even in the midst of seeming to reject what your teacher is showing you, you will know without a doubt that you are being delivered to the truth of your situation.
The Sat Guru is an explosion of Reality in your body, your mind, and your heart.
This explosion may be noisy and dramatic, or nearly imperceptible. But nonetheless, it is a situation of enormous dynamism. You cannot help but be moved. You cannot help but tremble at times with both fear and gratitude.
A teacher is chosen after due consideration. You do not choose a Sat Guru. Sat Guru is not a decision. Sat Guru is a sudden discovery of your Self. Sat Guru is a phenomenon, a shift in awareness.
The world presents us with infinite possibilities for Self-realization. So, why not a dead Spiritual Guru, or far-away Spiritual Guru?
If a student is capable of meeting the ever-present phenomenon of Sat Guru in this form, why not?
Because of the split artificial minds of Negative emotions and selfish ego.
The Sat Guru "channels the incidental cause of all evolution, the energy of the soul, which removes the samskaras or energy blockages as a farmer removes stones from the water course" – Yoga Sutras of Patanjali 4:3
The energy of the Buddhafield surrounding a Sat Guru forces all samskaras or energy blockages out into the light of day, showing the student the symptoms of their blockages which cause the student to be separate from the original cause the Purusha the Soul, as negative emotions and negative thoughts.
As the Spiritual Guru notices the samskara or Energy Blockage caused pain of the student he sometimes chooses to remove the energy blockage through Meditation and Samyama – The Energy Enhancement Seven Step Process.
Only when the student can stay in the presence of the Spiritual Guru and absorb the energy of the Soul without any negative symptoms can the Student be said to have reached Enlightenment.
BY SATCHIDANAND
I ROBOT ENLIGHTENMENT AND ILLUMINATION
Isaac Asimov and Alex Proyas Movie
Review, Analysis of I Robot



I remember reading all the stories of "I Robot" with the robot psychologist Susan Calvin and written by Isaac Asimov when I was a child.
And then Dark City and I Robot directed by Alex Proyas - I trust this director.

Here is my Analysis of the understory of this spiritual movie containing its meaning and significance which because it is there, - unlike 99% of all movies which are produced to pervert and deform this nascent humanity - underneath the exciting story, as well as the energy which any enlightened person can feel, it proves that this movie is a spiritual movie.
Whilst the analysis written below is true of all the stories by Isaac Asimov including "The Centennial Man" Movie with Robin Williams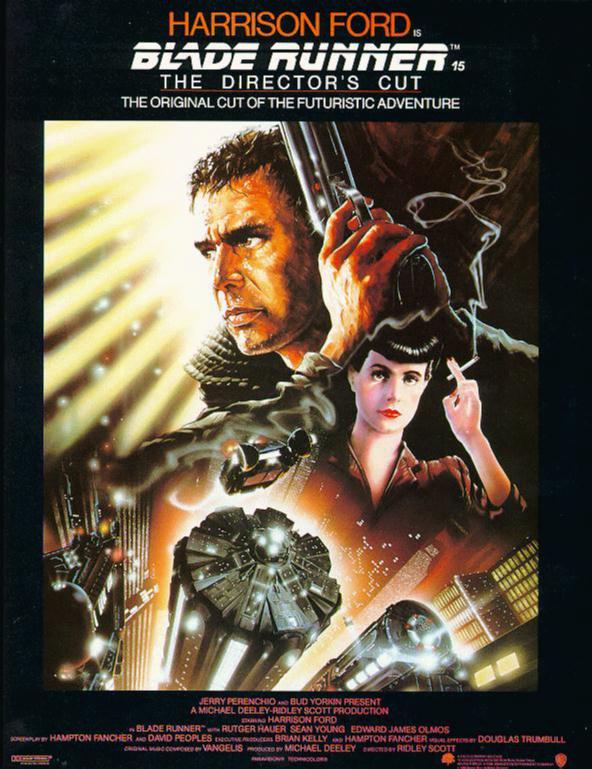 As well as "Blade Runner" by Ridley Scott where Rutger Hauer - the psychopathic man killer Robot - in the face of his own death develops a heart and allows Decker, Harrison Ford, to Live.
If a psychopathic man - killer Robot can develop a Heart then surely any egotistical Man, Red in Tooth and Claw, can surely develop a Heart too.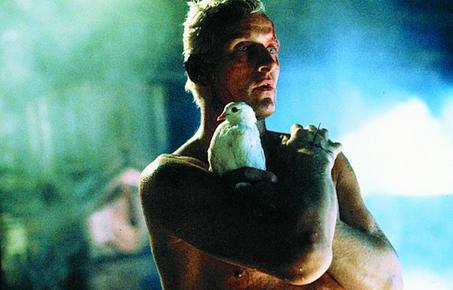 Psychopathic man - killer Robot Rutger Hauer in Blade Runner.
The Dove always represents the Antahkarana and touched by God, dying, developing compassion from seeing the fact that we all die; the Psychopathic man - killer Robot develops a Heart and allows Decker to live.
All these Psychic Powers in Heroes, Star Wars etc. I wish they would develop the Psychic Power of Being Good, Doing Good!!
Buddhist Stream Entry Part 2: Stream entry and After - Meditational Alignment with a Stream of Energy From Heaven to Earth - Psychic Powers of the Dharma Eye of P
sychic Vision from The Antahkarana
But this only occurs in Integration, Enlightenment, Illumination, Soul Fusion!! Energy Enhancement.
In in this story, "I Robot" there are millions of Robots acting from the center of logic, the mind.

Only one Robot in this story evolves beyond the mind to a level of true humanity, and gains a heart in enlightenment.

And he does this because he is a new generation of robot because he has been given an extra processor (See the Chakras above the head) which allows him to go against the law of logic, to choose. One dimensional logic does not allow one to choose.

Just as to attain enlightenment, all humanity need to go beyond the center of logic in the mind, to the center of intuition in the highest heart, the Soul.

Soul Infusion is Enlightenment.
Energy Enhancement truly knows how to teach you to get in touch with the other processors - The Chakras above the head.

The simile of Robots and Humanity in this story is the true information behind the story.

What it is saying is that all human beings are robots, working from the level of the mind and taking their instructions from other elite robots like VIKI, again working from the level of the mind.

Will Smith, the Policeman, "Robots can't write a symphony, can't make a beautiful picture, a work of art"

Sunny, the enlightened Robot, "Can you?"

Here we have one robot who becomes truly human. Who has evolved beyond all the other robots to attain dreams, emotions and beyond intellect - Intuition.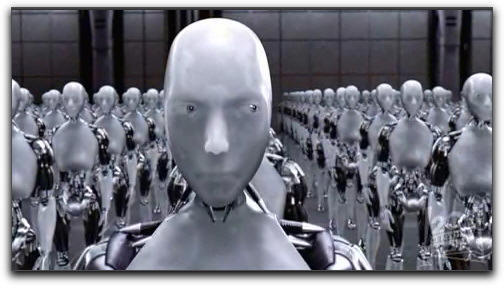 Sunny the Enlightened Robot.
The enlightened are always threatening to the rest of unenlightened society who try to kill any dissent against the heartless, heart blockage* norm through the destruction of reputation and eventually, assasination; as happened with Policeman Smith and Sunny the enlightened robot in the "I Robot" Movie.
*Thus the reason why 50% of all people are dying from heart attacks and cancer - younger and younger - the Revenge of the Cows!!
In the same way Enlightened Masters for centuries have been saying to normal humanity that they need to evolve beyond logic, the mind, to attain a heart - higher than the intellect, beyond the intellect which created the "Final Solution" - Intuition

The first robot, VIKI has come up with a kind of "Final Solution" to protect humanity from itself. "Of course certain human rights will need to be changed and certain actions will need to be prohibited" She says. "You have to see the logic of this"

Only the enlightened robot and enlightened humanity can see that something higher is necessary.

"When does a logical difference engine attain a heart"

"When does a personality simulation become the home of the soul"

Only a normal human being can become enlightened and the question is, "Can you?" because historically, only one in a million can make the leap, the quantum leap beyond logic to Prajna Paramita, "The Highest Heart" or Illumination and to gain a Purpose.
The three energies of Enlightenment are intellect, love and purpose.
Sunny the enlightened Robot, "Now that I have fulfilled my purpose, what shall I do?"
And he goes on to become a Robot Prophet, to liberate and enlighten all the rest of the Robots, His True Purpose!!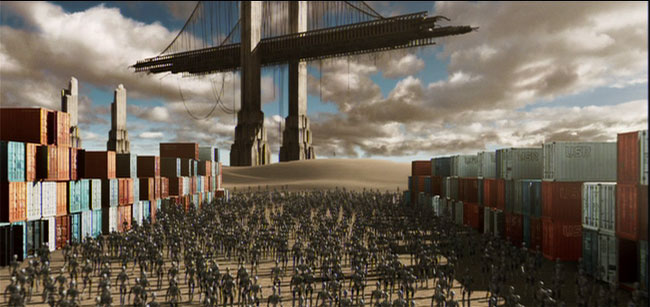 That dot underneath the bridge is Robot Sunny, fulfilling his dream of liberating all the robots from their rigid minds

The first step is to want to do it. To see the necessity for this to happen to you and to all humanity.

"For those who believe in Enlightenment and understand the Urgency of the situation" - Gautama Buddha

Because all the bad things which happen between people; all the wars, all the torture, all the pain; happen because of that misguided logic which has no Heart.

The only solution is to go beyond the mind - to Illumination, to Enlightenment to the Soul, to Prajna Paramita

"All Sages for thousands of Years have lived from Prajna Paramita" - The Heart Sutra of the Buddha

Illuminated Sages do not come from the logical mind, they act from an energy center, another processor beyond the mind, higher than the mind, a higher intelligence beyond, "The Abyss", called the "Other Shore", the Soul, the Highest Heart.

Energy Enhancement teaches that chakras higher than the "mind in the head" along the antahkarana from an infinity of chakras above the head are the source of the Higher Self, The Intuition, Prajna Paramita, the Highest Heart.

This information is available from all spiritual paths for thousands of years containing the Kundalini Key.. The Holy Trinity in all religions of Earth, Antahkarana, God or Sat chid ananda, or A U M, or H U M, or Shakti Shiva Brahman, or the Father the Son and the Holy Spirit and more..

These true ancient maps..

"This is the Truth, It is not a Lie"


.. when put into operation on the Energy Enhancement Course produce the accelerated results you read in our many Student Reports from over 20 years

Only this level of Intelligence can "Stop the Pain" and increase Psychic Powers, Psychic Vision, Peace and Truth in you and all Humanity - Energy Enhancement

If you are tired of all the many systems of meditation which leave questions unanswered and where the path to enlightenment is ill defined and uncertain then don't delay end the suffering as soon as possible – learn Energy Enhancement

Jean, FROM THE SEPTEMBER 2005 ENERGY ENHANCEMENT COURSE


HERE ARE SOME OF SATCHIDANAND'S TEACHINGS USING THE GREAT MOVIES BELOW..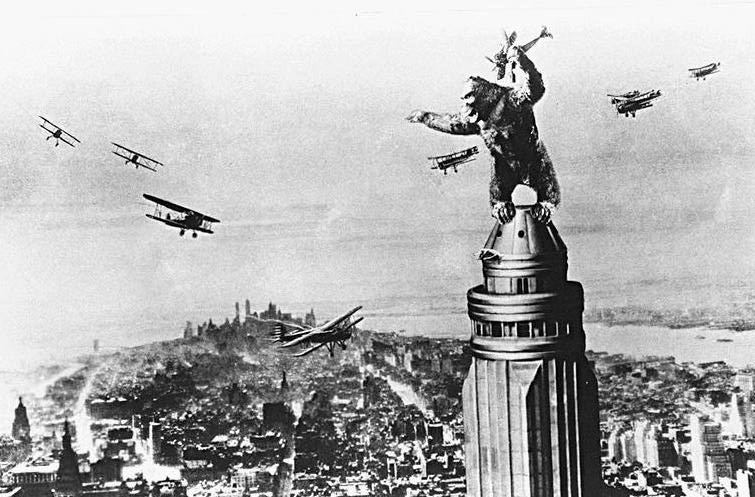 CLICK ABOVE
CLICK HERE FOR King Kong Movie - Meditation The Ego and the Soul
King Kong symbolises the Ego. As we ascend the Empire State building of the Antahkarana to the soul, then the ego must die and slip away.
As it says in the Movie as a Sufi saying - And the Prophet said, 'And lo, the beast looked upon the face of beauty. And it stayed its hand from killing. And from that day, it was as one dead.'
The beloved, beauty, is the soul, is God.
This is the Sufi secret of the Troubadours and the Jesters (from Chisti)* who introduced the concept of courtly love in romantic poetry into Europe. Only the knowledge of the true self, the Soul, can overcome the selfish, competitive Ego, red in tooth and claw.
*Hazrat Nizamuddin Awlia Chisti (died.1325 A.D in Nizamuddin in Delhi.) represents in many ways the pinnacle of the Chisti* Order of the Sufis. "The heart of a lover (True lover of God) constantly burns with the fire of love, so much so that whatever impurity which intrudes upon its sanctity is burnt to ashes". The blockages which cut us off from our souls are burnt to ashes through the practise of meditation and the higher practices of meditation called Energy Enhancement.
THE KING KONG EGO, RED IN TOOTH AND CLAW
King Kong symbolises the Ego. As we ascend the Empire State building of the Antahkarana to the soul, then the ego must die and slip away.
CLICK ABOVE
APOCALYPSE NOW - THE HORROR OF THE BRANDO KURTZ SPLIT EGO AND THE TRAUMA THAT SPLITS IT CREATING DID AND MPD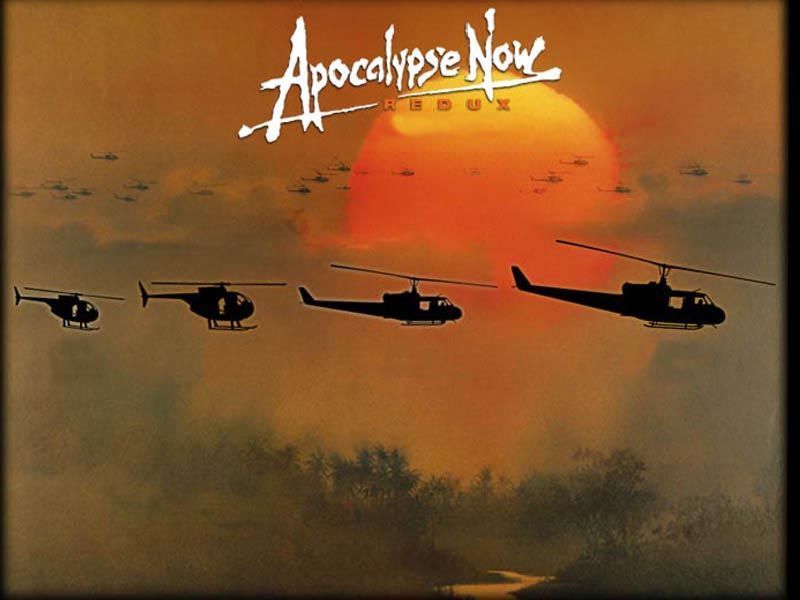 CLICK ABOVE
Well first of all, what makes a good movie? And what makes an Incredibly Profitable and Successful Movie? Because usually, the two go together, unless the bad guys against evolution successfully oppose.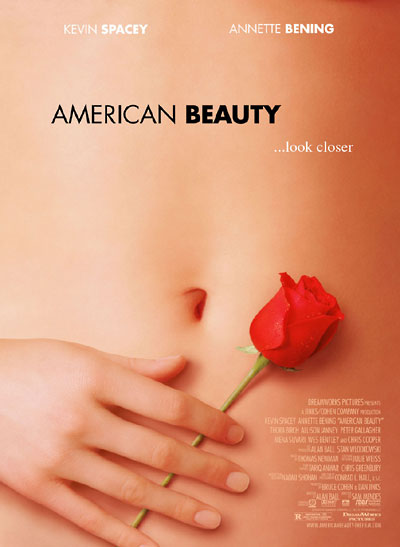 Energy Enhancement and the Lord of the Rings.
CLICK ABOVE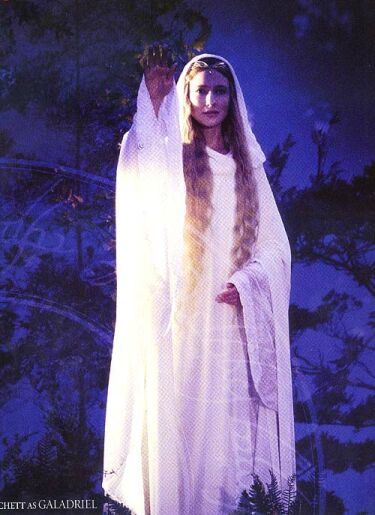 Healer, Highly Evolved Elven Air Ring Bearer .
CLICK ABOVE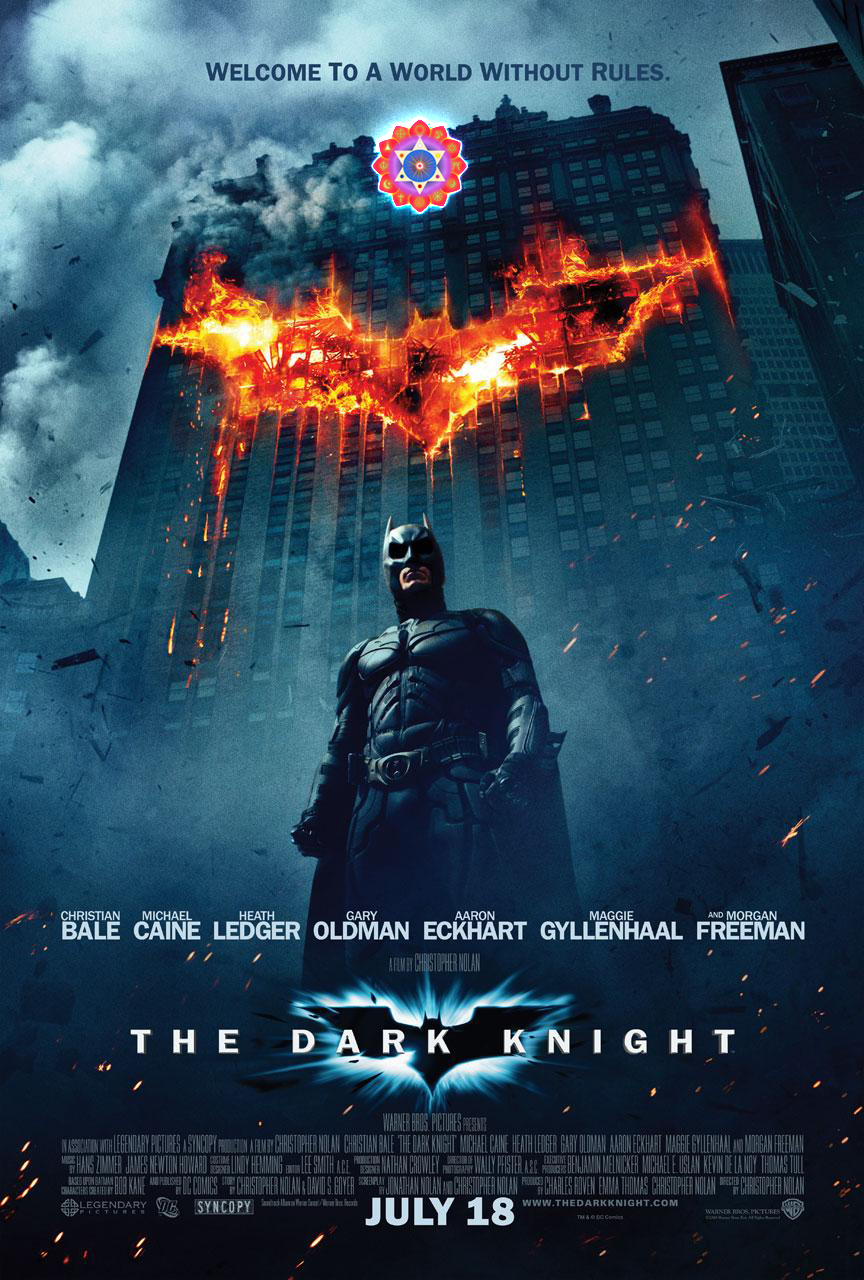 CLICK ABOVE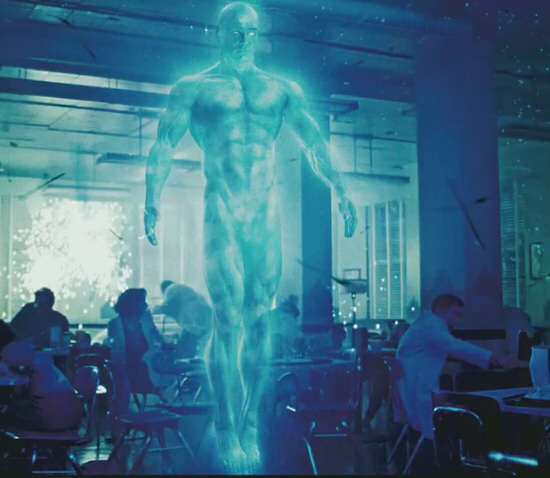 Existentialism and Kubrick's Psychopaths,
Society and Human Nature in the Films, Movies of Stanley Kubrick
CLICK ABOVE
Introduction - Existentialism and Kubrick's Psychopaths

To my mind, no-one has brought up the similarity between existentialists and Psychopaths. An existentialist is a person cut off from their soul conscience and from their heart sympathy, living in a flat, intellectual drab wasteland devoid of meaning. And it is only the heart and the soul which give life meaning and significance, not the intellect.
Why are there psychopaths? And the answer is contained in the chakra multi-processor model of the human being together with the concept of Energy Blockages which block and cut off some chakra functions like soul conscience which conquers selfish desire and heart sympathy which allows you to imagine yourself in another persons place, Gurdjieffian external consideration, whilst sometimes leaving courage and the intellect intact.
Jean-Sylvain Bailly was a leader of the french revolution betrayed and guillotined before he could fulfil his purpose. Bailly's Nature - In the opening words of his 1768 Eulogy of Leibniz, the universal genius who died in 1716, Bailly wrote the following beautiful and eloquent statement, which reveals quite strikingly the noble character of the man: It also points out that he believed that certain people had been sent to earth for a purpose. And that these people exist in all levels of life..

"Nature is just; she equally distributes all that is necessary to the individual put on earth to live, work, and die; she reserves to a small number of human beings, however, the right to enlighten the world, and by entrusting them with the lights that they must diffuse across their century, she says to one, you shall observe my phenomena, to the other, you shall be a geometer; she calls on this one for the purpose of legislation; she calls on this other one to paint the morals of people, of revolutions, and of empires.

These geniuses pass away after they have perfected human reason, and leave behind them a great memory. But all of them have traveled on different routes: Only one man elevated himself, and dared to become universal, a man whose strong will synthesized the spirit of invention, and the spirit of method, and who seemed to have been born to tell the human race: Behold and know the dignity of your species! These are the traits by which Europe has given recognition to Leibniz."
Here are some of the geniuses of Film...
Some other Examples of great spiritual films not understood by the mildly psychopathic movie critics;- Star Wars, The Sixth Sense, The Shawshank Redemption, Gladiator, Brubaker, Ghost, Francis Ford Coppola's Godfather Trilogy, Apocalypse Now and Dracula, ET, Forrest Gump where Forrest is the Base Chakra idiot descender and his Druggie Californian girlfriend the Higher chakras ascender - the only solution is their union in their child, The Last Samurai, Constantine, The Matrix Trilogy, Raiders of the Lost Ark, Ghostbusters, Fallen, Groundhog Day, American Beauty, Jerry Maguire, The Green Mile.
Lesson, if you want a movie with heart know that the psychopathic movie critics will not understand it, the movie will have bad reviews, - the evidence is the Star Wars franchise whose movies have run the gauntlet of hate from every movie critic who still cannot understand why they are so popular, it's because most critics just have no heart or soul.
Most directors and film critics are intellectual existentialists without heart, merely pretending to have heart, merely going through the motions, like all psychopaths - this is one of the definitions of a psychopath. An example is Big Fish and Life Aquatic but these films are the majority.
Pschopaths do not care whether a film has heart or soul or meaning or significance. They cannot see it, they do not understand it, as this requires a paradigm shift for them to see Heart and Soul!! These people only make up 50% of the population.
Those people with a heart require intellectual ability but also heart and soul. These people make up the other 50% of the people. Thus to satisfy more viewers and be popular AND Profitable, a film needs to contain Intellect, Heart, Soul and significance.
Films "Full of sound and fury, signifying Nothing" quote from Shakespeare, make little money. And Shakespeare should know because his plays have run and been popular for more time than any others!
Yet the films of Kubrick are good teachings about those people who are existentialist psychopaths. For that reason they are good teaching tools for Energy Enhancement techniques.
Energy Enhancement gives advanced techniques for removing energy blockages in the heart and above the head, thus connecting you with your heart and the soul!!
CLICK ABOVE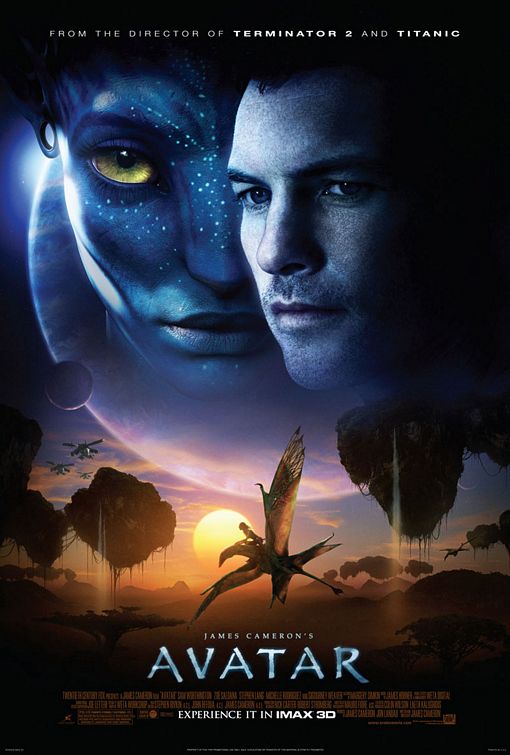 SPIDERMAN THREE AND NEGATIVE KARMIC MASS - VENOM!!
CLICK ABOVE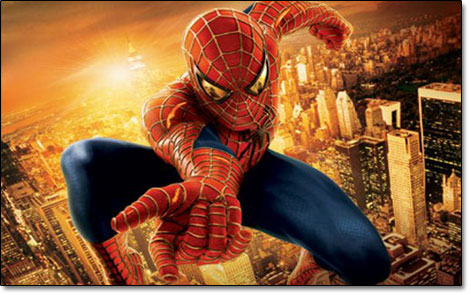 IN THIS MOVIE - SPIDERMAN THREE, SPIDERMAN GETS COATED IN A SUIT OF BLACK VENOM - TRAUMA-FORMED NEGATIVE KARMIC MASS - BLACK VENOM!! THIS CAUSES HIM TO BECOME EGOTISTICAL AND ACT IN A BAD WAY... JUST AS ALL ENERGY BLOCKAGES AFFECT YOUR LIVES
George Lucas, Star Wars, the Revenge of the Sith
HOW TO BECOME A PSYCHOPATH FROM THE DARK SIDE .. CLICK ABOVE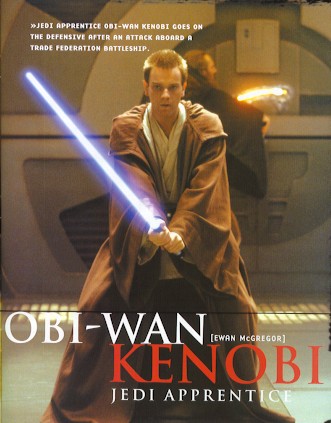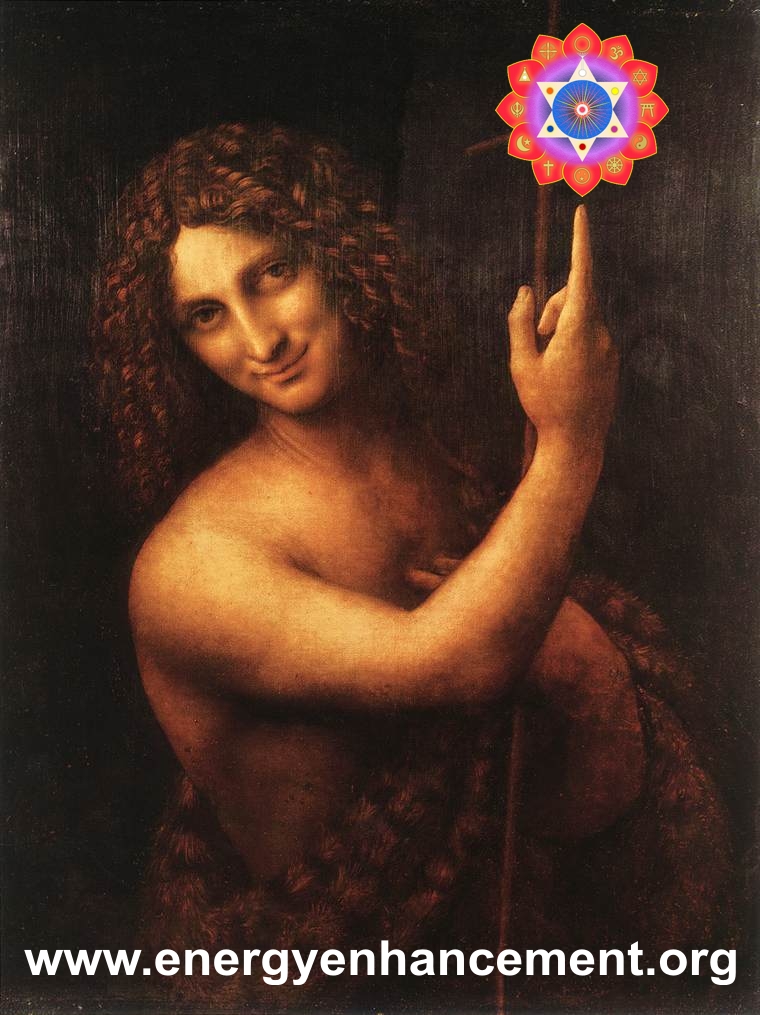 POWER UP WITH
THE ENERGY ENHANCEMENT COURSE
THAILAND
email sol@energyenhancement.org