OSHO
ZEN
RINZAI: MASTER OF THE IRRATIONAL
Chapter 3: Either experience or just go home
Question 2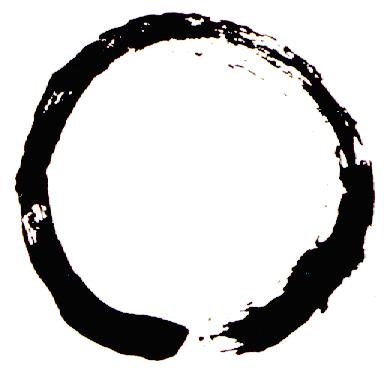 Energy Enhancement Enlightened Texts Zen Rinzai
Question 2
Maneesha has asked another question too:
OUR BELOVED MASTER,
ARE YOU NOT THE GREATEST, THE MOST DARING ICONOCLAST OF ALL TIME?
Unfortunately, Maneesha, I am.
It is time for Sardar Gurudayal Singh.
Baron Fuzz-butt, a nobleman at the court of King Arthur of Merrie England, has a reputation for being very gallant towards women.
"There is no such thing," he announces one day, "as an ugly woman."
He is overheard saying this by a woman who has a nose that is really squashed flat on her face, and she confronts Fuzz-butt.
"Confess the truth!" she cries. "You are now face to face with an ugly woman!"
"Not at all, madam," replies Baron Fuzz-butt gallantly. "You are like all women, an angel fallen from heaven. You were just unlucky that you fell on your nose!"
Gorgeous Gloria starts dating Rock Hunk, the film star, and soon moves into his penthouse apartment, high above the smog of San Francisco.
One evening, Gloria comes back from shopping to find that Rock is not at home. Feeling hungry, she looks in the freezer and finds that it is empty, so she goes out to eat at a restaurant.
By chance, she goes to the same restaurant where Rock is having a quiet candlelight dinner with Luscious Lucy, another of his girlfriends.
Gloria takes one look at the scene and quickly makes her way towards their table.
Rock Hunk looks up as Gloria comes storming across the restaurant, and then quickly looks away again as though he does not know her.
"What's the matter, darling?" snarls Gloria, as she reaches the table. "Don't you recognize me with my clothes on?"
Leroy, the black dude, is sitting up in a tree one day in Central Park, New York, enjoying the view. He is dozing off when a young white couple comes and sits on the park bench below him. The couple starts petting and kissing, and before long they are sprawled on the bench, making love.
Just then a policeman walks up and arrests the young couple for indecent exposure. The cop sees Leroy sitting up in the tree and drags him along as a witness.
The next day, in court, Leroy is in the witness stand, and the judge says, "Now, Leroy, will you tell the court what you saw?"
"Yes, your honor!" cries Leroy. "They was a-fucking!"
"Now look here!" snaps the judge. "You cannot use language like that, or I will hold you in contempt of court! Now, tell me again: what were they doing?"
"They was a-fucking!" cries Leroy.
"Right!" says the judge. "I sentence you to one month in jail for contempt."
A month later Leroy is back in the witness stand and the judge asks him again what he saw.
"Your honor!" cries Leroy. "They was a-fucking!"
"One month in jail for contempt!" cries the judge, and Leroy is taken away.
This goes on, month after month, for the next few years. Finally, when Leroy comes back for the two-hundredth time, the judge says, "Look, Leroy, I am completely fed up with this case. We are all a lot older now; surely you can tell me, in decent language, what happened that day in the park!"
"Okay, your honor," says Leroy, "let me put it like this:
His pants was down
Below his knees,
His balls was swayin'
In the breeze.
His you-know-what,
Was you-know-where,
And if that's not fucking,
Give me the electric chair!"
Nivedano...
(Drumbeat)
(Gibberish)
Nivedano...
(Drumbeat)
Be silent, close your eyes, and feel your body to be completely frozen.
Now look inwards with your total life energy, with your whole consciousness and with a great urgency, as if this moment is the last moment. Penetrate into your center of being just like an arrow.
There, at the center, you are a buddha and a contemporary of all the buddhas. Even this very moment time has disappeared... mind has been left behind. You have gone beyond both.
This silence, this blissfulness, this utter serenity... Only one thing remains, witnessing, because witnessing is another name of the buddha.
Hold on to witnessing as Nivedano will give you the signal to relax.
Nivedano...
(Drumbeat)
Hold on to the witnessing.
You are not the body, you are not the mind, you are just a pure consciousness, an awareness. As you become deeply aware, your individual entity disappears. This Buddha Auditorium really becomes a buddha lake. I can see your consciousness melting and merging into a lake without any ripples.
At this moment this place is the holiest, because nowhere else in the world are ten thousand people trying to reach to the center.
This center has to be brought slowly, slowly to your ordinary activities.
The same witnessing, the same silence, the same grace, the same joy -- whatever you do around the clock, remember you are a buddha and you have to keep the dignity of a buddha, and your whole life will be transformed.
Now, collect as much awareness, as many flowers that have been showering on you... The beauty, the truth, the good, you have to carry them back.
This evening was beautiful on its own accord, but the ten thousand buddhas melting into an ocean made it a historical moment.
There were days in the past when in many places this golden moment was happening. Now all those places have disappeared.
I am trying to revive a forgotten language.
Nivedano...
(Drumbeat)
Come back... but don't forget that you are a buddha. Silently, peacefully, carrying a great awareness with you, remain in this awareness twenty-four hours a day. Slowly slowly it will become your very heartbeat. You will not have to remember it; it will be there just like an undercurrent in all your actions, gestures, words, silences.
Collect the experience.
Remember the golden path that you have gone in by, and have come out from the same path.
Okay, Maneesha?
Yes, Beloved Master.
Energy Enhancement Enlightened Texts Zen Rinzai
Chapters:
Osho - Talks on Zen: Rinzai: Master of the Irrational, Chapter 1: The Master of the shouts, RINZAI BECAME KNOWN AS THE MASTER OF THE SHOUTS. ON ONE OCCASION, A MONK ASKED, 'WHAT ABOUT THE CARDINAL PRINCIPLE OF THE BUDDHA-DHARMA?' at energyenhancement.org
Osho - Talks on Zen: Rinzai: Master of the Irrational, Chapter 1: The Master of the shouts, Question 1, OUR LOVE FOR MUSIC, POETRY, DANCE, OUR LOVE FOR LOVE ITSELF -- DOESN'T THAT SUGGEST AN URGE IN US TO DISAPPEAR? at energyenhancement.org
Osho - Talks on Zen: Rinzai: Master of the Irrational, Chapter 2: Empty heart, empty mind, ON ONE OCCASION RINZAI SAID, 'WHOEVER COMES TO ME, I DO NOT FAIL HIM: I KNOW EXACTLY WHERE HE COMES FROM. IF HE SHOULD COME IN A PARTICULAR WAY, HE WOULD BE AS IF HE HAD LOST HIMSELF... at energyenhancement.org
Osho - Talks on Zen: Rinzai: Master of the Irrational, Chapter 2: Empty heart, empty mind, Question 2, I FEEL VERY GRATEFUL FOR YOUR ENLIGHTENMENT, YOUR WISDOM, YOUR DARING EXPERIMENTS, YOUR LIFE at energyenhancement.org
Osho - Talks on Zen: Rinzai: Master of the Irrational, Chapter 2: The Master of the shouts, Question 2, YOU HAVE BEEN SPEAKING ON THE EMPTY HEART OF ZEN. LAST NIGHT WE SPENT AN EVENING LISTENING TO RUMI'S EXPRESSION OF THE SUFI HEART. COULD YOU TALK OF THE DIFFERENCE BETWEEN THE TWO? at energyenhancement.org
Osho - Talks on Zen: Rinzai: Master of the Irrational, Chapter 3: Either experience or just go home, ON ONE OCCASION RINZAI SAID, 'FOLLOWERS OF THE WAY, YOU SEIZE UPON WORDS FROM THE MOUTHS OF OLD MASTERS AND TAKE THEM TO BE THE TRUE WAY, SAYING, `THESE GOOD MASTERS ARE WONDERFUL, AND I, SIMPLE-MINDED FELLOW THAT I AM, DON'T DARE MEASURE SUCH OLD WORTHIES... at energyenhancement.org
Osho - Talks on Zen: Rinzai: Master of the Irrational, Chapter 3: Either experience or just go home, Question 1, CAN ONLY OTHER ENLIGHTENED BEINGS, OR PEOPLE WHO ARE YET TO COME, BE CONTEMPORARIES OF A MASTER? at energyenhancement.org
Osho - Talks on Zen: Rinzai: Master of the Irrational, Chapter 3: Either experience or just go home, Question 2, ARE YOU NOT THE GREATEST, THE MOST DARING ICONOCLAST OF ALL TIME? at energyenhancement.org
Osho - Talks on Zen: Rinzai: Master of the Irrational, Chapter 4: How coarse, ONE DAY WHEN RINZAI AND PU'HUA WERE BOTH ATTENDING A DINNER AT A PATRON'S HOUSE, RINZAI ASKED: 'A HAIR SWALLOWS UP THE GREAT SEA, AND A MUSTARD SEED CONTAINS MOUNT SUMERU...' at energyenhancement.org
Osho - Talks on Zen: Rinzai: Master of the Irrational, Chapter 4: How coarse, Question 1, WITH THE PATH OF SUFISM, THE WAY OF THE HEART BEHIND US, WHERE DOES THE DEVOTEE FIT IN? at energyenhancement.org
Osho - Talks on Zen: Rinzai: Master of the Irrational, Chapter 5: Relax and disappear, RINZAI ONCE WENT TO VISIT ONE OF UNGAN'S DISCIPLES, ANZAN. ON THAT OCCASION HE ASKED ANZAN: 'WHAT IS THE WHITE COW OF THE DEWY GROUND?' at energyenhancement.org
Osho - Talks on Zen: Rinzai: Master of the Irrational, Chapter 5: Relax and disappear, Question 1, IS IT USEFUL FOR THOSE OF US WITH YOU TO TRY TO UNDERSTAND WHAT IS HAPPENING IN OUR MEDITATION AND GROWTH, AND TO BE ABLE TO ARTICULATE IT? OR DO WE JUST NEED TO WATCH? at energyenhancement.org
Osho - Talks on Zen: Rinzai: Master of the Irrational, Chapter 6: All you can do is drop your mind, WHEN RINZAI ONCE VISITED HORIN, HORIN SAID: 'INTO THE SEA, THE MOONLIGHT FALLS CLEAR AND SHADOWLESS, BUT THE WANTON FISH DECEIVE THEMSELVES' at energyenhancement.org
Osho - Talks on Zen: Rinzai: Master of the Irrational, Chapter 6: All you can do is drop your mind, Question 1, IS THE WITNESS A PRESENCE OR SIMPLY AN ABSENCE -- THE ABSENCE OF IDENTIFICATION WITH BODY AND MIND? at energyenhancement.org
Osho - Talks on Zen: Rinzai: Master of the Irrational, Chapter 7: There is no final destination, ONCE, WHEN KINGYU SAW RINZAI COMING TO HIS MONASTERY, HE SAT IN HIS ROOM HOLDING HIS STICK CROSSWISE. RINZAI STRUCK THE STICK THREE TIMES WITH HIS HAND, THEN ENTERED THE MONK'S HALL AND SAT DOWN IN THE FIRST SEAT at energyenhancement.org
Osho - Talks on Zen: Rinzai: Master of the Irrational, Chapter 7: There is no final destination, Question 1, WHEN THERE IS NOTHING TO PERCEIVE -- NO INPUT FROM THE BODY OR THE MIND AND SO ONE HAS NOTHING BY WHICH TO DEFINE ONESELF -- IS WHAT IS LEFT WITNESSING? at energyenhancement.org
Osho - Talks on Zen: Rinzai: Master of the Irrational, Chapter 8: Holidays are not for saints, RINZAI SAID, 'I EXPOUND THE DHARMA OF MIND-GROUND, BY WHICH ONE CAN ENTER THE SECULAR AND THE SACRED...' at energyenhancement.org
Osho - Talks on Zen: Rinzai: Master of the Irrational, Chapter 8: Holidays are not for saints, Question 1, FROM RECOGNITION OF AN INTERNAL, UNWAVERING WITNESS, TO WORSHIP OF AN EXTERNAL GOD FOR WHOM PEOPLE KILL -- CAN WE REALLY MAKE THE JOURNEY BACK TO THE WITNESS AGAIN WITHIN A SPLIT SECOND, WITH JUST ONE STEP? at energyenhancement.org