OSHO
ZEN
RINZAI: MASTER OF THE IRRATIONAL
Chapter 5: Relax and disappear
Question 1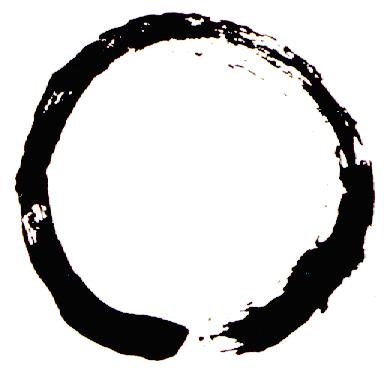 Energy Enhancement Enlightened Texts Zen Rinzai
Question 1
Maneesha has asked:
OUR BELOVED MASTER,
IS IT USEFUL FOR THOSE OF US WITH YOU TO TRY TO UNDERSTAND WHAT IS HAPPENING IN OUR MEDITATION AND GROWTH, AND TO BE ABLE TO ARTICULATE IT? OR DO WE JUST NEED TO WATCH?
Maneesha, you just need to watch. The moment you start thinking, "What is happening?" mind will come back. If you start analyzing, mind will come back. Whatever you do, except watching, mind will come back. That is the only enemy to be avoided, and watching is the only shelter in which the mind cannot enter.
Your question is significant. One tends to think, "What is happening?" and analyze it. But one is unaware of the fact that in this effort of analyzing, finding explanations, mind has come back from the back door. By watching, we are trying to get free from mind. All other activities belong to the mind.
So you need only to watch, you need only to get as deep in watching as you can. Go deeper and deeper to such an extent that mind is left miles back, and only a pure witness is there. That is your pure gold, that is your buddha.
Now it is Sardar Gurudayal Singh's time.
Mungo, a big black gentleman, walks out of the jungle and into an African town looking for work. He hears of a job at the local factory, and goes along for an interview.
"You can have the job," says the white boss, "but you must understand one thing: I don't want you to bring any friends or relatives here. I know what you jungle people are like. This job is for you only. Understand?"
"Yes, I understand, boss!" says Mungo. "No friends. No relations. Just me, myself, alone!"
The next morning, when he arrives to start work, Mungo walks through the factory gates followed by a little black pygmy.
"Hey!" shouts the boss, "I thought I told you, no relatives and no friends!"
"But boss," stammers Mungo, "he is not my friend or my relative -- he is my lunch!"
In a small village in southern Italy, Giovanni and Maria get married. But Giovanni lives in a small cottage with all his family, so the young couple have to spend their wedding night sleeping in the same room as everybody else.
In the middle of the night, Giovanni and Maria start to make love, but suddenly Maria cries, "Ah! Giovanni, it hurts-a too much!"
"Really?" says Giovanni. "Okay, I will-a go to the cupboard and put-a little olive oil on-a my noodle."
So he gets up, steps over his father, his mother, his sister, his grandfather and grandmother, and finally gets to the cupboard. He puts a little oil on his prick and then goes back to Maria.
But after a few minutes, Maria cries again, "Ah! Giovanni, remember I am-a virgin! It hurts-a too much."
"Okay," says Giovanni, "I will put-a some more olive oil on-a my noodle." So he climbs over his father, mother, sister, grandmother and grandfather and puts some more oil on his prick. Then he goes back to Maria.
But the same thing happens again. This time, Giovanni has climbed over everyone and got to the cupboard, when suddenly his grandfather sits up in bed and shouts, "Hey, Maria! Go easy on-a the oil! What-a the hell will we use for salad-dressing tomorrow -- Giovanni's prick?"
Pope the Polack is setting out on his Catholic pilgrimage to America, when he gets lost in the Rome International Airport. He wanders around the corridors, pushing his luggage trolley, and somehow gets on a flight to London.
Arriving at London Airport in his long gown and rocket-shaped hat, the Polack pope walks up to the immigration desk, where he is asked to fill out a form. The pope copies all the details out of his Polish passport and then hands the form to the official.
"There is one section that needs completing," says the official, eyeing the Polack's strange clothing and pointing to the paragraph marked `sex'.
"Oh, yes!" says Pope the Polack. "That should read: Twice a day."
"Really?" says the official. "But I don't want to know that, what I want to know is: male or female?"
"Oh, I see what you mean," replies the Polack pope, with a wink. "I like both!"
Nivedano...
(Drumbeat)
(Gibberish)
Nivedano...
(Drumbeat)
Be silent. Close your eyes and feel your body to be completely frozen.
Now look inwards with your total consciousness with your total life energy and with an urgency as if this is your last moment of life. Only with such urgency you can reach to the center of your being.
Your center of being is also the center of the whole cosmos. At the center we are all one. Just witness deeply. The deeper your witness... the fog disappears and you can see yourself as a buddha.
The experience of being a buddha is the greatest experience in life. Suddenly from all over flowers start raining, existence becomes so loving. In this silence everything becomes a dance. Even silence becomes a song.
Deeper and deeper... let your arrow of consciousness penetrate as deep as possible. The path is small. A little courage and suddenly you are at the center, freed from the body, freed from the mind, you are ready to disappear into the cosmos. To be nobody is the greatest blissfulness.
Nivedano...
(Drumbeat)
Relax, and just disappear in the ocean of consciousness that is surrounding you. We are nothing but fish in the ocean. This moment the Buddha Auditorium has become a lake of consciousnesses without any ripples.
Such joy, such peace... and the experience of your being immortal, eternal. You have been here always and you will be here always. There are only two ways of being here: one is in bondage, another is in freedom. Watchfulness takes you out of the prison and opens the doors of the infinity.
You are not the body, you are not the mind. You are only this witnessing consciousness. This is your freedom. This is your original face. This is the buddha you have been searching for.
You have to bring all this experience slowly, slowly to your circumference, to your daily life. In your ordinary activities the buddha has to be expressed. In your love, in your other relationships, in your friends, in the marketplace, sitting or walking, talking or silent, you should remember you are a buddha.
Nivedano...
(Drumbeat)
Come back, but bring all that is at the center to the circumference. Come back as a buddha, gracefully, peacefully, in absolute silence and you know what Zen is.
This bringing of the buddha to the surface is the whole science of Zen. To transform every being into his original face -- that is the face of the buddha -- is my work, and it is your work too.
The more buddhas we have around the earth, the more the earth is protected from destructive forces. The more buddhas we have around the earth, the more beautiful it will become.
Okay, Maneesha?
Yes, Beloved Master.
Next: Chapter 6: All you can do is drop your mind
Energy Enhancement Enlightened Texts Zen Rinzai
Chapters:
Osho - Talks on Zen: Rinzai: Master of the Irrational, Chapter 1: The Master of the shouts, RINZAI BECAME KNOWN AS THE MASTER OF THE SHOUTS. ON ONE OCCASION, A MONK ASKED, 'WHAT ABOUT THE CARDINAL PRINCIPLE OF THE BUDDHA-DHARMA?' at energyenhancement.org
Osho - Talks on Zen: Rinzai: Master of the Irrational, Chapter 1: The Master of the shouts, Question 1, OUR LOVE FOR MUSIC, POETRY, DANCE, OUR LOVE FOR LOVE ITSELF -- DOESN'T THAT SUGGEST AN URGE IN US TO DISAPPEAR? at energyenhancement.org
Osho - Talks on Zen: Rinzai: Master of the Irrational, Chapter 2: Empty heart, empty mind, ON ONE OCCASION RINZAI SAID, 'WHOEVER COMES TO ME, I DO NOT FAIL HIM: I KNOW EXACTLY WHERE HE COMES FROM. IF HE SHOULD COME IN A PARTICULAR WAY, HE WOULD BE AS IF HE HAD LOST HIMSELF... at energyenhancement.org
Osho - Talks on Zen: Rinzai: Master of the Irrational, Chapter 2: Empty heart, empty mind, Question 2, I FEEL VERY GRATEFUL FOR YOUR ENLIGHTENMENT, YOUR WISDOM, YOUR DARING EXPERIMENTS, YOUR LIFE at energyenhancement.org
Osho - Talks on Zen: Rinzai: Master of the Irrational, Chapter 2: The Master of the shouts, Question 2, YOU HAVE BEEN SPEAKING ON THE EMPTY HEART OF ZEN. LAST NIGHT WE SPENT AN EVENING LISTENING TO RUMI'S EXPRESSION OF THE SUFI HEART. COULD YOU TALK OF THE DIFFERENCE BETWEEN THE TWO? at energyenhancement.org
Osho - Talks on Zen: Rinzai: Master of the Irrational, Chapter 3: Either experience or just go home, ON ONE OCCASION RINZAI SAID, 'FOLLOWERS OF THE WAY, YOU SEIZE UPON WORDS FROM THE MOUTHS OF OLD MASTERS AND TAKE THEM TO BE THE TRUE WAY, SAYING, `THESE GOOD MASTERS ARE WONDERFUL, AND I, SIMPLE-MINDED FELLOW THAT I AM, DON'T DARE MEASURE SUCH OLD WORTHIES... at energyenhancement.org
Osho - Talks on Zen: Rinzai: Master of the Irrational, Chapter 3: Either experience or just go home, Question 1, CAN ONLY OTHER ENLIGHTENED BEINGS, OR PEOPLE WHO ARE YET TO COME, BE CONTEMPORARIES OF A MASTER? at energyenhancement.org
Osho - Talks on Zen: Rinzai: Master of the Irrational, Chapter 3: Either experience or just go home, Question 2, ARE YOU NOT THE GREATEST, THE MOST DARING ICONOCLAST OF ALL TIME? at energyenhancement.org
Osho - Talks on Zen: Rinzai: Master of the Irrational, Chapter 4: How coarse, ONE DAY WHEN RINZAI AND PU'HUA WERE BOTH ATTENDING A DINNER AT A PATRON'S HOUSE, RINZAI ASKED: 'A HAIR SWALLOWS UP THE GREAT SEA, AND A MUSTARD SEED CONTAINS MOUNT SUMERU...' at energyenhancement.org
Osho - Talks on Zen: Rinzai: Master of the Irrational, Chapter 4: How coarse, Question 1, WITH THE PATH OF SUFISM, THE WAY OF THE HEART BEHIND US, WHERE DOES THE DEVOTEE FIT IN? at energyenhancement.org
Osho - Talks on Zen: Rinzai: Master of the Irrational, Chapter 5: Relax and disappear, RINZAI ONCE WENT TO VISIT ONE OF UNGAN'S DISCIPLES, ANZAN. ON THAT OCCASION HE ASKED ANZAN: 'WHAT IS THE WHITE COW OF THE DEWY GROUND?' at energyenhancement.org
Osho - Talks on Zen: Rinzai: Master of the Irrational, Chapter 5: Relax and disappear, Question 1, IS IT USEFUL FOR THOSE OF US WITH YOU TO TRY TO UNDERSTAND WHAT IS HAPPENING IN OUR MEDITATION AND GROWTH, AND TO BE ABLE TO ARTICULATE IT? OR DO WE JUST NEED TO WATCH? at energyenhancement.org
Osho - Talks on Zen: Rinzai: Master of the Irrational, Chapter 6: All you can do is drop your mind, WHEN RINZAI ONCE VISITED HORIN, HORIN SAID: 'INTO THE SEA, THE MOONLIGHT FALLS CLEAR AND SHADOWLESS, BUT THE WANTON FISH DECEIVE THEMSELVES' at energyenhancement.org
Osho - Talks on Zen: Rinzai: Master of the Irrational, Chapter 6: All you can do is drop your mind, Question 1, IS THE WITNESS A PRESENCE OR SIMPLY AN ABSENCE -- THE ABSENCE OF IDENTIFICATION WITH BODY AND MIND? at energyenhancement.org
Osho - Talks on Zen: Rinzai: Master of the Irrational, Chapter 7: There is no final destination, ONCE, WHEN KINGYU SAW RINZAI COMING TO HIS MONASTERY, HE SAT IN HIS ROOM HOLDING HIS STICK CROSSWISE. RINZAI STRUCK THE STICK THREE TIMES WITH HIS HAND, THEN ENTERED THE MONK'S HALL AND SAT DOWN IN THE FIRST SEAT at energyenhancement.org
Osho - Talks on Zen: Rinzai: Master of the Irrational, Chapter 7: There is no final destination, Question 1, WHEN THERE IS NOTHING TO PERCEIVE -- NO INPUT FROM THE BODY OR THE MIND AND SO ONE HAS NOTHING BY WHICH TO DEFINE ONESELF -- IS WHAT IS LEFT WITNESSING? at energyenhancement.org
Osho - Talks on Zen: Rinzai: Master of the Irrational, Chapter 8: Holidays are not for saints, RINZAI SAID, 'I EXPOUND THE DHARMA OF MIND-GROUND, BY WHICH ONE CAN ENTER THE SECULAR AND THE SACRED...' at energyenhancement.org
Osho - Talks on Zen: Rinzai: Master of the Irrational, Chapter 8: Holidays are not for saints, Question 1, FROM RECOGNITION OF AN INTERNAL, UNWAVERING WITNESS, TO WORSHIP OF AN EXTERNAL GOD FOR WHOM PEOPLE KILL -- CAN WE REALLY MAKE THE JOURNEY BACK TO THE WITNESS AGAIN WITHIN A SPLIT SECOND, WITH JUST ONE STEP? at energyenhancement.org