JEAN'S SEPTEMBER 2005
COURSE TESTIMONIAL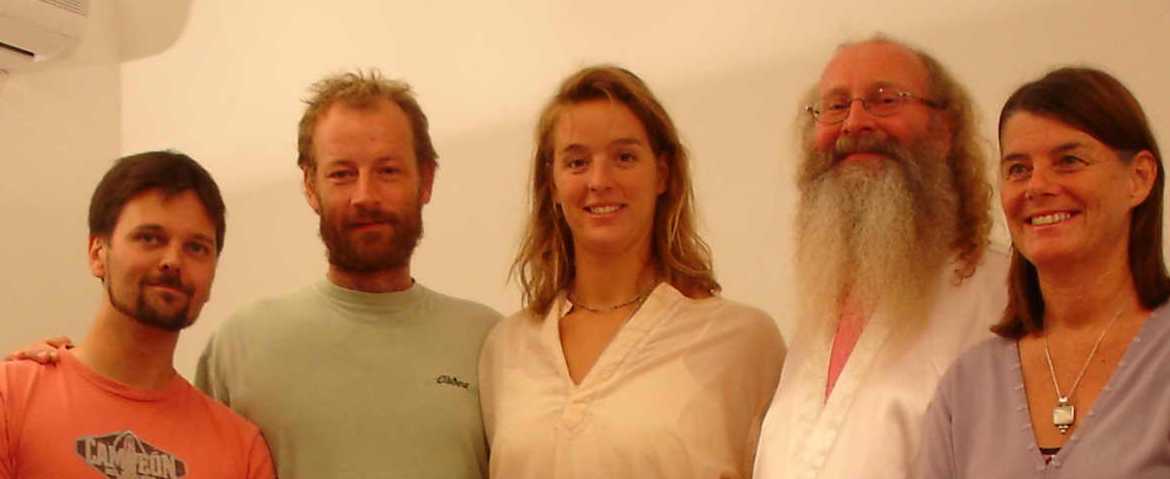 JEAN, THOMAS, AMY, SATCHIDANAND AND VANESSA IN SPAIN
My Introduction and background
My name is Jean, and I am a thirty seven year old Chartered Engineer from the UK working in the Nuclear Industry.
Since beginning the four-week Energy Enhancement course two weeks ago I have been consistently impressed with the efficacy of this programme.
I have experience of many forms of meditation and practices for self improvement including: Transcendental meditation (TM) 12 years, Kriya Yoga 9 years, Sushila Buddhi Dharma (SUBUD) 7 years, and more recently the Sedona Method and the Course in Miracles. The Energy Enhancement programme encapsulates and expands all of these systems, it is complete and no questions are left unanswered.
After years of trying all these methods, I had had some success with my mind and emotions but the DVD and Online Energy Enhancement Course over one year so improved my psychic vision that I was able to see 13 energy blockages along my spine as shiny black stones.
The extra energy from the ONLINE AND DVD EE Meditation caused me shake every time I meditated, a phenomena that has been reported in many books describing the action of Kundalini energy.
I had to wait for the advanced blockage removing techniques of EE Level 2 and a lot of hard work over one week before these energy blockages were removed and my Kundalini shaking, so much a part of my preliminary Energy Enhancement meditational experience over the last year, was brought to a stop.