YUKO SATO - MEDITATION ENERGY ENHANCEMENT TESTIMONIAL FROM THE SEPTEMBER 2006 COURSE
Yuko comes from Japan and is a Professional Photographer in Shanghai and London. Before coming on the course she had not meditated before although she has been trying Yoga for a while...
Oh my god, I changed a lot!
I screamed with silence.
I was sitting in the bar around 9 p.m. by myself in Barcelona on the first night after my Energy Enhancement Course. On the way back to the hotel, I wanted to have one drink. Surrounding by local Spanish people, everybody had a good time with their own friends, even a bartender was chatting with some regular customers.
I was drinking a glass of red wine in the middle of them and felt totally relaxed without fear. I enjoyed the moment of being, by myself, in foreign county as a stranger.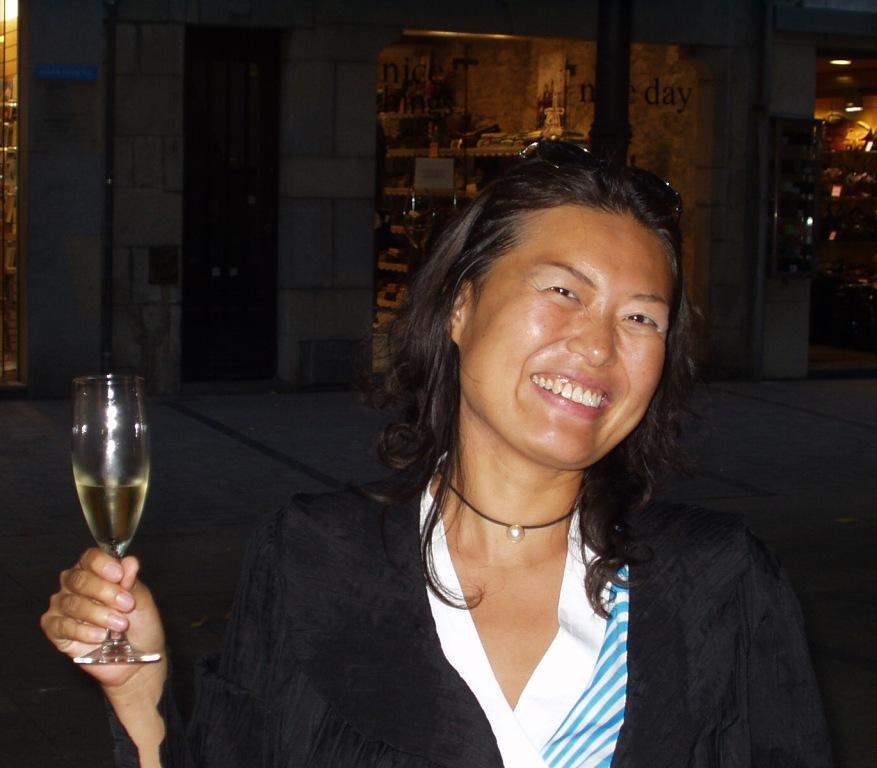 YUKO SATO TAKING A GLASS OF WINE IN GIRONA, SPAIN DURING THE ENERGY ENHANCEMENT COURSE - TAKEN BY SATCHIDANAND
If I were to be here before, I could not relax this situation, I might worry too much, for example, how they think about me? how am I look like? do I look a bit lonely? am I look OK? etc...... too many of small thoughts, however they usually are big enough to destroy having a simple good time.... 
To be honest, I have not had that feeling, "without fear...." for the whole 33 years of my life.
This is just after the two weeks of an Energy Enhancement meditation course.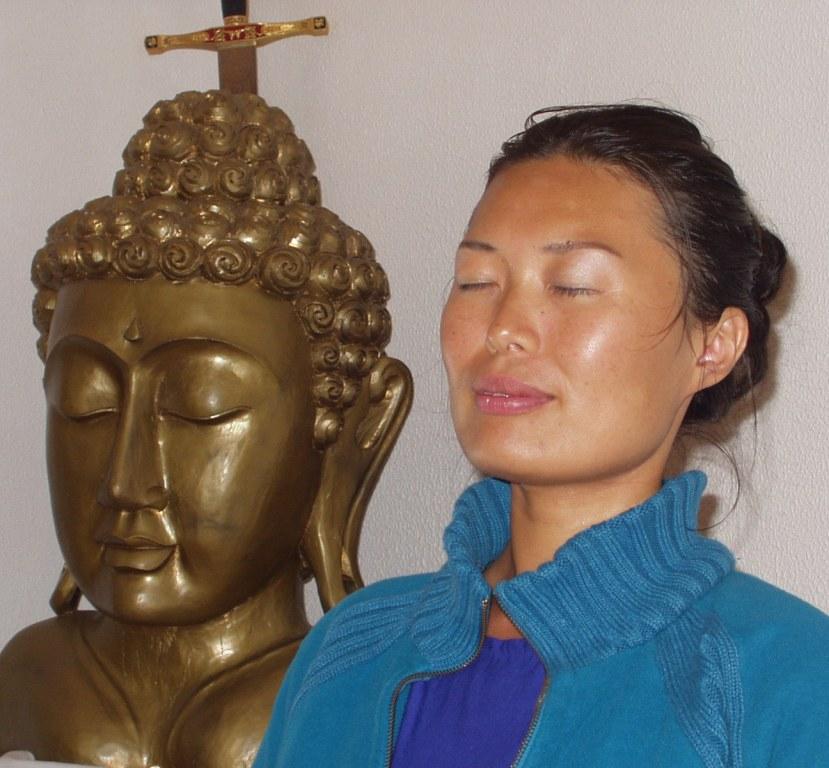 YUKO SATO TAKING MEDITATING IN THE ENERGY ENHANCEMENT CENTER IN SPAIN DURING THE ENERGY ENHANCEMENT COURSE - THE MOVING INTO THE SOUL INFUSED PERSONALITY INITIALLY ONLY HAPPENS OCCASIONALLY, BUT AS WE INTEGRATE MORE AND MORE IT BECOMES PERMANENT IN ENLIGHTENMENT - TAKEN BY SATCHIDANAND
During the course, I had many interesting and amazing experiences through meditation. I saw three black snakes, a BM with snake hair, a black rose covered with thousands of ants, a devil who controls and sucks the energy from me and thousands of innocent people, frogs, parasite eggs...etc..
All of them were blockages and implants in my body and my chakras.
Then I removed all of them using the Energy Enhancement Techniques.
The techniques are simple and powerful, moreover effective.
I did not feel any difficulty during the course. On the contrary it is fun and enjoyable.
The meditation with Satchi and Devi is sailing with fresh wind, also they have a big
map. You can not be lost.

After the EE course, I went to the Juice fasting place in Portugal.

I did it for two weeks and I felt so much energy without eating.
I went for walking in the mountains for 3 hours, 2 hours yoga practice, swimming in the sea and meditation everyday.
After my Energy Enhancement Course, I am the most energetic person in this fasting program, people who work there, they thought I am not a normal human being, because I am smiling and happy all the time.
I feel absolutely happy and full of love.
(Satchidanand - fasting is a spiritual technique used for thousands of years because as well as being good for the waistline (Wasteline) and for the health, it is also working internally to get rid of the energy blockages. Because Yuko had removed most of her energy blockages during her first two weeks of the 4 weeks Energy Enhancement Course, she did not have these problems, and was able to use the fast to find and remove more of her internal energy blockages. Usually, it is my habit to do a 28 day fast each year and there are no problems due to the previous removal of internal energy blockages; I work as normal, just difficulties with entertaining.)

Another change, I can feel other person's fear in my 2nd chakra. So I give them love and ground their fear in centre of the earth. I understand the world better, that keeps the sky of my heart is clear and the sun is shining.
(Although we teach this during Energy Enhancement Initiations, this removal of energy blockages from others happens quite naturally once we begin to take back the power normally taken from us by our separated psychotic sub-personalities. Integration of them back into the Soul Personality. Once we integrate them we get back the psychic powers they normally use to get us into trouble and destroy our lives using ego strategies like the poor me and the violator. - Satchidanand)

Yuko Sato
----------------------------
(Yuko, due to her Japaneseness and her experiences in past lifetimes brought a colourful experience to the Energy Enhancement Course. She had great fun removing her blockages. - Satchidanand)

For meditation, I now do for at least one hour everyday, sometimes for two hours.
I find new blockages every time.
Two days ago I found the river bottom of my antahkarana and I saw a snake swimming under my antahkarana. I have done the Energy Enhancement 7 steps for them and in the 6th step I met a strong ice woman who can turn everybody and everything into ice.

Finally I grounded her.

I just drop lines of my meditation is going and I feel bright energy every time I meditate.

Thank you for meditation
Love and light

Yuko Sato